South Gloucestershire, England—May 6
It's set to be a battle of the masters during tomorrow's show jumping at the Mitsubishi Motors Badminton CCI****. The top three pairs all have previous four-star wins under their belts, and they're separated by .8 penalties.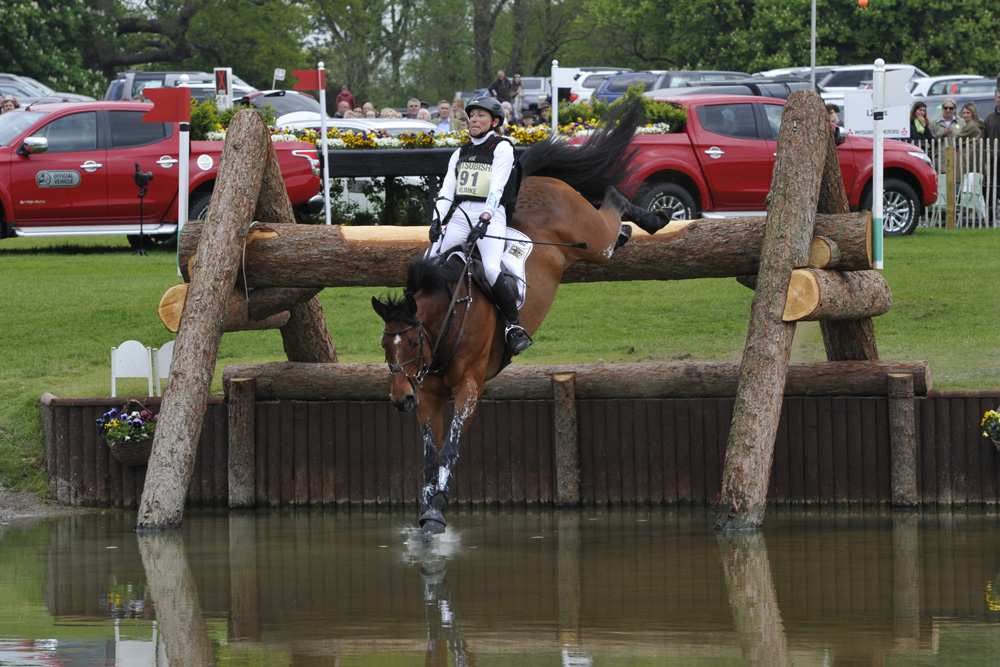 Germany's Ingrid Klimke leads the field with her 2016 Olympic mount Horseware Hale Bob OLD. Just behind her is fellow countryman and defending champion of Badminton, Michael Jung and La Biosthetique Sam FBW, and breathing down the Germans' necks is Andrew Nicholson and Nereo of New Zealand.
"I was very happy because he was bold," said Klimke. "He was a bit spooky at first at the steps, but after that I must say he was incredible. Bold, courage, very full of himself very fit and healthy, so I'm really pleased."
Klimke paired with the 13-year-old Oldenburg in 2011, and she's looking to add another four-star win to their resume to go along with the win at Pau CCI**** (France) in 2014. Klimke had the benefit of going late in the order, meaning she had plenty of time to see how the course was riding. As predicted, Eric Winter's course proved difficult with only 49 of the 81 starters finishing the course.
Jung was one of two to complete clean and under time, which helped him move up seven places to sit in second.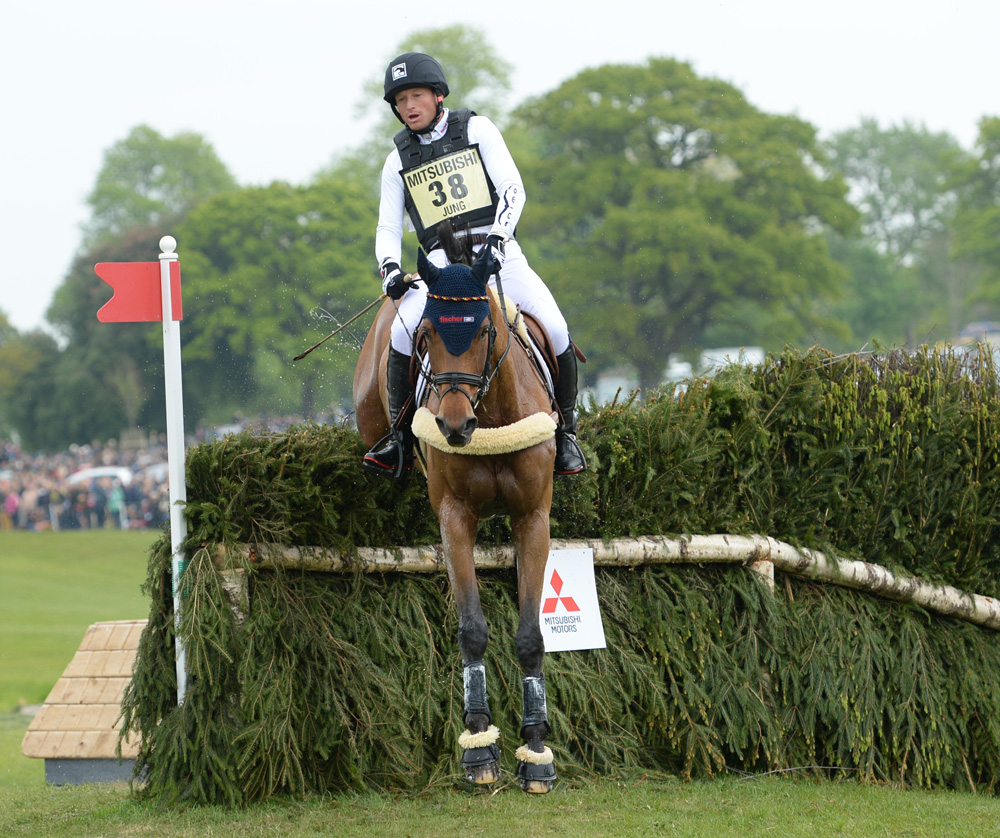 "I'm in a great position now, and I'm absolutely happy about La Biosthetique Sam. He was really wonderful to ride in this tough cross-country," said Jung. "He was very strong and very listening, and that was a very nice feeling.
"It was really tough and also because of the time it was hard to gallop for the horses in the end with everything a little bit up the hill," he continued. "On the other side, we had very good conditions. The ground was super, and the course was very tough but nice build. Every situation was very clear for the horses. It was hard, and you have to have a very good preparation before such a tough competition—it's very important."
Last out on course, Nicholson added just 2.4 time penalties to his dressage score to sit on a 40.4. He and Nereo also won Pau back in 2012.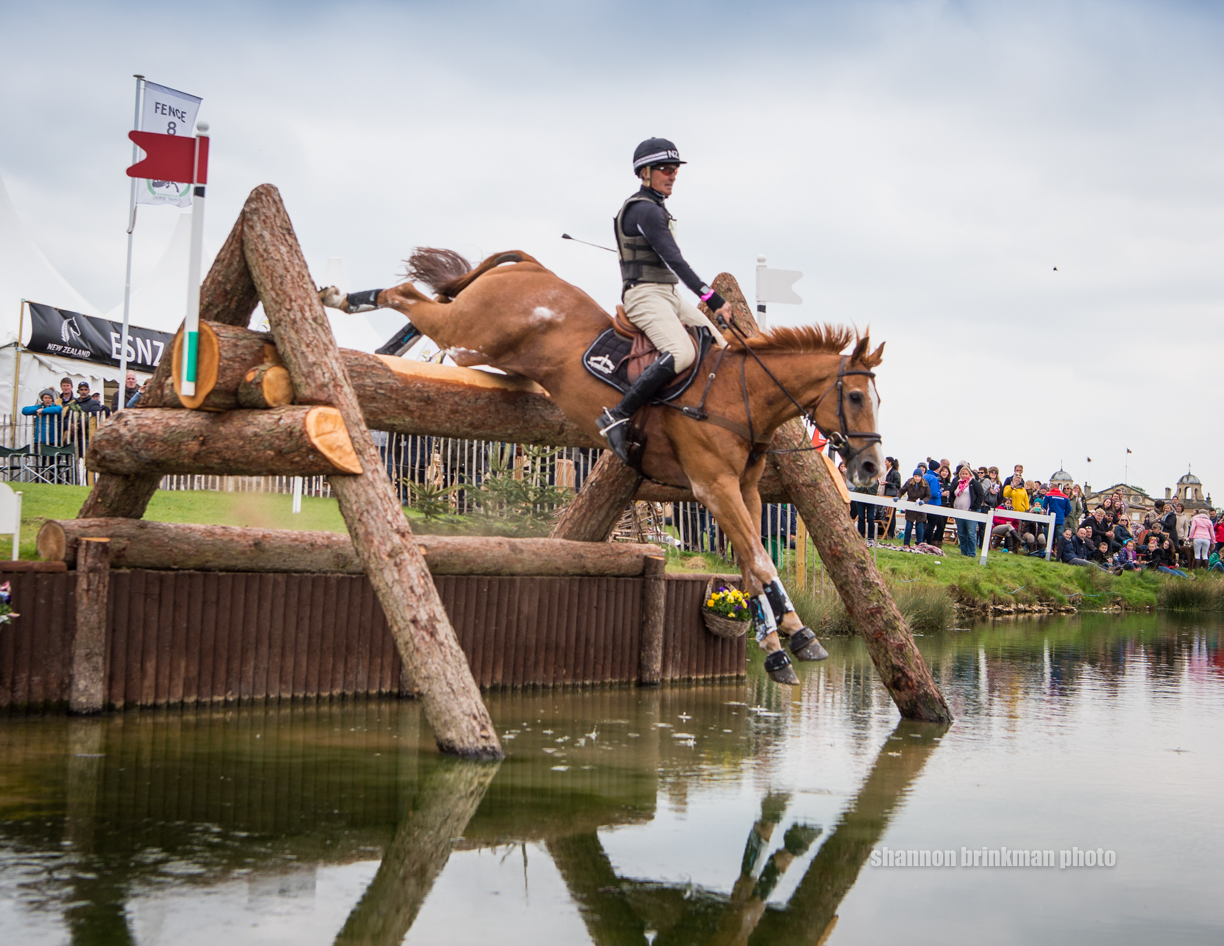 "He's a real pro," said Nicholson. "I'm really pleased with him. He's no baby. He's 17, so he's experienced, but it's hard work for him."
Nereo slipped several times on course, but his experience won out for the pair to be in striking distance of the lead.
"Nereo relies on the back end to push his power through," said Nicholson. "The first time he slipped was at the footbridge which is a fence he's not keen on, so when he slipped it actually took his mind off it.
"I knew when I'd finished that all his shoes were still on, but my groom has since told me that I lost a stud in the outside of a front shoe and two out of a back shoe. Nereo does slip a bit; he's a big powerful horse, and when the ground is dry with grass cover, he does tend to slip. It wasn't a big problem and probably only cost me a couple of seconds."
Dressage leader Christopher Burton and and Graf Liberty dropped to 19th after picking up a stop and 16.4 time penalties.
Six American pairs set out to tackle the cross-country, however only two combinations will move forward to the final day of competition: Lauren Kieffer on Veronica and Lynn Symansky with Donner.
Kieffer and Veronica were tied for fifth following a personal best dressage test, but 29.2 time penalties dropped them to 17th on a 67.2.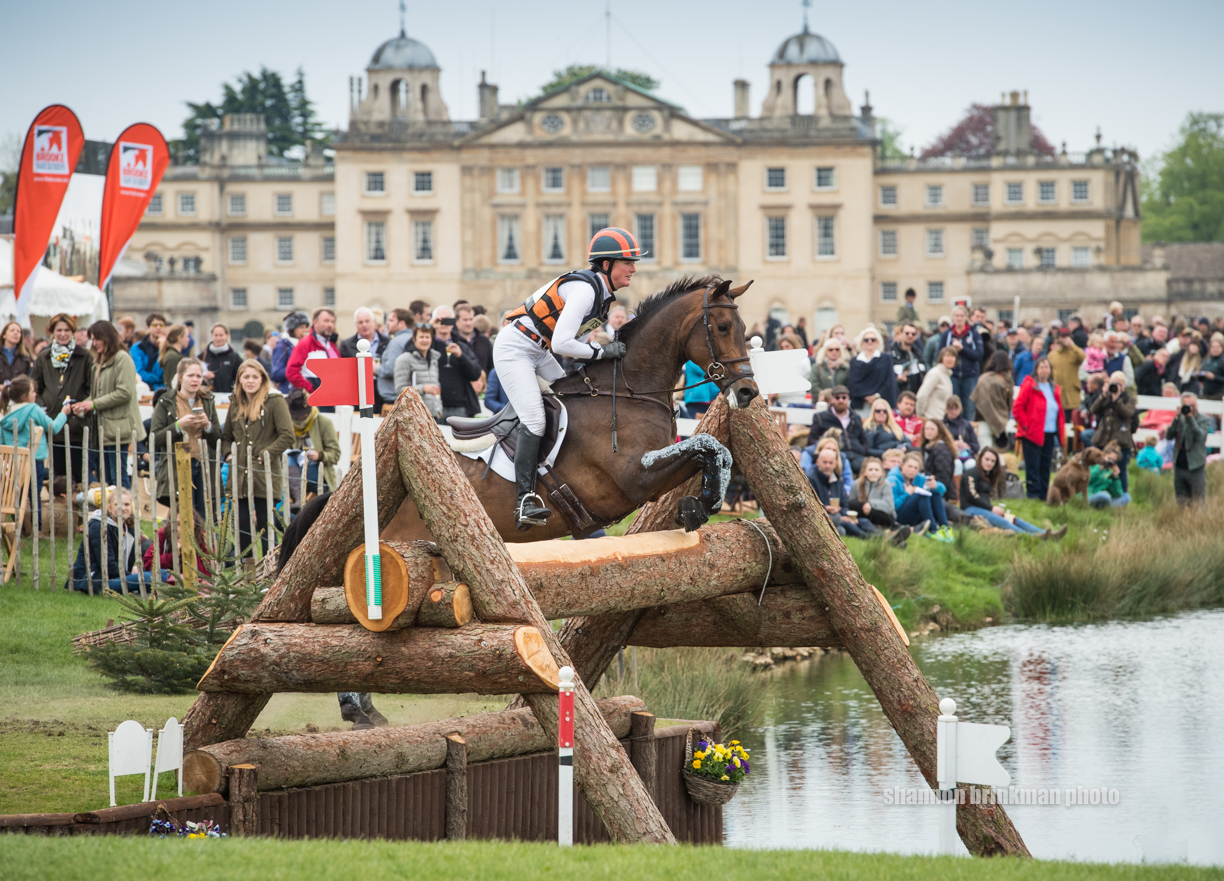 "It kind of feels a big deal just coming across the finishing line today," Kieffer said. "She was super; she was really good. She hung a leg a bit in the pond, so I went safe and took the long route, which took a long time.
"I think I was a bit steady in some places, but I was also trying to be careful," she continued. "We had a hairy jump over fence 3, so that made me take back an extra tug. But she was great and super-mature – she really just read everything."
Kieffer's other mount Landmark's Monte Carlo was the first horse out of the startbox this morning, but she elected to retire him after they picked up two stops.
"My first round was hard because he's a bit greener [than Veronica]," she said. "He was super until he got a bit hung up in that pond, and the wind went out of his sails, and he was like, 'This is a bit harder than I expected.' It was hard because there was nowhere to reward them. Even when they were brave they didn't have the nicest jump, so it was kind of hard for the greener horses. But I'm still really proud of him."
Despite having 30.8 time penalties with Donner, Symansky moved up to 24th place and will go into show jumping on a 78.0.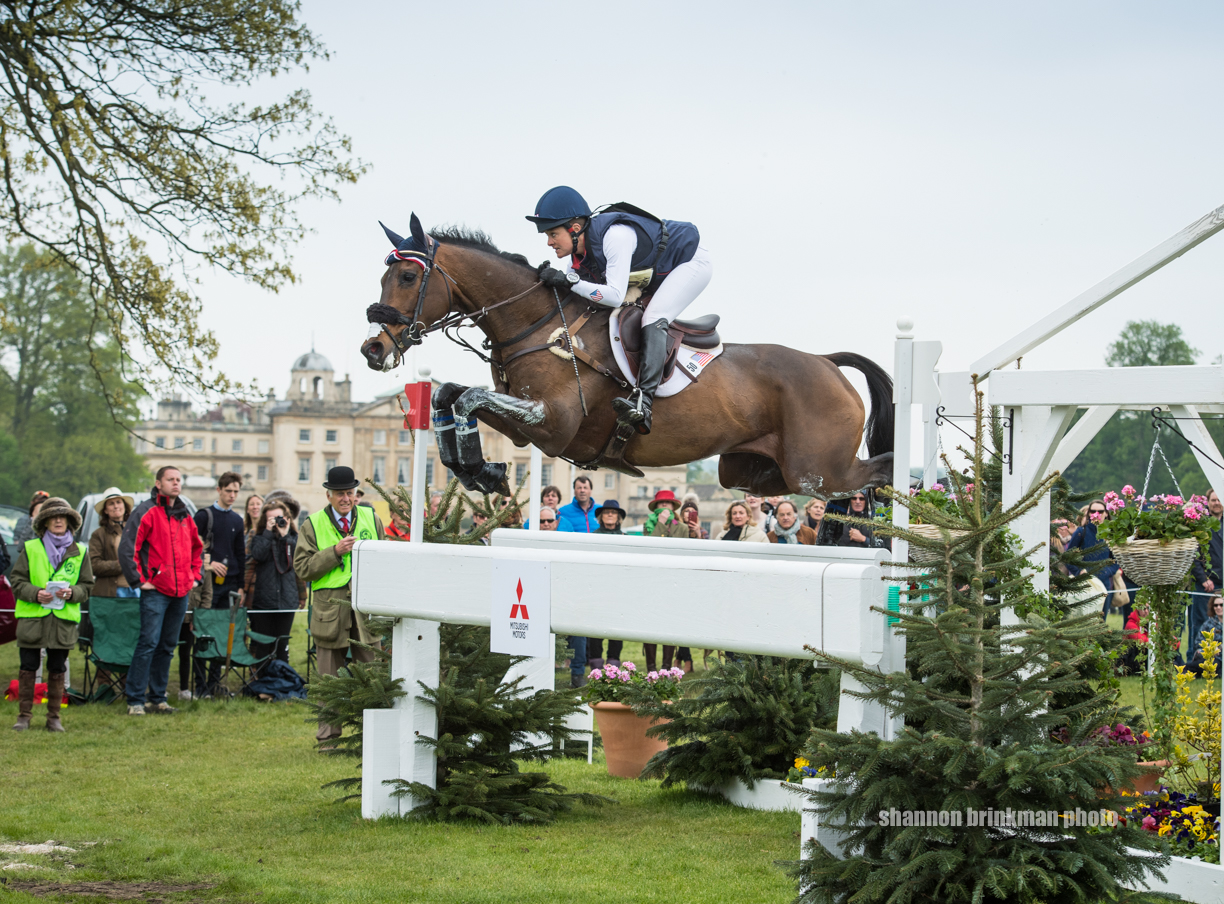 "I lost a shoe at fence 4, and after that he felt like he was sliding around," said Symansky. "It wasn't the smoothest round; I took a lot of long options, and I certainly hadn't planned on taking all of them, but at the end of the day my goal was to get home safe and with a sound horse.
"I took long options at a couple of places that, if I hadn't, I could have saved about 40 seconds," she said. "I had planned on going long at the double of corners, but it took longer than I thought because he was almost trotting through the turns because he was slipping everywhere. He's a really fast horse, but you can't really make up the time because there aren't a lot of long galloping stretches on this course."
Hannah Sue Burnett brought her veteran four-star partner Harbour Pilot, but they retired at fence 8 after picking up a stop. Elisa Wallace made it through the entire course with Simply Priceless before falling at the final fence. Katherine Coleman and Longwood were also eliminated after both fell at fence 9.
IMPORTANT LINKS:
Save