After a successful dressage career as young rider in New Zealand, Krista Nobilo took a break from horses to travel the world.
When she returned to her country and started school to become a veterinary nurse, another student reminded her of what she was missing.
"I knew that my passion was with animals," said Nobilo, 46. "A fellow student in that class was a horsey girl. We would sit during the breaks and talk horses, and she got me back into it. It was just a wonderful return to the sport."
Nobilo got back into dressage after moving to Grand Junction, Colorado, in 2014, where she works as an equine massage therapist and competes in both dressage and Western dressage, in which she's earned several championship titles. She's also spent time working at a local winery, where she used her experience growing up in a wine-making family in New Zealand to her benefit.
At the Great American Insurance/U.S. Dressage Federation Region 5 Championships, held Sept. 22-25, in Santa Fe, New Mexico, Nobilo topped the adult amateur training level championship (72.41%) with her 6-year-old Hanoverian gelding Sir Edward WS (Sir Gregory—Wakaluba, Warkant).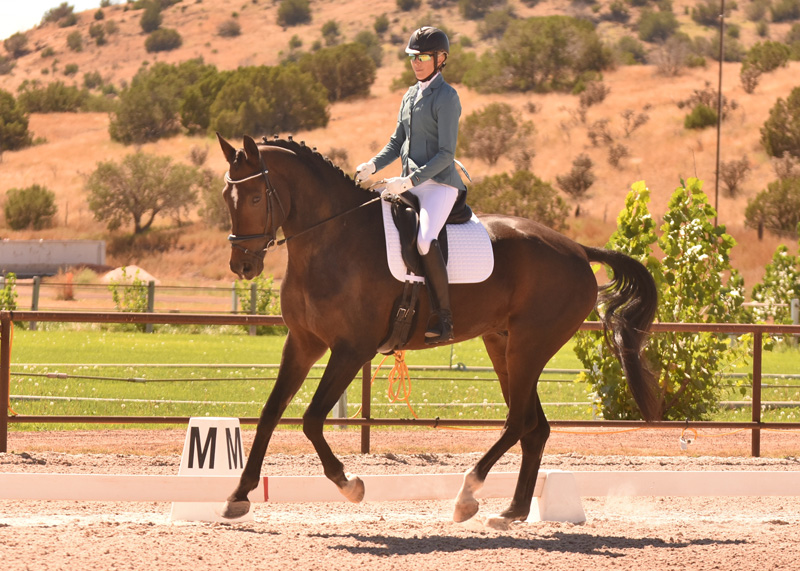 "This was my first championships here in the States, and I was like a child going around with wide open eyes," she said. "We had a fantastically supportive group from Grand Junction and the Western Slope over here in Colorado."
The group of 10 from that region are all members of the Grand Valley Dressage Society and traveled the seven-plus hours to the regional championships in New Mexico together.
"That was almost the main feature of the whole show, the camaraderie," she said of the group who made its motto "West Slope, Best Slope."
Nobilo bought "Eddie" after seeing his half sibling Believe WS (aka "Twiggy") and connecting with their breeder.
"A good friend of mine owns his half sibling, and I've always looked at Twiggy, my friend's mare, and thought, 'Wow, look at her. She's gorgeous,' " she said.
Nobilo said the gelding has been a pleasure to ride and train from the start, which earned him the nickname "Steady Eddie."
"He's almost too good to be true," she said. "The moment I'm on him, he's totally focused on me. I've never quite experienced a horse to be just so with me the whole way, listening; he's such a good listener for a 6-year-old. He doesn't seem bothered by stuff going on around him. He really enjoys what he's doing."
While she's owned Eddie for two years, this was the first year they've competed in dressage shows, as she wanted to give the 17.3-hand gelding time to mature.
"It just feels like you're sailing in slow motion across the arena," she said. "He gets so much airtime because his legs are so long. I've never had that feeling before."
The pair train with Megan Bretey in Grand Junction and have done clinics with Sue Martin of Colorado and Kristen Aggers of California, all of whom Nobilo credits for helping her give young Eddie a good foundation.
Growing up in New Zealand, Nobilo got the horse bug early, and she finally convinced her parents to buy her first pony when she was 10. Her grandparents emigrated to New Zealand from their native Croatia in 1943, and her grandfather Nikola Nobilo became an early champion for New Zealand wine, specifically sauvignon blanc. Her father was one of three sons in the family, and growing up Krista helped in the vineyards.
"Me and all of my many cousins were put to work when it was school break," she recalled.
She did some eventing and jumping early on, but she found her place in dressage.
"I guess kids my age didn't want to focus on the finer points and just wanted to go and blast around the jumper ring," she said. She was drawn to "the communication and connection you develop with your horse, and you feel those moments that were just magic. It got me hooked."
She competed through Prix St. Georges as a young rider and was part of a New Zealand team that won an international derby in Australia. "I gave it all up when I was in my early 20s, and I just wanted to get out and travel and experience the world," she said.
Nobilo and her husband, Peter Maguire, now live on a ranch in Grand Junction with their three horses, two rescue border collies, one dachshund, a flock of free-range chickens and a cat.
A few years ago, Nobilo branched out to try western dressage, which has become very popular in her region, with Dark Chocolit, a 15-year-old Quarter Horse she also owns. She went to the 2018 and 2019 WDAA World Western Dressage Championships with "Diego" where the pair had success both years. They were the champion in the Level 1 adult amateur division in 2018 and champion in the Level 2 adult amateur in 2019. (Learn more about the sport and its levels here.)
"Western dressage was new to me, but he'd just be the perfect horse to give that a go with because he's a Quarter Horse, and he's got a lovely temperament," she said.
While Nobilo wasn't able to connect with a specific western dressage trainer, the Grand Valley Dressage Society made a point of hiring judges for its school shows with experience in western dressage, and she learned as she went along.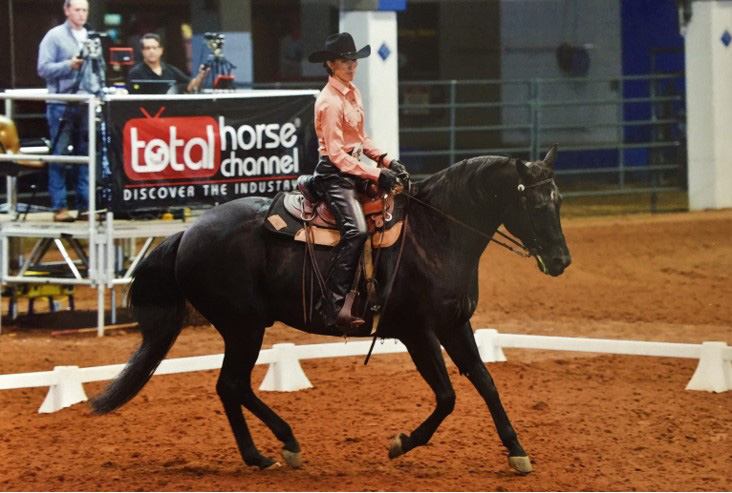 "The similarities are definitely there [between dressage and western dressage]," she said. "I guess it's more geared toward a working horse or a western type of horse, but having said that, I have seen a few warmbloods that are transitioning over to the western dressage as well. It does support all breeds."
It also supports all show clothing, which was a plus for Nobilo.
"I got really excited when I got to wear some bright colors and the western shirts and the chaps and the boots," she said.
She is still doing western dressage with Diego, who is now at Level 3, but she shifted her main focus to Eddie and traditional dressage to prepare for regionals.
Working as an equine massage therapist has improved her riding in both sports, Nobilo said.
"The more we understand not only equine behavior but also biomechanics and the anatomy and physiology, it really helps us serve the horse," she said.
As for what's next for Eddie, she has her eye set on higher-level competitions one day.
"I do have lofty goals," she said. "I would love to get him up the levels and get him produced as an FEI [-level horse]. That would be my dream; I would be absolutely thrilled. It's always a long slow process, one step forward two steps back."