Valerie Kanavy employs an unusual strategy to win the 100-mile title on a true speed demon.
Valerie Kanavy didn't start the American Endurance Ride Conference 100-Mile National Championship like she wanted to win it.
At the start of the race, Kanavy held King Ali Bask back, waiting 15 minutes to set out on course behind the rest of the pack. It might seem like an odd strategy for the AERC Championships, held Oct.
16-18 near Henryville, Ind., but Kanavy had safety in mind.
" 'Ali' is basically a runaway for the first 25 miles or so," said Kanavy. And she knew that there was a stretch of pavement a few miles into the first loop. She wanted to have Ali as calm as possible during their time on the pavement.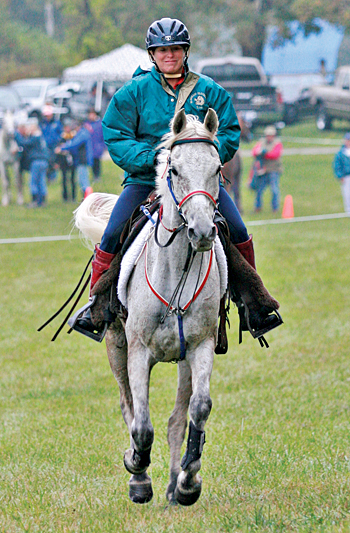 "He was good until we started catching up to the mass of riders. Fortunately we were past the pavement by then," she said. They then made short work of taking over the lead, coming in first to every vet check. They crossed the finish line 46 minutes ahead of Farzad Faryadi on Hot Desert Knight, who also claimed the Best Condition title.
J. D. Fountain, of Bethune, S.C., bred and raised Ali and said he had opportunities to sell the gelding but didn't because not everyone could handle him. "He loves to run, and he would take the bit and go," said Fountain. "That would frighten the average competitor. But when Valerie came around inquiring about him, I knew she could manage him."
In recent years, the national championship was formatted as a competition between the weight divisions only.
However, Mike Maul, AERC President, stated, "This year's AERC is recognizing an overall first place in the 50- and 100-mile competitions in addition to the winners of the weight divisions. It's not a change in emphasis but simply recognizing that in every competition, there is one rider and horse that finishes first."
Kanavy had a goal of finishing the 100 miles in less than 10 hours, and she achieved that, crossing the finish line in
9 hours, 53 minutes.
Mind Games
Faryadi said he had no intention of catching Kanavy when she took over the lead in the first loop. Instead, his goal was the Best Condition Award. "I was just trying to stay ahead of Stagg Newman who was riding Jayel Super. I knew he had a very good horse, and I needed to stay ahead of him for a chance at best condition and possibly reserve championship," Faryadi said.
Faryadi admitted to riding a little faster than normal after he caught up with Kanavy in the second loop. He wondered if her horse was tiring, he decided to push the pace.
At the next vet check, Kanavy walked directly into the vetting box, but it took Faryadi's horse 2 minutes longer to recover and enter. During the mandatory hold time, Kanavy approached Faryadi and suggested that he not push the pace. "I'm not going to run off from you; I prefer to ride with you," Kanavy said. "But at times your horse is saying no when you are asking for more."
Was this mental strategy, or was Kanavy trying to help? "Farzad has a really nice horse that moves nicely," she said. "But my radar was detecting that this horse needed to back down a little bit here and there. What I saw was supported by the pulse recovery time in the vet checks."
"I think she meant well," stated Faryadi. "But it stirred up my ego as well. I felt my horse was doing well so I continued to go after her. When I came into the third vet check, though, I paid for it. His [cardiac recovery index] was 52/78, and I had to have him rechecked before I was allowed to leave on the next leg of the course."
As a result, Kanavy began putting a gap between them. By the fourth vet check she had gained 15 minutes, and at the fifth check, 57 minutes separated them. Kanavy crossed the finish line at 9:03 p.m.
Elegant Pride, owned by Lana Wright and ridden by Christina Phillips, actually crossed the finish line in second place but was unable to pass the final veterinary exam. "He had a muscle cramp in the right hind," said Phillips. Despite the elimination, she said, "It was the best ride. This horse just gets better and better, and I am grateful to Lana Wright for the opportunity to do this sport."
A Spectacular Finish
Anther horse from Kanavy's farm in Fort Valley, Va., won the 50-mile AERC Championship with Teresa McCarty aboard. McCarty and Spectacular Gold won the 50-mile National Championship and the Best Condition in a ride time of 3 hours and 58 minutes.
Deb Shaffer on Sheik Abu Galihad was just 20 minutes behind for the reserve championship. Shaffer was sponsoring her 9-year-old grandson, Austin Shaffer, who completed at her side and won the junior division on Pearl Jam.
"I came to win because I believed that Spectacular Gold was ready to win," said McCarty. "But then when we arrived, and I saw how many great horses and riders were attending, I got nervous. My goal changed to hoping for a top-10 completion."
"He's just a baby in the sport," said Kanavy about 'Spec,' as they call the big gelding. "He did two limited-distance rides, three 50-mile events in 2007 and then three 50-milers in 2008 to be qualified."
At the first vet check, 19 miles into the course, McCarty and Spec were 5 minutes behind Pam Weidel on AF Big Bucks. "Pam is one tough competitor, so I knew I had to keep my wits about me and ride smart," McCarty said.
McCarty caught Weidel on the next leg, a 17.5-mile loop. "On the return single-track trail, we met riders going out, and Pam collided with a rider and had her stirrup ripped off," said McCarty. "She continued to the vet check with only one stirrup! She is one tough lady. At the vet check I walked in and my horse pulsed down in 5 minutes. Pam came in, and her horse pulsed down immediately.
"I knew that I had a good chance at winning, but I knew I had to fly and be smart. I took off at a gallop and Pam was right behind me, keeping pace. She passed me on the first nasty hill, where I got off and walked some of it. When I remounted and caught up with Pam again, she kept pace until the water stop, and that's where I left her. I trotted down that big hill and hit the bottom and galloped away. I never looked back after that.
"I hit that last big hill where I got off once again and walked him up to where the water troughs were. He took a big drink of water, and I told him, 'We have a mile and half to go—let's get it done!' So we galloped in and crossed the finish line with no one in sight," McCarty said.
"That was a very hard ride, as it should have been. I was out to win, but I went too fast in the first loop," admitted Weidel. "I got in trouble the last loop when I had to walk the last half. There was not enough water, and he just ran out of gas. I finally came to water at the top of a hill, and he drank and drank." Weidel finished the ride out of the top 10.
Genie Stewart-Spears