Stamford, England—Sept. 1  
New Zealand's Sir Mark Todd pulled off a foot-perfect performance to head the Land Rover Burghley CCI**** dressage leaderboard ahead of the cross-country phase.
His striking bay gelding Leonidas II floated across the arena, his trot work a real highlight, to land a score of 36.7, putting him ahead of Burghley first-timer Lauren Kieffer from the United States who was leading the dressage after lunch.
"I may have won Burghley five times, but I haven't won it this century!" Todd quipped. "Finally, this horse is starting to grow up. When I got him as a 6-year-old he was so impetuous, but now he knows what he's meant to do, and I've got every confidence in him."
Todd first rode at Burghley more than 30 years ago, and his last win was in 1999 aboard Diamond Hall Red.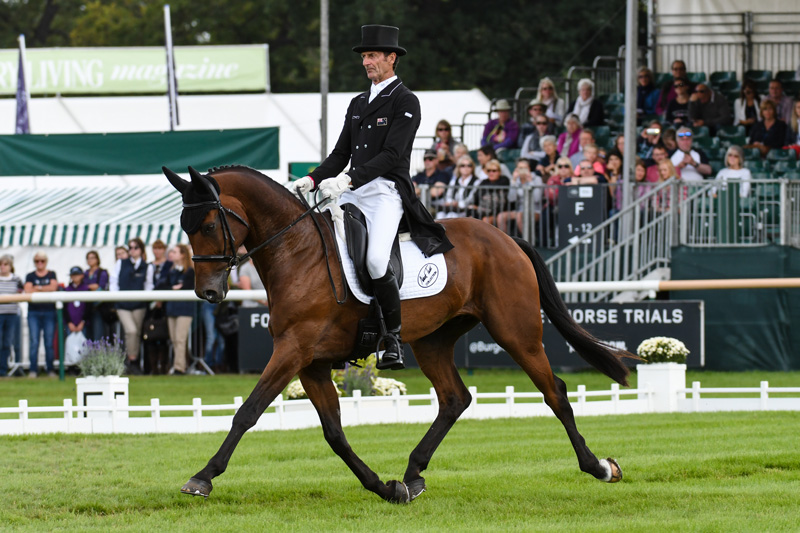 There are two other U.S. riders in the top 20 after dressage—Lynn Symansky rode Donner into 11th place on a score of 45.5 and Mackenna Shea's test from Thursday, which had her in third at the end of the first day of dressage, now sits in 14th (46.1).
The other U.S. riders are Boyd Martin on Steady Eddie in 21st (48.0), Hannah Sue Burnett on Under Suspection in 25th (48.8), Andrea Baxter on Indy 500 in 47th (56.9), Lillian Heard on LCC Barnaby in 49th (58.0) and Savannah "Woodge" Fulton in 60th (68.9) on Captain Jack.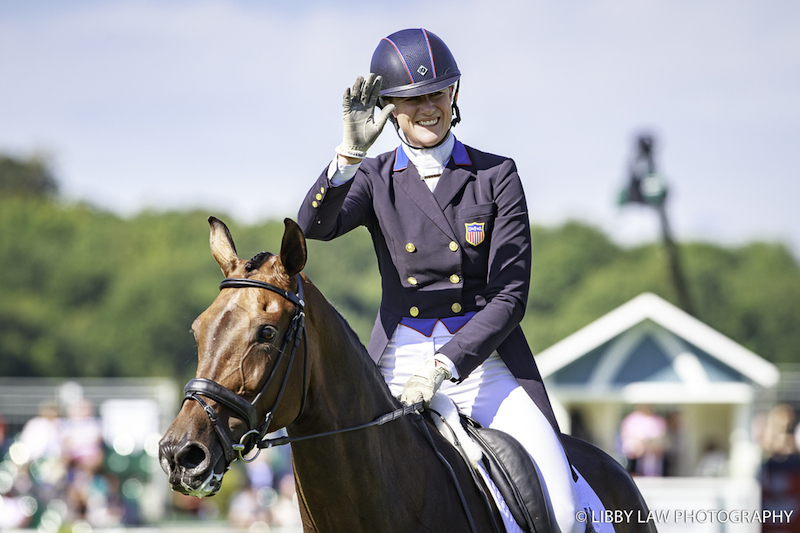 U.S. supporters went wild when Kieffer went into the lead with a lovely test on Veronica during the morning session, but then Todd set the crowd alight during the afternoon session with his test on Leonidas II.
"He can be quite excitable and fractious in the dressage arena, but I feel this year he's grown up a lot, and his scores have been getting better and better," said Todd. "He went in there and lit up a little, but it was good because it gave him that bit of ping in his work. It's one of the best tests he's done, and I couldn't pick any obvious mistakes in it."
Kieffer was thrilled with Veronica's performance. "She's been all over the world and has a lot of stamps in her passport; I'm so lucky to have her. She can be cheeky at horse trials, but I think she knows when she's on the big stage. Hopefully we end on as big a high as we started. It's a long weekend, but this is a good start," she said.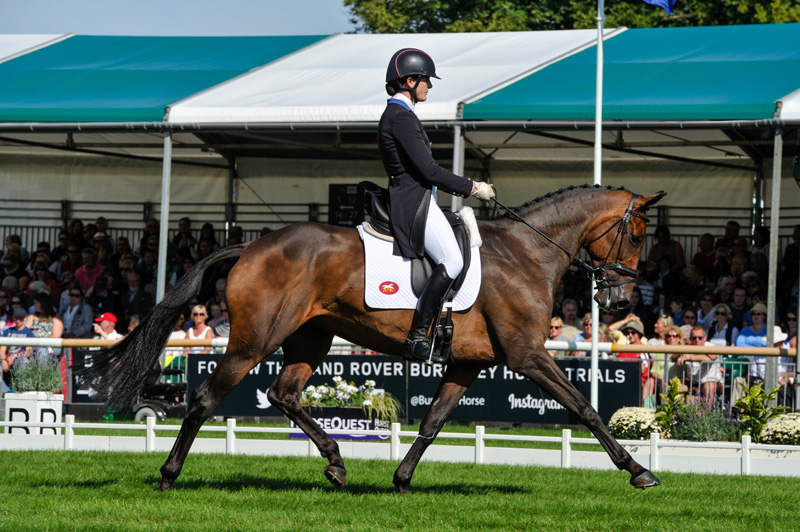 "At this point she's such a professional, and she knows the job, so it's about giving her the right aids because she wants to go in there and do her job and do it right. So it's about making sure we're on the same page in the ring."
And now Kieffer is focusing on the cross-country test. "It's big, and it's bold. Mark [Phillips, who designed the course] really plays on a rider's ability to react on instinct," she said. "You can't go out with a dead-set plan and stick to it. You really have to be able to react in the middle of combinations and in different situations. So I think that'll be a big part of it. Strangely enough, it seems to walk uphill the whole way, so I think a fit horse is going to be a necessity.
"The course is big and bad—what you would expect. I've been here before to watch, so I'm not surprised. She's a beast cross-country, and she'll go out an attack it for sure, so it's just about keeping good communication all the way through, and hopefully luck is on our side," Kieffer continued.
Kieffer noted that she's been working with British rider Jonelle Price this summer and fine-tuning ways to be faster on course. "She's a very fast rider, and we've been making plans," she said. "The Trout Hatchery fence is the one I'm most concerned about. You can't really decide what to do until you see what sort of jump into the water you are going to get, so you need to keep your options open."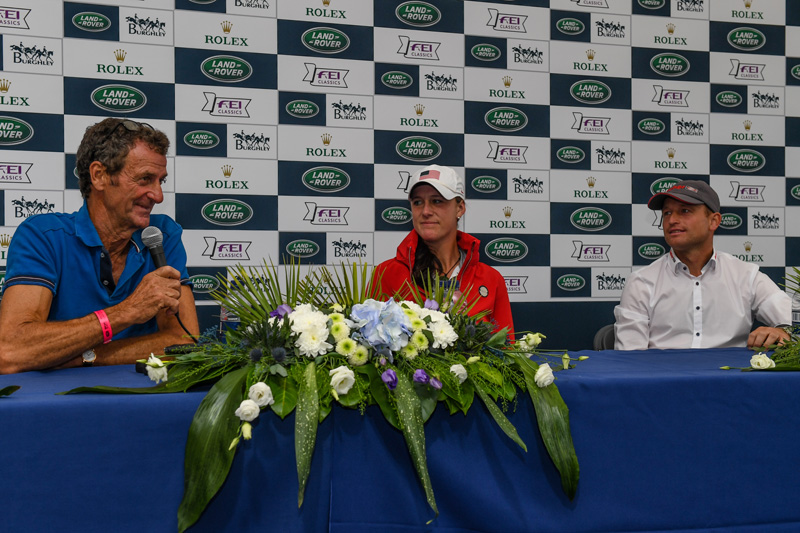 Germany's Michael Jung and New Zealand's Andrew Nicholson occupy third and fourth spots respectively, while Great Britain's Tina Cook fills fifth after a smooth performance by Calvino II.
Symansky had a small mental blip when she went into extended trot instead of the second half-pass the test called for, but she was very happy with how Donner conducted himself in the little white ring to go into 11th on 45.5. "He was enjoying himself! He was super today—I was the one who made a mistake," she said. "He's been improving with every four-star he's been to, and has been really reliable for the past couple of years so I was hoping to be in the mid-40s."
And Symansky is looking forward to the cross-country with "The Flying Deer." "This type of course really suits him," she said. "It feels tiring when you walk it, and I would have preferred fewer right-handed potential run-outs. This is our eighth four-star together—I know him really well and I need to ride according to how my horse goes."
Martin is sitting just outside the top 20 with Steady Eddie, tied for 21st with 48.0. "That was pretty good. He's not a born and bred dressage horse—he's a race horse from Australia who had 40 starts, so he struggles, but I was pretty happy with him," Martin said. "He's not a very good mover, but he's pretty seasoned now. I remembered the test, which was a plus!"
Asked about the course, he replied: "Fences 1 and 2 look alright! After that, I'm nervous as hell. I'll either go really well or really badly—I'm not here just to get round. My horse has wonderful endurance and stamina, but can be a bit leery at some of the unusual-looking jumps."
Heard didn't have the test she was looking for, as she scored 58.0 to be tied for 49th with LCC Barnaby. "He was pretty wild! I'm disappointed, but this event isn't a dressage event," she said. "That's why I chose Burghley. After Rolex we went into intense dressage training for a couple of months; today it wasn't the dressage that wound him up, it was the arena and the atmosphere. It's frustrating to have him come here and blow up. Of all the things I have ever wanted to do, Burghley was top of the list."
The cross-country starts at 11:00 a.m. (5 a.m. U.S. ET). U.S. riders go at:
Hannah Sue Burnett/Under Suspection – 1:10 p.m. (6:10 a.m. ET)
Andrea Baxter/Indy 500 – 1:18 p.m. (6:18 a.m. ET)
Mackenna Shea/Landioso – 1:22 p.m. (6:22 a.m. ET)
Savannah Fulton/Captain Jack – 1:26 p.m. (6:26 a.m. ET)
Boyd Martin/Steady Eddie – 1:54 p.m. (6:54 a.m. ET)
Lauren Kieffer/Veronica – 2:02 p.m. (7:02 a.m. ET)
Lynn Symansky/Donner – 2:18 p.m. (7:18 a.m. ET)
Lillian Heard/LCC Barnaby – 3:18 p.m. (8:18 a.m. ET)
Important links: Dressage ride times  |  live results  |  Cross-country course map, fence photos and course description  |  live streaming (on Burghley Facebook page)  |  Land Rover Burghley CCI**** website
2017 Burghley CCI**** Dressage Day 2
Molly Sorge / Sep 1, 2017 2:42 pm