As we were organizing tack and equipment at the start of the 2004 Rolex Kentucky Three-Day Event, Kim Meier told me it had been 20 years since her first time competing there. I smiled and said, "and we're using all that same tack and equipment this weekend!"
It was a joke, but it was 90 percent true. Her beloved Test Run, or "Merle," sported a green Rolex sheet from 1986 all weekend. Most of her tack was old enough to vote. Her tack trunk dated back to her teenage years, three decades before.
Kim, who grew up in New Hampshire, embodied Yankee thrift. If something broke, she fixed it herself with scraps of leather or rope she squirreled away, even if she could afford to buy a replacement. She turned old blankets into coolers and her daughter's playground equipment into jumps. No one embraced "reuse, recycle" as wholeheartedly as Kim.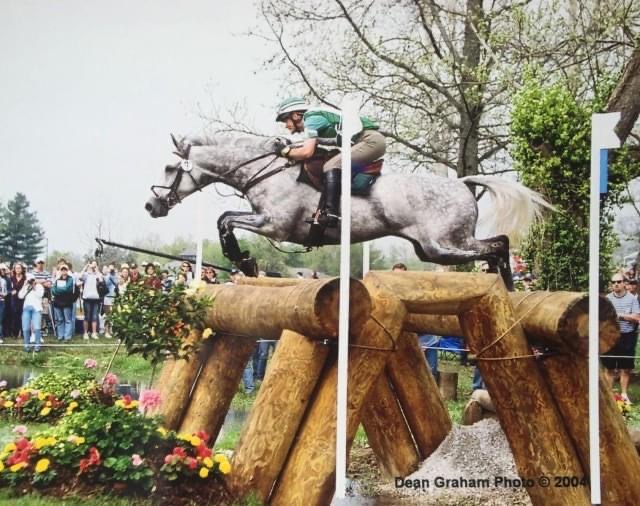 That week in Kentucky will forever be etched in my memory. As a friend and former student of Kim's, I'd jumped at the chance to be her groom for this momentous occasion alongside two other friends. Our motto for the week was "change is good." Kim was navigating through a divorce and finding her feet on her own. The motto was mostly about that, but I also used it to convince her to buy a new breastplate.
She was at Kentucky with the horse of her dreams, a third-generation homebred with a mellow personality, tiny ears, a huge heart and enough talent to inspire her to hope for big things. She'd rubbed him dry after he'd been born and taught him everything. He rewarded her by making her dreams come true. When they went cross-country, she carried on entire conversations with him aloud, and he flicked his little ears back to hear her.
Denny Emerson wrote recently about riders needing to have some "wind beneath their wings," some kind of support or boost, to break into the big-time. Kim showed up at Kentucky that week buoyed on winds she had created herself by hard work and sheer force of will.
A Magic Weekend
Kim couldn't afford to buy fancy event horses to make it to the top level, so she bred them until she created one with all the tools for a five-star. She mucked her own stalls and built her own jumps. Friends groomed for her at big events. She had supportive students, but she never pursued any sponsorships. She told me she was uncomfortable asking for money.
The closest she came was at that '04 Kentucky, when she asked me to take her ancient cross-country saddle up to the Devoucoux booth and have them look at it to make sure it wouldn't fall apart on Saturday. A few months before, a stirrup bar had popped off mid-course, and she'd fixed it, but she didn't want it happening again.
I dutifully toted the saddle that had been to Kentucky 20 years earlier up to the trade fair and politely asked the Devoucoux rep to check it. The rep and the saddler at the booth talked rapidly back and forth in French, then the rep turned to me, "She is going to ride in this? On SATURDAY?! This is not safe at all!"
After I told him we didn't exactly have too many other choices, the rep realized heroic measures were needed and told me to bring Merle up to the trade fair that evening. Kim and I led Merle up to the Devoucoux booth, and we had a saddle-trying bonanza with the used Devoucoux saddles they had in stock. Kim selected one, and the Devoucoux guys wished us good luck.
The next day, Kim and Merle jumped around the long-format five-star course clean, with just a fraction of a time fault, and vaulted up from the lower half of the field to the top half in the standings. We stood Merle in ice in a muck tub that also held our beers, and we ate pizza, over the moon with the day.
That night we went to the booth and thanked the Devoucoux guys; they told us to keep the saddle Sunday for luck. In it, Kim and Merle had the first double-clean show jumping round of the day and finished 10th overall, claiming the Bank One Trophy for the highest-placed owner-rider.
It was magic. Change was good, and it looked like anything was possible. She talked to the U.S. Equestrian Federation rep about what she needed to do to go to the Burghley Horse Trials.
The Devoucoux went home with her, at a discount, and it was on Merle when they completed the Burghley CCI5*-L in England that fall. It was the closest she ever came to having any kind of sponsorship support.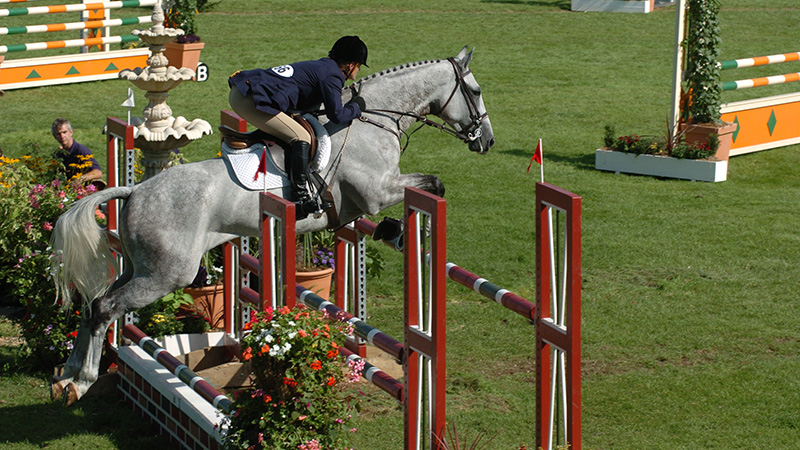 Kick, Don't Pull
In the 1980s, I had been one of a crew of teenage Pony Clubbers who rode with Kim and her then-husband as working students at their Seven Hills Farm on the Eastern Shore of Maryland. None of us were wealthy; we had a ragtag assortment of equine partners with varying degrees of athleticism. Kim helped us make the most of each to reach our goals, which usually involved the Pony Club National Rally or achieving higher Pony Club ratings.
Kim hosted evening study sessions to drill the Pony Club handbook into our heads—things like nutrition, diseases, the symptoms of colic or how to wrap a leg. Every day at the barn was not only hard work, but also an enormously valuable lesson in horsemanship. She would drive us to rallies and events in her six-horse van. It had a tendency to break down, but she always somehow knew how to fix it.
Kim was known for her relentless devotion to her students. There was always a horse to ride. It may be a green-as-grass off-track Thoroughbred or a just-broke homebred, but she wouldn't let one of her crew go horseless.
At one Pony Club rally, my horse didn't pass the initial jog. I was devastated as only a 13-year-old can be. Kim threw one of her homebreds on the trailer that night and drove her up, arranged to have me jog that one the next morning, and saved the day.
From this description, you might imagine Kim as soft-hearted, which she was—once you knew her. But she could definitely have a prickly exterior. Kim was known for her… volume of voice, shall we say, while teaching. And she did not suffer fools kindly. God help you if you were lazy. But if she saw you were trying, she would try just as hard for you.
Kim's mantra while teaching was "Kick, don't pull." I can still hear her screeching, "Kick! Kick!" as I approached a fence. Kim knew that life required a forward ride. It's the lesson she most wanted to impart, both in riding and otherwise.
Gallop On
Kim was a talented rider, a relentlessly hard worker, and a devoted teacher. But she was also a devoted mother, a fantastic cook and an artist. She had a poodle as a barn dog—she clipped a mohawk into him and named him Spike. When one advanced horse was done eventing, she bought a side-saddle, taught herself how to ride in it, and then showed him aside at Devon and won. She was anything but one-dimensional.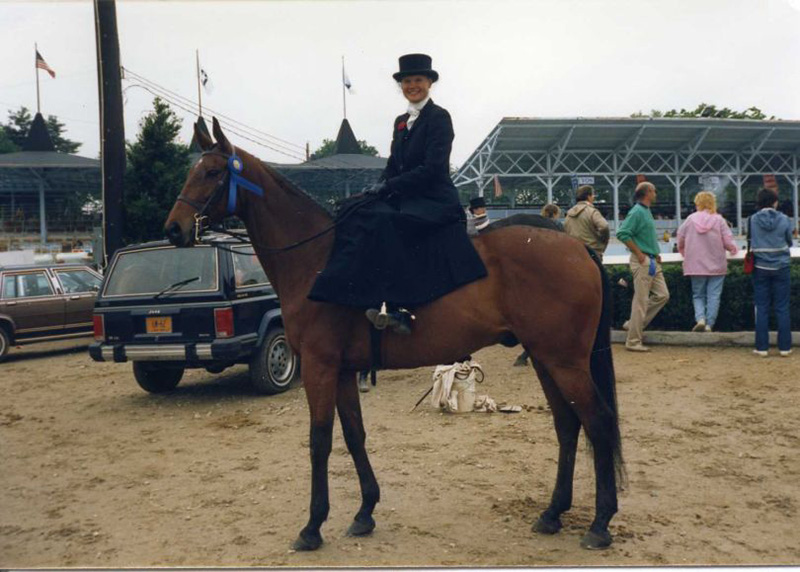 With all this came a wickedly sharp sense of humor. You know the meme that goes around that "You don't need a $35,000 horse; you need a $1,000 horse and $34,000 of lessons"? That came from a 2009 article Kim wrote for the Chronicle, "How To Sell A Horse." Writing was yet another of her talents.
What I've left for last is that Kim's persistence and grit were tested the most in the last years, when she lived her life as a quadriplegic after a fall from Merle in 2007. Life can be cruel, and the years after Kim's magic week in Kentucky brought test after test, culminating in her paralysis. She endured 15 years of life immobile, taking solace in teaching lessons when she could, judging schooling shows, and visiting with Merle and another once-in-a-lifetime homebred, Chobalt or "Bart." She always watched the live-streams of the big events. Her daughter, Kelly, and a small group of devoted friends cared for her.
Merle died in 2013 and then Bart in fall of 2020, at the ripe old age of 31. Kim joined them on May 10. She will be missed intensely by so many whose lives she touched.
Every time you see a rider creating their own wind beneath their wings, especially on that April weekend in Kentucky, think of Kim.