Devon, Pa.—June 2
Horses are for sure the ultimate humblers, as Rothchild proved tonight. McLain Ward rode a remarkable winning streak into the Devon Horse Show.
He'd won grand prix classes at the Old Salem Farm horse shows (N.Y.) and the Rome CSIO before coming to Devon and quickly winning three of the FEI open jumper classes in the week's schedule. So, he was for sure the hot favorite to top the $225,000 Sapphire Grand Prix of Devon. And as he and Rothchild landed off the next-to-last fence of the jump-off, he was well on his way to a winning time.
The crowd, primed to see another victory in Ward's amazing run of wins, erupted in cheers. And then Rothchild ran out at the last fence. The class lost, Ward circled and carefully jumped the last oxer. He'd been almost three seconds up on the leading time, but just like that, he went from winning to third.
"What makes Rothchild great is that he's sensitive, he's sharp; he's a little fireball," Ward said. "The place erupted, and I think that rattled him slightly, but that's brilliant. That's what we need in the sport. I wouldn't want it any different. I need to deal with it better, he needs to deal with it better. And that's what makes this place so special.
"He jumped the vertical well, and you could hear the place just exploded. When it did, he kind of came back at me, and kind of lost his focus and his way. That's sport. I wouldn't trade the atmosphere for anything here. I needed to be a little more aware of it. I should have compensated a little more. That's what makes it exciting. If we know the outcome, it's boring."
And so Kevin Babington's time of 38.43 seconds as the first of three to jump off stood as the victor. "I was the only one happy to see [Rothchild's run-out] happen," Babington said with a smile. "Before McLain even turned to the last jump I knew I was down by two or three seconds… Look, it's always nice to win a class, though!"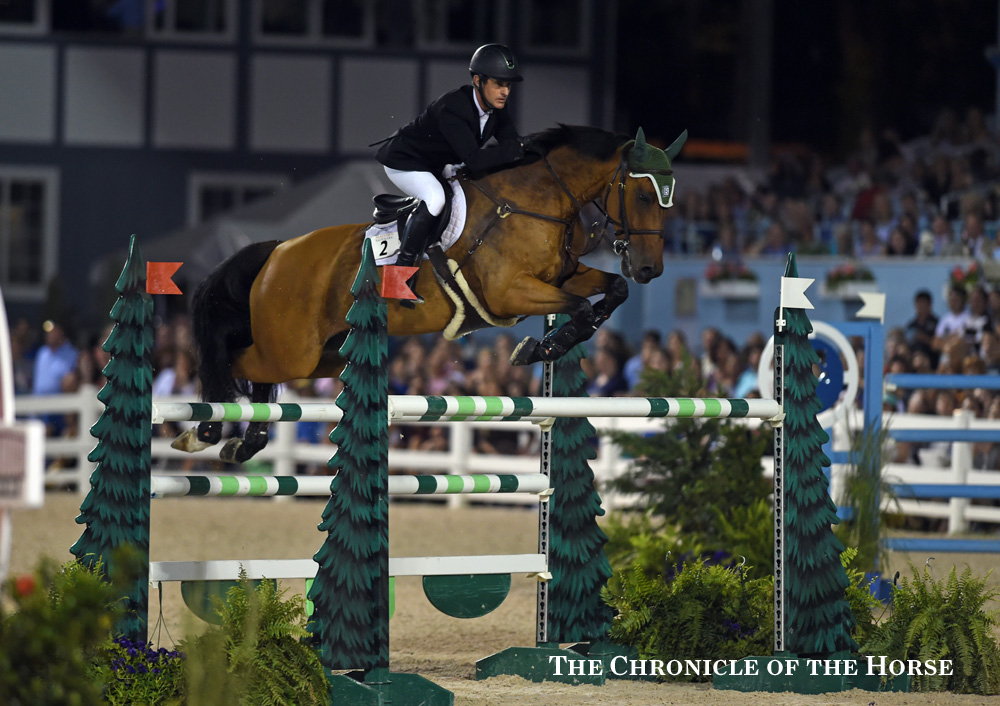 Kevin Babington on Mark Q. Photo by Molly Sorge
It was the horse's second victory in the class, as he and Babington won the Devon grand prix in 2011 as well. Mark Q is now 14, and Babington thinks he's better than ever.
"I've been saying for the last few weeks, he's been knocking on the door for a good win. He just feels more elastic in his body for some reason," he said. "He's more focused. He was a very difficult horse at the beginning; a very quirky horse. He's still erratic and it's still very hard to get his lead changes in the ring. But he's trying to be careful. I don't have to protect him as much as I used. It's maturity. He's just in a happy place at the moment."
Watch Babington's jump-off round, courtesy of USEF Network:
Second place went to Danielle Torano, who has spent a few years away from the big grand prix ranks to raise her children, ages 5 and 9, but now is back with the talented young Callas III. She went for it in the jump-off, but ended up just one second shy of Babington's time.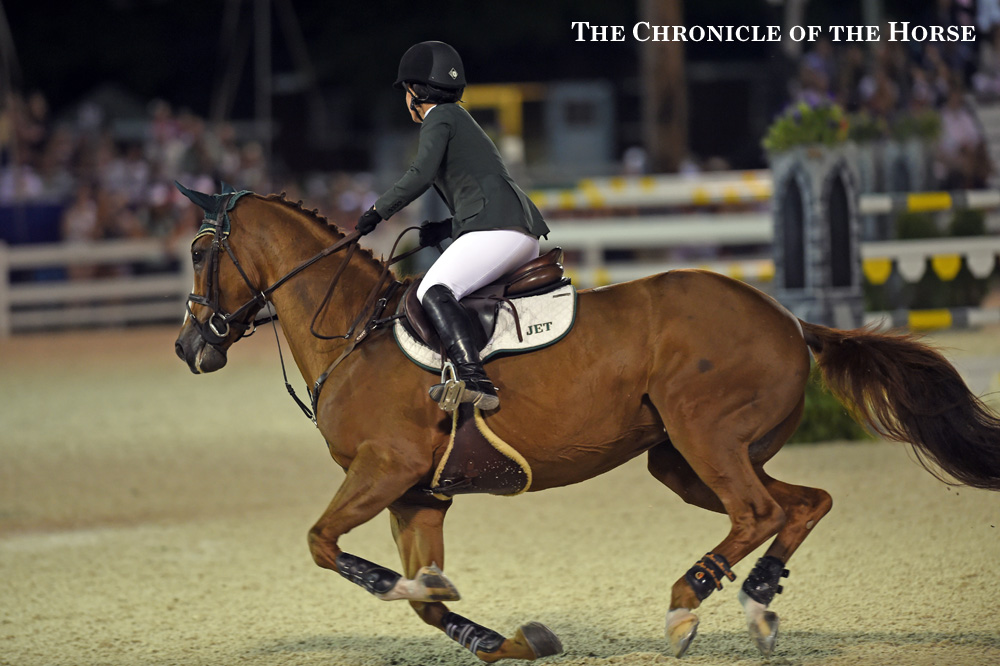 Danielle Torano on Callas III. Photo by Molly Sorge
"We've had her since she's 7, and she's 9 years old. She's a chestnut mare, so that should tell you a little bit," Torano said. "She was pretty up in the schooling area before the first round, which rattled me for a minute. I decided there was nothing I could do, so I just went with it. To come in the ring and look at all the people—she's never seen anything like that. As I went to the first jump she felt super focused, and she was amazing in the first round. I messed up a little bit in the jump-off. She's super careful. I'm hoping to get some good mileage this year at some good shows and keep going forward."
See more photos from the class in this gallery.
For full results of the $225,000 Sapphire Grand Prix of Devon, visit Ryegate.
The Chronicle's Devon coverage continues all weekend with stories and photos from the amateur divisions and breeding day. Stay tuned to www.coth.com all week for coverage of the open and amateur hunters, the Sapphire Grand Prix of Devon, and so much more. Check out all the Chronicle's online coverage of Devon. Find full results from all of Devon at Ryegate and check out full analysis of the whole show in the June 20 issue of the magazine.