Dublin, Ireland—Aug. 9
The U.S. team might not have had the day they wanted in the Furusiyya FEI Nations Cup at the Dublin CSIO, but on the last day of the prestigious show, Kent Farrington made sure the Star Spangled Banner was heard over the showgrounds. He and RCG Farm's Uceko bested a field of 40 competitors for the big win in the Longines International Grand Prix of Ireland at CSIO5* Dublin.
Eight horses jumped clean in the first round of the demanding Alan Wade-designed course, promising an exciting jump-off between riders from Ireland, the United States, Italy, Brazil, and Spain.
Also clear for the United States was Nations Cup team member Lucy Davis and her longtime partner Old Oak Farm's Barron. Entering the ring second in the jump-off, Davis had an unlucky rail and a fast pace, earning her a sixth-place finish. Farrington was sixth in the jump-off order and flew around the course to stop the timers a full 2 seconds ahead of the second place finisher, U.S.-based Irish rider Kevin Babington and Shorapur.
Farrington has had a stellar summer with Uceko, winning the Lafarge Cup at Spruce Meadows and a recent top finish in the Grand Prix de la Ville de Dinard in France. The American speed specialist, who was second in this class last year, became just the eighth American rider in history to win the Grand Prix of Ireland.
See full results of the class.
Watch Farrington's jump-off round aboard Uceko…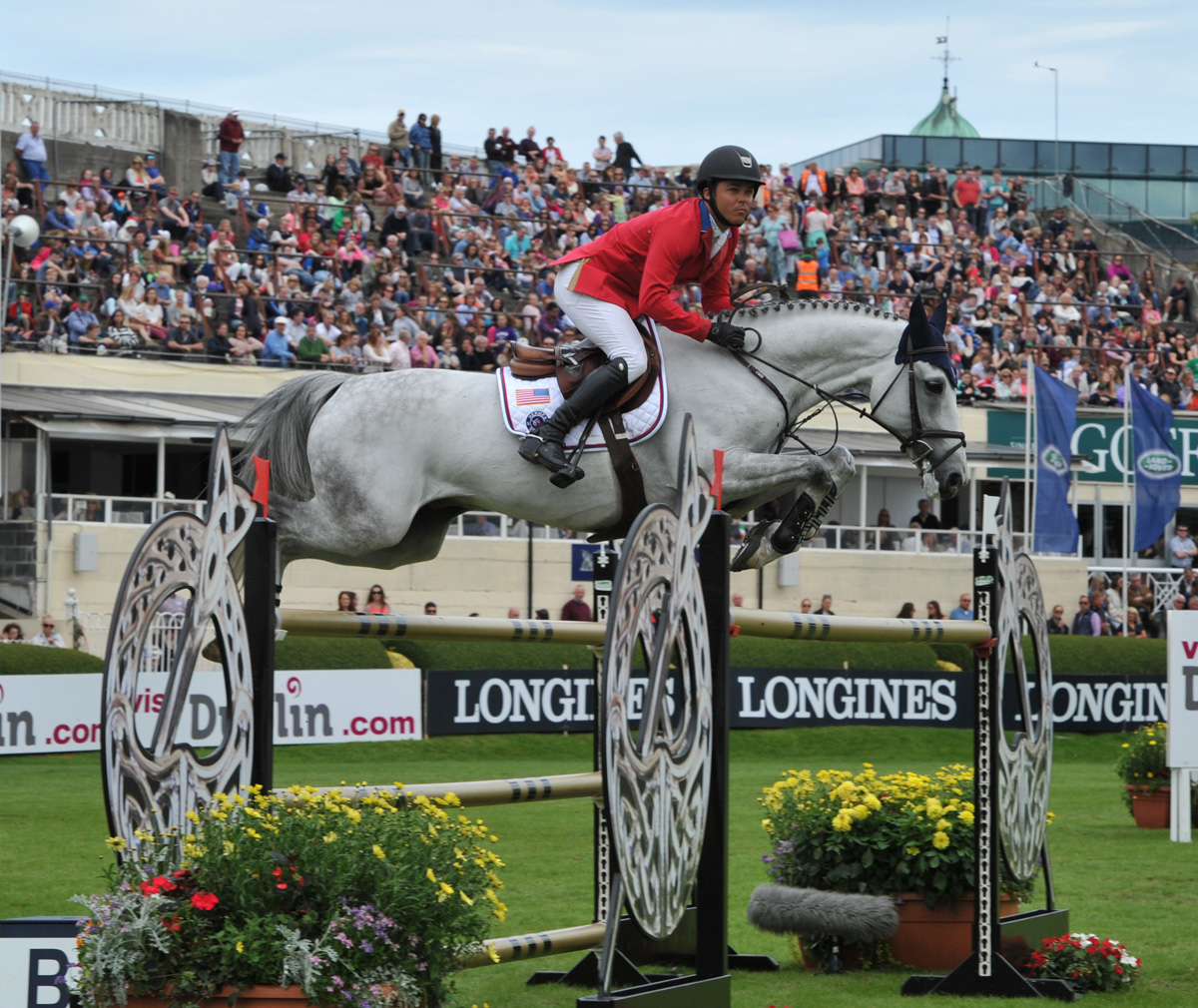 Kent Farrington and Uceko sped to the top of the Longines Grand Prix of Dublin.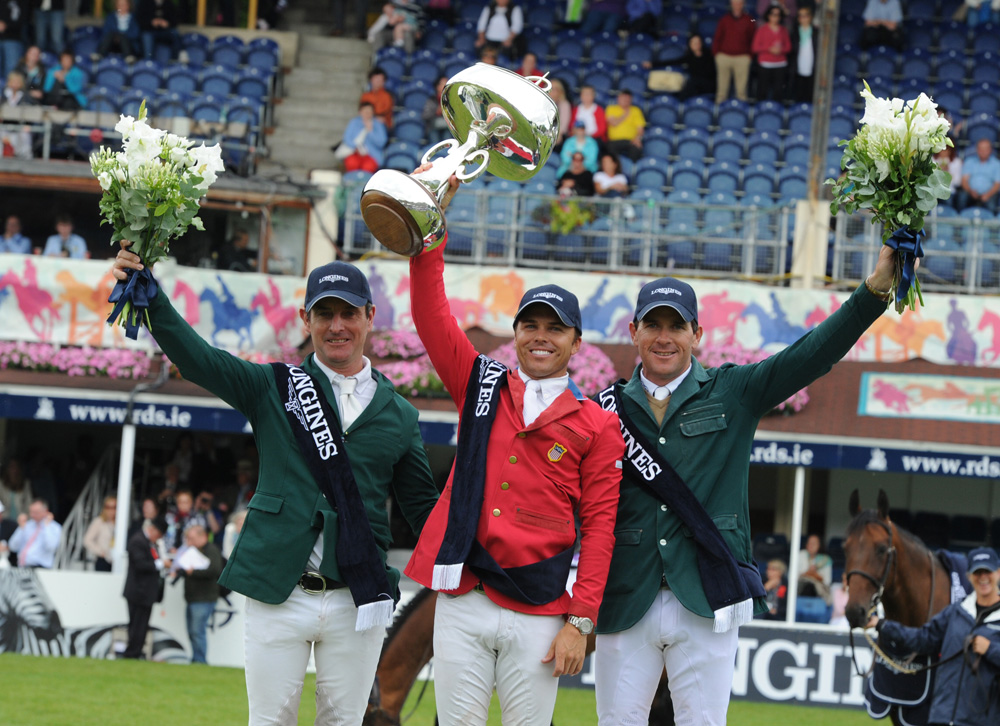 Kent Farrington (center) bested Irishmen Kevin Babington (left) and Conor Swail on their home turf in the Longines Grand Prix of Dublin.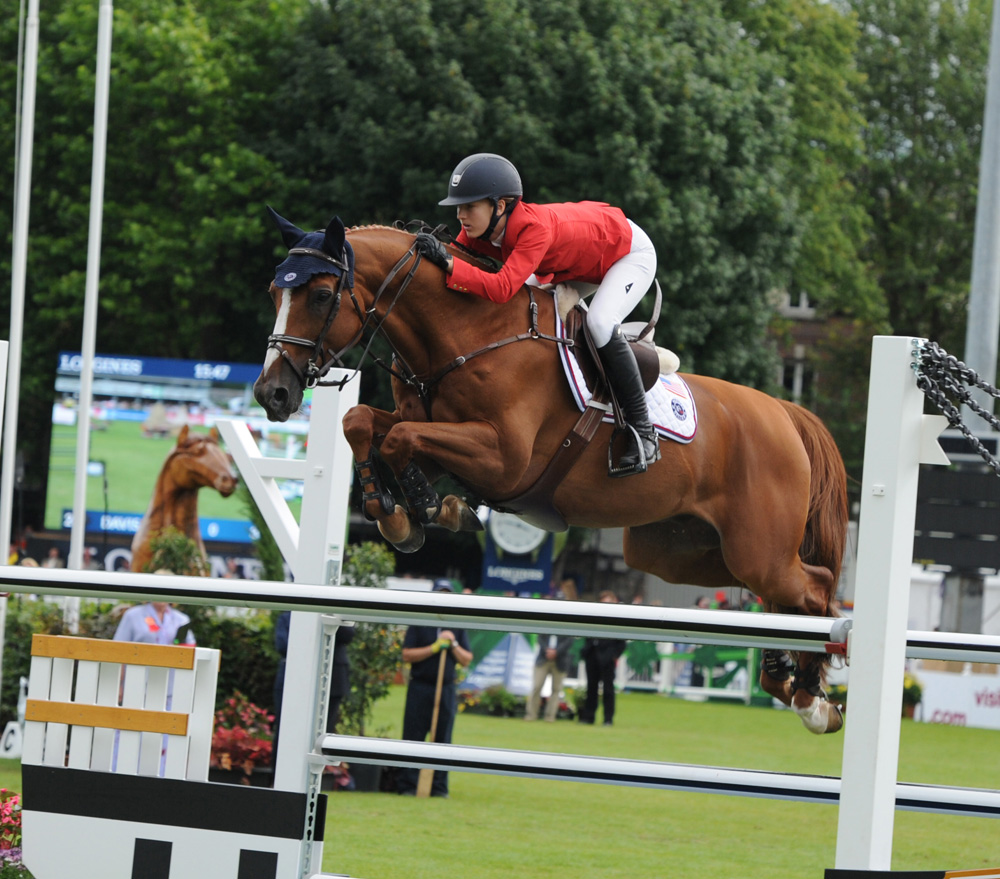 Lucy Davis also jumped for the United States in the Longines Grand Prix of Dublin, coming in sixth aboard Barron with a quick time and a rail in the jump-off.