Wellington, Fla.—Jan. 27   
It was the turn that had show jumping fans talking, but even Adrienne Sternlicht's innovative jump-off route couldn't keep Darragh Kenny from the win in the $132,000 Adequan® Grand Prix CSI***.
There were 16 clears out of the 45 starters, making for a very competitive and fast jump-off. Kenny emerged as the best of the bunch on Cassini Z, an 11-year-old Oldenburg gelding by Cassini II. They went late in the jump-off and were chasing a time of 39.36 seconds set by Sternlicht and Cristalline.
Sternlicht had pulled off an amazing turn, bringing cheers from the crowd when she took an unusual path from Fence 2 to 3, the Adequan wall. She and Cristalline, a 10-year-old Bavarian Warmblood mare by Cristallo 1, jumped a hedge set up to direct riders around a gazebo.
Watch Sternlicht's creative jump-off ride:
She and her trainer, Olympic team gold medalist McLain Ward, decided they "had to get a bit creative," knowing that Cristalline does not have the same foot speed and is loftier in the air than others in the stacked jump-off field.
"It was exciting for me too," said the 24-year-old with a smile. "We actually didn't plan that when we walked. McLain told me that at two Olympics, he should have jumped the hedge and didn't, so surely I could risk it in a three star grand prix. So I did! It was a unique experience for me and for my horse. She's super brave. She actually responded better than I anticipated. We have to keep learning together."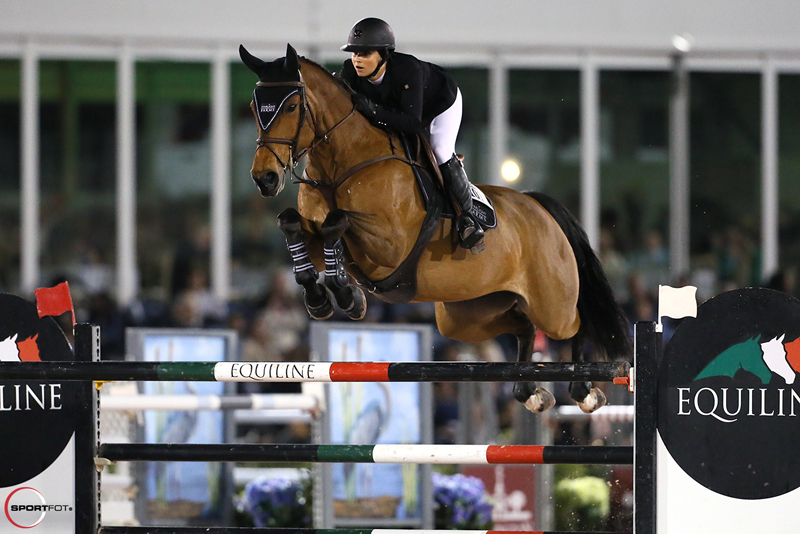 Sternlicht held the lead for a while thanks to that daring move, but Kenny and Cassini Z were fast from the start and never let up to finish with a winning time of 38.21 seconds. Sternlicht and Cristalline finished in third. Slipping into second place just 2/100ths of a second slower than Kenny was Jessica Springsteen on RMF Swinny du Parc, owned by Rushy Marsh Farm LLC, in 38.23 seconds.
"I think the two girls' horses have quite a big stride," Kenny said of the jump-off. "So, [Fences] 1 to 2, definitely Adrienne got there pulling at the end. For me, it was running the whole way. I think my horse just kept running in all of the lines, so just gradually over the length of the course he made up the time. He's very, very careful, so I don't really have to worry about the jumps as much as the turning."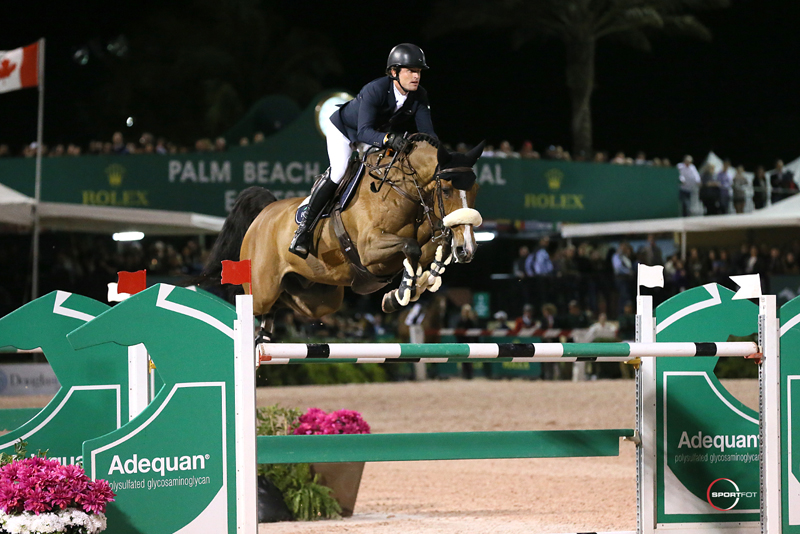 It was quite a week for Kenny, who celebrated his 30th birthday on Wednesday with a win in the $35,000 Douglas Elliman Real Estate FEI 1.45-meter Classic with Important de Muze. But it was not smooth sailing with Cassini Z in that class, and Kenny struggled to gel with the horse in Thursday's qualifier.
With a bridle and bit change and a smoother ride in Friday's 1.40-meter class, Kenny felt more assured going into the Saturday night grand prix.
"I jumped him in the WEF, and I didn't ride great," he explained. "The bit didn't feel great. I was actually very frustrated about it. I jumped the next day in the 1.40-meter in a different bridle, and it felt good. So then I went tonight in that bridle. He's still green sometimes—like the first jump in the jump-off, I came in quite fast, but he just jumped really high and didn't jump really far across it, so then the seven [strides] was very long [between Fences 1 and 2] so I really had to go fast there and then he was just in a really fast rhythm so I just kept going with it."
Watch Kenny and Cassini Z's jump-off round:
This was only the second grand prix class in which Kenny has shown Cassini Z. Brought to him as a sale horse, his owner Ann Thompson stepped up to buy the horse for him just a week ago. As the owner of tonight's winning grand prix horse, Thompson was awarded a stay at The Brazilian Court Hotel in a luxury studio.
"It was an amazing experience for us for the first grand prix with her as my owner and with this horse, and it was a fantastic result," he said.
Springsteen, 26, got the ride on RMF Swinny du Parc, a 12-year-old Selle Francais mare by Berlin, last summer. "We kind of just clicked right away," she said. "I feel really comfortable with her. She's so naturally fast. She's kind of easy to do in these jump-offs."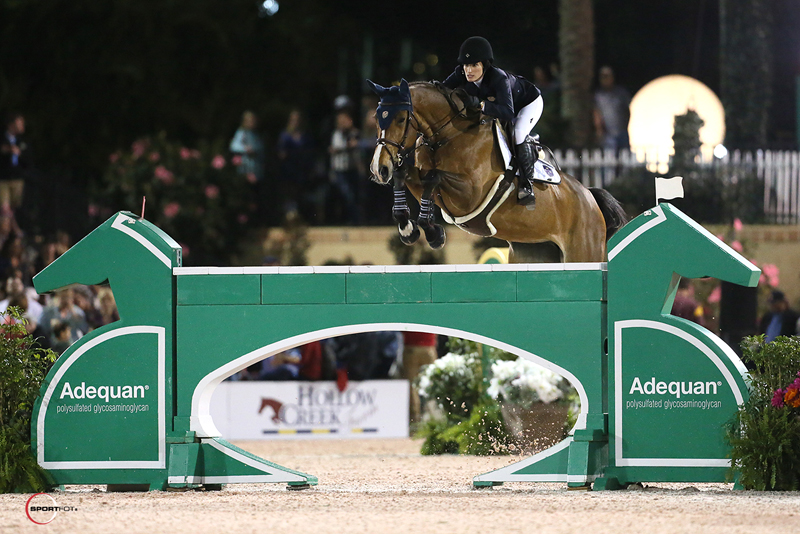 Along with RMF Swinny du Parc, Springsteen has the ride on RMF Zecilie for Rushy Marsh Farm, noting, "They kind of really pull me, and I like that feeling, especially when you're jumping these big classes. They're both really sweet, really brave, confident, scopey, and really careful, so I'm excited."
Springsteen was honored with the Martha Jolicoeur Leading Lady Rider Award for her consistency in Week 3.
See full results of the $132,000 Adequan Grand Prix.