When Kelli Cruciotti won the $100,000 Sapphire Grand Prix at the Devon Horse Show (Pa.) at the age of 17 she said it was a dream come true, and it was her horse Chamonix H that made it so.
It was 2015, and Chamonix was her first grand prix horse. Cruciotti was poised to turn professional out of the junior ranks the following year, joining her mother Cindy Cruciotti's training business in Elizabeth, Colo., and it looked like she would have a great horse in Chamonix H to start making a name for herself.
In 2016, they earned the overall series title in the Artisan Farms Under-25 Grand Prix series at the Winter Equestrian Festival (Fla.), then showed in Europe during the summer. They also won an Under-25 grand prix class at the Spruce Meadows venue (Alberta).
But in the fall of 2016, Chamonix began to colic while shipping home from Calgary, Alberta. "She was on the truck coming home from Spruce Meadows. The driver noticed she wasn't feeling well and turned off on the exit to Colorado State University on the way home," Kelli, 20, said. "They didn't have any other choice; they had to do a colic surgery right away."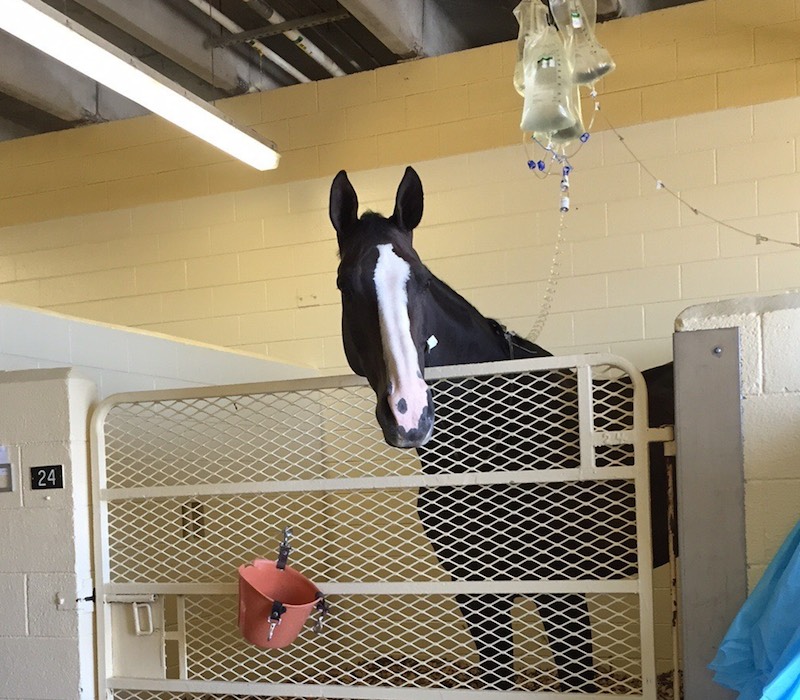 The mare had always been quite sensitive and had suffered more minor bouts of colic, but this was the first time surgery was required. Veterinarians recommended removing a large section of Chamonix's colon.
"We said, 'No we can't do that,' because the survival rate is like 40 percent for that surgery," Kelli said. "There was an amazing surgeon there, Dr. Eileen Hackett, who said, 'I understand why you're saying no, but I guarantee this will happen again,' and unfortunately two months later it happened again."
Kelli was devastated—she didn't want to put the mare through another surgery, and she thought it might be time to let the mare go.
"I was set on having her not go back into surgery. That was the last thing I wanted, but our vet at home and my mom and everyone decided she still wanted to fight," Kelli said.
Chamonix went back to the hospital, and this time veterinarians did the colon resection and removed 80 percent of the mare's large colon. It's a surgery that has about a 30 percent survival rate.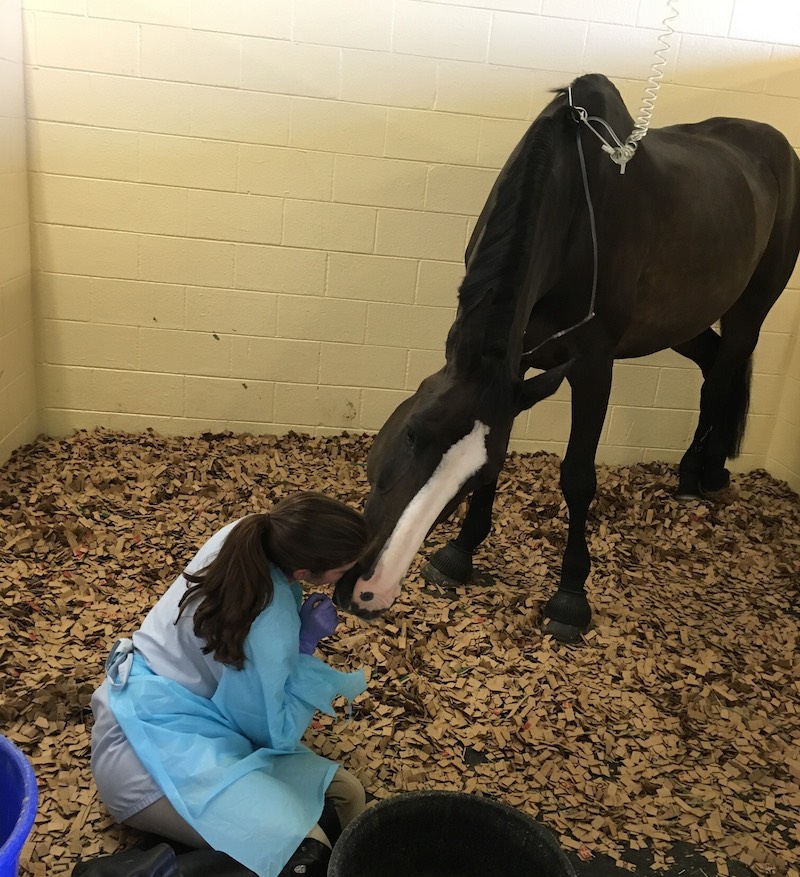 "They took out about 200 pounds from the colon, and that was a risky surgery, but the hardest part of it is the recovery because they have to learn how to [digest] without a colon, basically," Kelli said. The colon, which is part of the hindgut, is where most of the breakdown of roughage occurs in horses.
The prescribed diet for the mare was very strict, and it wasn't working for her.
"She got so skinny, she looked like one of the horses on the ASPCA commercials," Kelli said. "They aren't really supposed to eat hay on the diet, but we finally decided to try, and she's a total anomaly. She eats eight flakes of hay a day; she has totally normal manure; she eats whenever she wants."
As Chamonix started to pack the pounds back on, veterinarians told Kelli she could start the mare back to work. They started with tack walks and a bit of trotting, but the surgery is so rare and the survival rate so low that no one could really tell Kelli how the mare would recover.
"I asked what the performance career is after something like that surgery, and they said, 'Well, there aren't really any cases to go off,' " Kelli said. "So I said in my mind, 'OK, she's going to come back.' I know her, and she has such a big heart; she tries so hard." So when the barn left for the Winter Equestrian Festival at the beginning of 2017, Chamonix was on the truck. Kelli worked to get Chamonix fit again.
Because Kelli knew Chamonix so well she knew something wasn't right when she took her in her first show since the surgery, a 1.0-meter jumper class at WEF in January.
"She felt fine, but she didn't feel like herself, and when we tried to show her she was very unsound after, which is very uncharacteristic for her," Kelli said. "We had a couple vets look at her, and I said, 'You know what, she's done way too much for me. I want her to be comfortable.' So I made the decision to retire her."
The mare shipped back to Colorado to retire on the farm, but when Kelli got back from Florida she was met by a vet insisting this was not the end of the road for the horse. Dr. Ladd Squires has treated the Cruciottis' horses for years and helped Chamonix recover after surgery.
"I got home, and he kind of gave me a hard time. He said, 'What's the deal with this retirement? I worked really hard to save her not so you could retire her!' " Kelli said.
After examining the mare Squires recommended that Kelli have another veterinarian who did a lot of chiropractic work, Dr. Will French, come out to see her. French found a bit of arthritis in the mare's hip socket as the cause of the lameness Kelli felt in Florida and injected the joint.
"Ever since then she is 100 percent sound," Kelli said. "We started her back really, really slowly—we did 30 days of walking, then 30 days of trotting, just brought her back really slow."
Kelli rode the mare in her first schooling jumper class at a show in August of this year, and in October they took third in the $10,000 Under-25 Grand Prix at the Split Rock Jumping Tour in Columbus, Ohio.
Watch Kelli and Chamonix's round at Split Rock:
They followed it up with a fourth-placed finish in the $35,000 Keystone Classic speed class at the Pennsylvania National, and this week Kelli and Chamonix are showing in the open jumpers at the Royal Winter Fair in Toronto, Canada. They placed fifth in the $35,000 Dash For Cash class on Nov. 7.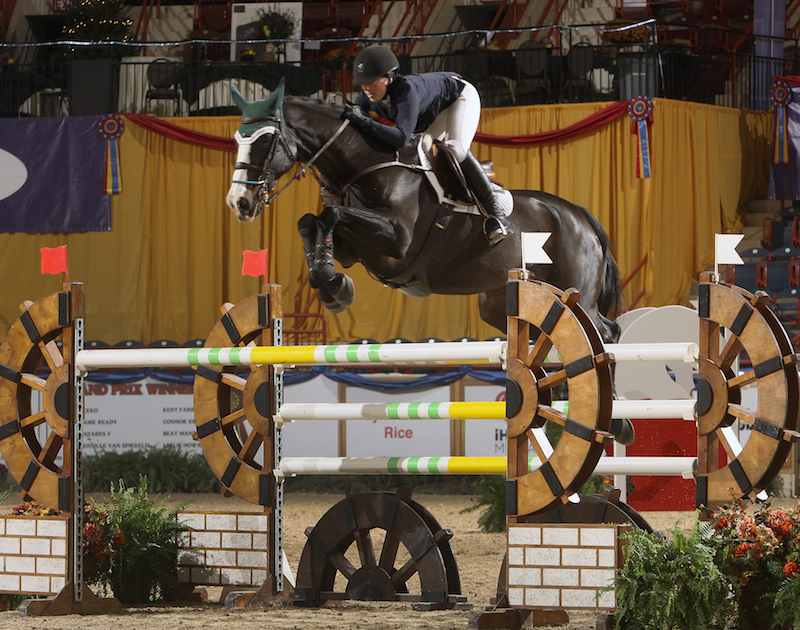 At this point, Kelli could care less about the ribbons.
"She's our little miracle. Every time I get on her now I just feel lucky to be able to ride her. Even having her in the barn is a bonus because she's like my best friend," Kelli said. "To get to ride her again—it's all gravy past this point."