Anyone glancing at the ride times for last week's Adequan Global Dressage Festival 7 might have been surprised to see Lillie Keenan's name on the start list for the national Prix St. Georges class. The 25-year-old from New York City made a name for herself first in the pony hunters, then the equitation ring, and now represents the U.S. internationally in show jumping, but recently she's been exploring the world of tailcoats and dressage letters.
"I've always had a bit of dressage with my jumpers," said Keenan, who this week was selected for the NetJets U.S. Show Jumping Team for the upcoming Nations Cup CSIO4* Wellington (Florida). "I've always been a big believer that the more homework you do with the horses in terms of building that relationship and correct riding and balance helps."
She's had some classical dressage training while based in Europe with German and Dutch trainers over the years. Last year she worked with Olympic show jumper turned race horse trainer Michael Matz, and his perspective on how another discipline can be complementary inspired her as well.
So Keenan called her friend, dressage professional Louisa Eadie, with whom she'd taken a few lessons the previous year, and started riding with her more regularly over the winter while Keenan's show jumpers enjoyed a vacation.
"It was something I could keep pushing myself and kind of stretching my brain and my riding in a different way," Keenan said.
"[Eadie] allowed me to have fun while learning and made it possible for me to do it in a serious way to the point that I felt like I was really being challenged, but I got to enjoy the challenge with absolutely no expectation," she added. "I have huge respect for riders in every discipline, now even more so in dressage. And I am just enjoying this time learning and trying to expand my toolbox really. I do apply that to my own horses."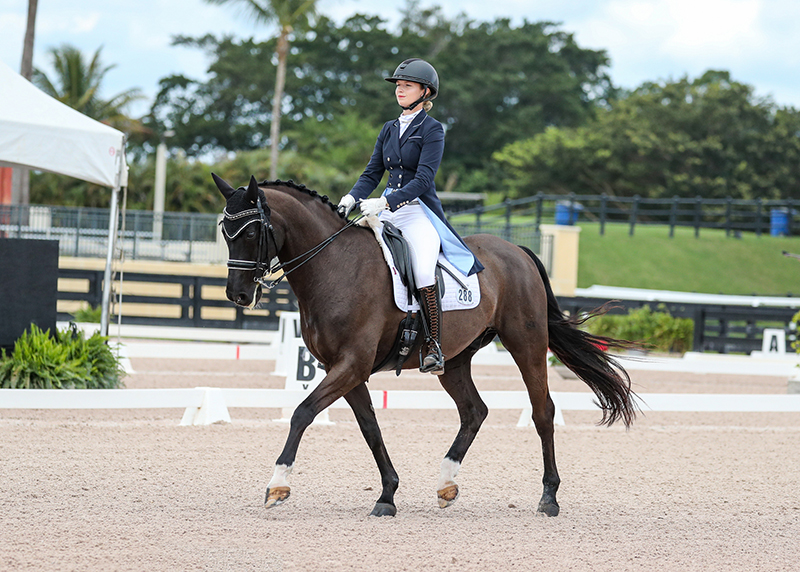 Keenan said she learned to long-line and gained a better understanding of the connection with the horse through her seat. She's also been able to use lateral movements that weren't necessarily her first instinct to get her horses off the forehand and out in front of her leg.
"I think that the beauty of our sport is about the unique relationship between the horse and rider, and their communication. The best riders in the world have the most seamless communication, right?" she said. "So if I can work my horses at home and really fine tune the aids and cross train in a way for them—I'm in no means doing any kind of Grand Prix dressage test with my jumpers, not at all—but sometimes a feeling I might get, if I feel I've lost the connection inside leg to outside rein on the left turn, and I'm losing time in the jump-off, how can I work on that based on this other set of exercises that I've learned?"
It was Eadie's idea for Keenan to take her new skills to the dressage ring, purchasing her a dressage coat for Christmas. Keenan rode her first test—third level, test 3—during AGDF 6, Feb. 18-20, on Brooke Grossman's Ferrari, where she scored a 68.37%.
The 19-year-old Oldenburg gelding (Feramo—Pearl) has experience at Intermediaire II with Werner van den Brande, before Grossman started showing him in 2018, competing in training level to second level. Last year, Andrea Drasites competed him at training level.
"He just knows so much and makes me realize how little I know, but I know when I do my job correctly he does everything perfect," she said. "I'm just really, really lucky. He's a true schoolmaster, and somehow things just fell into place that the moment that I really wanted to try this and learn more about it, I got an opportunity with Ferrari."
During Week 7, Keenan tried her hand at Prix St. Georges, which was her goal when she first started, but one she didn't expect to reach so soon. She rode two tests, scoring a 61.61% and 59.91%.
"I wanted to be able to, in my career, to compete in [Prix St. Georges] and feel like I could hold my own," she said. "I feel like that level of flatwork—I don't need to teach my grand prix show jumper how to pirouette, but boy, if I could turn really well and have that much control over their hind legs in the canter, I'm probably going to be a hell of a lot faster in my jump-offs. And understanding the ways in which you can be cognizant of not only all four legs and the balance but also the horse as a whole."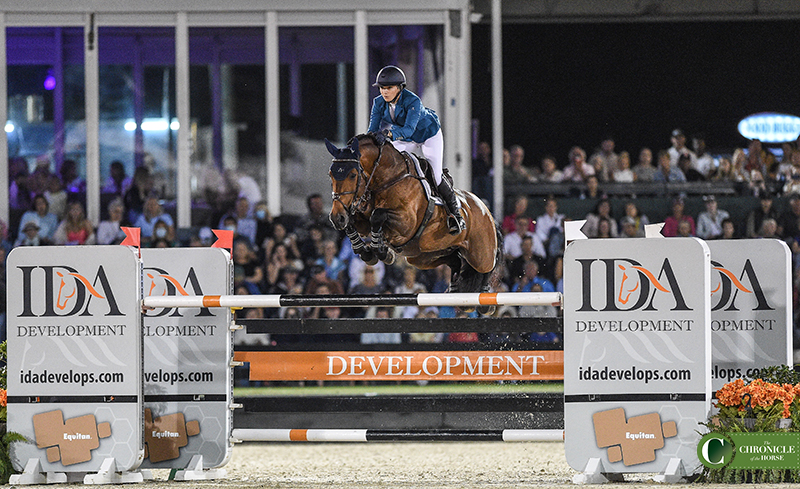 She said she felt like the experience has improved her riding, from increasing awareness of her own instincts to expanding her toolbox with exercises that can improve her horses' balance.
"My idea is that it's making me a more educated rider and a better rider hopefully for my horses to try to make their job easier," she said.
While Keenan doesn't plan on swapping jump-offs for pirouettes, she hopes she can continue to show during the Florida winter circuit, where the proximity between the Palm Beach International Equestrian Center and the Global showgrounds makes doing both easier.
"I always got asked when I was a young rider what's the best advice you can be given," she said. "When I look at it now, it's to, 'Never lose the joy in what we do,' and in many ways this really reminded me of that."