Lillie Keenan wins an unprecedented five out of six championships at the USEF Pony Finals National Championships.

If anyone thought Lillie Keenan's feat of winning all three regular pony hunter tricolors at the 2007 USEF Pony Finals National Championships couldn't be duplicated in 2008, they were right. Keenan didn't repeat her sweep—she bettered it.
The 11-year-old New York native claimed five out of the six hunter division championships, sponsored by Wild Horsefeathers, Aug. 13-16 at the Kentucky Horse Park in Lexington. She also picked up her second consecutive grand pony hunter title, this time with Dogwood Hill LLC's Neverland.
"He's a sweet pony and loves to be around people, but his best quality is that he just goes around the course evenly," said Keenan.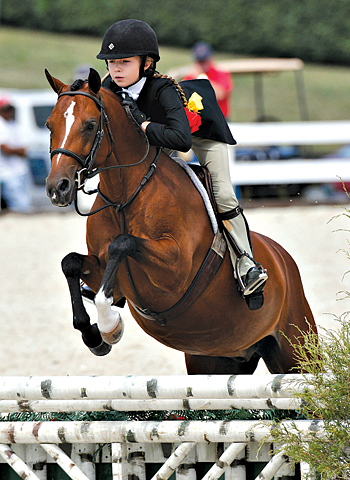 Neverland, a 7-year-old German Warmblood called "Clover" due to the shape of his brand, effortlessly took
home the medium and grand pony championships, but it was initially up in the air whether or not Keenan would even show him.
Keenan qualified two mediums, Clover and Lanes End's Make My Day, for Pony Finals. Up until a few days before the competition started, she still couldn't decide which one she wanted to ride.
"All week it was, 'Who are we going to pick?' " said trainer Patricia Griffith of Heritage Farm. "Lillie had been flip-flopping champion and reserve with both ponies and both could've won, but I had this feeling."
Griffith followed her instinct and made the ultimate decision for Keenan to compete on Clover. She had no doubt about her choice after Clover led the pack of 109 ponies at the end of the first day of regular competition.
"After he won the model I said, 'See, I picked the winner!' " said Griffith. Keenan and Clover also placed third in the under saddle and clinched the championship with their win over fences and an overall point total of 1,077.
Jenna Santi, Alpharetta, Ga., and her 6-year-old Welsh, Highland's Heaven Sent, earned the reserve championship in the medium division.
Having won nearly every possible title at Pony Finals, Keenan looks to retire from the pony scene and transition to horses within the next year. She already showed her horse, Violets Are Blue, to her first championship in the children's hunter division.
Griffith acknowledged that although Keenan is only 11, it's time for her to move on to horses.
"It's not like she'll never ride a pony again, but we're going to exit from Pony Finals," she said. "In fact, the horses are slower and easier to find distances with."
Keenan agreed that the adjustment to horses is fun and easier than expected. She looks forward to competing in the hunters and jumpers.
In the regular large pony division, Keenan took home the championship for the second consecutive year with Betsee Parker's 11-year-old Dutch pony, Vanity Fair.
Keenan and "Cocoa," as the pony is known around the barn, won the under saddle and placed fourth in the model before sealing the deal with their win over fences.
Parker's other pony in the division, 14-year-old Liseter Clever Star, finished in the reserve slot with Shawn Casady. After scoring a 90 and a 93 in a pony hunter classic in June, Casady decided he wanted that memory fresh in his mind when he got to Pony Finals.
"I told Betsee, 'I don't think the pony needs to show [again until Pony Finals],' " said trainer Bill Schaub, Sanford, Fla. "Shawn had this vision of winning in his mind and wanted to keep it that way."
Liseter Clever Star arrived in Kentucky after his two-month vacation in Virginia and placed second over fences to put him second in the overall standings behind Keenan.
Mandarino Makes Her Mark
Emma Mandarino, Bedminster, N.J., was the one hunter pony rider who kept Keenan from a complete sweep. The 11-year-old won the small pony championship with her 6-year-old Welsh, Hilton Hhonors.
"She's really sweet and has this huge stride. She's very easy to ride and find the distances," said Mandarino of "Pixie," whom she bought a year ago from Elizabeth Butterworth.
The pair stood sixth of 94 ponies after the model and under saddle phases. Mandarino said she felt nervous entering the over fences so close to the top, but she came up with a plan to help calm her jitters.
"We did the ticketed warm-up and pretended it was my first round and that the class was my second round," she said.
The strategy worked, and Mandarino and Pixie looked at ease cantering around a challenging course full of bending lines and option jumps.
"I liked riding in the big ring, but it was definitely different from courses I've done before—it wasn't like anything else," said Mandarino. "The course rode very forward, but it was nice."
Aleece Jarman, 11, Pace, Fla., picked up the reserve championship in the smalls after finishing second over fences with her 8-year-old Welsh, Rico Suavé.
A Green Sweep
Keenan kicked off her Pony Finals on Aug. 13-14 with a sweep of the green pony hunter divisions. Although used to winning, she's new to the green pony ring.
"I don't normally catch ride ponies this green," said Keenan. "I was nervous because they're babies and can do anything."
Keenan's nerves didn't show, though, as she won all three small green pony titles and the grand green pony hunter championship with Double G Stables' Sparkle Plenty.
Keenan started riding 5-year-old "Stars" in January and knew him the best of her three green rides. Keenan's rides in the medium and large pony divisions were provided by Schaub, and she met them a mere 10 days before the competition began.
Sleepy P Ranch's Happy Meal made up ground to win the medium green championship after standing 11th overall at the conclusion of the model and under saddle phases. Gavin Jensen's Bracewood's Camelot was considered to be far greener than Keenan's other two mounts, but pulled through to win the championship title in the large section.
Alexandra Beckstett
---
Consistency Leaves Moog At The Top
When Morgan Moog loaded up her medium pony Goodnight Moon onto her parents' trailer to go to the USEF Pony Finals in Lexington, Ky., she wasn't expecting any ribbons. Moog dreamed about riding a solid trip in the first round of her very first USEF Pony Medal Final.
But she remained consistent in the medal, even when her competitors started making mistakes, and after two challenging courses and two tests Moog was in the hunt. When the announcer read the awards in reverse order, Moog waited patiently to hear her name, expecting the third- or fourth-placed award. But when it came down to the final two riders, and Lillie Keenan was named the reserve champion, 11-year-old Moog burst into tears.
"I wasn't expecting this at all," said Moog. "I'd never even ridden a test where you had to go into the ring without your trainer."
Unlike many of her competitors, Moog's mount in the medal, Goodnight Moon, is her only pony, and he lives on her farm, where she's in charge of his daily care. The gelding earns his keep by serving as her mount in the hunters as well, and she attends about 12 shows a year, mostly near her Newfoundland, N.J. home. Rather than riding several ponies a day or practicing without her irons, Moog keeps her leg strong by riding her gray pony bareback.
Neither Moog nor her trainers Caitlin Githens and Anna Greenfeld of Someday Farm had any idea that Moog would outride the competition to take blue.
"Today we had a spectacular trip, and we were sitting and watching and all the sudden a call-back seemed possible. Then all of the sudden a ribbon seemed possible, and then the final four seemed possible," said Githens. "It was completely out of nowhere."
Richard Jeffery and Jimmy Torano built the day's difficult courses in the indoor arena, which presented plenty of challenges for the 185 riders. Both rounds included several fences without ground lines, a spooky in-and-out in front of the judges' table, and a few opportunities for riders to take some risks through bending lines and rollbacks.
"It was much, much harder than any medal course I've ever done," said Moog.
After two rounds of competition, judges Torano and Susie Schoellkopf invited Moog, Keenan, Haley Anderson and Isabelle Caccamise back to the ring for what should have been the final test of the day. The riders had to hand gallop a single fence, turn back to an oxer and trot out of a broken line, then demonstrate three changes of lead down the quarter line in front of the judges and finish with a halt.
"We never thought in a million years that the kids would do flying changes," said Schoellkopf. "But they all tried them, and it didn't work."
After problems in the work-off, the judges called back the top four again, this time for flatwork. "We certainly didn't plan on bringing them back," said Schoellkopf. "But we had to. None of the kids were perfect throughout the day, but Morgan's mistakes were the least drastic. She did a very nice job."
"This was a very difficult day for all the kids, but overall they did a great job," added Torano. "Morgan won because she stayed consistent."
While all young riders depend on family support, Moog's parents, Maarten and Conny, have proved their dedication time and time again. Though not active riders themselves, they help Moog care for her pony and trailer him to lessons. Even more impressive, they endured the protests of their son, a competitive soccer player, after the family converted his soccer field into a riding ring.
Mollie Bailey