Lexington, Ky. – Nov. 3
To watch the last test of the ASPCA Maclay Finals, I was sitting in the stands amongst some junior riders who had competed but were done riding for the day. As Lillie Keenan rode her final round, I heard them whisper in almost reverential tones, "She's just so good," and "Look at that upper body; she has such control," and "God, that was nice."
Those are just the kind of comments that come to mind when watching Keenan ride. She's a bit otherworldy in her poise and control. And when the dust settled on the third round of the ASPCA Maclay Finals, judges Susie Humes and Robert Ridland named Keenan the winner without any further testing. "The class really did pin itself. It wasn't hard to judge," Humes said.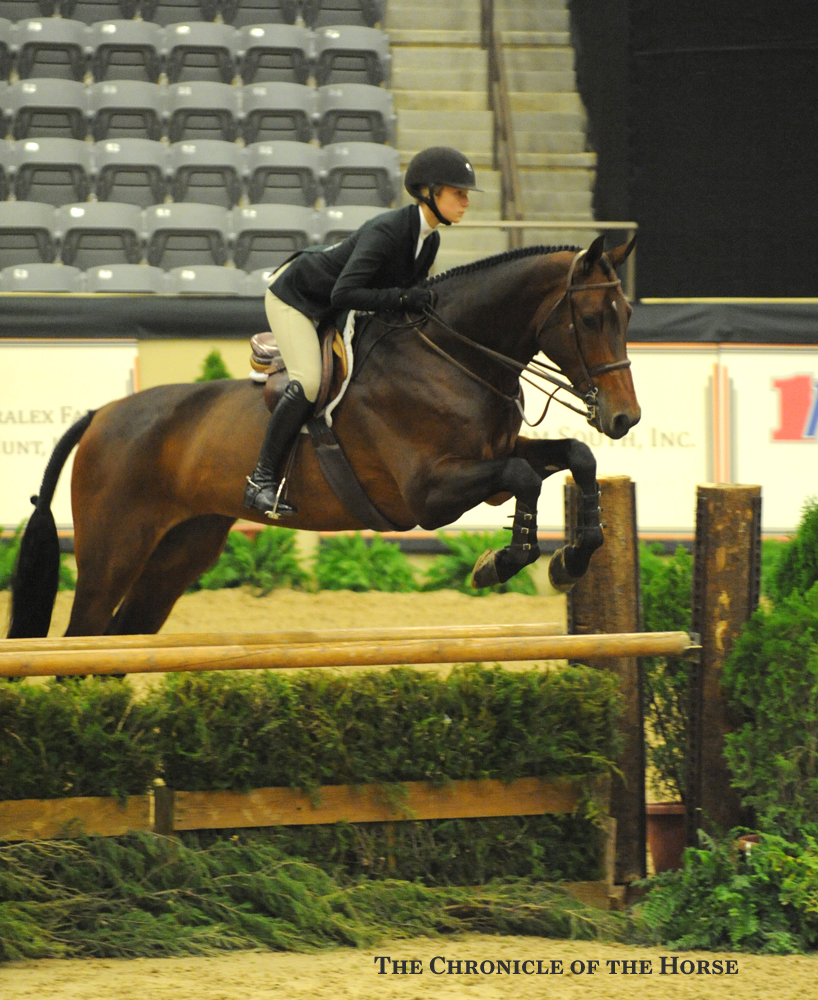 There was no question that Lillie Keenan won
the ASPCA Maclay Finals.
Photo by Molly Sorge
"I thought today we won in a magical way. The round was stunning, everything you work for for years," said Andre Dignelli, who has trained Keenan, 16, since she was 7. With the win, Keenan completed the coveted Pessoa/USEF Medal and ASPCA Maclay Finals double in the same year.
Kelli Cruciotti moved up to take second, while Charlotte Jacobs claimed third. See full results and a round-by-round descriptive commentary about the class, including photos of the course maps.
Keenan wasn't perfect in Round 1. Dignelli said he thought she'd been a bit deep to the first jump and then her horse, Clearway, hesitated off the ground at fence 2. But the judges liked her trip enough to put her into third. Then, her style on the flat inspired them to put her on top of the 20 they called back to jump again. "Lillie's flat phase was really phenomenal and we felt she should move up because of it," said judge Susie Humes.
Keenan has already started her transition to the jumper ring, winning her first grand prix this year. She's still got one equitation feather to add to her cap next year, her last junior year—the Platinum Performance/USEF Show Jumping Talent Search Finals (N.J.)—but she won't be riding hunters anymore and she'll focus on the jumpers.
Cruciotti, the daughter of professional trainer Cindy Cruciotti, moved up from third to second when Sophie Simpson, who was behind Lillie going into the final phase, had a rough transition to the trot in the test. "I just don't think there are any words to describe it," Kelli said. "It's amazing. I just am so appreciative to everyone who's put hard work into getting me here." Kelli rode with her mother and the Don Stewart team.
Jacobs made a remarkable climb from 11th to third with a really beautiful test. "I knew I didn't have anything to lose. I gave it my all and did some inside turns," Jacobs said.
For in-depth coverage of the ASPCA Maclay Finals and all the action from the Alltech National Horse Show, make sure to read the Nov. 18 issue of The Chronicle of the Horse.
Kelli Cruciotti rode to second.
Photo by Molly Sorge
Charlotte Jacobs put in a final test that moved her up from 11th to third in the ASPCA Maclay Finals.
Photo by Molly Sorge