When Susan Gallagher picked her off-the-track Thoroughbred Kaytee Mountain out of a field nine years ago, she never expected she'd be doing dressage, let alone cantering down centerline at the Dixon Oval.
But along the way the gelding showed his knack for the sport, and they completed their second Intermediaire I CDI this weekend in their third appearance at Dressage At Devon.
While the test didn't go quite as planned, earning a 54.52 percent after "Tee" got a bit nervous in the big atmosphere, it's only made Gallagher hungrier to perfect their performance and show everyone what talent she knows the 13-year-old gelding (De Niro—Caro Mountain, Mountain Lure) has.
"He's a very quirky horse," said Gallagher. "You have to have a sense of humor. I don't ever go in there thinking this because you can't; because it's going to be totally different than you think. I try and go in thinking, 'What do I have today? Is he relaxed? Am I going to be able to ask for a little more?' We're walking a tight rope between what we're supposed to and him having a meltdown, which he's done."
Gallagher was born in Australia and grew up competing in the showing discipline, which is similar to a judged flat or hunter class.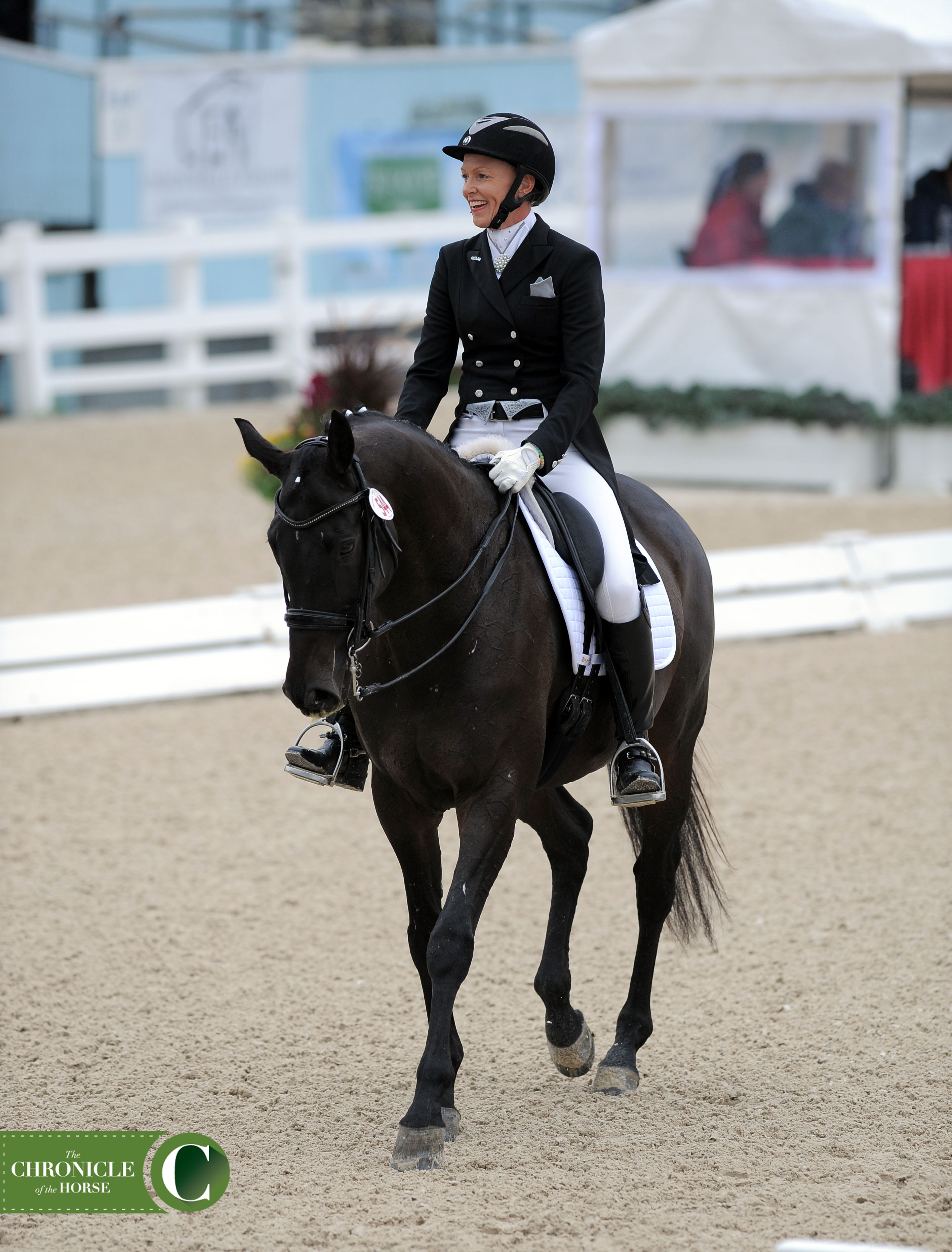 Photo by Lindsay Berreth.
She moved from Sydney to New York City in 1999 to work on Wall Street, then met her husband, but the urge to start riding again after a several year break came back.
Gallagher found Tee in a field in Allentown, Pa., after he'd been recently let down from an unsuccessful racing career. She'd ridden Thoroughbreds all her life in Australia, so she went with what she knew.
"I fell instantly in love with him because he just had this crazy playful nature, galloping around the field," she said. She decided to keep his name. "I didn't want to change it. That's him.
"He was one of the fortunate ones. He didn't have a rough time. They didn't beat him up or treat him badly or race him until he broke down," she added. "He wasn't going to win—he was just going to canter around at the back of the field and have a nice time enjoying himself out there. It wasn't his thing."
Gallagher and her family moved to southern New Jersey, and she was all set to start training Tee when she became pregnant with her son, so he had an easy couple of years before he started a career in dressage, a discipline which Gallagher had no experience with but wanted to try.
It was hard to find a trainer in her area, but Gallagher slowly started making progress with Tee. It wasn't without difficulty though.
"Awful! Terrible!" she said with a laugh when asked how he was to bring along. "He's a Thoroughbred—he's so tense. He jogged, he didn't trot. He wouldn't walk, he'd jog on the spot. You go in the warm up, and he'd have a meltdown. But he's my horse. I loved him, and I'm very attached to him, and I just figured we'll get through it and keep learning.
"I was told a million times to sell him, 'he's not a dressage horse, he's a piece of [crap.]' You name it, I heard it. 'Get rid of it.' I got rid of the trainers that told me to get rid of 'it.' That really offended me! I kept moving on and found other trainers that embraced him and me and pushed us along and sent us on our way," she continued.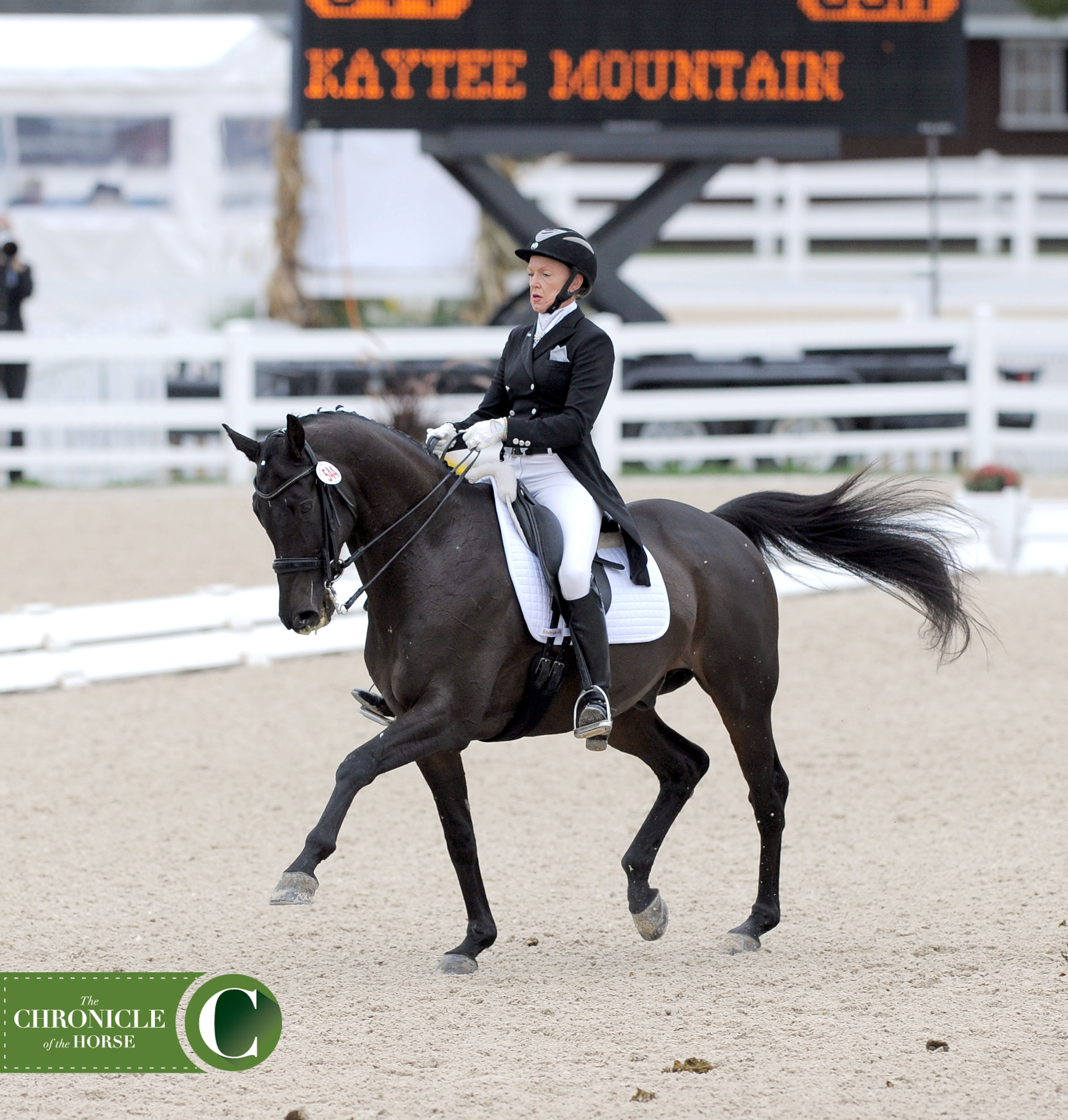 Photo by Lindsay Berreth.
As she began to show Tee, Gallagher knew she'd have to work through his tension, but she was up for the challenge.
"Everyone was telling me, 'You've got to give him Perfect Prep, calming stuff, he's going to be a lunatic'—because of his history of being a bit of a nutter. Very tense, very explosive, very spooky. And I'm like, I'm not doing any of it. I've got a 5-year-old now—I refuse to do it. He just had to go."
Once they reached third level and began working on flying changes, Gallagher found that it clicked with Tee.
Their first CDI at Saugerties (N.Y.) last year didn't go to plan when Tee refused to go forward after his first halt and was eliminated.
"I was mortified. I was so embarrassed because I know there's so many people out there that kind of want to see you fail," she said. "There's a lot of people out there that are not necessarily rooting for you on this horse. It made me sad because I know what he can do, and I just wanted to show people I can do this."
In tears back at the barn, she started talking with trainer Shannon Stevens who was stabled next to her.
"Shannon's very good at dealing with these kinds of horses. I did the test the next day at the national level, and she said, 'It doesn't matter, you just go in there and make him go. He's just got to go.' And he went! Off we're going!"
Gallagher now trains with Stevens and Gigi Nutter, another trainer experienced with Thoroughbreds.
At home Tee enjoys going for a gallop around the big jumping arena where he's boarded, but he's a little excitable on trails.
Gallagher has since bought herself a 5-year-old warmblood, Furst Henning, who was sixth at Devon in the 5-year-old young horse final, but she says he's a lighter Thoroughbred type and has the "fire-breathing dragon" quality of Tee.
She's hoping to improve upon their Intermediaire I scores and believes Tee will make it to Grand Prix one day.
"He's with me until his dying day. I feel like I know everything about him. I know every feeling in his body, I know every quirk, I know every trick he pulls. I can feel it. I know his mood," she said of their partnership.
"He has to fight twice as hard for everything. For him to trot like that, he can't maintain it for long. The canter tour is his forte," she continued. "We've got so much to learn—tip of the iceberg. But in a couple of years we'll be coming down [the centerline at the Dixon Oval] in Grand Prix!"