Devon, Pa.—May 30
"I had so much fun!" Katie Robinson exclaimed as she exited the Dixon Oval laden with a handful of awards. She had so much loot that she had a hard time holding onto everything, and she had to stop a couple of times to pick up a dropped ribbon.
She topped three of five classes with Amarillo giving her the amateur-owner, 36 and over, championship and the grand amateur-owner award. While the flowing ribbons and shining plates and trophies are certainly exciting, the most important part for Robinson was that she had the time of her life.
Robinson has been working on her handy rounds with trainers Andre Dignelli and Brady Mitchell of Heritage Farm, and their preparation showed when they scored an 88 for the win.
"We practiced over low jumps at home and just getting more comfortable turning and the changes," Robinson said. "The handies are hard! It really paid off; we got lucky, we were able to win it, and it's been great."
When asked what else she'd been practicing at home, Robinson pointed out something else that made her show fantastic.
"[We've practiced] galloping and cantering and trying to jump jumps out of pace, which is something that I felt I was doing particularly the last class [the stakes]. I loved that class. I know I didn't win it, but it was so fun. The round was fun. It was such a galloping fun course."
There might not be a sportsmanship award for the amateurs, but if there was Robinson would be the clear front runner. Regardless of what the scoreboard said she was enjoying the ride and the experience.
"It's as special as it gets. For me and for this sport—this is it. This and the National [Horse Show,] she said. "I've been showing here since my teenage years, and I've been reserve but never champion. This is my first time, and I'm really, really, really happy. I'm glad it was with 'Milo,' because he's a good boy. He's my guy. He's my steady guy."
Danhakl's Graduation Present
A week after finishing her masters degree in art history, Stephanie Danhakl got a well-timed gift when she topped the low amateur-owner, 18-35, championship. Two wins and a second also meant they took home the grand low amateur-owner championship.
It might have been Enough Said's first Devon, but he's far from a rookie. Earlier this year he was circuit champion in the division at the Winter Equestrian Festival (Fla.).
"This is my first year showing Enough Said at this horse show, but I wasn't really worried about him. He's pretty calm and doesn't really get flustered by new environments, so I had a good feeling he was going to be a good boy, and he was," said Danhakl of Pacific Palisades, Calif.
Danhakl had a lot of juggling to do with both the Dixon Oval and the Gold ring holding the younger age group of both heights in the amateur-owner division simultaneously. She didn't have much time to over think things since she had to be on another horse almost immediately.
"It was tough to stay focused on each round when I was worried," she said. "I was next to go in one ring and then I'd hear on the loud speaker, 'Stephanie in three rounds in the Dixon Oval,' so it was a little bit stressful for me, but I tried to stay calm, and my horses were ready to go. They were great. It ended up working out OK, but I felt a little bit frantic running between the rings."
You'd never guess she was feeling that way—she laid down solid trips in both rings and Golden Rule took the reserve in the amateur-owner, 18-35, division.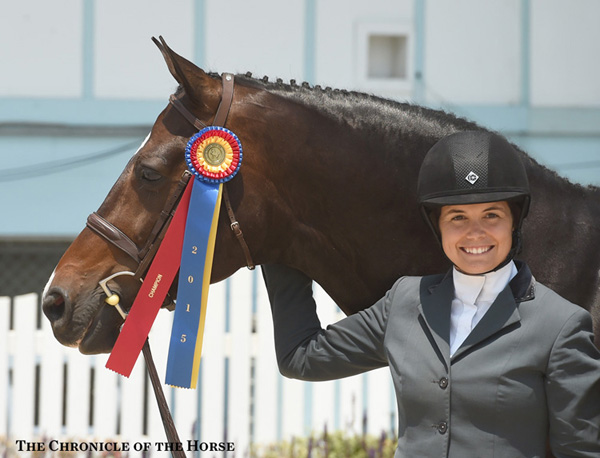 Stephanie Danhakl and Enough Said took the low amateur-owner, 18-35, championship and the grand low amateur-owner title. Photo by Kimberly Loushin.
Moran Gets Her Redemption
The last time Caroline Moran showed at Devon she was champion aboard the horse Just Jack—that was eight years ago. Now she's got a new partner—the stunning grey Bacardi—and she's picked up right where she left off, with another championship ribbon to her name in the low amateur-owner, 36 and over.
"Came back with a bang, and my mother is very excited," said Moran. "It was fun. It was great to be back here and show here. I love this horse show, so it was a lot of fun."
After a less than stellar first day of competition—she was listening to the announcer in the Dixon Oval rather than the Gold Ring for the under saddle—Moran was determined to redeem herself.
And redeem herself she did, Moran and her 9-year-old Dutch Warmblood topped both the handy and the stakes class this morning. Those twenty points were just enough to win the championship over reserve Dorli Burke and Charming.
"It was a little nerve-wracking for me yesterday, this is my hometown and my entire extended family came to watch, so I think a little bit my nerves got the best of me," she admitted.
When asked if she changed anything for today, Moran shrugged and gave a little chuckle. "I just beat myself up all yesterday afternoon. Usually when I get angry enough at myself, I ride a little bit better, so I went in today looking for redemption. I was a little bit more relaxed today. Today was kind of all or nothing. There's no point being nervous so whatever happens, happens."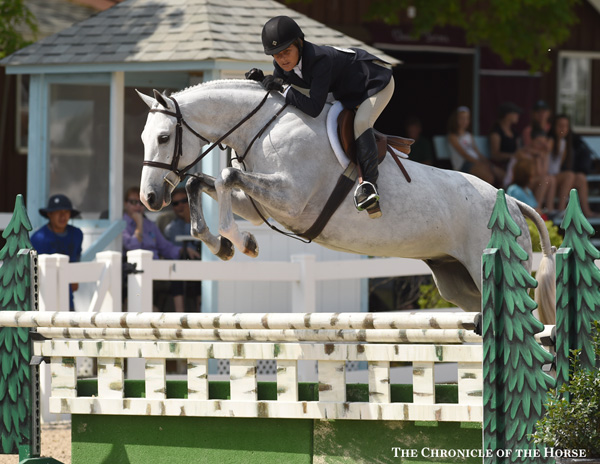 Caroline Moran brought home two blues in low amateur-owner, 36 and over, division with Bacardi for the championship. Photo by Kimberly Loushin.
Willever Gets Her Championship Tricolor
Taylor Willever has plenty of reserve tricolors at championship shows, but there was one accomplishment that's always denied her—a championship against top competition.
But today the 20-year-old Pennsylvania native finally got what she desired when she topped the amateur-owner, 18-35, division with Whisper.
She imported the 7-year-old Holsteiner mare in December of 2013 and spent a year in the low amateur-owners before moving up the 3'6".
"In the beginning she was pretty jumpery," Willever said. "She got really excited in the handies, she thought they were quite fun, but over the past year and a half she's totally settled in—her jumps gotten way more huntery."
Unlike many of her competitors, Willever doesn't travel to Florida, she shows locally in between her studies at East Stroudsburg University (Pa.) where she's a business administration. She hopes to one day become a professional and join her family in running their Blue Valley Riding Center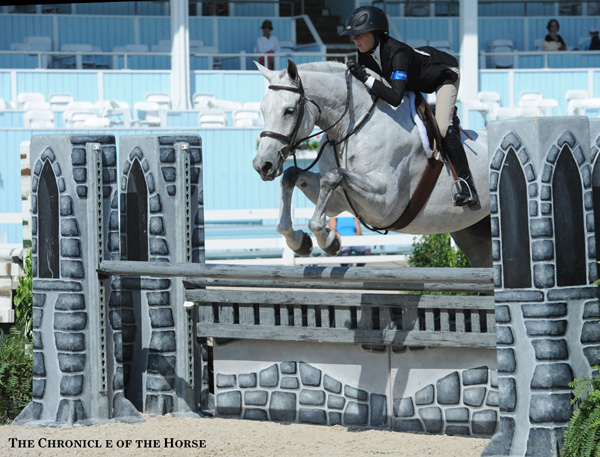 Taylor Willever was thrilled to finally win a major championship—she and Whisper topped the amateur-owner, 18-35, section. Photo by Molly Sorge.
See all of the Chronicle's coverage from Devon, and make sure to read more in-depth coverage in the June 15 print issue of The Chronicle of the Horse.