The Netherlands, Germany, Belgium, Qatar, Denmark: Kate Shoemaker's passport has gained quite a few stamps this year. The 2021 Tokyo Paralympics team bronze medalist's jet-setting lifestyle over the past few months is in pursuit of future podiums. While her partner of eight years, Solitaer 40, is her top pick for this year's ECCO FEI World Para-Dressage Championships in Herning, Denmark, Shoemaker is thinking long term—to the 2024 Paris Paralympics and beyond.
And she's well on her way to having a strong string with two new  horses: Quiana, an 8-year-old Rheinland mare (Quaterstern—Rubina, Rubinstern Noir) bred by Brigitta Wego, and Supreme, a 6-year-old Westphalian stallion (Sezuan 2—Deja Vue, De Niro) bred by Ralf Knauf.
Shoemaker has shown Quiana twice internationally this year with impressive results: In their first CPEDI3* together at CHI Al Shaqab (Qatar), the pair earned their first 80% score for their freestyle (from one judge; the test overall earned 77.08% from the full panel). And at the CPEDI at Blue Hors in Denmark, held March 18-20, they finished second in both the Grade IV team and individual tests (with a 74.79% and 75.81%, respectively)—beaten only by Tokyo double-gold and team silver medalists Sanne Voets and Demantur Rs2 N.O.P.—and finished the weekend with a 73.60% in the freestyle.
Both new horses have joined Shoemaker's string in direct response to her experience in Tokyo, she said.
"Seeing the horses competing in Tokyo, there was an obvious rise in horse quality since even [the 2018 FEI World Equestrian Games (North Carolina)] three years earlier," Shoemaker said. "With the support of my family, I began looking for a potential back-up horse for this year with an eye toward the future. I never expected to fall head over heels for a 5-year-old stallion with only a year under-saddle, but that's exactly what happened."
She purchased Supreme in late 2021, and then Shoemaker left him in the Netherlands with Bart Veeze. Under Veeze, Supreme has been licensed with the Anglo European Studbook and was reserve champion at the Subli Cup Finals for young horses in the Netherlands. Shoemaker hopes the stallion will qualify for this year's FEI WBFSH Dressage World Breeding Championship for Young Horses (the Netherlands). Plus, keeping Supreme abroad made financial sense as he develops.
"The costs for keeping horses is so much lower in Europe," she said. "A young horse can have board and training for less than I pay to feed one horse in Wellington with the current $49 per bale hay prices! In addition [there is] easy access to affordable showing opportunities, which is wonderful for a young horse to gain experience. I have an ambitious dream to have Supreme qualify for the World Championships for Young Horses. While this is a long shot as he's green for his age, keeping him in Europe allows easier access economically to such opportunities."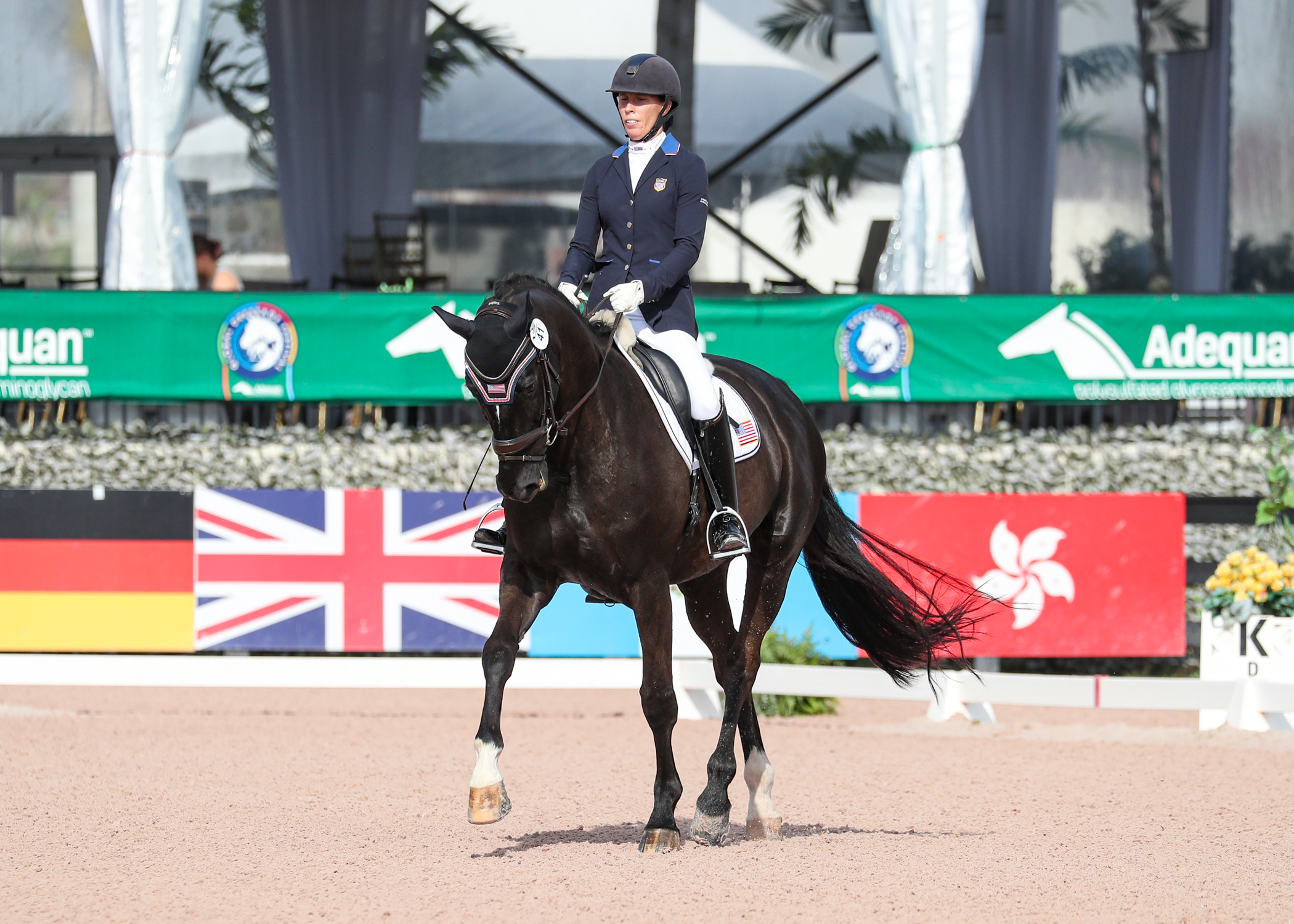 Because Supreme was too young to be a back-up for Herning, Shoemaker continued her hunt, but promising, and affordable, horses sold quickly.
"One time returning home, I immediately returned on the next flight for a horse I thought could be the one, only for the horse to be under contract before I arrived," she said. "I was starting to feel discouraged and exhausted, and knowing the time window was closing to prepare and potentially qualify for Herning, I was ready to take a break from looking at horses and refocus the horse search toward Paris Paralympic prospects."
But German rider Fredric Wandres, who spent the winter in Wellington, Florida, had ideas on other horses that might work. One of those was Quiana, who was German rider Nicole Wego-Engelmeyer's personal horse and had been bred by Wego-Engelmeyer's mother Brigitta Wego. While Quiana wasn't officially for sale, Shoemaker was able to sit on the mare who'd twice competed at the World Championships for Young Horses.
"My first impression feelings were that she was so relaxed and supple yet uncomplicated to ride," Shoemaker said. "By the end of the ride, I commented to Freddy, or maybe more to myself, 'This could work.' This was only the second horse I've ever sat on that could immediately do the movements of the Grade IV tests without major mistakes or tension. The tests are deceivingly difficult."
With Quiana, Shoemaker could step into the show ring immediately, and having decided to leave the mare in Germany until April, Shoemaker's crossed the Atlantic multiple times in order to train and compete.
"I wanted to be extremely sensitive to the fact that she has been with her breeder and rider since birth, and I wanted the opportunity for her to get to know me before making such a big move away from home," Shoemaker said. "Additionally European and championship competition experience is extremely valuable for team selection, so with the support the team at Hof Kasselmann, we hatched a plan to carefully give Quiana international experience while growing our partnership."
They started at a national level show in Germany before flying to Qatar to compete for the U.S. team at the CPEDI at CHI Al Shaqab in Doha. There, the U.S. team took silver, and Shoemaker was overall reserve champion for all grades.
Watch Shoemaker's freestyle from Doha:
Following that show, Shoemaker headed home to compete in the Adequan Global Dressage Festival 9 CPEDI3* with Solitaer 40, a 15-year-old Hanoverian gelding (Sandro Hit—Dynastie, De Niro) she owns with Craig and Deena Shoemaker, before hopping on a plane back to Europe where she competed Quiana in the CPEDI at Blue Hors in Denmark.
And as for her brief touchdown on home soil in Wellington to compete "Soli" at the AGDF CPEDI3*, that too went better than expected. Despite only getting to ride Soli four times before the competition, they topped all their tests, including earning a personal best of 77.80% in the Grade IV freestyle and were overall champions for the show.
"If any horse could pull off competing after such a schedule, it's Soli," she said. "While he was more challenging in his younger years, he's become Mr. Reliable in his teenage years. Because I hadn't been regularly riding him this spring, I was having major doubts heading into the show. I had an inner discussion to either take him home before the jog or let go of my expectations. In the end I decided to ride him in a way that highlights his strengths of steadiness and elasticity and not focus on our past training so focused on developing power in his gaits and uphill balance. In the end trying less hard payed off in dividends while Soli demonstrated his best self-carriage at a show to date."