The last time Karin Hagios Belgrave found herself competing at the Kentucky Horse Park she was galloping through the long-format Rolex Kentucky CCI*** Three Day Event. The year was 1994.
A lot has changed in horse sport since then—the long format has gone by the wayside, warmbloods have taken over across most disciplines, and Belgrave herself has spent two decades starting a family and a business, overcoming serious illness and taking nearly a decade off the sport at which she once competed at the highest level and trained professionally.
It seems appropriate that Belgrave will find herself back in the tack at the horse park for the first time in 24 years aboard Tiyo, a Thoroughbred she has retrained for the 2018 Retired Racehorse Project Thoroughbred Makeover.
"I always rode and retrained other people's Thoroughbreds for them, but not for myself," said Belgrave, 47.
A lifelong equestrian enthusiast, Belgrave competed a Thoroughbred-Standardbred cross to the one-star level as a young rider before she started the hunt for her "big time" horse.
"My young rider horse was being retired, and I was in college, and my mom said she happened upon an ad in the back of the Chronicle, just a skinny little print ad from the classifieds, no picture," Belgrave said. "She said, 'I really like the sound of this horse. He was bought to be a fox hunter, and he's way too much for her, and he's not very expensive. You should go look at him.'
"So I hooked up my trailer to go look at him, and he was way too much for me too," she continued with a laugh. "But I was 20-something and thought, 'Whatever, I'll try.' "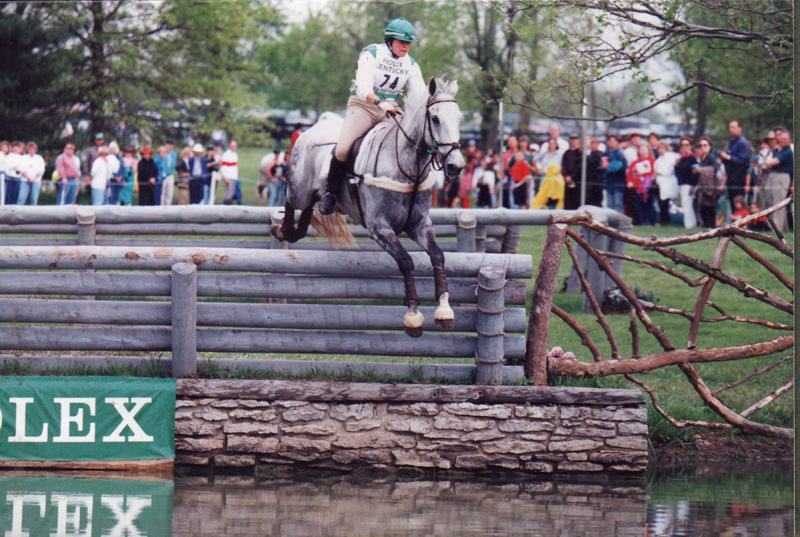 Belgrave ended up bringing that horse, Ben Nevis, a Thoroughbred-Hanoverian cross, all the way up through advanced.
"He just ate up everything in his way on cross-country and show jumping, so we moved up the levels pretty quickly," she said. "This was back when you could move up and be terrible at dressage."
Belgrave successfully completed her first and only trip around the Rolex Kentucky CCI*** Three Day Event as a long format in 1994 .
"He was just this massive, 17-hand, dapple gray force of nature, and because I was doing intermediate and advanced we were long listed for the World Games and Olympics," Belgrave said. "I never had an actual shot; I was just a kid with one good horse on a shoestring budget, but it sure was fun to get those letters.
She eventually retired Ben Nevis to a friend's farm, and she started training professionally out of a barn in New Jersey.
"I was training and teaching lessons and ended up working with a lot of young Thoroughbreds, and I just fell in love with them," Belgrave said. "I hadn't ever really worked with them before. So I spent like four or five years doing that, and I just enjoyed not being at the upper levels and working with the younger horses."
While working as a professional Belgrave also worked full time as a representative for Pfizer's equine health department. It's how she met her husband of 10 years, Rodney Belgrave. At the time he worked in internal medicine at Mid-Atlantic Equine Center in Ringoes, New Jersey, and Rodney is now an owner at the clinic.
"I got married, and a year later, we had our daughter Natalie, and then our son Luke, so I ended up selling a nice young horse I had and getting out of riding," Karin said.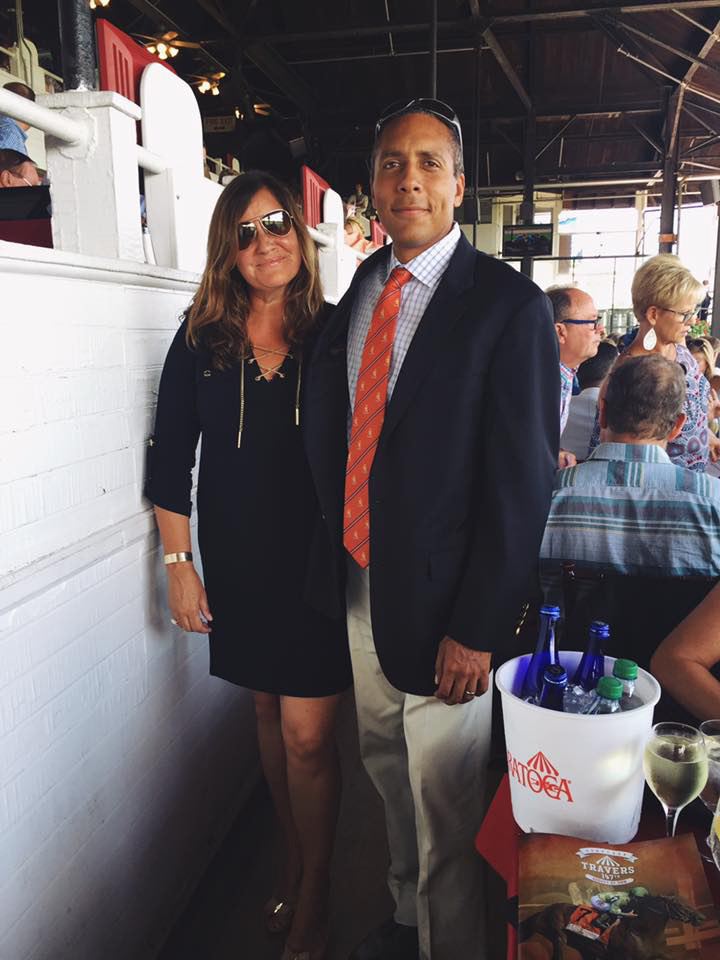 Once her kids were a little older, Karin started getting into professional photography.
"I had always taken pictures of sales horses and stuff, and with the kids and Rodney on call it was just easier to manage than working with Pfizer or the horses, so I started doing it full time," Karin said. "I started with portraits and weddings, and now I almost exclusively do commercial work and help out local businesses with their branding and marketing."
Finally, when their children were both old enough to start school full time, Karin saw an opportunity to get back into the sport she loved.
"I was like I'm ready to find a horse; let's keep an eye out for something, and then sure enough I go into my annual mammogram and find out I have this Stage 2 tumor that has to come out," she said. "And I went, 'Seriously?' I couldn't believe it."
Karin's prognosis for recovery was good—she underwent surgery to remove the tumor in 2016 followed by rounds of chemotherapy and reconstructive surgeries in 2017.
"I had my final surgery in July 2017 and then was still sort of reeling from everything when I ran into Mary Eppler, a very reputable Thoroughbred trainer at Pimlico [Maryland]," Karin said. "We ran into her at a race we were just there to watch, and I was like, 'Hey, I'm ready to find a horse now, something safe and sound and sweet and athletic. A unicorn. Do you know of any?' And she kind of laughed. She didn't say it, but I could tell she was kind of like, 'Really? After everything you've been through you want a youngster off the track?' And I said, 'Really!' "
That's when Tiyo entered Karin's life. A 2013 mare (Gio Ponti—Yo Ali, Quiet American), Tiyo had earned just over $40,000 on the track in 10 starts before her owners decided to see if she was better suited in a second career.
"She didn't come from a bad situation at all; she just wasn't winning, so her owners retired her before she broke, which is great," Karin said. "She's been an absolute joy; I adore her. She's sweet and smart and athletic; she's such a joy, and she's been so much fun."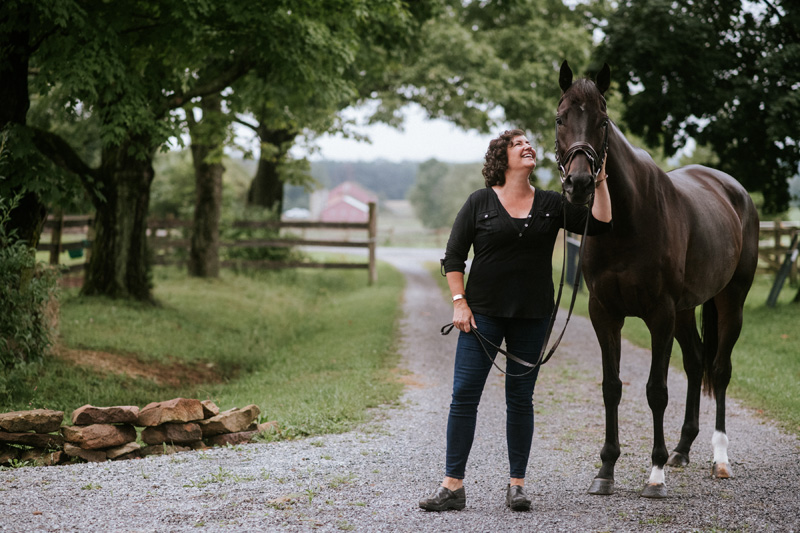 Karin knew of the RRP Thoroughbred Makeover through a fundraiser the Mid-Atlantic Equine Clinic did for the organization back in 2017.
"When I realized this mare was eligible for the 2018 Makeover, I was like, 'We have to go,' " she said. "My husband and I are both excited about it. It's fun to be a part of this organization we were following and supporting from a distance; it kind of comes full circle."
Karin let the mare have most of the winter off in turn-out before starting her up again in the spring, though she admits the start-up process was quite slow and steady.
"There is a Facebook page for RRP trainers, and there is a group of us calling ourselves Team Turtle," she said with a laugh. "We had some really bad weather this spring, so between the rain and mud and pulled shoes it was almost laughable. We didn't really get her going until April."
Riders can pick from a variety of disciplines to compete in at the Makeover—Karin has opted for dressage.
"I'm just getting my fitness and strength back again, and I wanted to take things slow with her. She's not for sale, so there is no need to rush it," she said. "She's going to be my pet forever; I love her. She seems sort of suited for the dressage, so I thought that was a great place to get back into things before jumping right into eventing or something."
The RRP Thoroughbred Makeover runs Oct. 4-7 at the Kentucky Horse Park—check back with the Chronicle for more from the event!