Bridgehampton, N.Y.—Aug. 30
Karen Polle was almost was too stunned for words at the press conference after winning the $250,000 Hampton Classic Grand Prix. "I'm in a little bit of shock right now. This is definitely the biggest win in my career so it's very exciting," the 23-year-old said with a big smile.
Her mount, With Wings, lived up to his name on Sunday afternoon, effortlessly jumping the only double clear to secure a win over some of the country's best riders. It was a good way to end the summer for Polle, who's headed back to Yale University (Conn.) for her senior year.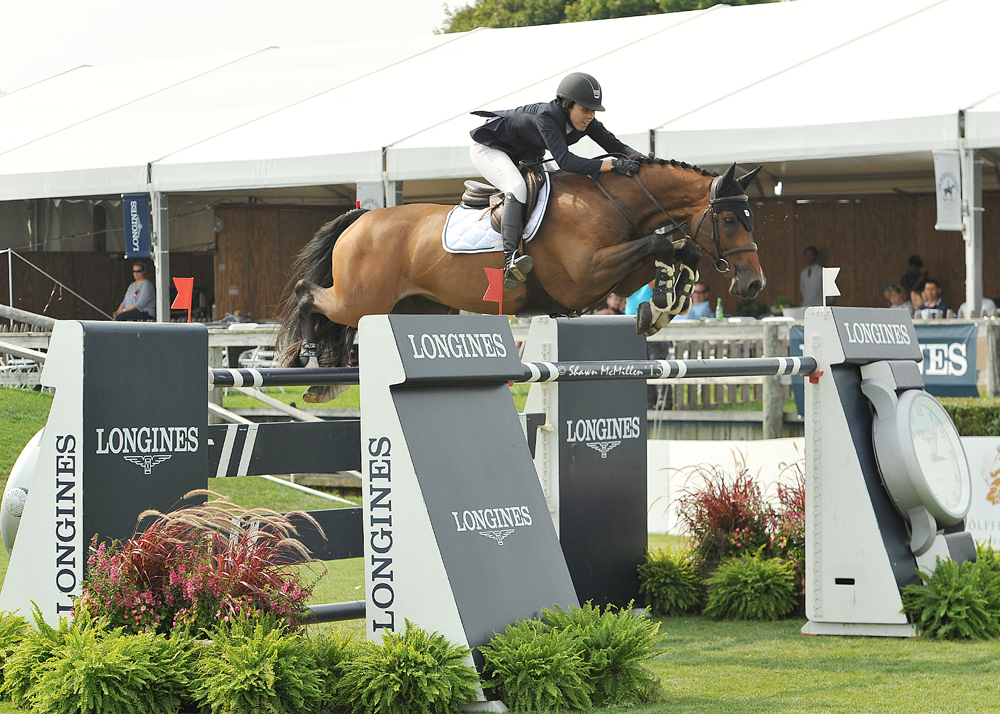 Karen Polle and With Wings flew to the top of a star-studded field in the $250,000 Hampton Classic Grand Prix, presented by Longines. Photo by Shawn McMillen Photography
The Guilherme Jorge-designed course was big and tricky, aiming to. "I used a double liverpool combination and water jump. I think that's very important. It's traditional in the sport but you don't see it much anymore," Jorge commented.
Of the 30 horse-rider combinations there were only four clear in the first round. The first to leave the rails up was Chris Sorenson of Canada riding his own Bobby, ninth in the order. Before him the lowest score was 12, with two retiring. In the end it was Polle, Sorenson, Todd Minikus on Babalou 41, and Meagan Nusz aboard Dynamo facing off for the top check.
Sorenson galloped across the large grass field to a quick time of 46.23 seconds, but had an unfortunate rail. Minikus—the veteran of the group —also had 4 faults, and Nusz pulled two rails for 8. With no one clear, it was Polle's to lose, or win.
Polle and With Wings were fast but careful, jumping clean and tidy around the course with a time of 47.96 seconds. Minikus took second with Chris Sorenson a close third.
"When you have to go clear to win it actually adds a lot of pressure. I was definitely nervous but I tried to go medium fast so if I did have a rail I would still be in contention," said Polle.
McLain Ward and HH Azur, who had won the $50,000 Hampton Classic Grand Pric Qualifier two days before, finished in 15th with 8 faults in Round 1. Paul O'Shea, who topped the See full results of the class.
Polle grew up in the United States and came through the junior hunter, jumper and equitation ranks, winning the team and individual golds at the 2010 USEF Junior Jumper Championships at the Pennsylvania National. But she switched to Japanese citizenship in 2014 and has hopes of competing on the Japanese team for the 2016 Rio Olympic Games. She's currently riding with Mario Deslauriers.
Karen purchased With Wings, a 12-year-old Dutch Warmblood when he was 7. The bay gelding had spent 2009 competing in both the 6-year-old Young Jumper classes and the first year green hunter division with Marilyn Little riding. Polle bought him during the 2010 Winter Equestrian Festival (Fla.), where he'd been showing in the junior jumpers with Christina Kelly riding, and started out with him in the low junior jumpers. They used the Artisan Farms Under-25 grand prix classes at WEF to move up to that level in 2012 and jumped in their first five-star CSIs in 2013.
"We sort of grew up together. He's the perfect horse: he's brave, he's scopey, he's careful," Polle said. "I couldn't ask for a better horse."
Minikus congratulated Karen at the press conference. He trained her in the past and was happy to see her have success, noting she and With Wings are lucky to have each other. But apparently he didn't teach her everything: "I forgot to teach her to let the old guy win!" Minikus said with a laugh.
Shane Sweetnam, who placed sixth in the grand prix with Chaqui Z, was announced winner of the $30,000 Longines Rider Challenge—collecting an impressive 355 points over the week of competition. Minikus came in second at 170 points.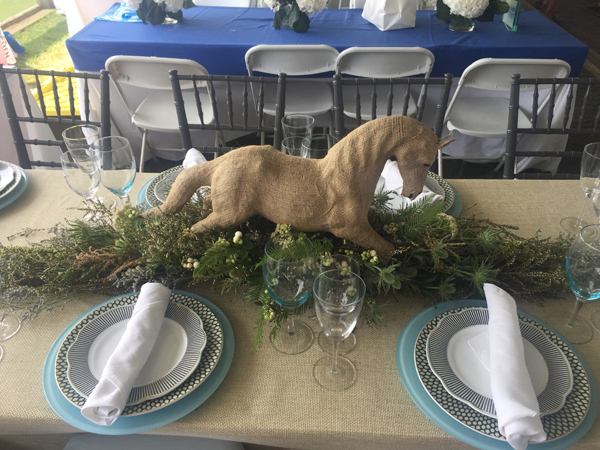 As spectators in the VIP tent at the Hampton Classic watch the country's best compete, they enjoy unique and beautiful table settings at each table. Photo by Ashley Fairfield
The grand prix wasn't the only highlight for the jumpers today. The day started with the $30,000 East Coast Young Jumper Championship's for 7-year-olds. Fourteen horse and rider combinations set out for their third and final round. In the end it was Victoria Colvin with Austria 2, Wilton Porter on Balou d'Acord, and Samantha Ramsay with Dartagnan in a three-way jump-off, each with combined scores of just 4 faults over three rounds.
Porter was first to jump off, clocking in at a quick 35.61 seconds but with two unfortunate rails down for 8 faults. Colvin and the speedy Austria 2 went clean and fast, angling the fifth fence—a substantial ASPCA oxer—to stop the timers at 33.56 seconds. Ramsay put in a clean round, making a bold inside turn to the fourth, but missed the blue by more than a second.
This is Colvin's third month with the lively Austria 2 (Casall x U2 I)—a recent import from Europe. "She's a very spunky mare which I think helps her out in the ring because she's so tiny. That energy, spunk, and a little spook makes her jump much better," said Colvin of Austria 2.
That spook is what made Colvin take a slightly conservative route in the jump-off, the mare's natural speed making up for it. "She's very quick on her feet and very fast. There was an inside turn that Samantha did but since Austria is spooky I decided to canter with good pace around and angle the oxer instead," she said.
Colvin's Hampton Classic blue streak can't seem to be stopped. In addition to her win in the young jumpers and Sam Edelman Equitation Classic earlier in the week, she won the $10,000 Hermes Junior/Amateur-Owner Hunter Classic aboard Way Cool with a score of 98, along with the Kathy Scholl Memorial Trophy for best rider in junior hunter divisions and the Gordon Wright Cup as leading equitation rider.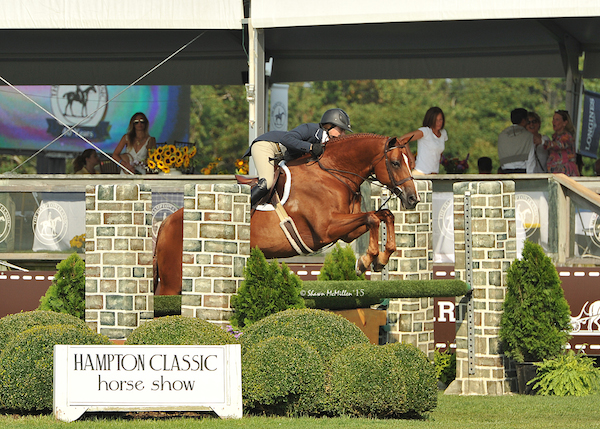 Tori Colvin's banner week at the Hampton Classic included topping the $10,000 Hermes Junior/Amateur-Owner Hunter Classic aboard Way Cool. (Photo by Shawn McMillen Photography
In the $25,000 Campbell Stables Show Jumping Derby, the course took no prisoners—big combinations, a bank, and the tight time limit of 96 seconds proved too much for 20 of the 24 entered. It was Lucy Deslauriers riding Hester, Kaely Tomeu on Fidalgo Van Het Leliehof, Phillip Rhicter with Pistoya, and Sophie Simpson on Why Not who galloped their way into the jump-off.
The first two to jump off ran into trouble at a tall, narrow vertical coming off a tight turn near the grandstand. Tomeu, third in the line-up, went clear in 41.44 seconds.
Deslauriers knew she'd have to lay it all on the line for a win. She and Hester made it look easy, jumping clean with a time of 39.66 seconds to land on top. Tomeau took second with Phillip Richter (a previous winner of the derby) and Pistoya sealing the yellow with a very fast time (39.06 seconds) but 4 faults.
"Kaely was pretty efficient—I definitely put on the gas to the last fence and tried to be neat and tidy everywhere," said Deslauriers. "I tried to stay on it to every fence. My horse has a big stride so that was to my advantage."
"I competed in this class last year and had one down so I was really happy to go clear today. I couldn't have asked more of Hester, he was amazing," she continued.
See full results from the Hampton Classic…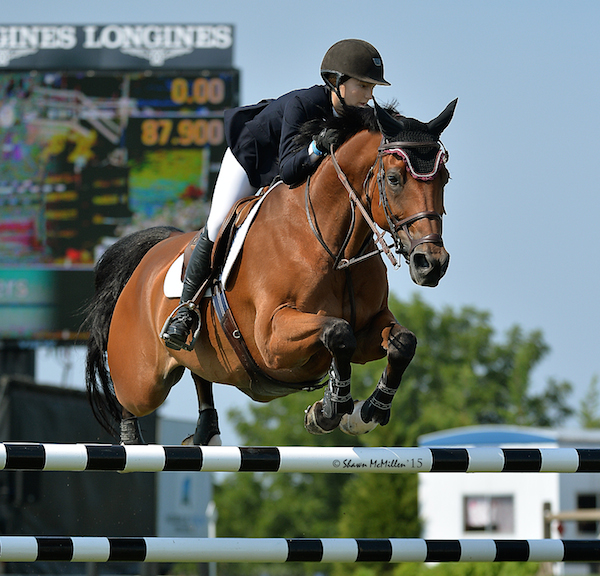 Lucy Deslauriers continued her winning streak for the year by topping the $25,000 Campbell Stables Show Jumping Derby aboard Hester. Photo by Shawn McMillen Photography
The glitz and glamour of grand prix day at the classic didn't disappoint this year. The VIP tables were decked-out with specially made centerpieces, flower arrangements, and the best champagnes. The guests wore their finest—some get-ups appeared to have cost the equivalent of a nice hunter. Celebrities mingled among the crowd but once the prix started, all eyes were on the horses, the real stars of the show.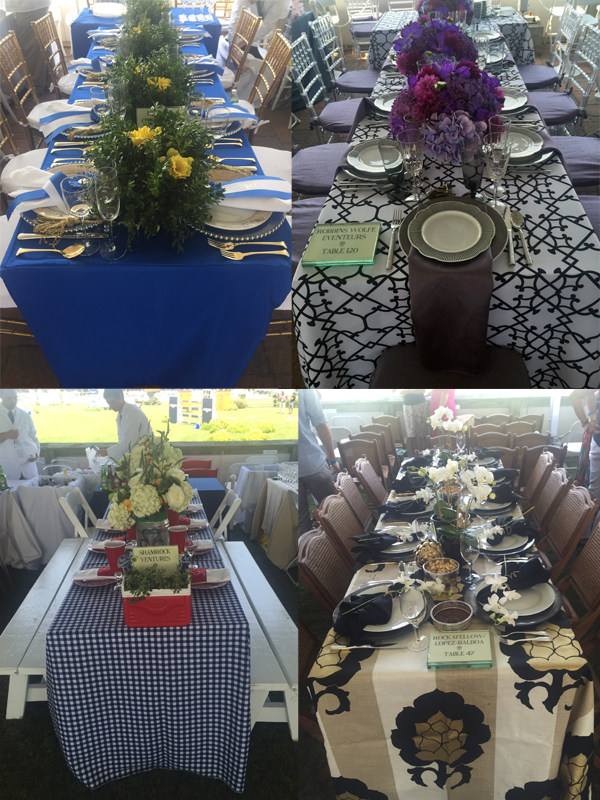 The table settings in the VIP tent are famous for their ornate beauty and each one is different. Photo by Ashley Fairfield.