Washington, D.C.—Oct. 26
Cali Karbler asked her mount, High Standards, to pick up a canter in the opening seconds of their trip around the Capital One Arena in the $10,000 WIHS Children's Jumper Championship. "Percy," a 12-year-old Standardbred gelding, stepped into his signature gait—a cross between a canter and the high speed pacing he retained from his days as a harness racer.
Unusual gait aside, Percy and Karbler, 16, made their debut at the Washington International Horse Show  with only a single rail down in a highly competitive class.
"I came out of the ring crying; I was so happy," Karbler said. "I could not have asked for a better horse that day. I went in making sure I was going to ride every jump and not let the nerves get the best of me. The one rail we had I think he just misjudged how big it was. Overall I was so happy, and of course he had to do one pace jump, just to show everyone he could."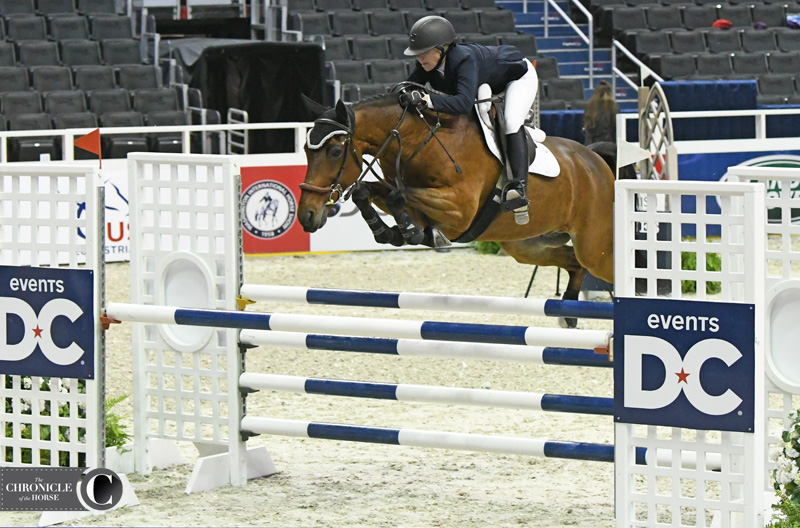 Karbler, who hails from Cleveland, met Percy (Precious Bunny—Trip Wire, No Nukes) at a small farm where he was on self-care board with an owner who was struggling to commit enough time to him. Percy was a year or two off the track following a sulky accident that left him terrified to race again, and he didn't have much experience being ridden. He was far from the ideal mount for a 12-year-old, but that didn't matter.
"He had the most beautiful coat, the cutest face, and I just fell in love," Karbler said. "His owner sold him to me for $1. I had no idea how much work he would be; I was just happy to have a horse of my own. My parents were really supportive; I'm so grateful for them. They don't know much about horses, so they were like, 'You can get one for a $1? Why not?' And they believed in us."
Percy wasn't broke to ride after spending about five years harness racing, but he had a good mind, a good heart and a determined young rider. 
"He's so eager to learn," Karbler said. "But the first time I rode him he basically tried to kill me. We just paced around with no control. It was hard to learn his buttons, but he picked up on basic commands really quickly."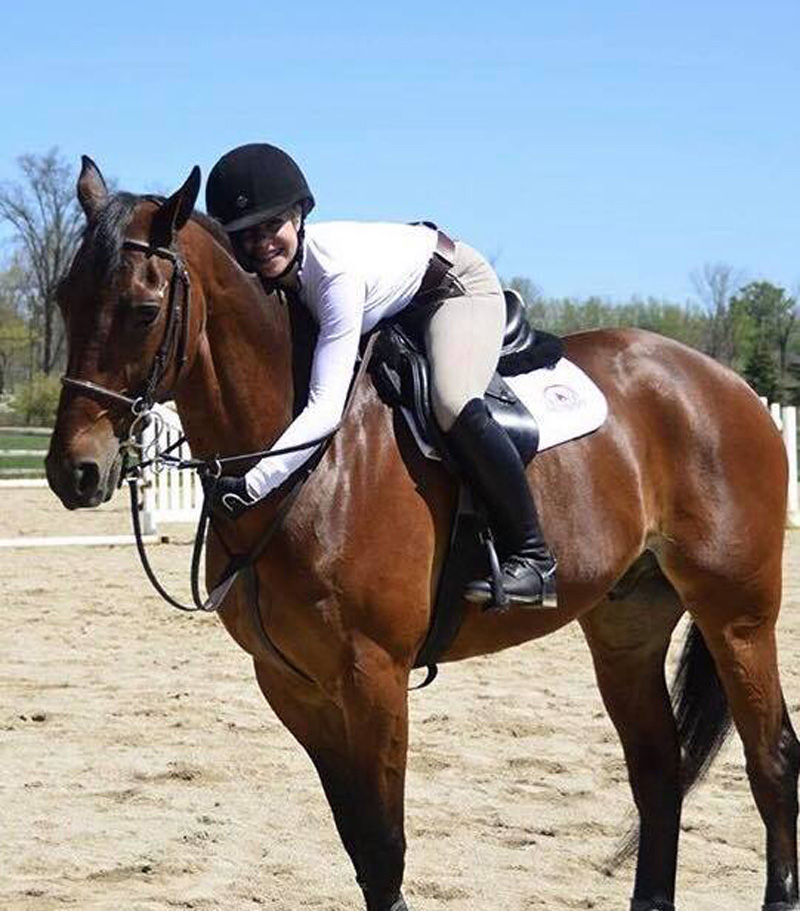 Karbler started riding when she was 4 and showed in the hunter divisions. She'd been close to purchasing  a children's hunter shortly before she met Percy, but that sale fell through and left Karbler feeling ready for big changes.
"I was really heartbroken," Karbler said. "And being young I was like, 'Oh, the hunters are so boring.' My friends encouraged me to do eventing, so that's what I did with Percy when I first got him. He loved cross-country, but dressage was obviously tough because he doesn't really frame up or canter."
Meghan Kelley, of Two Bridges Equestrian in Novelty, Ohio, trained Karbler and Percy up until August. Two years ago Kelley recommended steering Percy toward the jumper divisions. Karbler was passionate about eventing, but she recognized that it didn't suit Percy very well and agreed to switch disciplines. They worked their way up to the 3'6″ divisions and have brought home a plethora of primary-colored ribbons

"We first tried jumping him about a month after I got him," Karbler said. "He'd go in the ring and pace everything, but he was jumping the top of the standards. That's where I came up with his show name, High Standards. My current trainer [Stefanie Portman of Quiet Meadow Farm in Ohio] suggested we aim for qualifying for the Pennsylvania National and Washington this year. We didn't quite make it to Harrisburg, but D.C. is awesome. Percy was amazing, and we had so much fun."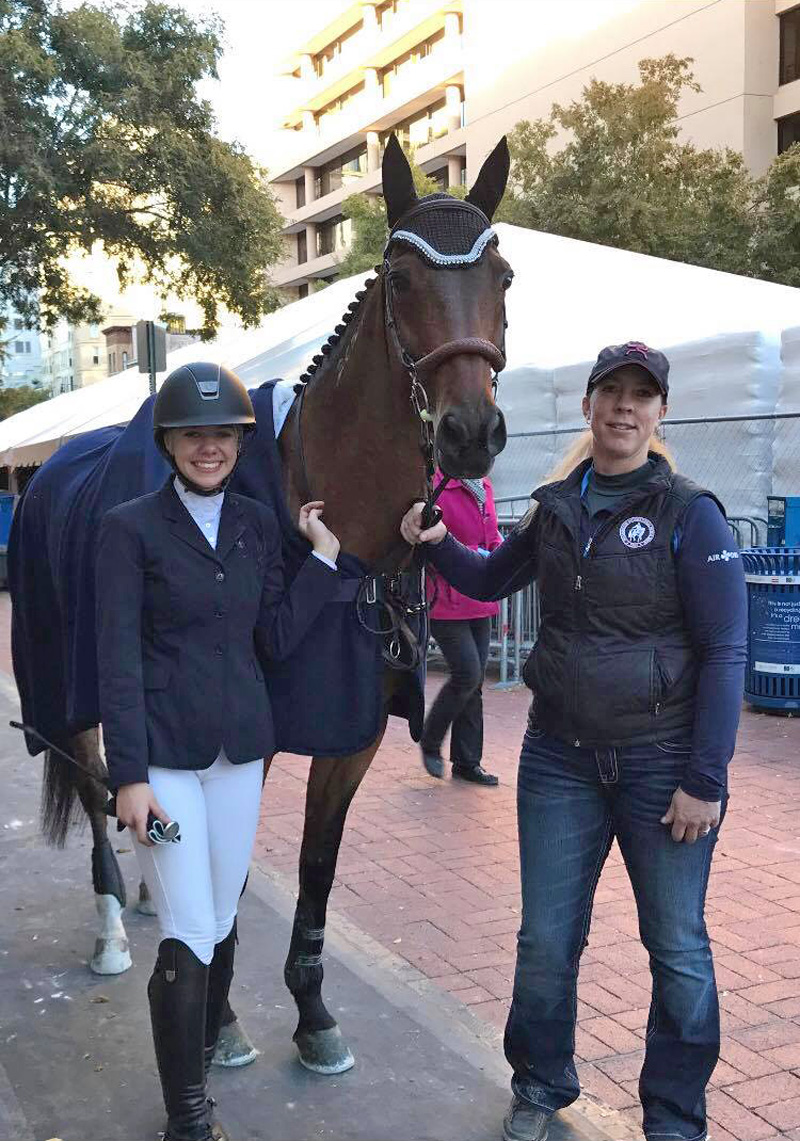 Karbler is a junior in high school but plans to stick close to home for college, so she can continue showing Percy. They'll stay at the 3'6″ height, as that's where Percy feels most comfortable, but Karbler aspires to take on bigger venues like the Kentucky Horse Park. She also hopes to come back to Washington next year.
"There were definitely moments [after I bought Percy] where I was afraid I'd made a mistake," Karbler admitted. "One day he would be great, and the next he would refuse to do anything. That was really frustrating, but I stuck with it. I just loved him, and I knew I could never get rid of him. Now I know I'll never sell him. He's my heart horse."
IMPORTANT LINKS:  All the COTH Washington International  coverage  |  What You Need To Know  |  live results/order of go  |  live streaming  |  show website
More in-depth coverage of WIHS will run in the Nov. 22 print issue. Subscribe today!