Washington, D.C.—Oct. 27
Kennedy McCaulley's win in the $7,500 Low Junior/Amateur-Owner Jumper Classic was bittersweet. The thrill of winning the classic and the low junior/ amateur-owner championship at the Washington International Horse Show was coupled with the knowledge that this was McCaulley's last show on Zersina.
"It feels amazing [to win]; I was so not expecting it at all," said McCaulley, 16. "This is my last class with her, so I was hoping we could end like this. She's incredible. She skims over everything; you just give her a distance and go."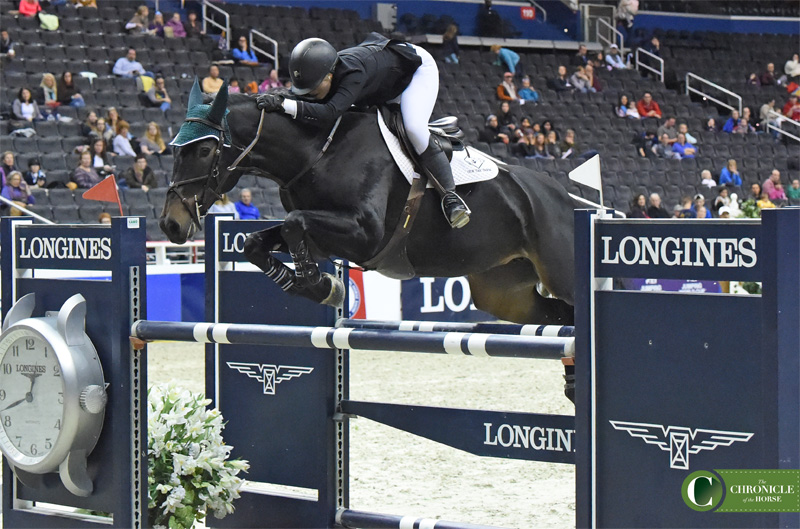 Zersina, a 14-year-old warmblood mare (Indoctro—Jersina), is owned by McCaulley's friend, Annabella Sanchez. McCaulley, who hails from Chicago, has been leasing the mare for the past year and been continuously humbled by her athletic ability and work ethic. This was McCaulley's first trip to Washington and her first time competing in the jumpers at an indoor show. She trains with Alex and Haylie Jayne of Our Day Farm in Elgin, Illinois.
"It was a tough course," McCaulley said of Olaf Petersen Jr.'s track, which saw several rails and a few stops. "This was my first time showing here, so I cantered right up to the line, but I was also trying to figure out how to ride it as we went."
The class of 21 riders narrowed to only three for the jump-off. McCaulley did have a rail, but Elizabeth Lang and Beja had two down for second place, ahead of Sophie Gochman and Saskia BH, who finished third with a stop.
Gierkink Puts On A One-Man Show In $15,000 High Junior/Amateur-Owner Jumper Classic
In a stadium row closest to the Capital One Arena, a young boy counted aloud as Addison Gierkink jumped the fences of the $15,000 High Junior/ Amateur Owner Jumper Classic.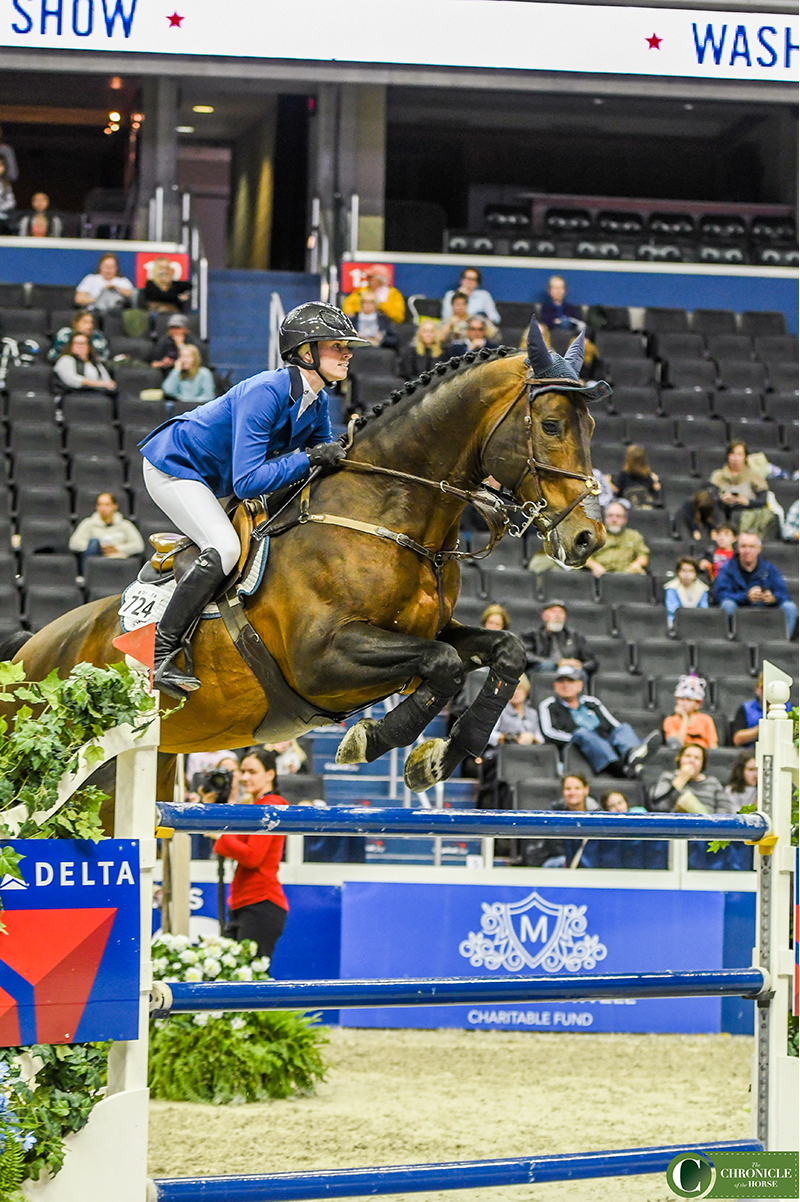 Fifteen was the number of efforts Petersen set, and of the 22 competitors who contested the course, only Gierkink jumped clean, riding the 14-year-old Belgian Warmblood stallion.
On Friday, Gierkink competed with "Erco" in the $5,000 High Junior/Amateur-Owner Jumper Classic. In that class 15 made the jump-off, but she knew that wouldn't be the case in the 1.45-meter class.
"The course was going to be larger today which, for my horse, is an advantage," said Gierkink. "He has so much scope. He's not always as fast as the other horses, so to get into a jump-off with 15 other horses yesterday was pretty hard. Today the course was built a little bit larger, a little bit harder, and it got people. I knew that I had the horse to jump a clear round if I just didn't mess anything up."
Not only did Gierkink win the class and the lion's share of the prize money, but she also earned the championship tricolor in the division, which her family sponsors.
"For me this is a huge family sport," said Gierkink. "My sister rides as well, and my dad grew up on a Thoroughbred breeding farm. My mom just started riding a few years ago, and she's on the board of the horse show here, so for us this is a huge family affair. For my parents to be able to present me [the award]—they were just overjoyed."
IMPORTANT LINKS:  All the COTH Washington International  coverage  |  What You Need To Know  |  live results/order of go  |  live streaming  |  show website
More in-depth coverage of WIHS will run in the Nov. 22 print issue. Subscribe today!