At a small farm nestled in Wellington, Florida, Xavier Gomez takes the time to enjoy a few peaceful moments while grooming his charges. He feels their legs for bumps, inspects their bodies for scratches, settles the saddle onto their backs and does up the girth. While on some days the number of horses on his "to ride" list necessitates he turn over those duties to another staff member, the 17-year-old working student prefers the days where he has the time to do it himself.
"I like being with the horses, mainly," he says. "Whenever I'm [at the farm] I always like spending time with them, helping, doing whatever I can do to get things running smoother.
"I don't like handouts or waiting for my horse at the mounting block or this or that," he adds. "I've had that before, and it's not special to me."
As a child Gomez often clambered into the truck alongside his dad, Jose Gomez, who owns a manure removal company. As they went about their day, driving from farm to farm in the Wellington area, Xavier's obsession with the horses he encountered grew. That obsession was fed further when Jose arranged for a horse to come to their house for Xavier's eighth birthday. Soon after, Xavier began taking lessons, and he started moving up the ranks. Today he is a working student for professional Jordan Lubow's sales business.
It's a position that started with a catch-ride and developed organically for the rider of Dominican and Colombian descent. When Lubow came south in November 2021, she needed a junior to give one of her derby horses some equitation miles, and Xavier came highly recommended. After a successful few rides on that horse, Midas, Lubow started offering him more horses to ride, and he slowly integrated into her program.
"He's an amazing rider," she says. "He has a strength of being a tall, boy rider, but he also is very soft with the way he rides. All of the horses like him; they all jump well for him.
"Our personalities are very compatible," she adds. "He's very easy to work with. He takes direction well. He wants to learn and always shows up on time. Works really hard. Any time I need him to go to the show, do early morning rides, it's not a problem. Normally he's getting the horses ready himself, doing everything he needs to; definitely not one of those kids that walk up the horse in the grooming stall. He's definitely hands-on, so he's just been wonderful."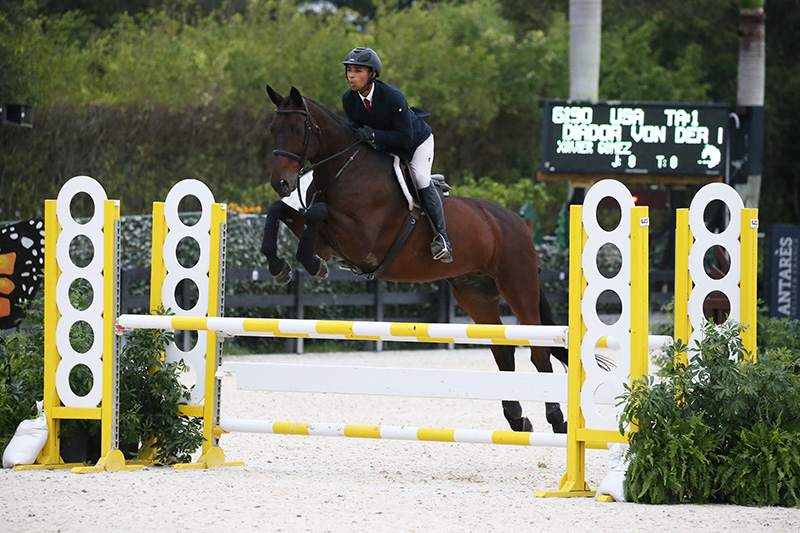 While he's never had a horse of his own, Xavier has found a niche in riding a variety of horses. He also rides with Missy Clark at North Run of Warren, Vermont, in the jumpers and equitation ring. He usually doesn't know which horse he'll show until the day before—often it's a horse he's never sat on before.
"It makes you stay on your toes a little bit," he says. "You've always got to be able to adapt to what horse you're riding because not all horses go the same, so it's hard to sometimes have one style on one horse and another style on another."
Lubow says Xavier shines as a catch rider.
"He adapts very quickly and knows how to give what ride to what horses, and he's super appreciative and grateful for all the opportunities I've given him," she says. "He's just overall a really great kid."
For three years he had a consistent partner in Jordan Hill's Diador Von Der Heide, but the gelding sold to Sophia Morariu early this year. Hill reached out to Xavier in late 2019 asking if he'd catch ride the now 14-year-old Oldenburg (Diarado—Chico's Girl Von Der Heide) in the equitation. Though it was the first time Xavier had ever done an equitation class, he competed in both the ASPCA Maclay and Dover Saddlery/USEF Hunter Seat Medal and brought home a pair of yellow ribbons.
"He's one of the best horses I've ever ridden," he says. "He's always ready to win, and I'm always ready to win too. It's nice because when we get to the ring, he knows it's game time."
His time with "Doro" ignited a desire to do well in the national equitation finals. He went to the Dover Saddlery/USEF Hunter Seat Medal Final (North Carolina) and ASPCA Maclay Final (Kentucky) in 2020, and while he missed it in 2021, he hopes to return in 2022 and fight for a top spot.
Moving up in the jumper ring is another goal of his, and he feels competing in equitation is helping to set him up for that.
"I feel like the equitation has molded me for the jumpers because it teaches you about track and about all the striding and all that stuff—being precise—and it just transfers all to the jumpers," he says. "You don't have to be as pretty; it's not judged on you or the horse, but for sure, all the track and efficient-ness of all the turns."
Lubow says she's eager to help a student with Xavier's attitude get to equitation finals, where she believes he's got a good shot with the right horse.
"[He's] always in a good mood, always positive, one of those people that's so easy to get along with," she says. "That's a huge thing for me, because in any industry you work for people that aren't the best bosses, and you just want to work with people that you have a good time with and that you feel comfortable with and that you trust, and he definitely falls into that category."