Eleven-year-old Shiloh Roseboom and Heavenly Patch Of Blue won the USHJA $1,500 Pony Hunter Derby held during HITS Desert Circuit VII, March 5-10 in Thermal, California. This was their second year in a row winning a derby during that circuit. Roseboom rides Heavenly Patch Of Blue, a 13-year-old Welsh Pony (Pendock Larkspur—Lianna's Golden Girl) bred by Kurt and Shari Beecher, at her family's Enchantment Farm in Temecula, California, and trains with Christa Endicott. Junior reporter Ella Doerr chatted with Roseboom about her latest win.
Congratulations on your fabulous win in the derby. You two are a really cute pair. What do you call your pony around the barn? Her show name is Heavenly Patch Of Blue, and her barn name is "Anna." She used to be called "Annie," but we had another medium pony named Annie, so we had to change it to Anna.
How long have you been riding her? Almost 5 years. We got her when I was 7.
How did you prepare for the derby? I learn the course first by myself. I go over it in my head many times. I make sure that if it's a handy, I know the options for extra points. I go to the side of the ring, and I look at the turns, so I know how I'm going to ride it. It helps me focus, so I know what I'm doing, so I don't mess up when I'm in the ring.
Tell me about your winning trip, how did it feel? It was really smooth and good. I really liked the last line coming home. She jumped it really big and good. The first round I got an 87, and the second round I got an 86. My trainers told me "just to go and have fun out there." That really stuck in my head. In the handy there were some tight turns, but I was like, "Go out and have fun out there."
It's always interesting when people underestimate us because Anna is a small pony [at 12 1/8 hands]. You always hear people talking about who they think is going to win or who the top contender is, and it's almost always a medium or large pony. We usually go last, and it's always fun when people think it's over, then to go in and lay down two really good rounds to win. In this derby, I was last to go out of 16, and I needed an 86 and 87 to win. I felt pressure, but I knew we could do it; we were in the same position last year, and we won too. I think Anna knows when it's a pressure situation, and it's down to us. Maybe she feels my vibes. She's the best pony and partner I could ask for.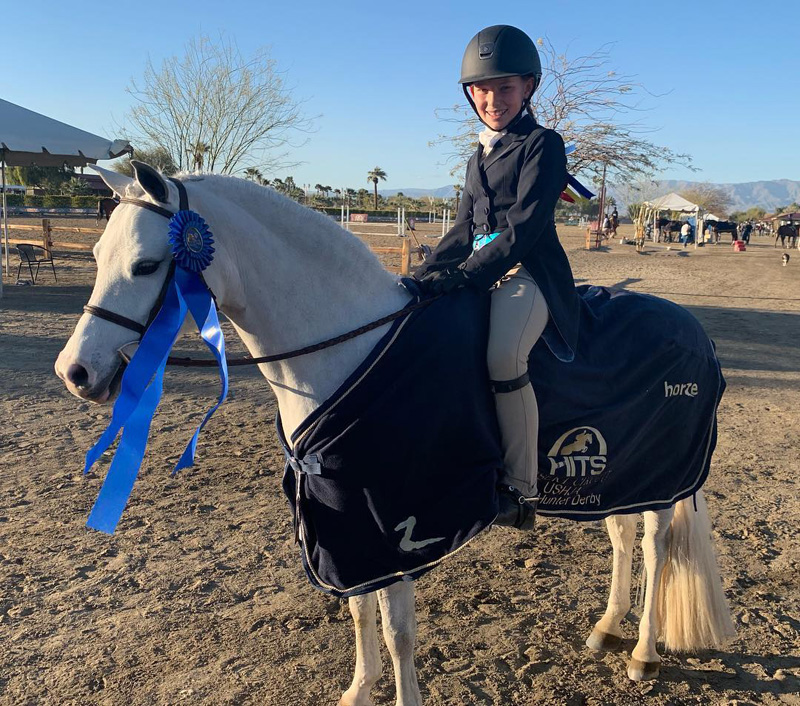 How did you celebrate? We went out to dinner, and we wanted to thank our trainer. A lot of people came, and we all celebrated.
What do you love the most about your pony? She's funny. Sometimes I will get on bareback on her and jump. Sometimes I will come out of one turn when there is hay jump, and she will stop and be like, "I don't want to jump that right now."
She's silly. If I give her a treat she will lift her top lip up and smile. If she sees me bringing out treats, she will walk forward and stretch way out and stretches for a treat almost like she is laying down. It's really funny.
What is your pony like? Anna is the best pony and partner I could ask for; she trusts me, and I trust her. She has taught me a lot over the years and given me so much confidence as a rider. We know each other very well, which helps to get us through the tough days. We have had so much success together, and I will never forget how special she is. She has been a once-in-a-lifetime pony that changed everything for me.
The funny thing is I met Anna on accident. I was at a barn trying two other ponies that weren't a good fit for me. Anna had just come off a lease and was dropped off that day for another kid to try. We asked if I could ride her, and we connected right away. I begged my trainer and mom to please see if we could have her. I wasn't sure if it would work because she was supposed to be for someone else. But it worked out and, boy, am I glad every day.
What is your pony's favorite treat? She likes every single treat that I could give her. She especially likes Snaks 5th Avenchew, and they're really cute. They decorate them, and they have taco-shaped ones.
Does your pony have any quirks? She always licks her lips for some random reason.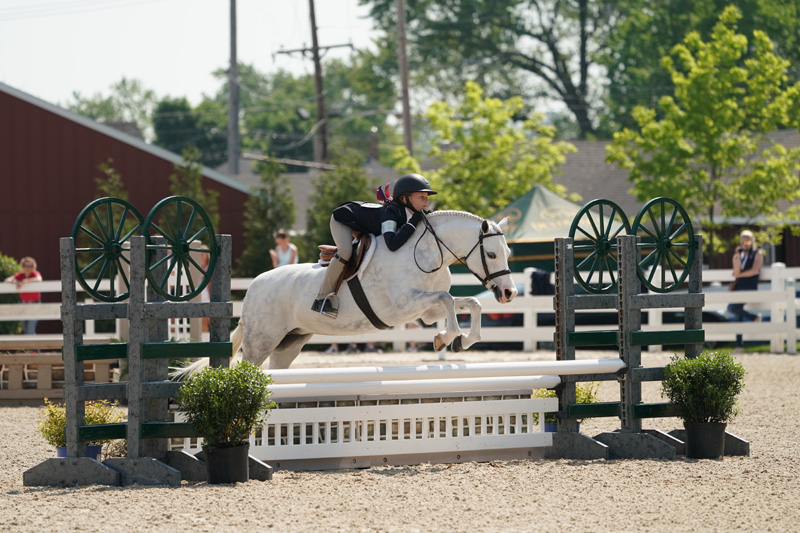 How long have you been riding? I started riding when I was 3.
Do you have any hobbies or play other sports? I like reading and playing basketball and teaching my dog tricks. When I have time I make slime.
What do you like to read? "To All the Boys I've Loved Before," by Jenny Han. It's a series. I'm on Book 3, and it's really good.
What's a trick that you have taught your dog? I taught one of them to speak.
What's your favorite movie? "Happy Gilmore." It's the funniest movie ever!
Who is a rider you admire and why? John French because he makes everything look super smooth and amazing.
How about a horse? I like Private Practice and Catch Me.
What do you want to do when you grow up? I want to be a horse trainer, but things can change as I grow up.
How often do you ride and lesson? Describe your typical week. I usually ride Wednesdays after school depending on my homework. We ride on Fridays and on the weekends. If we have a holiday or time off from school then we spend all our time there.
Tell me who you train with and about their farm? Christa Endicott is our trainer, and Madison Bradshaw is our assistant trainer. She comes to our farm and trains us privately. Christa also has her own barn in Rancho Santa Fe with her own horses. I've only been there once, and it was to try the pony Truly Noble. We leased Truly Noble for a couple years; he was a medium pony owned by [Pegasus Show Stables]. That partnership is what brought us together, and she started to train us shortly after we leased him.
Does anyone in your family ride? My mom does the jumpers and the amateurs. My little sister Devin does short stirrup on Do You Believe In Magic and Bringing Home Blue.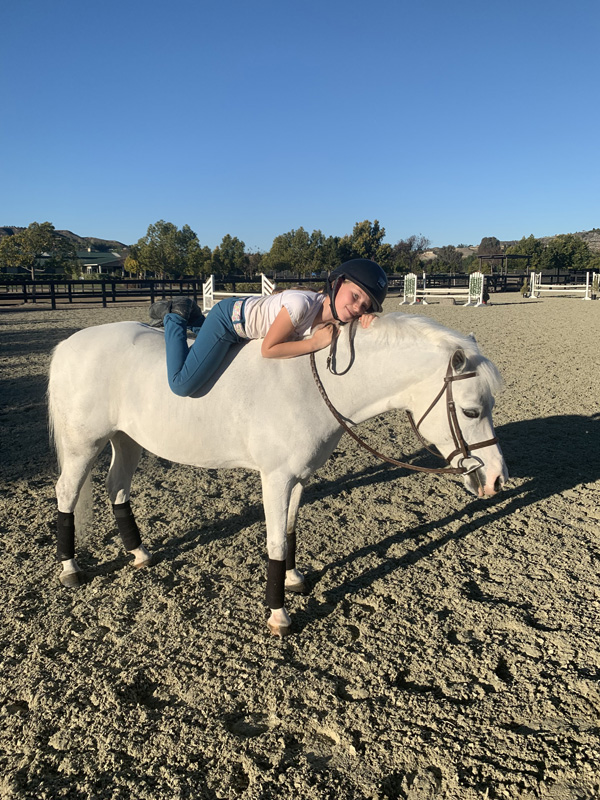 Who are you riding right now and in what divisions? I have a medium named "Brody" [show name] Beach Boy, and we show in the mediums. I have Anna, and I ride her in the smalls. I have a horse named Venice, and I do him in the 3′ and 3'3″ equitation and sometimes the children's hunters.
What is your biggest worry? When I'm having a perfect round and then I think I'll chip the last jump. I was riding Venice recently and everything was so good, and then I saw the last jump, and it wasn't so great. When I'm in the ring, and if I see something else, and I go get it, and then it's not there, and the jump doesn't work out. That's what I worry about.
What is something that you are working on improving in your lessons? My equitation. I've been riding without stirrups a lot, which makes me stronger in the tack. I jump and flat without stirrups.
What are your upcoming goals? I think this year I want to go to USEF Pony Finals [Kentucky]. I've been qualifying since I was 7. I've been going to [Menlo Charity (California), which is held at the same time] every year, but this year I want to go to Pony Finals. This will be my fifth year at Capital Challenge [Maryland], second year at [the Pennsylvania National] and first year at Washington [International (District of Columbia)].
Do have any pre-show routines or good luck charms? My braider Peggy always puts in a good luck charm for me. Also my mom has a golden Buddha belly that we always rub. She keeps it in her purse or in the show set-up.
What do you like the most about riding? I like learning from my mistakes and making new friends. I like new experiences.
Have you heard of the USHJA Horsemanship Quiz? I'd like to ask you a practice question: Name a part of the saddle. Stirrup leathers, knee pads, saddle flap. I took it one time, and it asked how you pick a pony's hoof. I knew how to do it because I've done it, but I don't know how to say which way to stand. I mean I know you stand to the pony's butt. After the test, I went and asked Christa what is an eggbutt bit. I mean I've never heard of one of those. An eggbutt bit—who named that?
---
Ella Doerr, 16, from Avon, North Carolina, is a recipient of the USHJA Youth Leadership Award and the USHJA Foundation Gochman Family Grant. She competes in the pony hunter division and the equitation, and she keeps her ponies at home.