Kelly Finn has never owned or leased a horse of her own, but that hasn't stopped her from getting plenty of rides in. The 17-year-old from Port Jervis, New York, has found her niche catch riding and working off her expenses at the barn. She's also one of three recipients of the 2021 U.S. Hunter Jumper Association Gochman Family Pony Finals Grant. Ella Doerr, a 2017 Gochman Grant recipient, caught up with Finn to learn more about her life as a working student and what she is most looking forward to at USEF Pony Finals, to be held Aug. 9-15 in Lexington, Kentucky.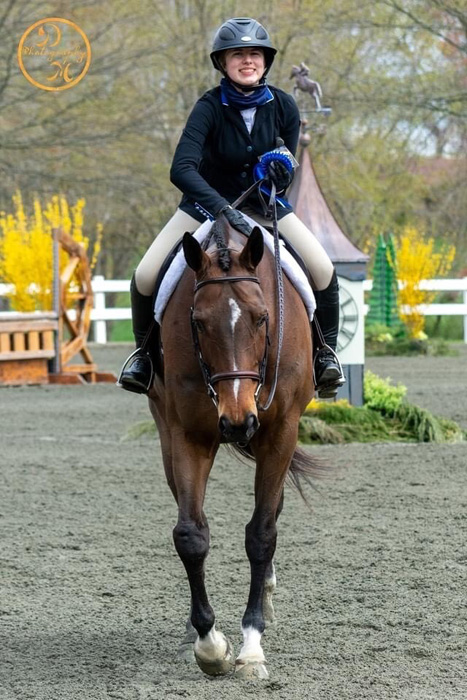 Tell me a little bit about the barn where you ride.
I ride at Greystone Stables (New Hampton, New York) with Jody Moraski and I love it here. I started here. It's a really fun environment. We're all like family, which I absolutely love. My trainer, Jody, she has done so much for me. She lets me show all the time. I even work here. Right now, I'm being a camp counselor. I help out with the little-kid lessons for kids who are just starting out, and I do stalls on the weekends. I just love it here so much. They're like my family.
How often do you show?
I don't know, a couple times a month. I just went to a show on Wednesday. That was probably my most recent one.
What division do you usually show in at horse shows?
I've been doing the 2'6" equitation. Recently, I've done a couple of 3' shows for the first time. It's really fun and exciting. I do a lot of pony hunters because my trainer has a lot of sale ponies, so she's super kind to let me catch ride them. I pretty much just do whatever she needs me to do. I'll show in any division that I can just to get experience.
You mostly catch ride, right?
Yes, if [Moraski] gets in a pony or a horse that just needs a rider. I'll get project ponies sometimes that she lets me ride, and then I build a connection with them, and I treat them like my own. I'll buy them a bunch of treats and just pretend they're my own pony.
Do you prefer horses or ponies?
That's a hard one. I love ponies so much. I've been riding them forever. I still ride them every day. Horses are really fun, too. You get to do a little bit more, but I think I'm so used to ponies that it's just my comfort spot.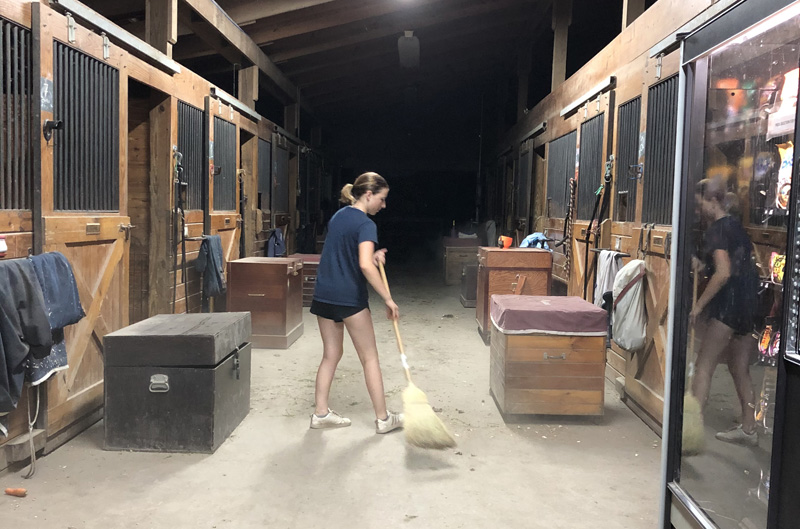 How did you find out about the USHJA Gochman Family Grant?
A friend's mom told me about it in 2018 because it was coming up [on] Pony Finals, and they were going down, and I was like, "Oh, that's just so cool. I would love to do it, but I don't have a pony, and it's so much money." I applied but I didn't get it, and I was fine. I was like, "I'll just apply for it again," and this year when I got it, I was like, "Oh my gosh, there's no way." I heard about it from her, and I just applied for it twice and they chose me. It's crazy.
What was the hardest part about the application process for the USHJA Gochman Family Grant?
The hardest part was probably the section where they asked you something like, "Tell us anything you want us to know about yourself." That was just so hard to come up with something. It gave you ideas like family, what you do in school, stuff like that. But it's really hard to just talk about yourself like that.
Do you remember what you ended up writing about yourself?
I talked about how riding wasn't just a sport for me. It's what I want to do with my life, so it's more than just a hobby. It's an escape from reality because I have a very stressful life sometimes, and whenever I'm riding, my riding is all that I think about. I just think about riding and how happy I am and what I'm doing with my horse at the time. It's just a very nice escape for me. I think a lot of people can relate to that.
What makes your life stressful?
Well, definitely school. Junior year was very hard, especially with everything being online and doing school from home. I also have divorced parents, so going from house to house can be very stressful sometimes.
How did you feel when you found out?
I did school from home because of COVID. I was in the middle of taking a math test when they called me. I saw it was from Lexington, Kentucky, and I was like, "Oh my gosh, this has to be them," and I answered it right away. I literally was crying. I was so happy. I could not believe it.
I hope the math test turned out OK.
I don't even remember. I think it went well.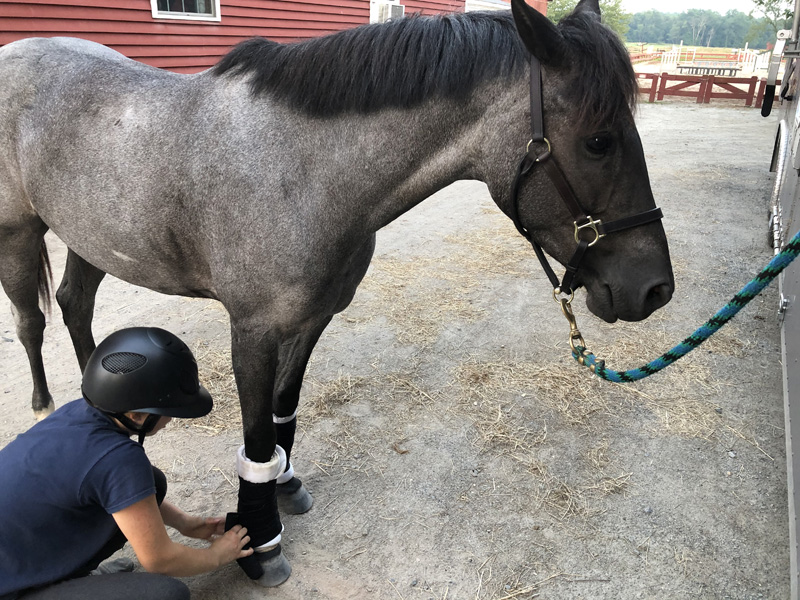 Tell me one thing about for Pony Finals that you're really looking forward to?
I'm just so excited about all the things that I'm going to learn from it. I've done a couple of bigger shows, but this is top notch. You just learn so much, and there's so many museums, and you can just learn so much from even just watching at the show, like watching everyone go. I'm super excited to work with Robin [Greenwood, Gochman Grant trainer] and Rob [Jacobs, Gochman Grant assistant trainer]. I did some research, and they just seem like amazing people. I just cannot wait to meet them, and especially all the other girls, too.
How do you approach catch riding?
Well, most of the ponies I catch ride at the shows I also work with a little bit at home. My end goal, whenever I catch ride, is just to have a good experience for me and the pony. Even if it doesn't go as planned—just to make them have a good time, make them want to do their job, stress-free. Just go out, have fun and have a good experience.
Do you have any good luck charms?
I use the same hair net. I think I've had it for like three years, and I just will not get rid of it.
What makes riding hard for you?
I definitely struggle financially. I do work a lot here [at Greystone Stables] so that I can put the money back into my sport, but also, I can be really hard on myself sometimes. It's like you want to make it so bad that every mistake, even if it's a little one that you make, you just are so hard on yourself. Sometimes it's really hard to look at the bright side and look at all the good things you've done. That's something that I've struggled with. But I really do try to stay positive and just believe in myself, [reminding myself] that I can make it and that good things will come when they do.
What's one thing that you hope to learn at Pony Finals?
It's a goal in general: I really want to learn how to become more technical with my riding. I have been riding for so long that I just want to make sure I know how to get them where they need to be and how to fix the little, tiny details that—especially at like a big show like Pony Finals—make a difference. Robin and Rob could definitely help me with that.
Describe a typical day for you.
I am [at the barn] every day. If we're talking about summer, I get here early in the morning. I try to ride before I have to start summer camp. I ride, do summer camp. On my lunch break, I ride another one. Go back to do summer camp and then sometimes I'll have to teach a little lesson and then maybe ride even another one. Then I'm so exhausted when I go home that I just sleep and repeat the next day.
Tell me a funny story.
I think I might've been in fifth grade, early middle school, but I was riding a pony named Eagle Scout. We were going on a little mini-trail going up the road, and I was bareback with my friends, trotting around. It was super fun, and that pony probably dumped me about four times on that trail—once even on the side of a road.
Are both of your parents supportive of your riding?
They are. Me and my sister both ride, although my sister doesn't ride as much anymore because she's in college. My mom is incredibly supportive. She took up a stall-cleaning job here to help pay for it. She's just been incredible. She's my No. 1 fan. I can't say enough good things about her. They know how much I love it, which means a lot to me.
Is there anything else you want to add?
I would love just to say a thank you to everyone who has gotten me here, especially my trainer, my parents, just everyone at the barn who has always been on my side. Everyone is just so supportive, and I just want them to know how much I do love them.
I'd like to ask you a USHJA Horsemanship Quiz practice question: Which of the following is not found on the horse's front leg; knee, stifle, elbow, forearm?
The stifle.
---
Ella Doerr, 18, from Avon, North Carolina, is a recipient of the USHJA Youth Leadership Award, the USHJA Youth Sportsmanship Award and the USHJA Foundation Gochman Family Grant. Since she was 7 she's bought and paid for her ponies with her own earnings while keeping them at home and performing all their care. She's brought them along from just broke to zone championships and USEF Pony Finals (Kentucky). She's the brand ambassador for multiple companies and chairs the U.S. Hunter Jumper Association Youth Group. She volunteers for charities and has managed three horse shows to raise funds for terminally ill children. She's heading to Goucher College (Maryland) this fall.