Lexington, Ky.—April 26
There's a lot more dressage to come, but reigning Kentucky champion Michael Jung of Germany started the competition off right by slotting into the lead aboard fischerRocana FST on 27.1.
"It felt fantastic," he said. "She was good to ride. She was very concentrated and very relaxed. It was nice."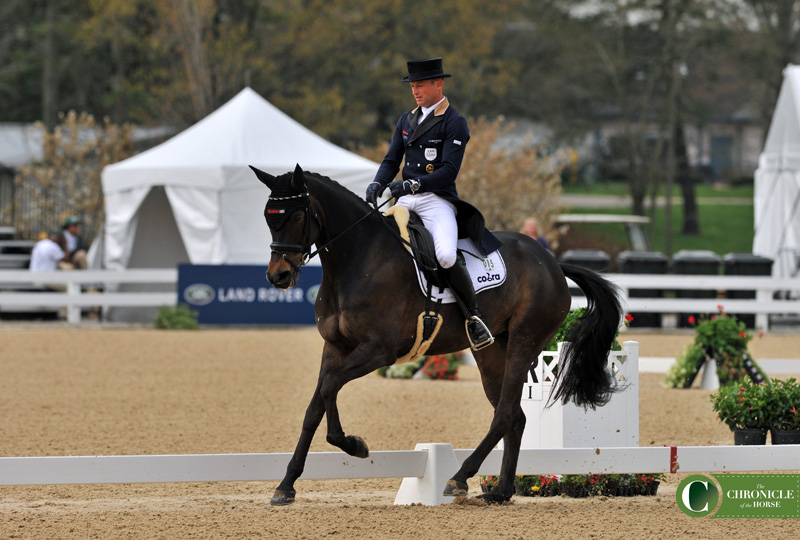 After winning Kentucky three times in a row with "Roxy," Jung knows exactly what to expect from his mare. "I know how I have to prepare her and everything, and then at the competition I don't have to train her too much," he said. "I just keep her nice and relaxed and in good form."
That doesn't mean his annual trip to Lexington is a vacation.
"I always have pressure from myself," Jung said. "I go to a competition, and I want to show the people and for myself the best result, so that's the pressure I have. With fischerRocana it makes me a little bit more easy every year because I know her, and I know how I need to prepare her. So yeah, from every competition I get a bit more experience, and it makes it easier."
Watch Jung's test, courtesy of USEF Network:
Boyd Martin, who sits in second place with Tsetserleg (31.2) joked that remembering his test was the highlight. "It's a tricky one because you've got to go one way, then the other way, then one way, then the other way," he said. "That was a major concern of mine!
"He's been good though," Martin added. "He's green, and there's four flying changes in there, which wouldn't be my strong point, but I think he nailed all of them, so it's all good."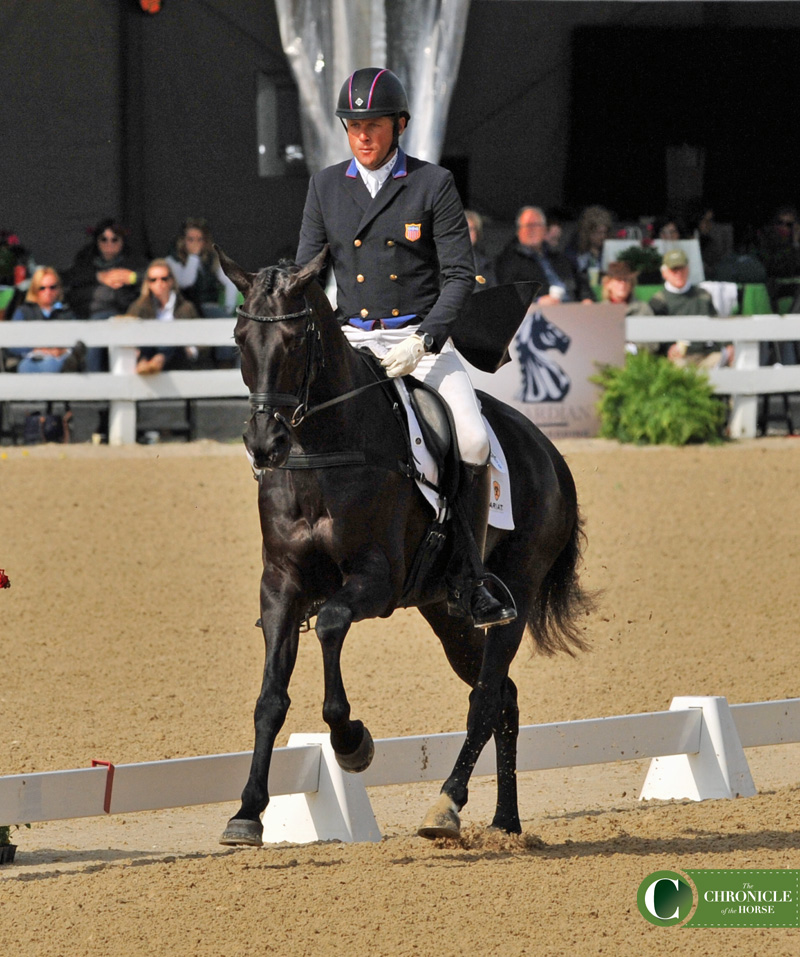 However,  Martin had to compete without his normal dressage coach, his wife Silva Martin, at his side because she's at home sick. Fortunately he had another Grand Prix rider and trainer in Scott Hassler to prep him.
"He didn't change too much, which I like," said Boyd. "It's hard, sometimes you get an expert from a slightly different sport, and you can't reinvent anything. He's awesome because he's a true horseman, and he understands that our horses are slightly different [than straight dressage horses]. They're fitter, they're hotter, and they're fiery-er."
Watch Martin's test, courtesy of USEF Network:
Tsetserleg, or "Thomas," (Windfall—Thabana, Buddenbrock) was bred in the USA by Tim Holekamp and is owned by Christine Turner.
"He's a Trakehner; he's the first Trakehner I've taken to the top of the sport," Boyd said. "When I came to America for the first time I saw Darren Chiacchia ride Windfall, and I'll never forget watching his dressage test here. It was spectacular. Who would have though 10 years later I'm riding one of Windfall's babies."
Thomas likes to save his best efforts for big events.
"Thomas' personality is wonderful; he's like a big pony," Boyd said. "To be honest, at home he doesn't try that much. You wouldn't think that he could do a four-star; he doesn't show much of his ability. Then when you get to a big competition it's like he grows into a big 18-hand horse and pins his ears back and gives you everything he has.
"It's rare, usually horses change for the worse in competition," Boyd continued. "This guy gets better. The atmosphere picks him up a bit, and he's a real character. He's really coming into his own."
It's Wembley's first four-star too, so Tamie Smith was focused on keeping him relaxed and earning a solid result, which she got in a score of 32.1 and third place.
"He's weirdly calm because he's been a bit off his head all year being fit and everything," she said. "It's almost like he's like, 'Finally you've given me a presentation that I belong at.' He's been really super, and that was his best test. He was so good in there, and I couldn't have asked for him to be better. I felt like he gave me everything he had. I've been videotaping my rides and sending them to my coach at home, Niki Clarke. We're talking via text message and phone. I feel like we were able to accomplish what we had planned, so it was really good."
Learn more about Wembley and his amateur-owner Kevin Baumgardner, who shares the ride with Smith.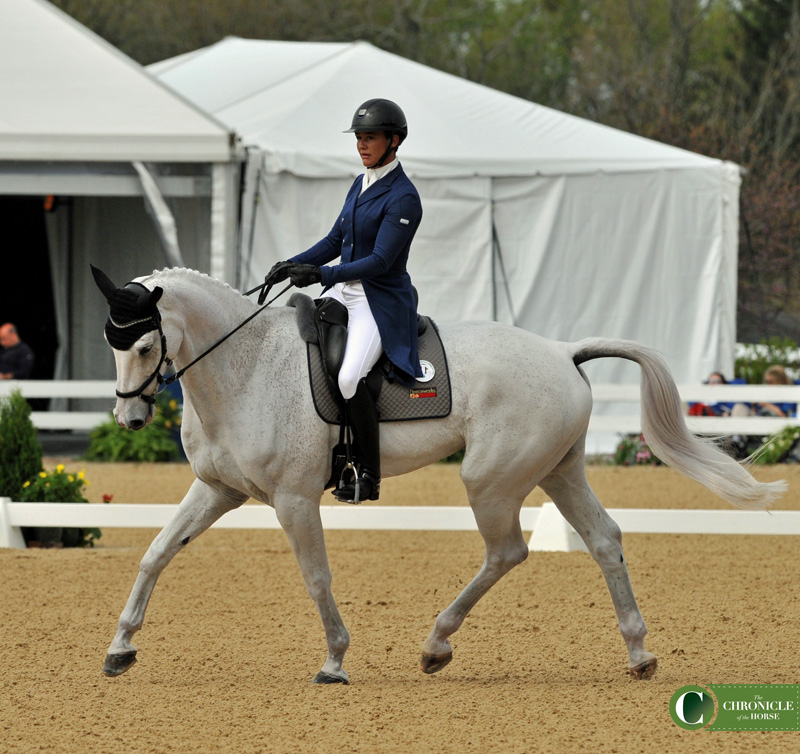 When Caroline Martin finished her test, she hopped off her horse and straight onto her crutches, as she's still recovering from a stud puncture and a fracture in her foot after a fall in March. But you'd never know she's hurt when she's in the saddle.
"I was really happy with that," she said of her test with Spring Easy, which put her into fourth place at the lunch break (33.3). "He put in a really Steady Eddie test, and I couldn't ask for more."
And that foot? "[It's feeling pretty good," she said. "I'm down to one crutch, almost able to walk, which I'm super excited about. It's good."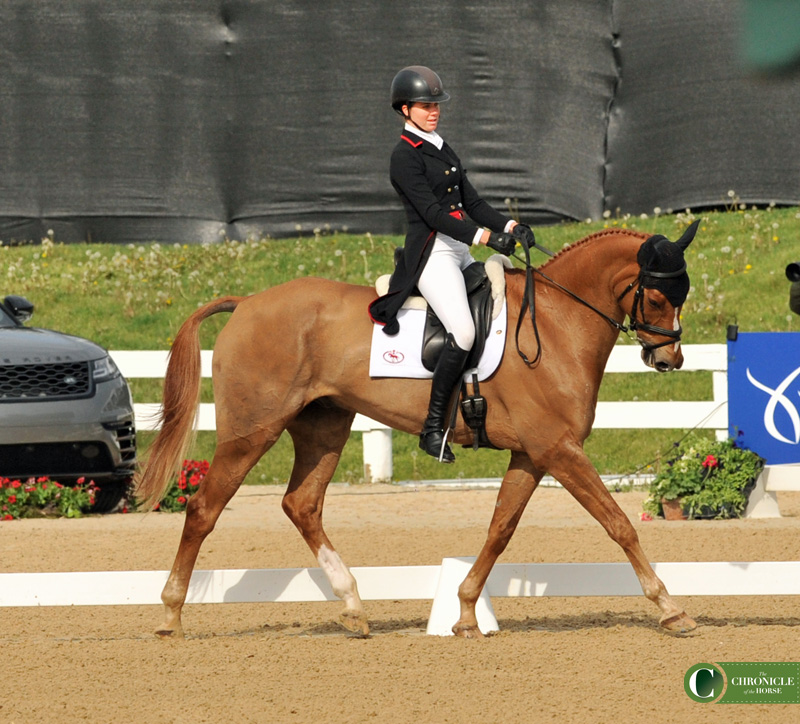 Caroline admitted she was determined to ride even from her hospital bed after the fall at the Cloud 11-Gavilan North LLC Carolina International (North Carolina) in March.
"I told the doctors that I needed to compete in two weeks, and that was that," she said. "They did put a couple of pins in my foot to help me go cross-country."
The Chronicle is on site at the Land Rover Kentucky CCI****. Keep an eye out at coth.com for all our coverage of the event.
Important Links: Land Rover Kentucky website  ⁄  Ride Times / Results /  Live streaming / All of the Chronicle's coverage
Make sure to follow along on the Chronicle's social media outlets: Facebook, Twitter and Instagram.