Pratoni del Vivaro, Italy—Sept. 16
While the number of spectators around the dressage arena at the FEI Eventing World Championship fluctuated throughout the day, they all seemed to return when Germany's Michael Jung and fischerChipmunk FRH entered the white boards near the end of Friday's competition. The air rippled with quiet excitement as the pair delivered a flashy, confident test that scored 18.8 to take the lead from Great Britain's Laura Collett and London 52. Great Britain's Yasmin Ingham and Banzai Du Loir, who are competing as individuals, are in third.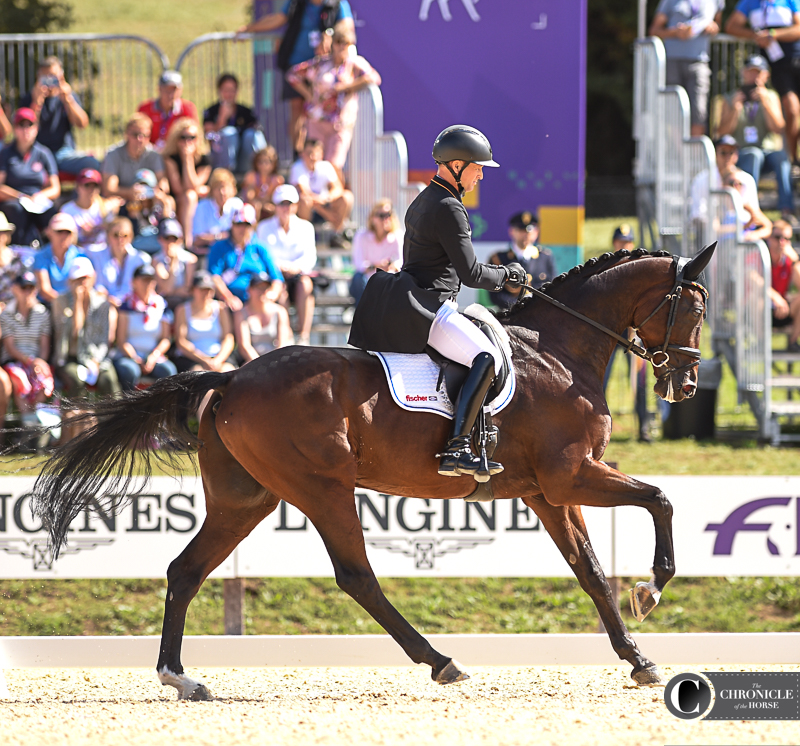 "I just have to say that I'm really proud of my horse. FischerChipmunk is an amazing horse," Jung said of the score, which was a new personal best for him. "Really, really big thank you to my friends, family, fischer Official Group. It's just wonderful if you can compete on this high level on a championship with another horse, with another superstar, and it's amazing how he performed in the arena."
Watch Jung's test with fischerChipmunk FRH.


Jung, who won the world championship title in 2010, said he was disappointed in the cross-country course.
"I'm not so happy about the cross-country because when you see and when you know the cross-country place, it's just a beautiful place, but he didn't use the whole course," she said. "So he made it very twisty, many turns where you have to slow down, and it's difficult to find a really nice rhythm on this high level. So it makes it much more complicated. But the course looks good, nice jumps."
The German team had a disappointing day Thursday, when both Christoph Wahler's Carjatan S and Sandra Auffarth's Viamant Du Matz spooked, earning lower than expected scores. It left them sitting in seventh in team competition after Day 1. But Jung's score—alongside a 26.0 from 2021 Olympic champions Julia Krajewski and Amande De B'Néville, who now sit tied for 12th—boosted them into second (76.1) heading into cross-country. The U.S. is right behind them in third place (76.6).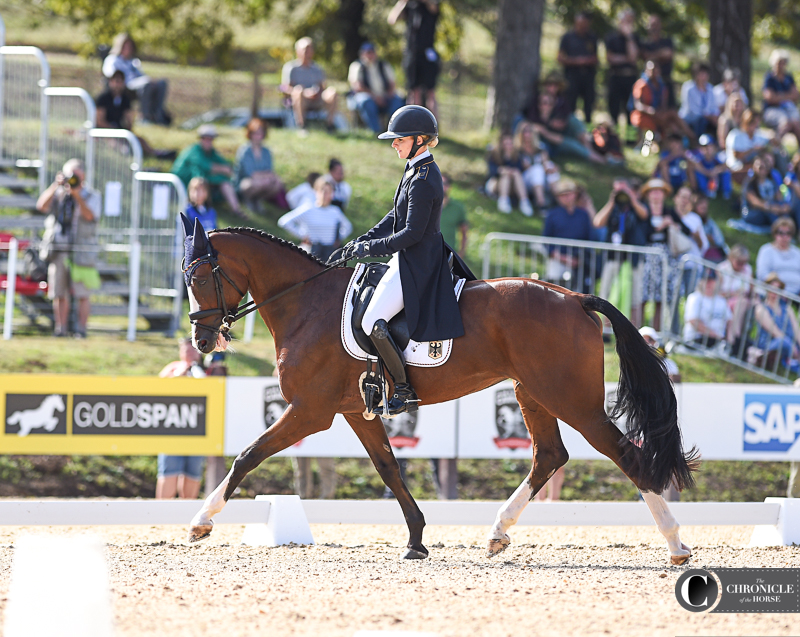 "It's not her favorite thing, to go in the white rails," Krajewski said of her mare. "It's a very long test with lots of twist and turns, but she really kept herself together. I think she did amazing extended trot and extended canter; I think the flying changes were good; the halts were quite good for her."

Great Britain Reigns Supreme
Great Britain continued to show its domination by posting a record-low team score for a world championship (69.2). Two British riders completed their dressage today, with anchor rider, World No. 1, Oliver Townend and Ballaghmor Class scoring 24.3 to sit sixth.
"I was happy enough with him, thought maybe [he] didn't quite take me forward enough in the trot, but I felt once I was into canter it was away, and I thought it was very quality," he said.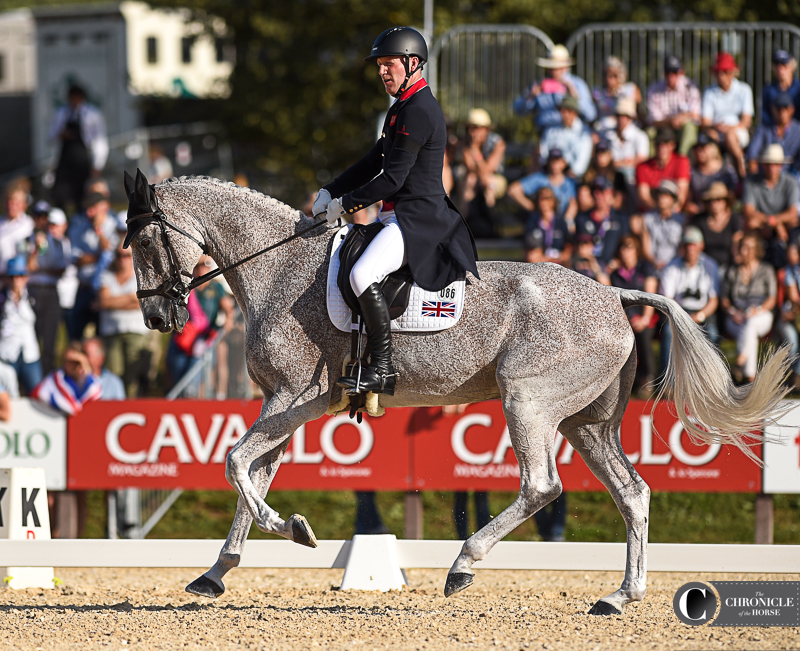 Their third rider, Tom McEwen, who won individual silver at the Tokyo Olympics with Toledo De Kerser, was a bit disappointed to have a break in an early medium trot, but was pleased with how the gelding recovered.
"He recovered really well," he said. "Some really nice changes, the canter work was lovely, really pleased with his walk, but I just didn't have quite enough from the leg going in, probably, and then there was a little bit of a recovery process from the first [bobble], but it happens, and it was fine, and he was brilliant."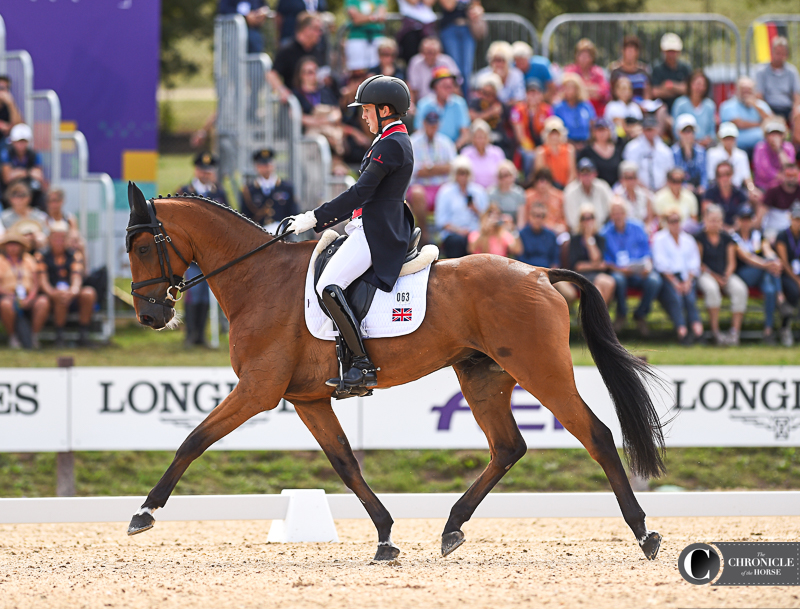 The pair still scored a 25.6 to tie for seventh with New Zealand's Monica Spencer and Artist.
Looking ahead to Saturday's cross-country McEwen said riders must make a plan and stick to it.
"The thinking rider will come out on top tomorrow, whether it's regarding how the horses are feeling underneath you or how the course could change," he said. "Because even now, from the 30,000 people that seem to be walking the course, like walking up the water, coming out of the first water [at 21ABC] that bank is already broken up. I mean, it's one of the first shows in a long time where there's actually been 80-plus horses in a class, so it's going to, through the course of the day, look different, I would've thought."

A Strong Day For Team USA
The Land Rover U.S. Eventing Team held onto its bronze medal position through two days of dressage. With a 24.0, Tamie Smith and Mai Baum solidified the team's position. Despite a mistake in the medium trot at the beginning of the test when "Lexus" broke into canter, it was good enough to leave them in fifth overnight.
"I think he just tried a little bit too hard, and you can't fault him for that," she said. "He doesn't have the best medium trot. I think that's the best medium trot I had, before I cantered, but it is what it is, and I think he was pretty spot on everywhere else, and I'm really proud of him."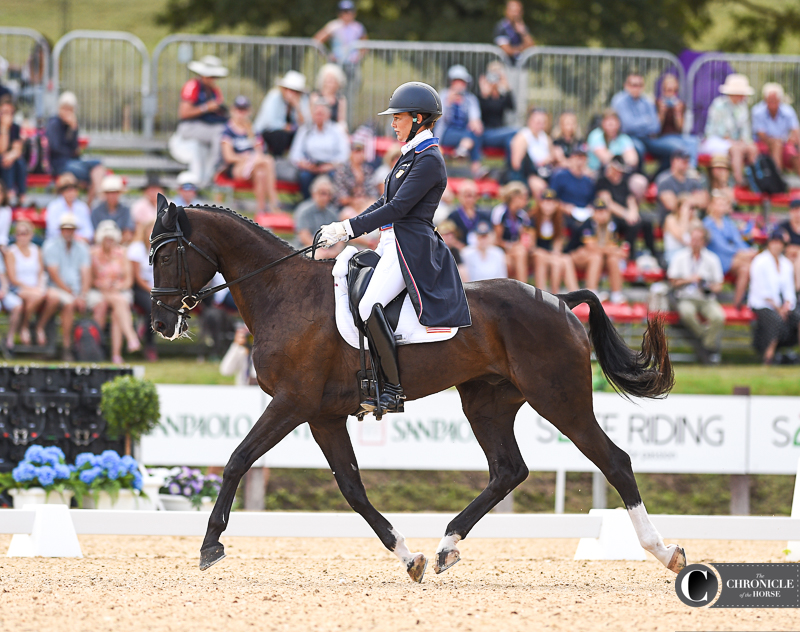 Smith is looking forward to the cross-country and said the track suits the gelding perfectly.
"It's very riders type course," she said. "The horses need to be fast, but they need to be rideable, and he's all those things. He's smart, and he's brave, so I'm looking forward to getting out there."
The anchor rider for the team, Boyd Martin, put in another strong test with Tsetserleg TSF, but a kick-out in the final flying change and a fussy halt brought their score down. They finished on a 26.2 to tie with New Zealand's Tim Price and Falco and Great Britain's Ros Canter and Lordships Graffalo for 14th.
"He's such a trier, this little horse; he's so reliable in there," Martin said. "He was a little bit quiet and backed off. I wish maybe I'd had one less ride, so he was a bit more excited, but that can backfire as well at these big championships when they get a bit nervous. All in all, I was pleased; 26 is a pretty good score."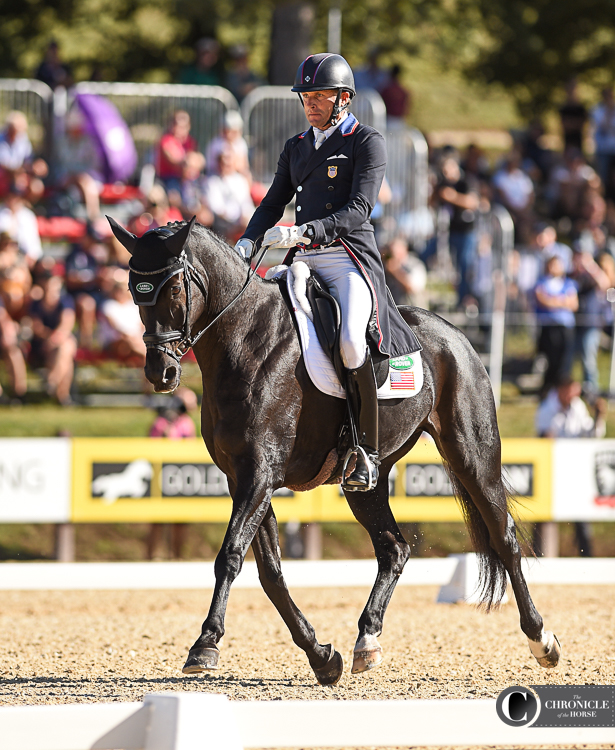 Martin downplayed the team's current medal position, as experience has taught him that cross-country changes everything. That being said, he feels good heading into Saturday.
"I'm pretty confident," he said. "Obviously it's a pretty testing course. [World championships], it's always pressure. I think it's a proper—what do they call it? A four-star course? It feels like a five-star course at 9 minutes, 50 [seconds], but … I'm on a veteran. He's done bigger and badder and longer courses, so I've got some comfort in knowing he's dealt with harder fences. But any jump you can make a mistake, and it all goes wrong, as I found out at Tryon [at the 2018 FEI World Equestrian Games, where he had a run out]."
Ariel Grald made her senior championship debut by scoring a 32.5 with Leamore Master Plan. The pair is competing as an individual, and Grald is excited to get onto the phases where the gelding excels.
"The horse has worked pretty well this week," she said. "He is a bit exuberant and gets a little nervous. He tries really hard, but dressage is not his strength, and he does worry a little bit. My main goal was to just go in and keep him with me, and I think for the most part he really did that, so I have to be happy with him. Obviously, the competitive rider in me wants to go in there and knock it out of the park, but this is not his strength, and we're just building each time and getting a little better every year, so that's all we can hope for."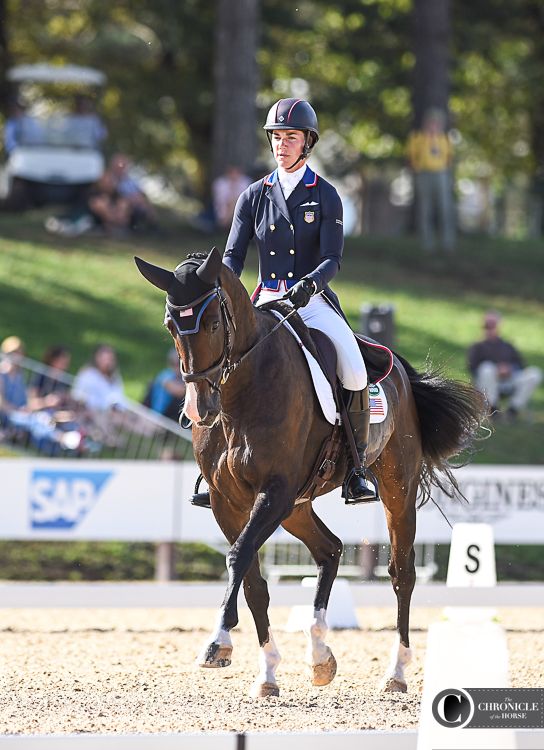 Chef d'equipe Bobby Costello said he was thrilled with how the U.S. riders performed in dressage.
"I think every single one of the riders rode up to their potential, if not even a little bit better than that," he said. "Having said that, we have to kind of put that out of our heads, almost go into the cross-country like we're even a few places lower than third and not feel the pressure of where we are after the dressage and just go out there like we have nothing to lose. Ride smart but ride aggressive. This is the time to make it happen."
He said that in addition to walking with team cross-country advisor Ian Stark, they all sat down today and went "through the course jump by jump, almost blade of grass, with Ian to make sure everyone is super clear about their plan. I think everybody has a really solid plan for tomorrow. They just have to go out and execute it."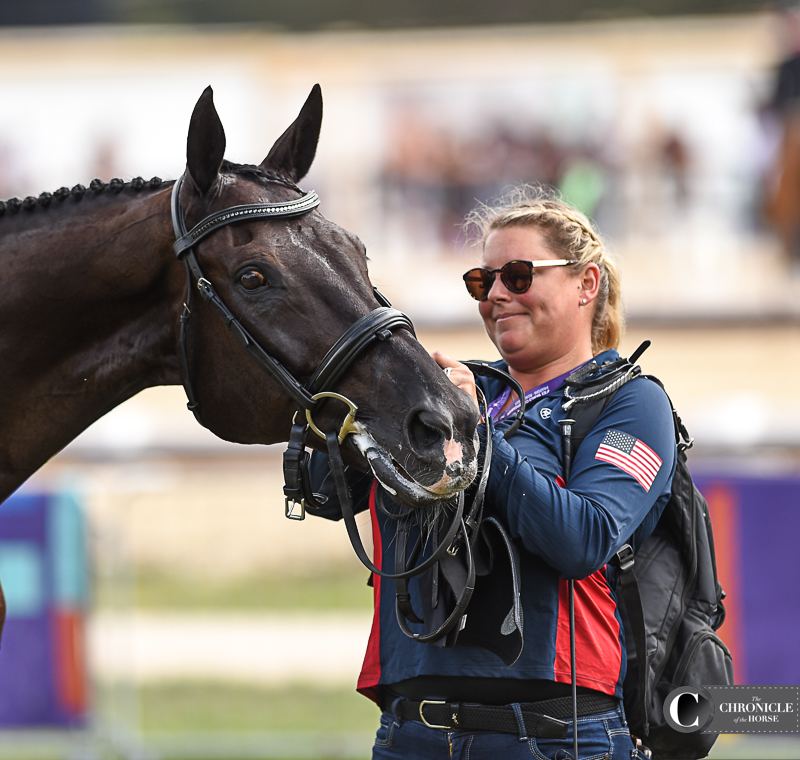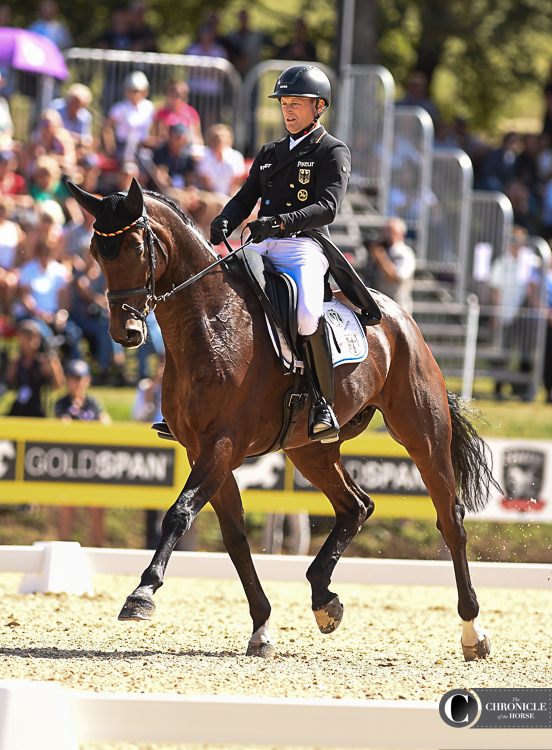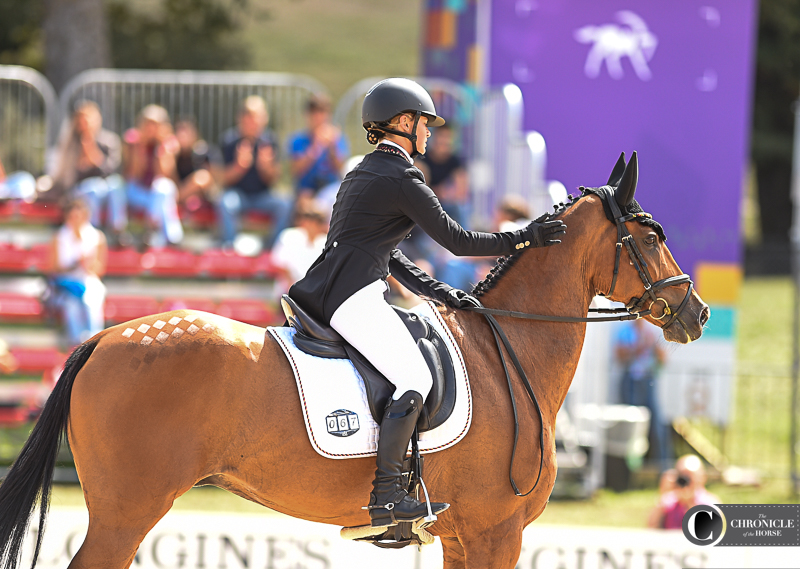 The Chronicle is on site to bring you interviews, photos and stories daily, so follow along at coth.com. We'll have full analysis from the competition in the Oct. 10 issue of The Chronicle of the Horse magazine.
Results and order of go can be found here.