Stamford, England—Aug. 31  
There are new names in the top six at the end of the first day of dressage at Land Rover Burghley CCI****, although no one has come close to Michael Jung and La Biosthetique Sam's sub-40 score from the morning session of dressage on Day 1.
"When [Sam] was younger it wasn't always easy for him with the atmosphere, but we have learnt together, and I now know how to prepare him and can enjoy it. It's the little things that are important," Jung explained. "He travels in a big box because he finds that more relaxing, and we make sure he is happy in his stable. Having the vet check in the main arena is also good, so he feels the atmosphere."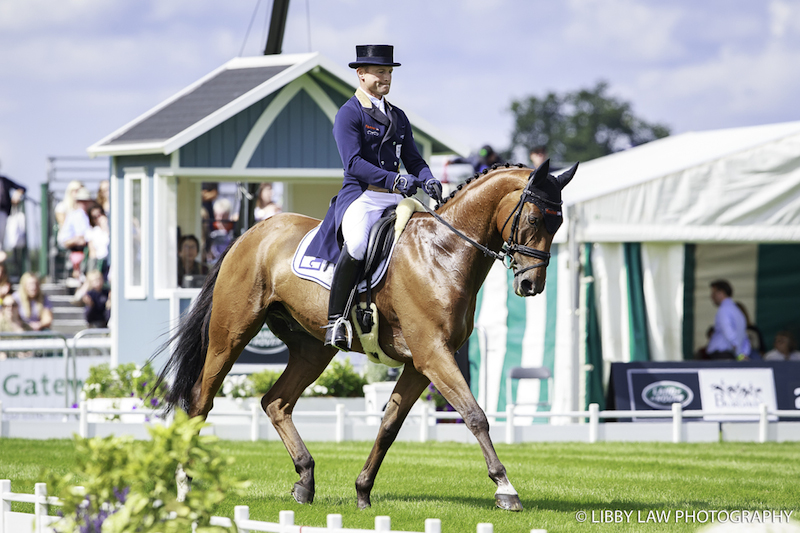 Though he's in the lead by more than 3 points, Jung didn't feel his test was quite up to par. "It wasn't perfect in the flying changes—I could have had him a bit more in front of my leg, but that's the rider's problem. He was very good today," Jung said. "I'm very happy about Sam. He was in very good form, and he's a very good horse in all three disciplines. You have to be very critical [of yourself] because you have to be 100 percent perfect in every discipline; otherwise you have no chance to win. The cross-country is tough here, so you still have a chance, but that was not our best performance in the dressage."
A delighted Gemma Tattersall of Great Britain sits in the runner-up spot following a personal best score of 43.0 at four-star level with her British Open Championship partner Arctic Soul. "I'm chuffed to bits; he did everything I asked of him in there," she said. "Finally! We got a 44 in 2016 at Badminton, which was a huge achievement. I knew that a better score was in him one day, and I'm so chuffed that we've shown them that we can do it."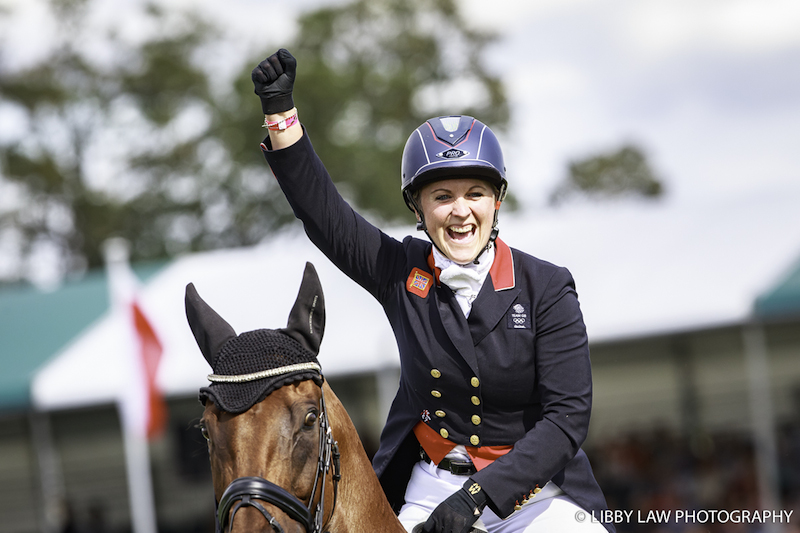 "He's very shy, so the key is him feeling confident, rideable and relaxed. [Today] he allowed me to place him so that all of his movements were correct. I spent ages on the arena walk yesterday, reassuring him and patting him, and he has been out of his stable, walking around most of the day."
Looking forward to cross-country day, Tattersall added: "He's a very fast horse, and he's fit. It's just getting the jumps jumped—there's no horse I'd rather be sat on. It will be a case of buckle in, hold on to the neckstrap and go on Saturday."
Burghley first-timer, Mackenna Shea led the eight-rider U.S. contingent, sweeping into the top three, pipping Paul Tapner by just 0.1 of a penalty.
Read all about Shea and Landioso's bumpy road to Burghley this year and what she wasn't happy with in her test.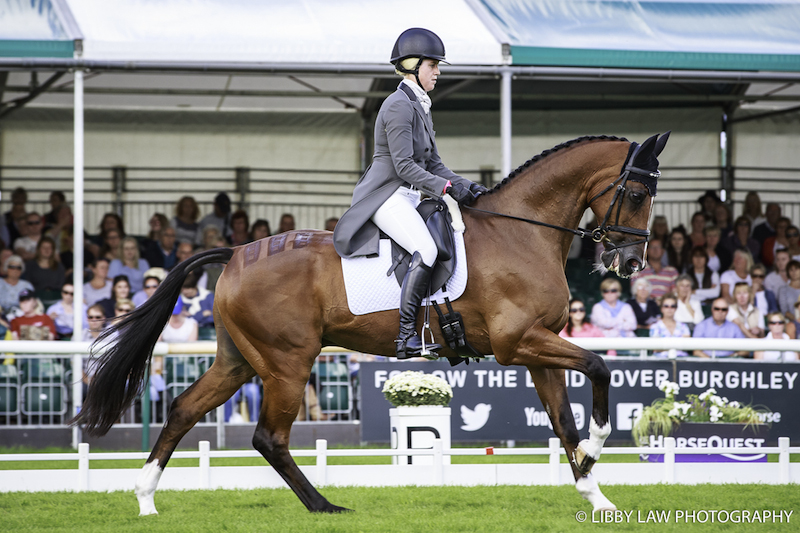 Fellow American Hannah Sue Burnett rode Under Suspection into 11th place (48.8) on Day 1, but she wasn't satisfied with that performance. "That wasn't our best test. I was a bit disappointed—we could have shown off the trot more," she said. "She was a bit quiet in this nice warm American weather!"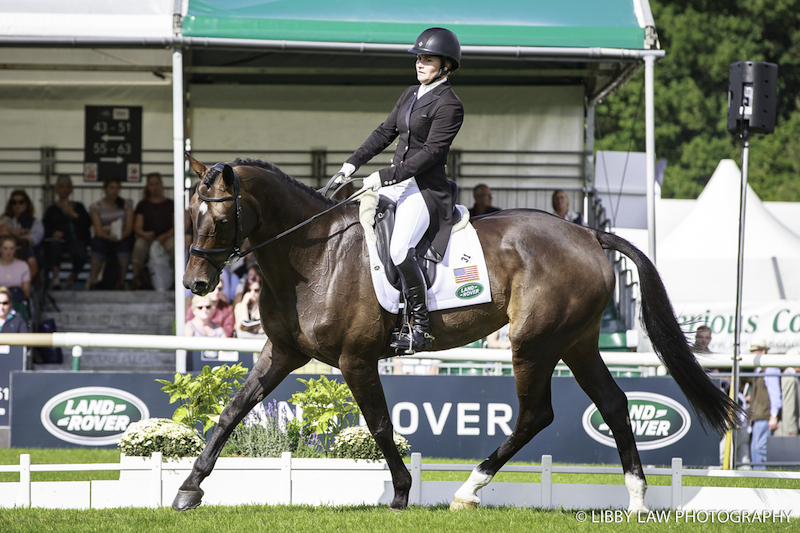 But with dressage done, Burnett is looking forward to getting out onto Burghley's cross-country on Saturday. "I love the cross-country course—it's big and galloping, and the distances are nice, so I'm excited about it," she said. "She has a fantastic record, and I know I can count on her in all three phases. We get along really well. She's such a game mare; she loves a challenge and has pretty much always stepped up for me. I am a little concerned about the crowds spooking her—there will be a lot of people out there [on the cross-country], and it is roped tightly."
Andrea Baxter of the United States rode Indy 500 into 24th place (56.9) in her first Burghley attempt. "I was happy with that. Her test at Rolex was probably cleaner, but this one had more life to it, more energy and suppleness," she said. "She used to be wild—now I've got that under control, and we have hit a bit of a quiet streak. This test was a happy medium.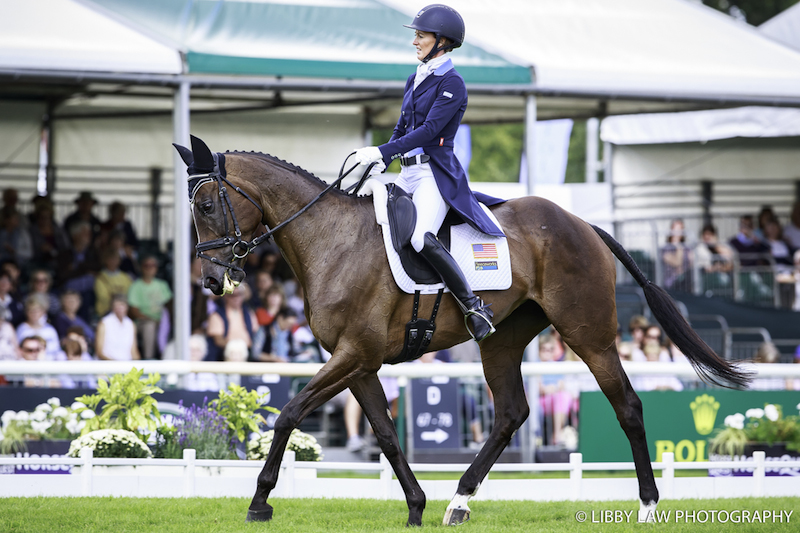 "I'm quite starstruck by being here! I keep looking around and staring at pretty trees… Now I'm here, I understand what everyone says about the cross-country course. It's bigger and longer than I thought possible. My horse doesn't like right-handed corners—which pretty much all the straight routes are—so I might have to go long sometimes. I just want to jump around clean. I know that if I were taking the straight routes, she'd easily make the time. But I'm planning on some long routes, so I don't know where I'll be on the time."
Savannah "Woodge" Fulton had a dressage test with a moment of extreme enthusiasm from Captain Jack, so she's bringing up the rear of the Day 1 dressage standings in 31st (68.9). The score didn't dim her smile as she came out of the ring. "He's definitely not a dressage horse, but he held it together, and that was the best we can do. He's definitely more a horse for Saturday than for today," she said. "The course is a lot bigger than Kentucky, but I'm hopeful because he loves to gallop. If I don't let him down, he won't let me down. It's way more fun to be here with such a big team of Americans."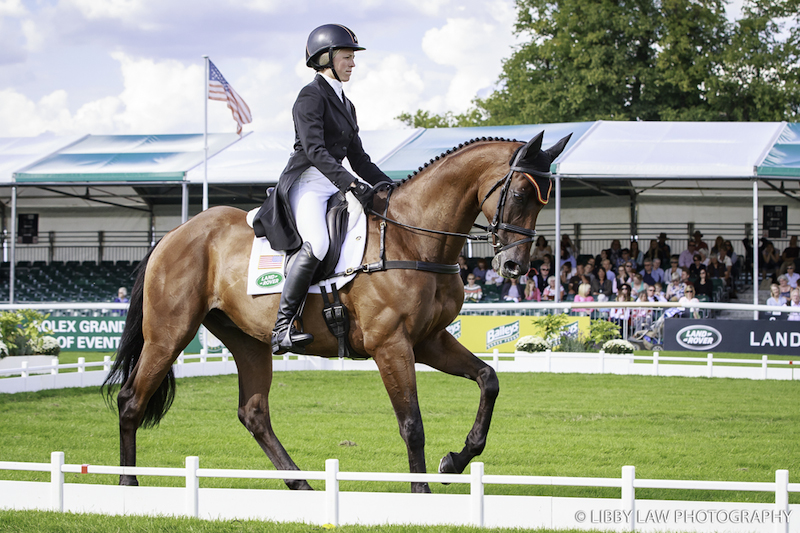 U.S. riders' Friday dressage times are:
Boyd Martin/ Steady Eddie – Friday 10:40 a.m. (4:40 a.m. ET)
Lauren Kieffer/Veronica – Friday 10:56 a.m. (4:56 a.m. ET)
Lynn Symansky/Donner – Friday 11:48 (5:48 a.m. ET)
Lillian Heard/LCC Barnaby – Friday 3:18 p.m. (9:18 a.m. ET)
Important links: Dressage ride times  |  live results  |  Cross-country course map, fence photos and course description  |  live streaming (on Burghley Facebook page)  |  Land Rover Burghley CCI**** website
2017 Burghley CCI**** Dressage Day 1
Molly Sorge / Aug 31, 2017 2:06 pm