Luhmühlen, Germany – June 17
Local German rider Julia Krajewski took hold of the lead on the final day of dressage at the Luhmühlen CCI**** with Samourai du Thot (39.0), but scores are tight at the top, with day 1's leaders Julien Despontin and Waldano 36 on 40.2 and Emma Dougall and Balcam Bear in third with 40.6.
Krajewski, whose parents run a small stud farm near Luhmühlen, has yet to complete a four-star, but she and Samouri du Thot recently won the CIC*** at Renswoude (Germany).
She's been partnered with the 10-year-old Selle Francais gelding (Milor Landais—Melitos du Thot, Flipper d'Elle) since the beginning of his FEI career in 2012.
Torrential rain fell for much of the dressage today, and Krajewski had to ride in some of the worst.
"I originally planned to ride in the sunshine, but in the end the rain was helpful as 'Sam' lifted his feet really nicely in the puddles," Krajewski said. "His trot was particularly expressive, and he stayed really relaxed throughout the whole test. Walk and canter also went really well. He obviously liked the atmosphere from the grandstand and the whole arena."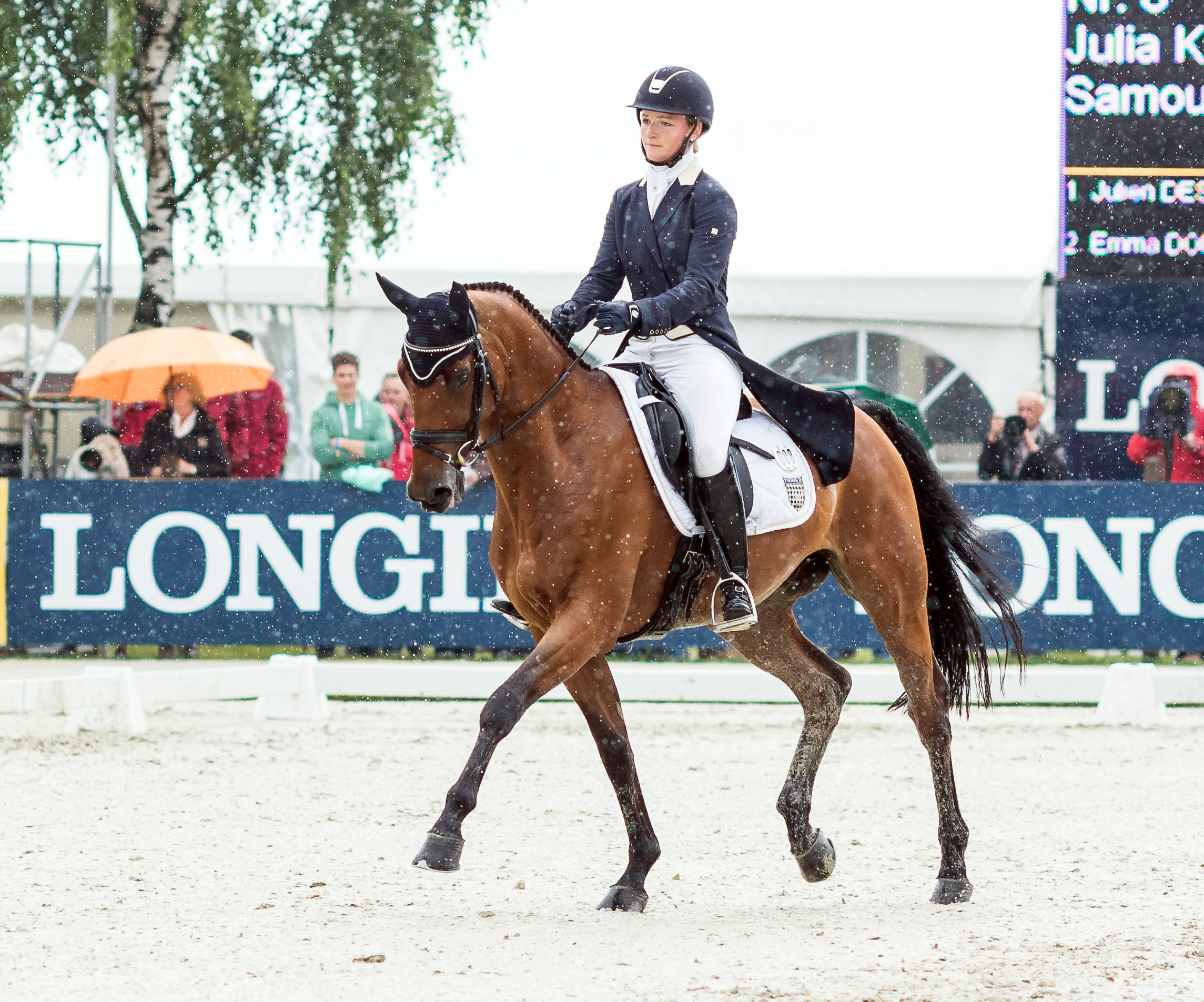 Julie Krajewski and Samouri du Thot. FEI Photo.
Krajewski is excited to tackle Mark Phillips' cross-country course tomorrow. "He is a very gentle horse and we have collected quite a lot of experience at three-star level. He's fit, and I hope we put in a flowing round tomorrow," she said.
The only U.S. combination, Boyd Martin and Crackerjack, scored a 52.1 to lie in 20th place. They're rerouting after a fall at the Mitsubishi Motors Badminton Horse Trials CCI**** (England) in May.
Twenty-eight combinations are set to start on cross-country. Germany's Bettina Hoy with Seigneur Medicott and France's Geoffroy Soullez with Madiran du Liot withdrew before dressage.
Boyd Martin and Crackerjack. Photo by Libby Law Photography.
Sandra Auffarth and Opgun Louvo currently lead the CIC***, which is also serving as the German Championship.
"He was exceptional today," said Auffarth, the 2014 Alltech FEI World Equestrian Games (France) individual gold medalist. "He was concentrating throughout the test, working with me all the way. I think he feels at ease here in Luhmühlen, and he enjoyed the test as much as I did."
The pair has taken part in many Championships before, but never had the opportunity to compete in the national championship together.
Sandra Auffarth and Opgun Louvo. Photo by Libby Law Photography.
Auffarth said she's ready for the challenge ahead tomorrow.
"The course is beautifully built," she said. "All fences are inviting, asking all the questions a challenging cross-country course at this level needs. At the same time, there is plenty galloping in between."
Full results can be found here.