In this occasional series, top riders in each sport evaluate our readers' submissions.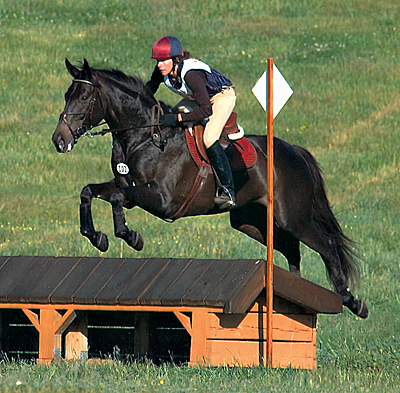 Very Capable
We love this lower level horse's genuine expression! He seems very keen in a pleasant way and looks to enjoy his job. He is certainly good enough with his legs, and although we'd like to see him a bit rounder through his back, he is certainly jumping in a very safe and capable manner.
We were impressed to see a figure-eight noseband actually fitted correctly as usually they are placed too low on the horse's nose, impairing the breathing. The horse looks to be a good event type, nice and rangy, and although the jump is small, he looks a scopey jumper who is finding it very easy.
We'd love to see our rider's toe a bit more turned out as she appears to be gripping with her knee. Her lower leg could be positioned a bit more forward, closer to the girth, for cross-country riding, and although it is hard to see from this angle, the rider looks just a tad too far ahead because her shoulders are past the point of the knee. We'd prefer her seat to be a bit closer to the saddle, which would pull her upper body back a bit and create a safer position. The rider is showing a good automatic release following her horse's mouth, but she must be careful not to collapse to the left side and instead try to stay more centered above her horse. Over all, this appears to be a very capable pair at this level.
---
A Lovely Type
This horse looks to be a lovely type. The only concern would be his front legs, which are untidy. They are uneven with the right leg lower than the left, and we would prefer a horse with even, as opposed to split, front legs even if they weren't as tight as this horse's.
One thing that jumps out about our rider is that her helmet appears to be too big for her and seems to be low set over her eyes. This is a major safety concern that should be checked.
Her position, however, looks to be very good. She is showing a nice crest release and decent leg position. Her seat may be a bit high out of the saddle, but it is almost impossible to know from this angle and with her jacket blowing in the wind. Overall, they look a very capable pair at their level.
---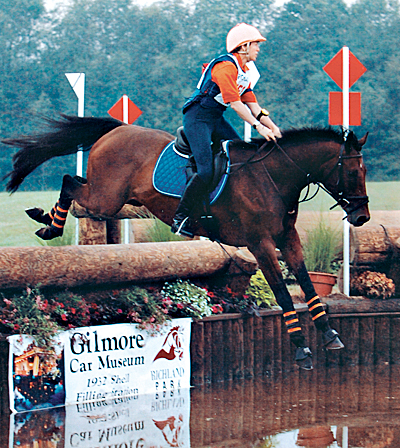 A Better Release
We are keen on this horse, who looks to be quite a sporty model as he jumps quite boldly into the water with his back end well up and over the log in and not dragging behind him. His front legs are well stretched out in front of him, and he looks to be in good balance.
We are not, however, nearly as keen on his rider. Perhaps the first place to start is that the pink hat cover clashes horribly with the orange shirt! On a more serious note, her reins are FAR too short. One needs to slip the reins much more when going into a drop. A better release would then allow her upper body to be much further back and bring her lower leg forward to create a much safer position.
The rider's current position is an accident waiting to happen and truly, if this is her normal position over drops and not just a one off, she really has no right riding at this level while our sport is constantly being criticized for safety reasons. If her horse were to stumble on landing this rider would have quite a job to stay on. Aside from her own safety, an improved position would be kinder to her horse in allowing him more freedom with his neck.
---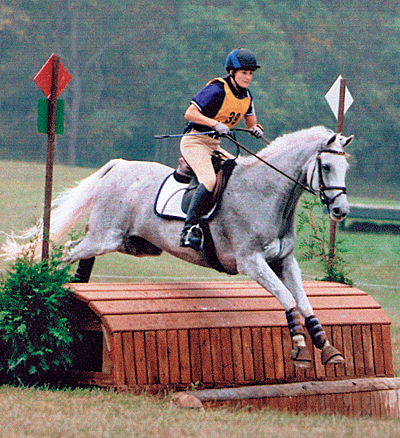 Fairly Correct
There is not too much to say about this pair as overall they are both fairly correct and look to be jumping competently and safely. The horse has a fabulous expression with ears pricked and a bright eye. He looks to be a bold and honest jumper.
Our rider in general is in a good position. She has a secure leg, which is close and tight to the girth. Her seat is close to the saddle, and her balance seems to be quite good on the whole.
It is questionable as to whether she is using the reins ever so slightly to keep her balance, but if she is, it is very minimal and does not seem to impair the horse. The horse could have a little bit more freedom of the neck if our rider brought her upper body slightly further back and taller and allowed her elbows to come in front of her.
---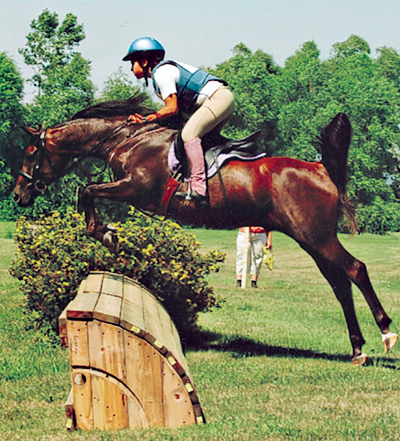 Absolute Class Form
This horse as well has a beautiful expression and looks to be very alert and on the job! It is in great condition with a shine to its coat that shows it is well looked after.
The horse is jumping in an absolute class form; it would probably get top marks from hunter judges by the looks of this photo. However, as event riders we would only wonder if the horse is just a bit too careful for the upper levels when it is putting so much effort into jumping such a tiny fence. The exception to this rule would be if this is a young horse, as young horses early in their careers will often over jump or try too hard, usually evening out as they gain more experience and then jumping easier, in a more relaxed fashion closer to that of our first horse.
Its head and neck are perhaps just held a bit too low for our liking for jumping across the country. Again, don't get us wrong, the horse's form is an example in the hunter/jumper ring, but we'd like to see it not trying so hard at this level if we were hoping for it to have a future at the mid to upper levels of our sport.
The rider's release is terrific, and her head position is ideal as she looks ahead and not down or off to one side. Again, we would like to see the rider's seat positioned a bit closer to the horse by bringing her seat nearer to the saddle as the angle from her seat, to knee, to ankle is a bit too open.
Leslie Law and Lesley Grant-Law
---
Leslie Law, the reigning Olympic gold medalist for Great Britain, has also earned Olympic team silver medals and European Championship team gold, as well as the 2002 World Championship team bronze. His wife, Lesley Grant-Law, has competed at the three- and four-star levels for Canada. They reside in Bluemont, Va., and Ocala, Fla.