East Dorset, Vt.—July 30
Jordan Coyle of Derry, Northern Ireland, raced to a win in the during the fourth week of competition at the six-week Vermont Summer Festival.
Six horse-rider combinations advanced to the jump-off over a track set by Canadian course designer and 1976 Olympic individual silver medalist, Michel Vaillancourt. When Jean Sheptoff of Littleton, Mass., opted to withdraw Coconut Z from the jump-off, five were left to battle it out for victory. Coyle secured the win by nearly 3 seconds, stopping the clock in 33.85 seconds riding Escalette, owned by Elan Farm.
"Before the jump-off, I told Chelsea Dwinell, who helps me at the horse shows, 'there's only five clear. I am going to try and win it'," said Coyle, 24, who returned third in the jump-off order. "The worst I was going to be was fifth, so it was nice to not have too much pressure."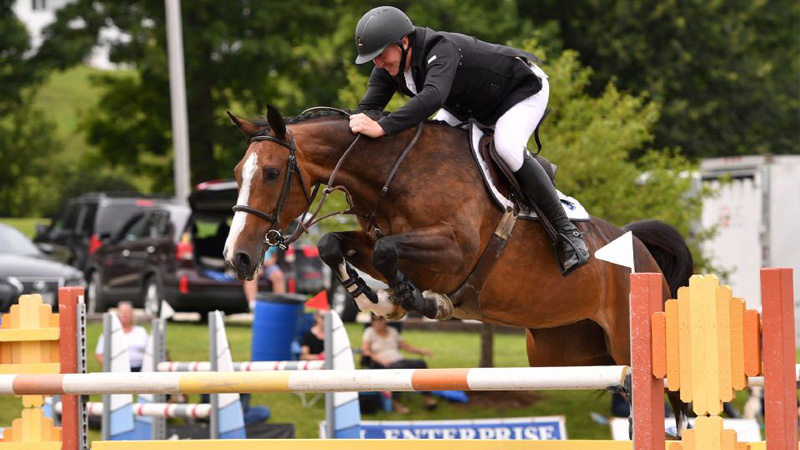 Canada's Sam Pegg of Uxbridge, Ontario, took second place with a time of 36.23 seconds aboard Shaia de Macheco, his partner for Thursday's victory in the $10,000 New Balance Welcome Stake. Jimmy Torano of Wellington, Fla., claimed third place with a clear round in a time of 36.41 seconds riding Day Dream.
Lainie Wimberly of Ridgefield, Conn., was also clear in a time of 40.76 seconds for fourth place riding former three-day eventing mount, RF Quarterman, while Tracy Magness of Baltimore, Md., rounded out the top five after opting to retire Intenz van HD when two rails came down.
Coyle started competing in the United States during the 2017 winter season when he joined the team at Old Salem Farm, based in North Salem, N.Y. After working with trainers Frank Madden and Stella Manship, he got the ride on Escalette only six weeks ago.
"What is most special about her is that she doesn't want to knock any jumps, no matter what," said Coyle of the 9-year-old Selle Français mare by Made In Semilly. "I haven't had a horse like this in a long time, but that is why I came to America; to try and get horses like this one. I am delighted that Stella gave me the chance to ride her."
In addition to training at Old Salem Farm, Manship owns Elan Farm with her mother, Jocelyn, and recently gave Escalette a year off from competition.
"She spent the past year out in a field and this is her first show back," said Coyle, who now hopes to compete the mare in Under-25 grand prix competition this fall. "She is still pretty young and can jump a bit bigger, but before today I didn't have any plans because I didn't know what she was capable of.
"The horse has only knocked one first-round jump in two weeks, which is amazing," continued Coyle, who also placed fourth in the Vermont Summer Festival Welcome Stake on Thursday, as well as second in the Welcome Stake and fourth in the $30,000 Otter Creek Grand Prix during Week 3. "I am absolutely delighted with the horse!"
See full results of the Valley Classic Horse Show.