There was a look of shock on Jordan Coyle's face as he crossed the timers, and it remained there through the awards presentation, the victory gallop and even beyond, as he spoke to the press about his win in the $230,000 Adequan Major League Show Jumping Grand Prix CSI5* at Desert International Horse Park in Thermal, California.
"I can't believe that happened," said Coyle, of Ireland. "I've been jumping this level now for a few years, and I've never won a five-star grand prix. To win it tonight, I just can't believe it. I don't think I've been this happy for a long time. … Never in my wildest dreams did I think I'd win this."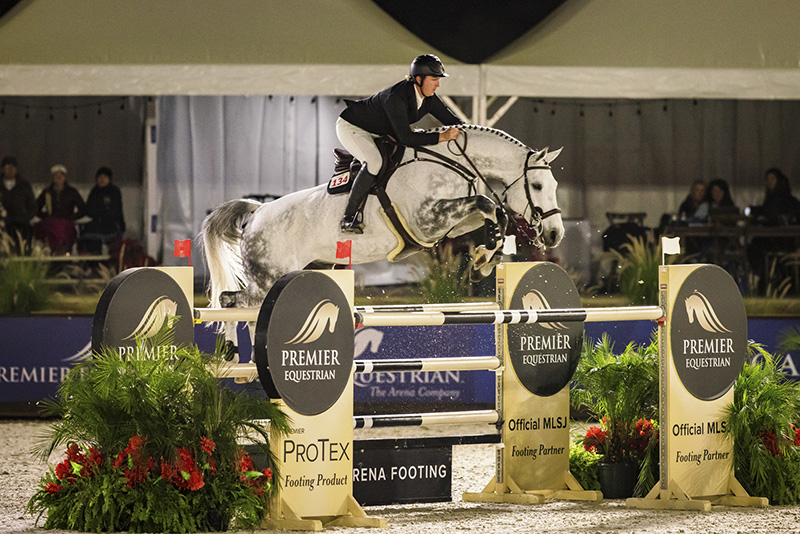 With 36 starters, including some of the world's top-ranked horses and riders, the competition was fierce Saturday night, Dec. 11, in the final individual event of the Major League Show Jumping series. Nine horse-and-rider combinations went clear in the first round of the Alan Wade-designed course, but with the pressure turned up, only Coyle and McLain Ward left all the rails standing in the short course. Ward piloted Kasper Van Het Hellehof, owned by Poden Farms, to a double-clear finish but couldn't catch Coyle's time on Ariso.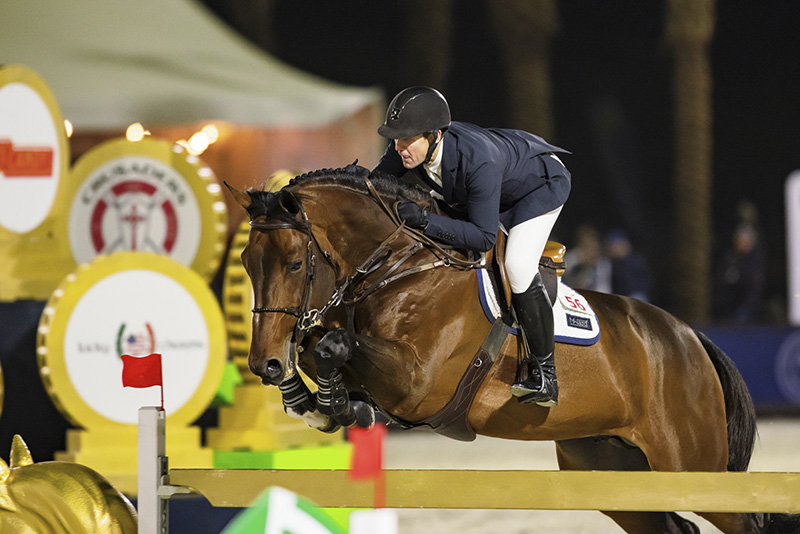 "He jumped brilliant tonight," said Coyle of Elan Farm's 10-year-old gray Swedish Warmblood gelding (Casall—Osira, Contender). "Sometimes he jumps too high, and then you have to put a little bit of pressure, and then he's too strong. Today he was just nice; he wasn't too high."
When asked about his strategy going into the jump-off round, Coyle said if he had to criticize one thing about Ariso, it's that he doesn't take well to Coyle's careful planning.
"I try to plan things, and they don't work," said Coyle. "With horses like that I don't think you can have [a strategy]. You kind of have to ride them off of more of a feel. Sometimes you should add a stride; sometimes you should leave out a stride. I guess today, maybe I didn't do the right numbers, maybe he just jumped well."
Watch their winning jump-off round:
2021 was the inaugural year of Major League Show Jumping, a series of 10 five-star events across the United States, Canada and Mexico in which riders competed both individually and as part of a team. The finale of the Major League Show Jumping team competition was held Friday night, and team Eye Candy, owned and managed by Erica Hatfield, won the class and also took the overall team championship for the year.
The team riders in the $200,000 Major League Show Jumping Team Final were Conor Swail of Ireland, Amy Millar of Canada and Jacqueline Steffens of Canada. Millar aboard Christiano and Steffens aboard Freaky put in clear rounds, and Swail crossed the timers on Theo 160 with a single time fault to give the team a dominant lead. Team member Paul O'Shea of Ireland did not ride in Friday's team event but was awarded a trophy and bonus as the league's leading rider of 2021.