Ocala, Fla.—March 23
Katie Johnson wasn't sold on Loose N Capable when she first laid eyes on him, not until she saw the look in his eye. She and Kerry Shanahan, who is a Thoroughbred restarter, had come to the Charles Town (West Virginia) racetrack in search of a pretty dapple gray for a client. One of Shanahan's contacts at the track had a horse that fit that description perfectly.
"I don't like grays, but he picked up his head and looked at me, and I said to Kerry, 'Did you see his eye?' and Kerry was like, 'I think he wants to be your horse,' " Johnson said. "And the trainer took him out and jogged him, and she scratched his chest first, and he went to bite her, and Kerry was like, 'Yeah, that's your horse.' "
Shanahan's client ended up purchasing the Thoroughbred gelding (Langfuhr—Capable), and he came home to Ballyclare Farm in Waterford, Virginia, where Johnson began the process of restarting "Lucien."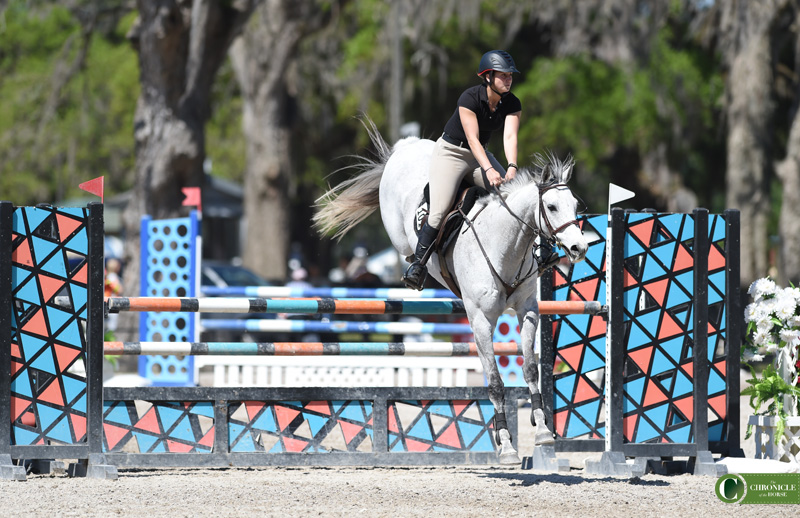 "He didn't really come down," Johnson remembered. "He was hot. No one else would sit on him because he would either go up or go galloping. I put a soft bit in his mouth and let him go. I'd never done anything big. I'd never sat on anything like him, but he was super pumped and super athletic."
Johnson ended up purchasing him, and with her commitment to letting Lucien be himself rather than fitting him into a box, the now 12-year-old gelding began to thrive. She didn't teach him his leads for the first three years, because bringing him back to the trot to ask for the other lead rattled him, resulting in several minutes of cantering sideways. Instead, she used lead changes as a workaround.
"It's not normally how I train horses, but it wasn't for his brain," she said. "It wasn't 1, 2, 3, 4 like it is for other horses."
As he progressed, Lucien started jumping around 3'6″ courses easily, albeit with an unusual style. The natural talent was there, so Johnson started to believe Lucien was capable of big things.
"I went back to slow him down and revisited all the flatwork, and then I started trying to find a trainer who would help polish him, and that was hard because he's hot," she said. "You can't really settle him. You have to give him something to think about. I would just jump little logs; we'd canter and jump logs otherwise he'd take off. It wasn't that he was frantic; he was like, 'You're on my back. I need a job.' It's kind of how I saw it. And then he could stop, but he needed something to think about. Then he takes a breath, so you figure it out."
Johnson had several false starts with trainers who hoped trotting crossrails would settle her gelding. It wasn't until she came across Colombian show jumper Manuel Torres that she found someone who could focus Lucien's energy, by presenting him with challenging exercises.
"Manuel loves him," she said. "He's like, 'This horse is fantastic; he could do 1.40 meters, whatever.' I was like, 'This is better than my wedding day!' All these other trainers would be like , 'He's nice… for a Thoroughbred.' "
But as long as a horse is willing to jump, Torres didn't care what breed he was training.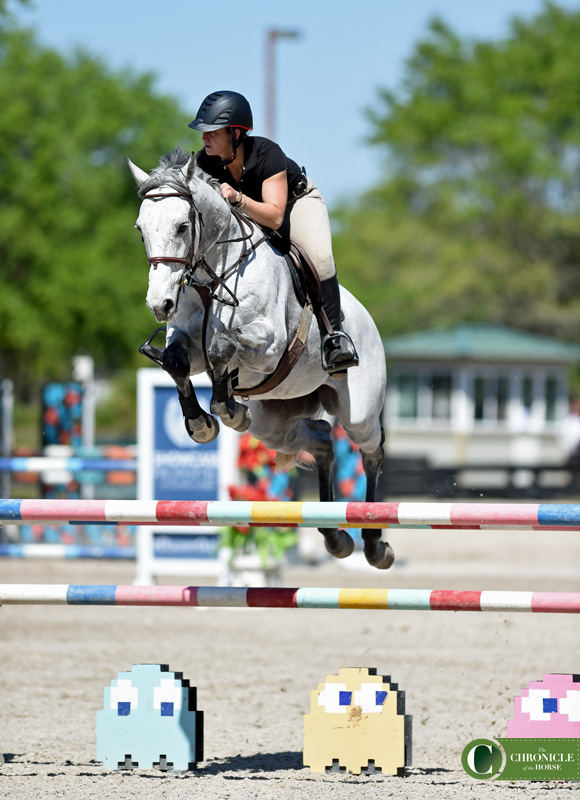 "Manuel does a lot of combinations to make him naturally back himself off," Johnson said. "As soon as he's aimed at a jump, he's listening to me again. It's the long spaces when he's like, 'I can go fast again,' and that's when I don't have enough bit on the flat. It's funny, the tighter the turn, the sooner I aim him at a jump, the more control I have."
Johnson keeps Lucien at her small boarding barn in Poolesville, Maryland, and travels to Torres' Virginia farm for lessons periodically. She's currently competing in the low amateur-owner jumpers but hopes to move up to the mediums in the near future and eventually the highs. And even when she hits a mental stumbling block in the ring, she knows her partner will have her back.
"I could mess up, and he'd still jump for me. He has so much heart," she said.
We're on site at HITS Ocala all week covering the feature classes during the final week of competition. Don't forget to check back for more beautiful photos and article on the big winners. Be sure you're following us on Facebook, Twitter and Instagram @chronofhorse. Plus pick up the April 8 issue of The Chronicle of the Horse magazine. What are you missing if you don't subscribe?