In this series, the Chronicle follows multiple riders as they seek to fulfill their FEI World Equestrian Games dreams in Tryon, North Carolina, in 2018. We'll check in with them in the coming months as they pursue a team spot to see how they're getting their horses ready and preparing mentally.
Jamie Barge, of Malibu, California, is now based in Europe for the summer. Barge and Luebbo, her top mount, went to Paris where they competed in their second Longines FEI World Cup Finals in April, finishing 16th. After competing on the Nations Cup team in Langley, British Columbia, and helping Team USA earn an invitation to compete at the Longines FEI Nations Cup Final (Spain), Barge headed back to Europe with Luebbo and two other mounts from her Team KylieCo: Zirocco Royal, and Fioretti S. Their first stop on the tour was at Sopot, Poland.
---
In 2013, I was looking for another horse to bring up behind my 10-year-old Westphalian Lasse, so I contacted a friend to let him know that I was interested in buying another horse. He actually contacted my mother about Luebbo, then 8 years old, since this horse was over the budget that I had given him. My mom saw this as a "when God winks" opportunity and suggested we see the horse. After carefully reviewing videos and show records, we flew all the way to Germany to try one horse! It was meant to be, and everything fell into place.
I started showing "Bo" late in the season in California, so we had a good off-season from November to January to really get to know each other. [Trainer] Gaby Salick kept us jumping smaller classes until we really clicked, and Luebbo gained his confidence and jumping style. When Gaby moved to New Jersey, we decided it would be a good opportunity to train in Europe for the summer.
First I went to the stable of Otto Becker and then to Marco Kutscher and Eva Bitter, because Eva had shown Bo for a while, and I wanted to go where they knew him.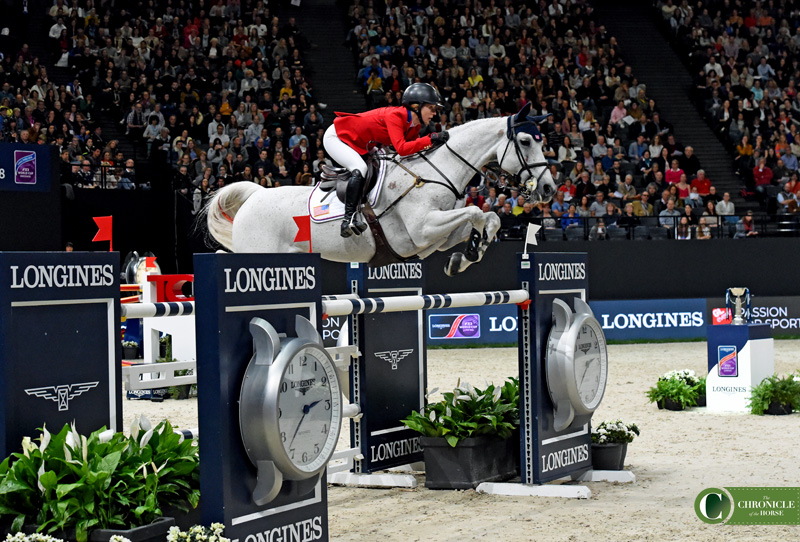 To prepare for showing in Europe, Luebbo and I competed in our first FEI World Cup Qualifier at home at HITS Thermal (California), and we were second! I was shocked but also felt ready for the summer in Europe. Upon returning home, I planned to compete in the World Cup classes, the biggest classes offered in California, but I never thought that we would actually qualify for the 2017 Longines FEI World Cup Final in Omaha, Nebraska, but we did.
Omaha was tough for Bo and me, but we had a great learning experience. When I entered that arena to walk the course, I had never seen fences that huge. So when it came time to plan for World Cup Finals in Paris, I wanted to be better prepared. I jumped in the competitive Live Oak CSI-W (Florida) in Ocala, then the AIG $1 Million Grand Prix (Florida) to get some practice over bigger fences. Afterwards, Luebbo and I were horse and rider of the week for the USEF Rolex [ranking] list. I realized I was much higher on the list than I expected.
Getting On The Radar
At first I didn't completely understand how the selections for the upcoming FEI World Equestrian Games were made. After some research, I reached out to Chef d'Equipe Robert Ridland, who explained that if I made the short list, I would go back to Europe to compete on two different Nations Cup teams over the summer.
I had already flown home from Paris when I found out I was on the short list for the WEG, and I'd also already applied to jump the Nations Cup Team at Thunderbird (British Columbia).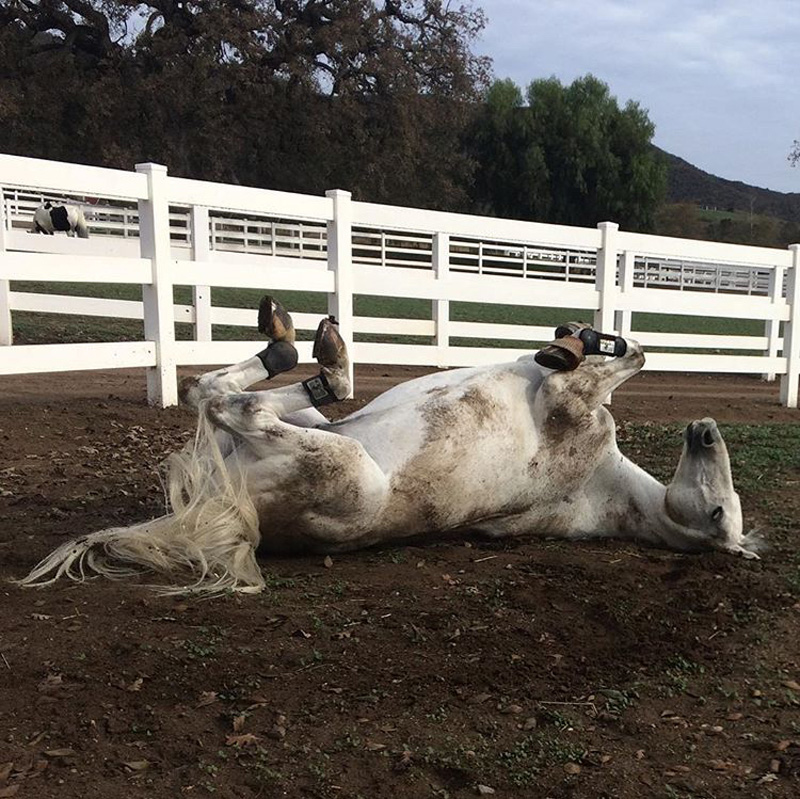 I made my plan to get my horses to Canada to compete at Thunderbird, one of my favorite West Coast shows, and from there Team KylieCo left for Europe. It was a long week between Canada and Sopot, Poland, but Luebbo traveled great and jumped really well in Sopot. [Luebbo ticked one rail in Round 1 and picked up another 4 faults and a time fault in Round 2].
When I walk to make a plan for Luebbo, it usually doesn't follow anyone else's plan; if there's a place to add, chances are I want to do it. Robert has been flexible in working with me to achieve the best plan for my horse. After our double clear round in Paris, he actually encourages the adds—as long as I stay under the time allowed! Bo tried really hard in Sopot and didn't seem to care when he lost his shoe midway through the first round! I made an error in the first round, and although Bo tried really hard, he just couldn't clear the back rail of the triple bar. I really wanted to jump clear but am very happy with the results, especially considering all the travel Bo had to do the week ahead.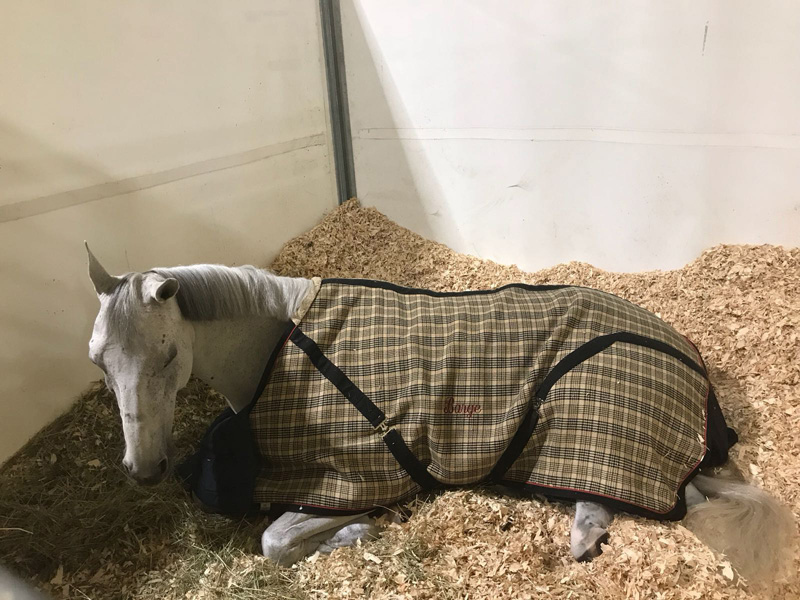 After Sopot, Bo had a nice relaxing week while I showed my youngsters at Riesenbeck, Germany. We are going to jump a few classes at a national show next week and hope to compete in Ascona CSI***** (Switzerland) or Knokke (Belgium) to get one big show in before Dublin. It's important that Bo doesn't do too much but does enough that he's not too fresh for Dublin.
Bo is a funny horse. At Sopot, Janus Marquis, who does bodywork with the team horses, worked on him, and Bo knows and loves her. She was working on him in Sopot, and if someone walked by, she would stop to talk, and he would impatiently nudge her to work on him! He's so politely demanding when he wants something. He'd also really lean on her when she got to a good spot. It's crazy how expressive and smart he can be.
Another funny story happened at Thunderbird. I was trying to take a nap—which never happens—on a tack trunk during the show. But Bo kept pestering me because he wanted to go out for grass. He was nuzzling me and breathing on me, and it was making me laugh. Finally, he won, and I got up and took him out to graze.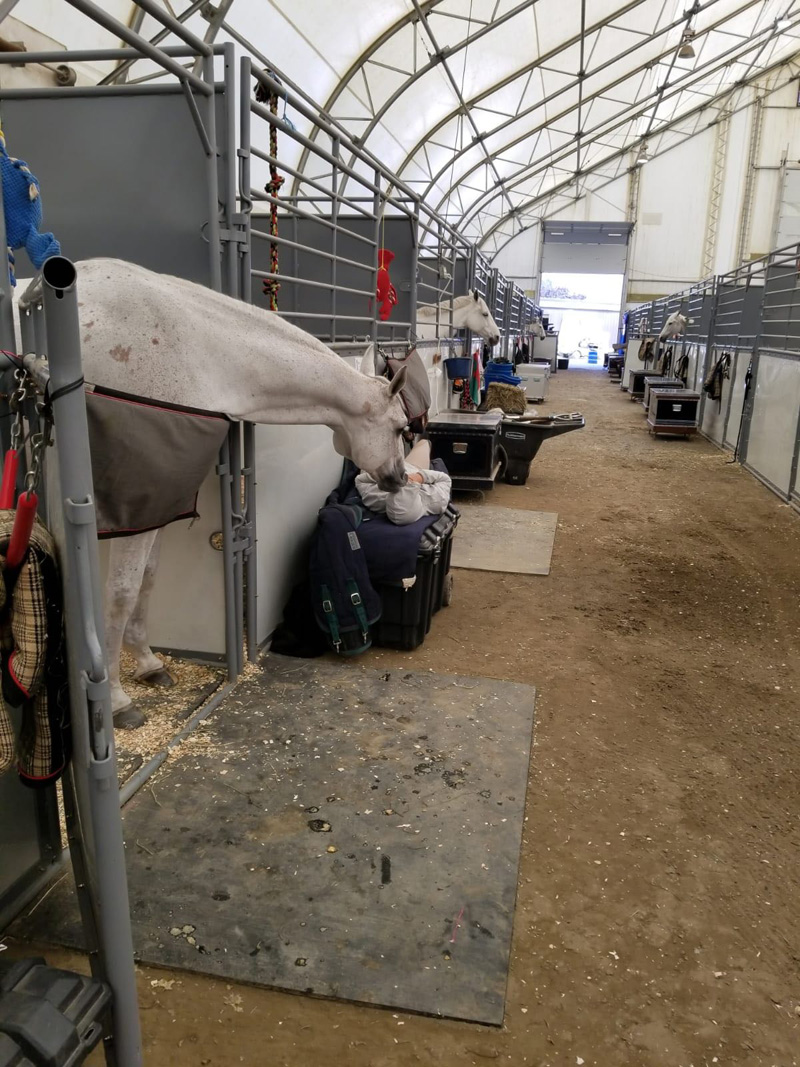 Caught In The Act
I have a profound hearing loss. I wear a hearing aid on my right ear and have a cochlear implant in my left ear. Most cochlear implant users only use a cochlear implant. At the time that I got my implant, my hearing with my hearing aid in my right ear was pretty good, so I kept my hearing aid along with the cochlear implant. It was a big adjustment, but in the end I think it's been beneficial.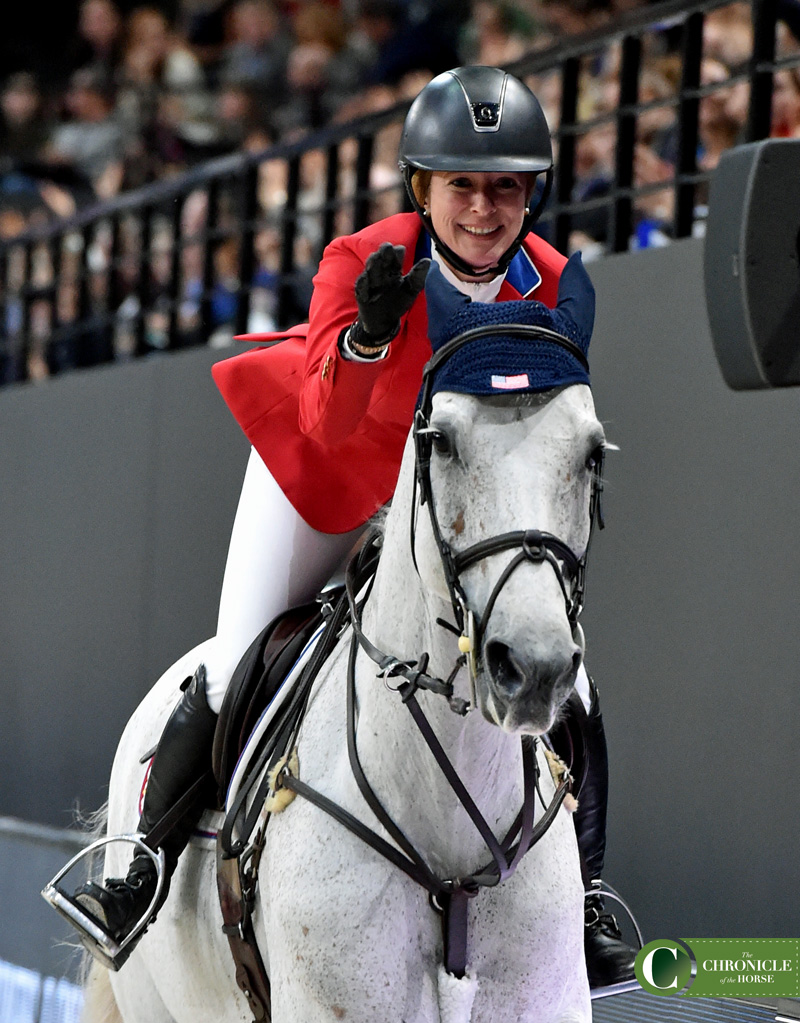 To communicate, I have to rely on lip reading and really focusing on who is talking. Funny story: when coming out of the ring in Sopot, I busted [trainer] Karl Brocks telling Robert he was going to do something differently in the warm-up and not tell me! I said "Hey, I can lip read you know!" They both turned around stunned, and we all had a good laugh. I don't think that my lack of hearing has advantages or disadvantages in the ring. I just have to adjust to do things differently like watching the clock and riding like every rail is still up. I can feel the rubs but don't hear if a rail falls or not.
It honestly does take a village to do this sport, and Bo and I are truly lucky to have a great team. My parents help tremendously by supporting us and staying out of the way when they come to watch. Lucky for me, they learned early on that the back gate is a "no parents" zone. Sarah Griffin, our groom, does an amazing job of making sure the horses travel well; she even has them bobbing for apples if she doesn't think they are drinking enough during travel! She does a great job of taking good care of the boys and keeping them happy. This helps me as it gives me time to make travel plans, show plans, and to try to stay on top of the paperwork! Gaby Salick is still the best at giving me moral support and helping me when I'm not sure what's the best decision. Karl Brocks has also recently been a huge help training me with my youngsters and helping me with Bo at the Nations Cup shows.
I've been in Europe for three weeks and have already learned so much, and it's been great fun!
Catch up with our other Road To The WEG riders:
Dressage rider Olivia LaGoy-Weltz
Para-dressage rider Rebecca Hart