Lexington, Ky.—Nov. 9
In a sea of bay warmbloods, dare to be Adiah HP: a pinto half-Friesian dancing to victory over them all!
James Koford guided the spectacularly animated mare to the win in the U.S. Dressage Finals Grand Prix open championship Friday night.
"I am so, so pumped; she's just really getting so mature. She's going in the ring and being excited, but I can channel [it], and it just gives me chill bumps," Koford said.
He and Adiah captured the Grand Prix freestyle open championship at last year's U.S. Dressage Finals. "It's so fun to do because she's so into it, and to get on a horse that loves to go in the show ring like that, she just cracks me up. She's my buddy," Koford continued.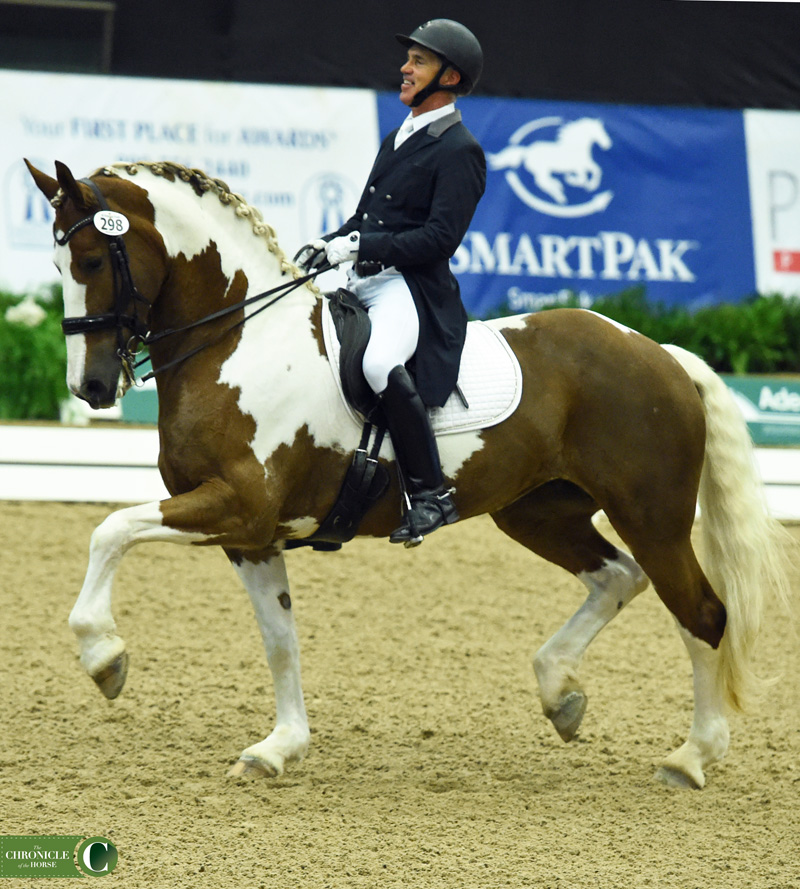 Koford and Adiah scored a 69.13 percent to top the 13-horse field, and the crowd in the Alltech Arena absolutely ate up the mare's performance. Along with being by far the most colorful horse in the class, Adiah is one of the most expressive, particularly in the collected work. In fact, when Koford tried to stand for his win photo Adiah spent most of the time trying to piaffe, and quite beautifully!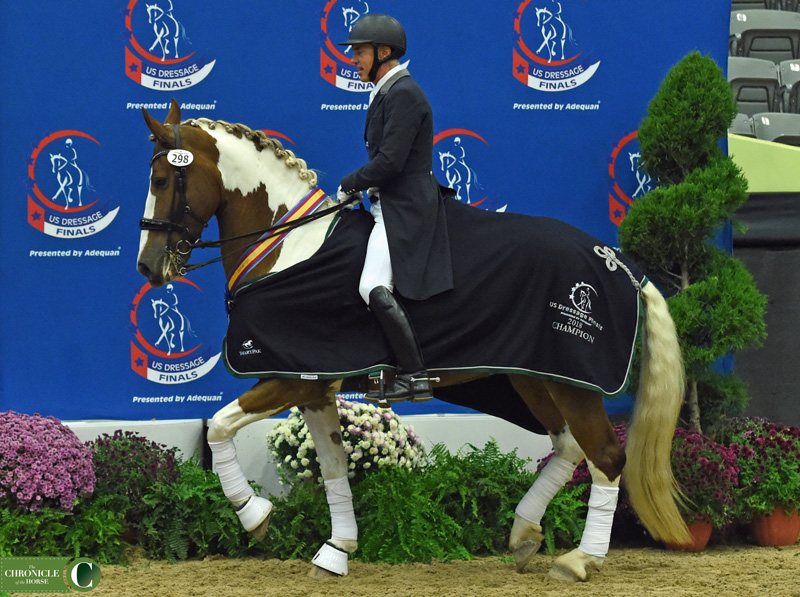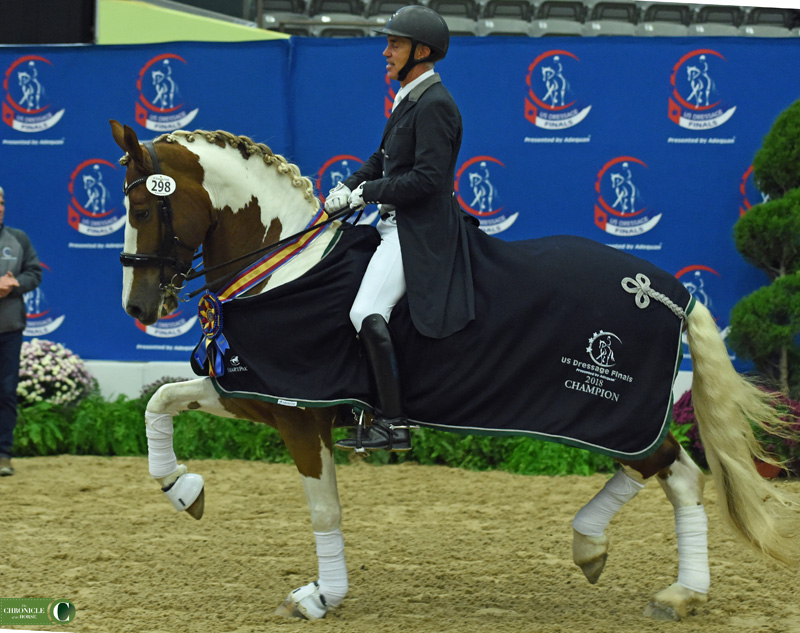 "I just love her. When I got the ride on her and brought her into the barn, all my employees looked at me and were like, 'What are you going to do with this one?' " Koford said. "And I said, 'I don't know, but isn't she cool?' "
His employees reminded Koford that he had wanted a horse he could compete at Dressage At Devon (Pennsylvania) or the Adequan Global Dressage Festival (Florida). "I said, 'Well, I'll do this one.' And she's done everything I asked and more."
Koford competed Adiah's sire, Nico, for breeder Sherry Koella. Koella still owns Adiah, and she'll actually get to see a couple horses she bred square off in the freestyle Saturday night.
"[Adiah] actually has a half-sister, a solid-colored mare but same sire, so that will be fun to have the sisters going head-to-head tomorrow," Koford said. "Her sister has a more typey face, so we were joking that the sister probably looks over at her and says, 'Why the long face?' "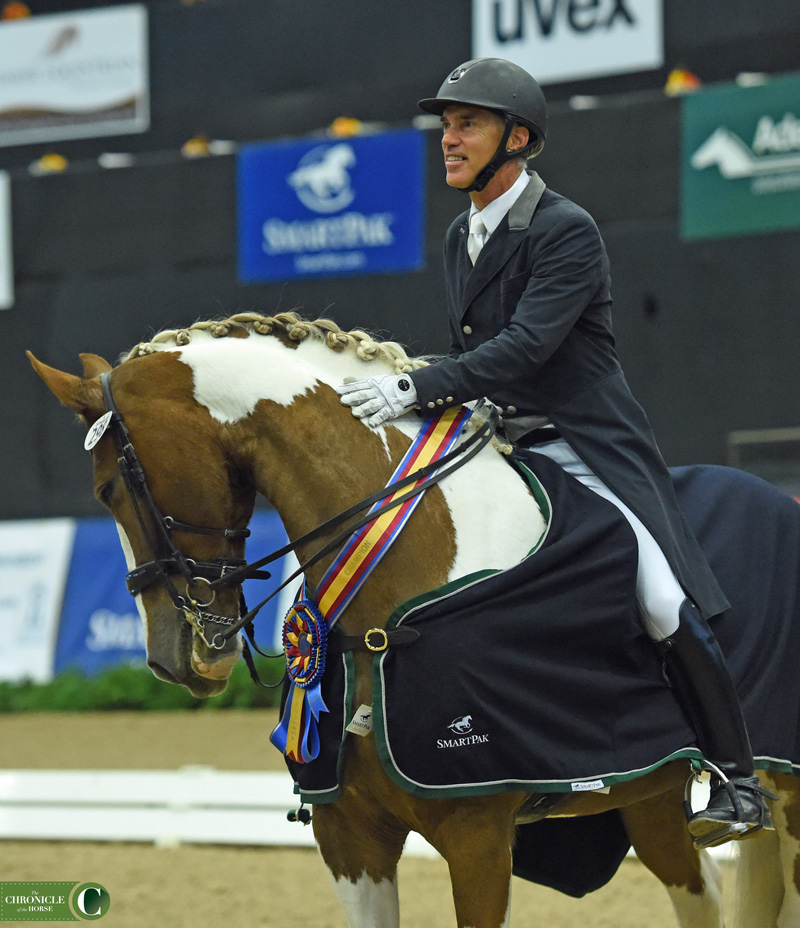 Koford has racked up a considerable record with Adiah HP—along with their freestyle win at last year's Finals, Koford took second in a CDI*** this year in Wellington, Florida, on 69.55 percent, and they placed fourth at this year's Grand Prix freestyle at Dressage At Devon. But Koford isn't setting goals for his next season with wins and losses in mind.
"She's like my dirt bike; I get to ride around and have fun. No stress and no drama," Koford said. "She loves to go, and I love to go, so it's just fun to be part of it; it's just fun to be in the game."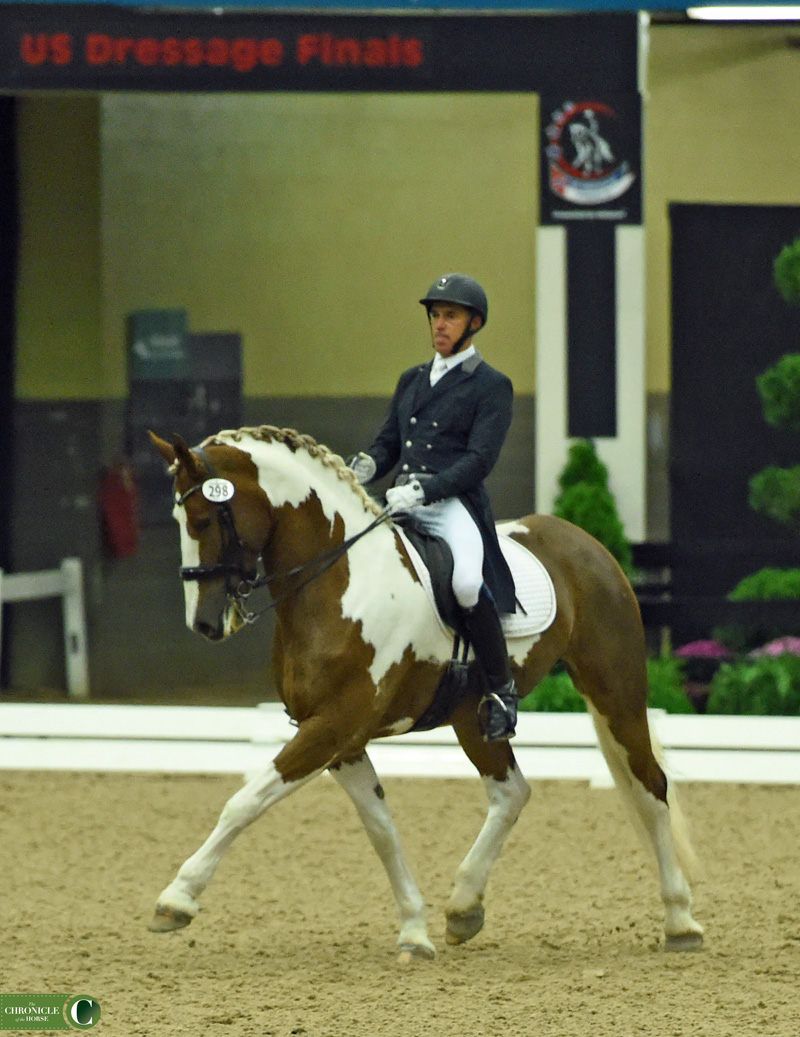 Click here for full results, and check out the Dec. 10 magazine for more in-depth reporting.