Wellington, Fla.—Nov. 30 – Dec. 1
The $50,000 Holiday & Horses CSI-W ended with a win for Charlie Jacobs and CMJ Sporthorse LLC's Flaming Star. In an exciting jump-off with more than 4,000 fans cheering them on, Jacobs and Flaming Star topped Tim Gredley and Unex Chamberlain Z, Jessica Springsteen and Vindicat W, and Catherine Pasmore on Bonanza Van Paemel for the win.
Anthony D'Ambrosio set a challenging course for Saturday night's grand prix. Forty-four entries showed in Round 1 and just four were able to advance to the jump-off. All of the jump-off competitors then had faults through the short course. Jacobs and Flaming Star finished on top with one rail down in the fastest time of 48.62 seconds.
Gredley and Unex Competition Yard's Unex Chamberlain Z also had one rail and finished second with their time of 51.43 seconds. Springsteen and Stone Hill Farm's Vindicat W had 8 faults in 49.59 seconds to earn third place honors. Pasmore and Pasmore Stables LLC's Bonanza Van Paemel had three rails down in the short course to finish fourth with 12 faults in 52.78 seconds.
"It was a delicate track, to say the least, and also quite technical in my opinion,' said Jacobs. "The time allowed was quite tight, and I think it got some people that were maybe rushing a little in their heads. With the number of competitors that entered [44], to have four clean obviously was a reflection of the difficulty of the course. You don't necessarily have to build an entire 1.60-meter track to make it difficult, and he accomplished that with the technicality of the course."
Jacobs said he wasn't sure how Flaming Star, a 14-year-old Anglo-European gelding by Fairman, would react showing under the lights in the night class. "I had a few moments in the schooling area when I was going sideways and I wasn't counting on it, but he was quite good in the ring. He loves it. I wish it were the rider, but I have to tell you, it's the horse. He is doing a great job out there," he said.
Gredley has had his mount, Unex Chamberlain Z, for about a year and a half, but the gelding is coming back from an injury. "He has been out for about a year, and he just started four or five months ago," Gredley explained. "He has just been getting better and better. I think he just needed to get fitter, and I needed to get fitter, and it is all just starting to come together with him a bit now."
Finishing third, Springsteen was happy with her round aboard Vindicat W. She's has been busy in her senior year at Duke University (N.C.) and had not ridden in almost four months. She was also presented with a special Leading Lady Jumper Rider Award, sponsored by Martha Jolicoeur of Illustrated Properties in memory of Dale Lawler.
"He has been amazing," she said of Vindicat W. "My last show with him was in July, so it has been awhile, but Laura [Kraut] and Mary Elizabeth [Kent] have been riding him and he is in amazing shape. He jumped incredibly tonight, so I was really happy."
See full Holiday & Horses CSI-W results.
Equestrian Sport Productions' Holiday & Horses competition concluded at the Palm Beach International Equestrian Center on Sunday afternoon with a win for Molly Ashe and Kennzo in the $15,000 USHJA International Hunter Derby.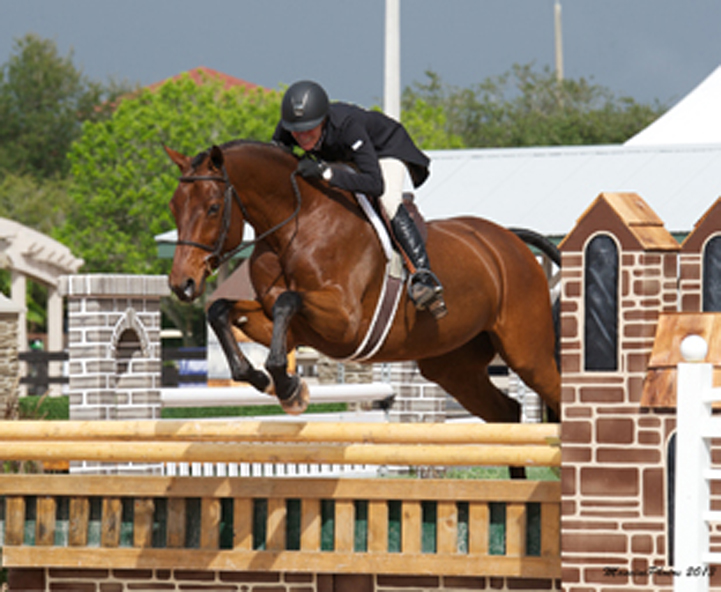 Molly Ashe rode Kennzo to the top of the
$15,000 USHJA International Hunter Derby
at the Holiday & Horses.
Photo by Mancini Photos
Ashe jumped Kristen Abbatiello-Neff's Kennzo, an 11-year-old Finnish Warmblood gelding by Coriano, to victory with the high score of 183 in the classic round and then received the second highest score of 199 over the handy course to finish with 382 points overall.
Kelley Farmer and David Glefke's Skorekeeper had the high score in the handy round with 200.5 points, which combined with their classic score of 173.5 to give the pair a 374-point total and second place honors.
Kennzo mainly shows in the hunter derby classes with Ashe and has proven himself with several wins in the last couple of years, including top honors at Horse Shows by the Bay this summer. He was also third in the derby at the Hampton Classic in August and has not shown since then. Despite the time off, Kennzo came out like a pro.
"Clearly he has done a lot of eating," Ashe joked. "He is really cool that way. You can pull him out and go right out there and he is on it. He is like a pony. You turn him out, and you can't catch him. Riding him is like pulling teeth. He is a firm believer in me working as hard as he does. In the schooling area he won't go. You canter the jump, and he will land trotting and stopping. But then he goes in the ring, and he knows his job. He is perfect in the ring.
"He is so much fun," she affirmed. "He is so scopey, and he has a great jump. He has really turned into such a great show horse. I have had him since he was 7. He started out as a jumper and then we started doing the hunters. He really knows his job now, and he is all business every time. He takes no preparation. He literally walks to the ring and off he goes."
Ashe also placed third in Sunday's class riding Elisee Browchuck's Original du Rietz. The pair earned scores of 171 and 184 for an overall score of 355.
"I was very proud of him," Ashe said. "He was doing jumpers with his owner and got a little scared and unhappy about it, so we made him a hunter. He marched right out there. He had not done anything since [the Hampton Classic] either, and he laid it down right from round one."
Havens Schatt and Bruce Duchossois's Just Fred finished fourth with scores of 163 and 190.5 for a score of 353.5 overall. Jennifer Bliss earned fifth and sixth place honors riding Harris Hill Farm LLC's Poker Face and Extraordinary. Poker Face earned scores of 156 and 186 for a total of 342 to place fifth. Extraordinary received a 145 and a 183 for a 328-point total and the sixth place prize.
See full Holiday & Horses hunter derby results.