Twelve years after his first team experience, our columnist thanks the individuals who made that medal bid and every one since then possible.
Here we are again, getting ready for a team trip to Mexico; the Pan American Games are right around the corner.
I rode on my first team at the 1999 Pan Ams in Winnipeg with Pajama Game, and wow, how the times have changed since then! Twelve years ago, I was "the young guy"—only 22—and I had absolutely no clue that I was going to represent my country until the day before we left for Canada.
There were no conference calls and no emails. And there were certainly no riding clothes that were my own. (Thanks, Dad.) In fact, I was still riding in rubber boots. My "call up" came from Capt. Mark Phillips, and it was something along the lines of, "So, you don't plan on representing your country in rubber boots, do you?" Given that early admonishment, I hardly thought twice about getting my new pinque coat on short notice. I needed new footwear, pronto! But I was going to ride for my country (even though I rode as an individual that time).
It's a strange feeling knowing that now I'm "the old guy." I've ridden around plenty of four-stars since then, gone head-to-head with the world's toughest competition at the Alltech FEI World Equestrian Games and worn out several coats. I even have a collection of leather boots at this point.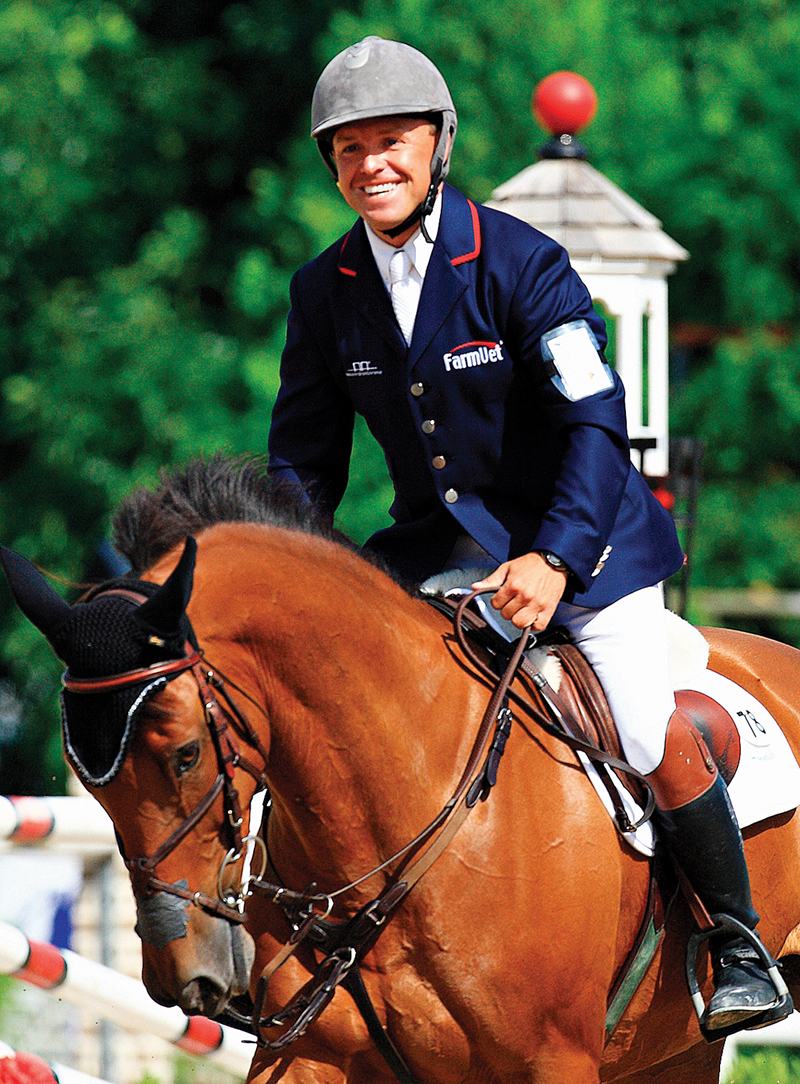 But one thing I still need is a medal. My fellow athletes—Hannah Sue Burnett, Jon Holling, Shannon Lilley and Michael Pollard—and I are coming together as your 2011 Land Rover U.S. Eventing Team, and hopefully that medal will come in Guadalajara. I know it would be no less exciting for me, "the old guy," than for my four teammates, who will all be sporting their pinques for the very first time.
No "I" In Team
This whole process of going from "young guy" to "old guy" has made me appreciate everything a lot more this time around. The initial shock and laughs that came with acknowledging how much has changed since my formative years soon gave way to surprise at how much hasn't.
While the clothes we wear may be different today, horses and riders still get to the top level the exact same way—with hard work, luck and supportive teams building firm foundations behind the scenes. The thing I think makes our sport stand out the most are the volunteers who give countless hours from the ground up to make eventing better.
Without the volunteers who set up the dressage rings, decorate the cross-country or rake the show jumping rings, we don't have a sport. For instance, in my entire career, I've never once gone into the ring without a volunteer first telling me it's time to go. It's the small, simple things like these that we can so easily take for granted in our sport. So to everyone who's ever volunteered—to all those people who've wrangled busy riders at in-gates from Florida to Quebec to Montana to California—we can't thank you enough.
Without these unbelievable people, events literally couldn't happen, and therefore the U.S. Team would never happen either. The wind, rain, and unbelievable heat doesn't stop these guys, and they all have a smile on their faces.
There are also volunteers who work at a different level to make the sport better—they're the ones putting on clinics in their areas to step up the level of riding. Without these people, we simply wouldn't have the ability to draw team members from all across the country.
This team headed to Mexico is proof that the top-notch clinics all over America are working. When I was named to the team in 1999, Amy Tryon was the only one on the squad from outside the U.S. Eventing Association's Area II, which comprises just 51⁄2 Mid-Atlantic states.
This time around, "the old guy" is the lone Mid-Atlantic native. We have riders from California, Wisconsin, Kentucky and South Carolina, and it's very exciting to see our sport branching out and growing. But this only happens because of dedicated people who work for nothing but the love of the game.
I know that every rider heading to the Pan Ams is a beneficiary of some volunteer (or many) who set up a clinic in his or her area with a "big name trainer." Whether it was 10 years ago or last year, those volunteers were instrumental in giving our new team riders a leg up and fostering a love of the sport and some much-needed education in areas that didn't have much access to eventing.
So as we go forward into these games and the Olympics in London next year, I want everyone who's given to this sport or equestrian sports in general to realize that you are part of the "team," and that you should be proud of that. It's volunteers like you who remind us to appreciate the sport we have and ride not for ourselves, but for our eventing community and country.
As riders, we always tend to focus on getting to wear that pinque team coat. But at the end of the day we should be reminding ourselves that it's not about the jacket—it's about the boots. Without all those boots on the ground, we'd have no jackets on our backs.
Thanks, everyone. I hope we make you proud.
---
Buck Davidson is an event rider based in Riegelsville, Pa., and Ocala, Fla. The son of eventing legend Bruce Davidson Sr., Buck has carried on the family name with major achievements beginning during his young rider career. He was the Chronicle's 2009 Eventing Horseman of the Year and a member of the Land Rover U.S. Eventing Team at the 2010 Alltech FEI World Equestrian Games. He began contributing to Between Rounds in 2010.
If you enjoyed this article and would like to read more like it, consider subscribing. The original version of "It's Not About The Jacket—It's About The Boots" ran in the Oct. 10, 2011, issue. Check out the table of contents to see what great stories are in the magazine this week.

If you're a Chronicle subscriber, you can log into www.coth.com and read all of the Between Rounds columns that were printed from 2010 to present.