Long Beach, Calif.—Oct. 1
There were eight countries in the jump-off of the $96,000 Emirates Gold Cup, but one nation dominated the results: France. French riders claimed the top three spots in the class, and took fifth to boot.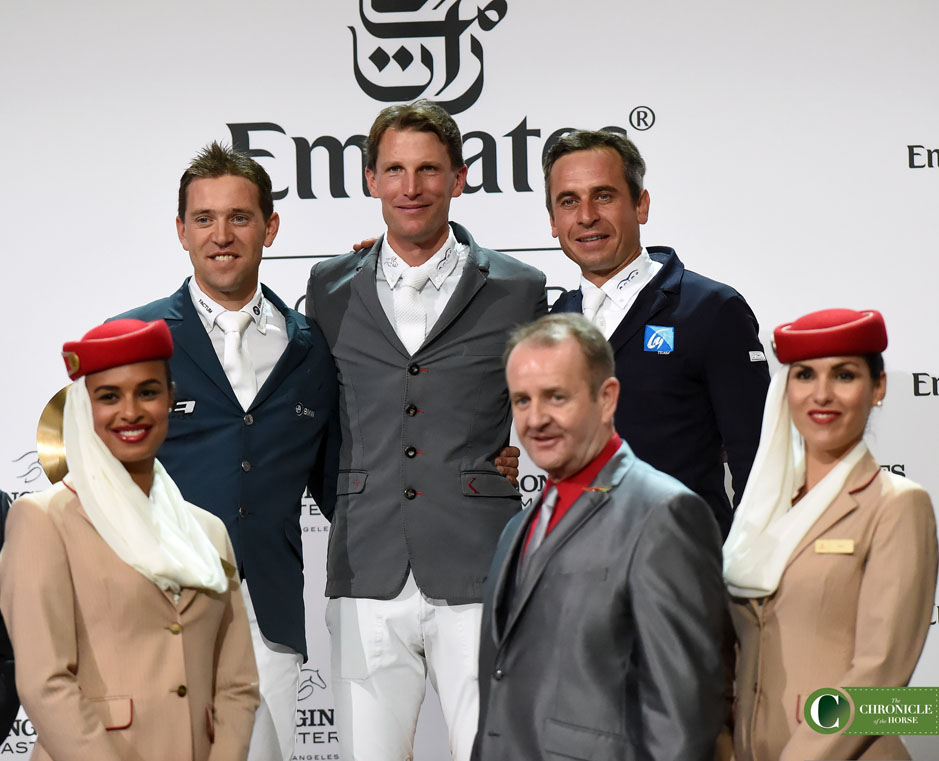 \
France took over the podium in the $96,000 Emirates Gold Cup, with Kevin Staut (middle) claiming first, Simone Delestre (left) taking second and Julien Epaillard finishing third. Photo by Mollie Bailey.
Last to go in the jump-off, Kevin Staut laid down a blazing jump-off round with Elky van het Indihof HDC to take the day, followed by Simone Delestre and Chesall Zimequest and Julien Epaillard and Safari d'Auge. Patrice Delaveau and Leontine Ledimar HDC claimed fifth behind Jessica Springsteen and Tiger Lilly.
"The class was good for the sport, because the last three riders went faster and faster," said Staut. "I think it was really exciting for the audience, and for us as well to have three French riders on the podium. It's great! Hopefully it will continue like this tomorrow."
Staut wasn't expecting to win the class, pointing out that Delestre has "the fastest horse in the world" in Chesall, but his Belgian Warmblood mare (Toulon—Ballade van het Indihof, Thunder VD Zuuthoeve) turned on her footspeed to outrun the competition.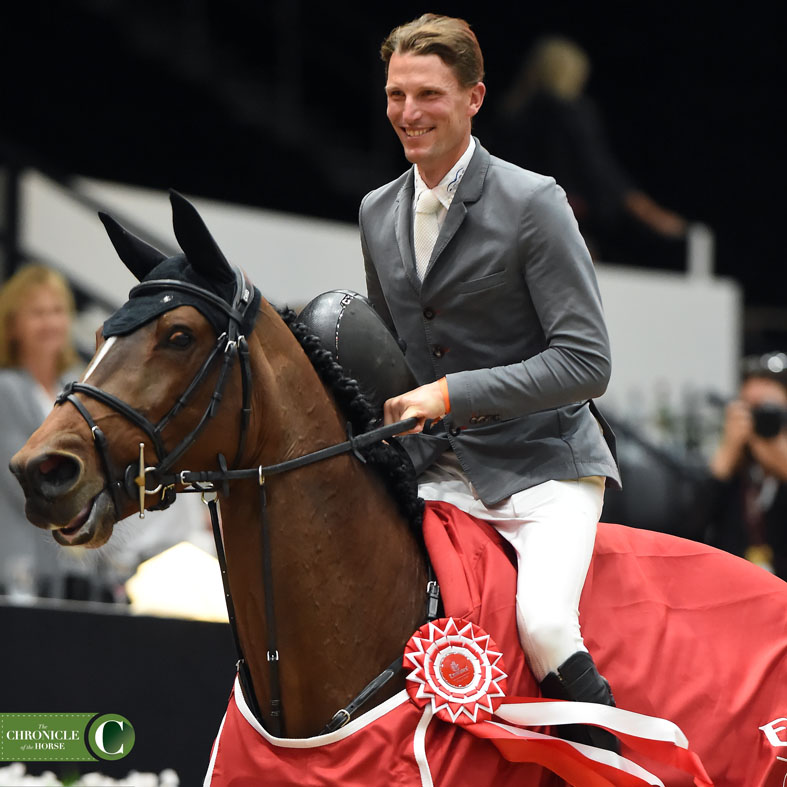 Kevin Staut and Elky van het Indihof galloped to the top of the Emirates Gold Cup. Photo by Mollie Bailey.
Staut struggled a bit in Round 1 aboard his diminutive mare.
"Today in the first round all the distances were a little bit long and my mare is small and she has a small stride so it was a little bit difficult to manage it," he said. "It was nearly dangerous! But then in the jump-off she knew how to react and she reacted really, really well."
Chesall Zimequest stopped the timers just a quarter second slower, but Delestre wasn't too disappointed.
"For the last 6 months he's always been in good form and very consistent," said Delestre. "I know he's a fast horse so I tried to go fast, but he'll jump the grand prix tomorrow. I maybe could have caught a more forward distance on the last jump but that was a little bit risky, so I stayed a little bit on the outside. For sure I knew that I had a risk that Kevin could be faster because the mare is very fast as well. But I'm really happy with this round."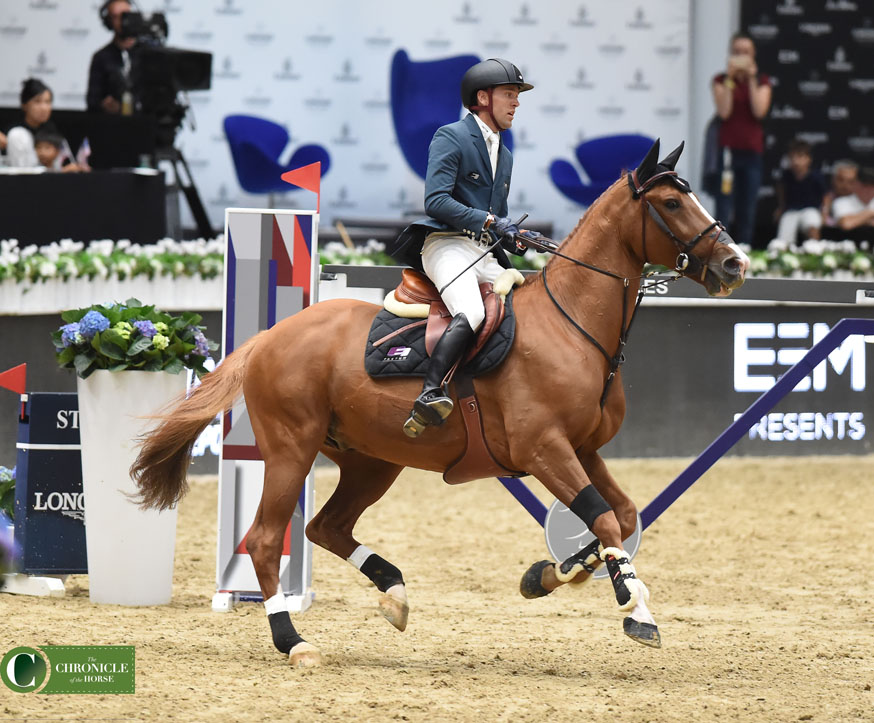 Simone Delestre and Chesall Zimequest galloped to second. Photo by Mollie Bailey.
"Chesall" has been a regular ribbon winner for Delestre, and he wears unusual legwear in the ring. The thin-skinned chestnut reacts badly to every type of boot he's tried on his hind legs, so he uses special wraps that seem to do the trick.
You can see more photos here.
For full results, click here.
Get caught up on yesterday's excitement, and for more news and analysis of the entire Longines Masters of Los Angeles check out the Oct. 17 issue of The Chronicle of the Horse.