Tryon, N.C.—Oct. 9
Heading into the ring aboard Brighton Bay for her second round in today's Neue Schule/USEF Prix Des States, Emma Seving could already breathe a sigh of relief. Her Zone 1 teammates—Skyler Fields/Elegance de Pessel, Tessa Brown/Herman Hof Ter Zeedycke and Eva Fisherman/Rock Street—had already secured the gold medal without her even competing, and her score would only count toward the individual title to be decided in tomorrow's final round.
"It's definitely nerve-wracking riding on a team," said the 17-year-old from Poland, Maine. "When you're riding for yourself you're only letting yourself down; when you're riding for a team you want to make your teammates proud. This is my second time being on a team so it was slightly less nerve-wracking, but being the last one in the ring I didn't want to let them down, so that was definitely a little bit stressful. It was nice going into the last round because we'd already gotten gold so I could kind of take a deep breath, because they got it done early."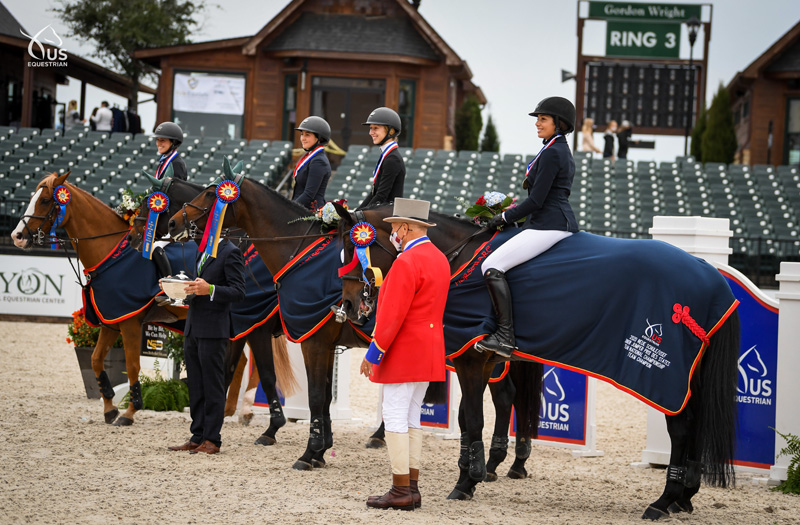 The 39 riders in the competition took over the grand prix ring at the Tryon International Equestrian Center, a far cry from the indoor arena at the Pennsylvania Farm Show Complex where the competition and its parent show, the Pennsylvania National, are normally held. Zone 1 amassed a team total of just 8 faults to take the title.
Fields, an 18-year-old from Wellesley Hills, Massachusetts, had her first team experience during this year's Prix des States, putting in a perfect performance with a clean sheet.
"I got my mare, 'Ella,' this past [Winter Equestrian Festival (Florida)] so it's been a very new partnership all summer," she said. "We've been working on fine-tuning some things and finally it all came together at the perfect moment so that was awesome. She's super scopey so at times I can just rely on that, but I need to realize I need to help her out and I think I did today."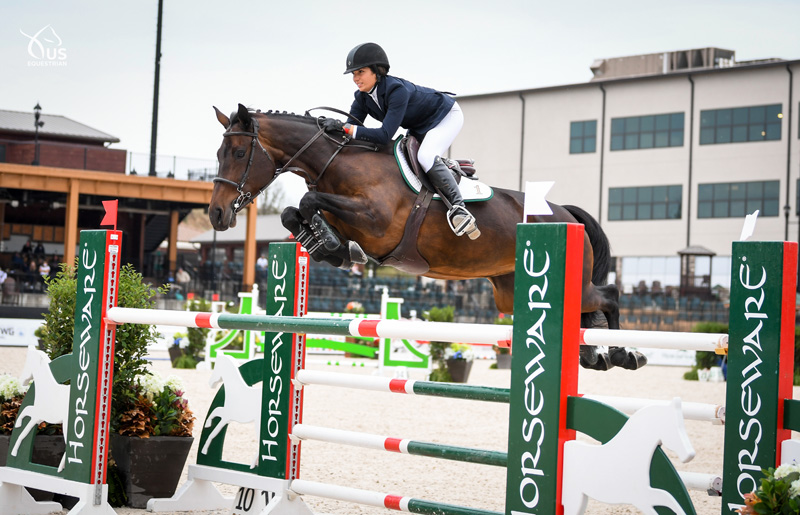 Zone 1 pathfinder Fisherman ticked just a single rail in each round with Rock Street.
"I definitely think the team is added pressure, but it really makes you ride your best," said Fisherman, a 17-year-old from Brookline, Massachusetts. "I was the alternate last year so I didn't have that pressure. I think coming in this year being on the team it was a great experience. It was great with all these girls. I'm glad we pulled it together."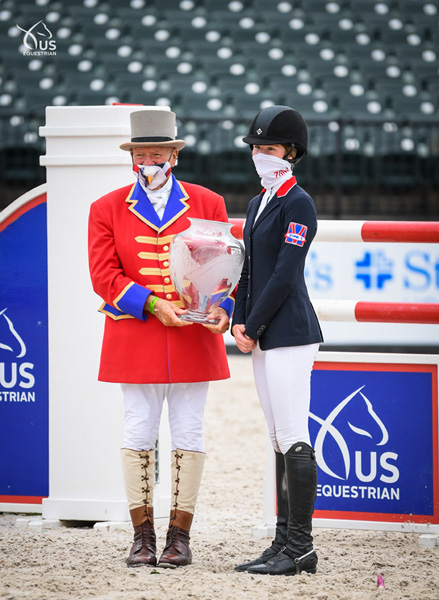 Brown, who rebounded after a rough Round 1 to put in a perfect second trip, counted on her long partnership with "Herman" to make a great day.
"It'll be about three years that I had Herman this winter," said the 15-year-old from Jamaica, Vermont. "He has the biggest heart. In my mind he can't do anything wrong. He tries so hard and gives me so much confidence. Today and yesterday the first two rounds were not my strongest, just pointed out things to get better. He gave me so much confidence going into the third round and I have such a great partnership with him because of the trust. He's just amazing."
The squad from Zone 2, last year's winners, claimed silver, and Zones 5 and 10 finished the second round on an identical score of 12, forcing a jump-off. Zone 10 Chef d'Equipe Michael Endicott put forward Trent McGee and Boucherom for the head-to-head competition, and McGee outran Zone 2's Hailey Royce and Goldbreaker to take bronze back to the West Coast.