Lexington, Ky.—April 28 
As Michael Jung opened up fischerRocana FST's stride heading out of the start box for the Land Rover Kentucky CCI**** cross-country, he was a man on a mission. He found himself in the second position after U.S. rider Marilyn Little gave herself a healthy gap in dressage, scoring a 24.8 to Jung's 27.1, and the German rider was keen on reclaiming the top spot.
And with an efficient track and his knee riding right along the ropes marking the galloping lanes at times, Jung showed just why he's the three-time winner of the event.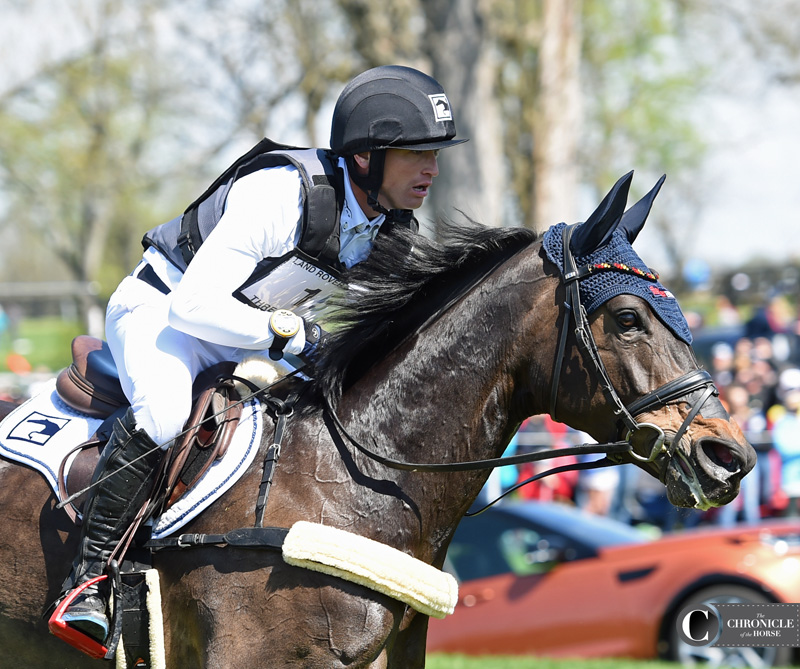 But it wasn't entirely smooth sailing. "Roxie" landed short off the drop into the Land Rover Head of the Lake and put in five strides to the corner where most horses did three. Despite a brief scramble there, Jung added just .4 time penalties to his dressage score to take the lead after Little and RF Scandalous had 8 time faults for finishing 20 seconds over the optimum time of 11:03.
"In the end I'm very proud of this situation because I feel the partnership between fischerRocana and me," said Jung. "She had every chance to stop or run out, but she helped me out of the situation. She just tried to come over the fence, and that's the partnership, and that makes me very proud. We are growing together; we are learning together. Not everything [is] perfect, but in the end it's important that you have the partnership and that you can help the horse in some situations, and also the horse can help you."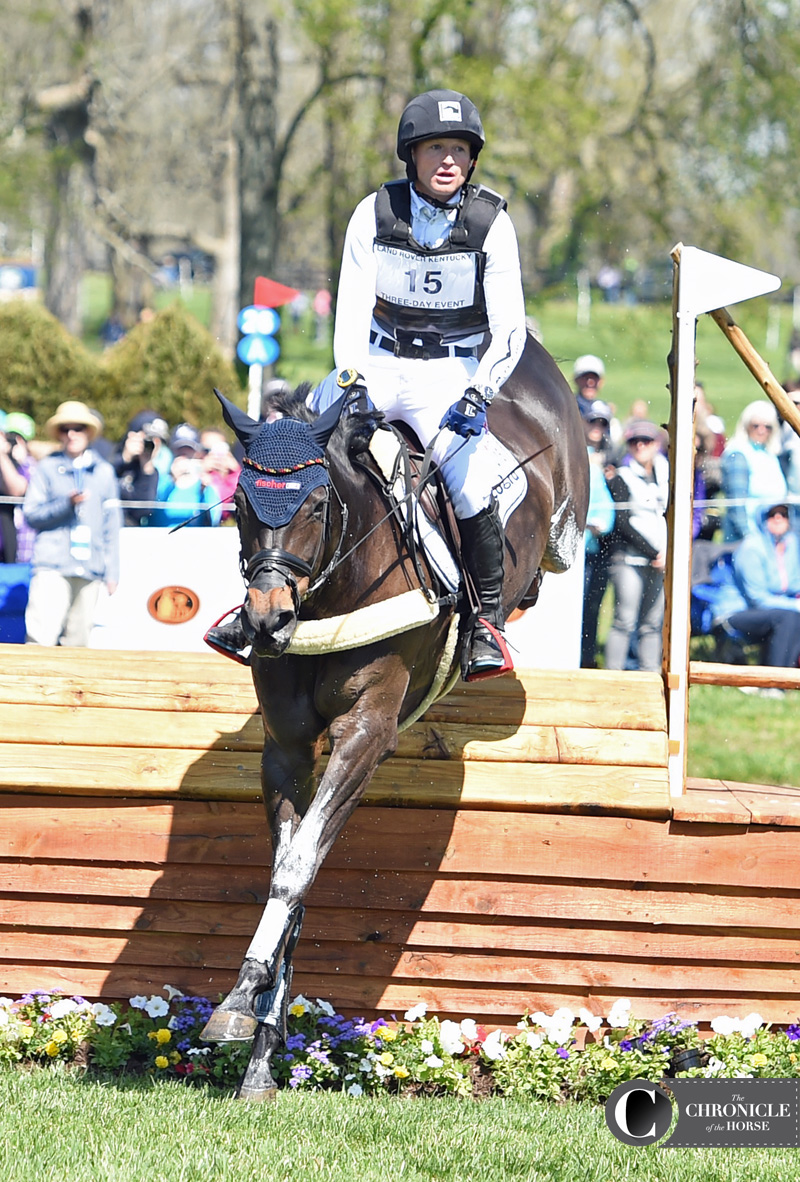 Jung credited that scrappy moment for why he didn't make the time but overall was pleased with how Roxie looks going into the show jumping tomorrow.
"Perfect from the first jump on," Jung said about how his mare felt. "She was really focused, nice galloping. She felt powerful; she was in a good balance. Maybe the first few jumps she jumped really careful, and then she remembered, 'OK we're not in the two-star; we are in the four-star.' She had to jump a little more forward, but it was such a great feeling. [It] was fantastic to feel how much fun the horse was having."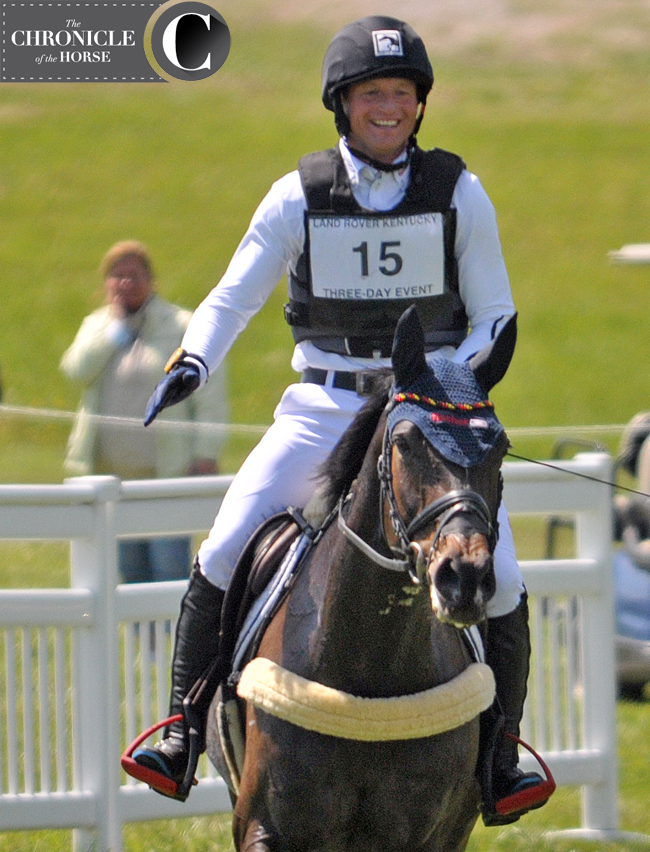 Watch Jung's cross-country round, courtesy of USEF Network:
Check out lots more lovely photos from cross-country day at the Land Rover Kentucky CCI****.
Australia's Chris Burton had less than an ideal lead-up to Kentucky this year. The Australian rider is based in England, and copious amounts of rain resulted in a number of their preparation events being cancelled.
But Burton is one of the fastest cross-country riders in the world, and he's no stranger to winning a four-star; he and Nobilis 18 won the 2016 Land Rover Burghley CCI****. This pair came in under the optimum time to move up into second on a 27.9, less than a time fault away from Jung.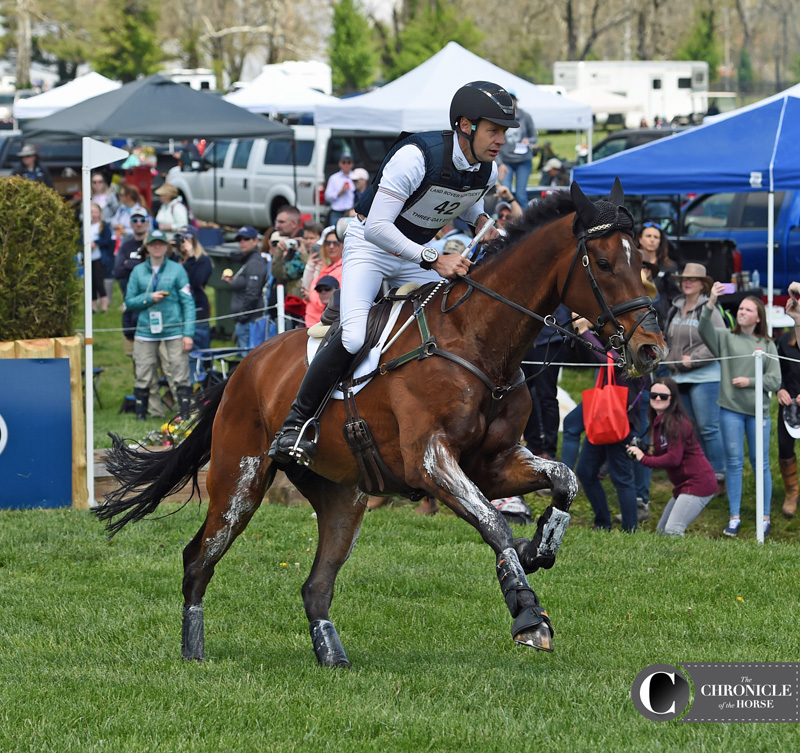 "I couldn't be happier," said Burton. "He was a bit short on runs, that's no lie, but he ran really well, and the going was great today. Huge thank you to the owners [Sue Lawson and Carolyn Townsend] because I said, 'Kentucky?' And they said, 'Why not? Let's go.' I was really happy with him; he tried his heart out you know. He started jumping a bit low when he got tired, but he's a clever horse, and he knows his way around. I love him to bits; he's really quite special to me."
Perhaps the person even more eager for the win than Jung is Oliver Townend. The British rider won Burghley in 2017, so if he's victorious here, he'll be in contention to win the Rolex Grand Slam as he heads into the Mitsubishi Motors Badminton CCI**** (England) in a week.
He's got two shots at the top spot in Cooley Master Class and MHS King Joules who sit third (28.7) and equal fourth (31.3) respectively.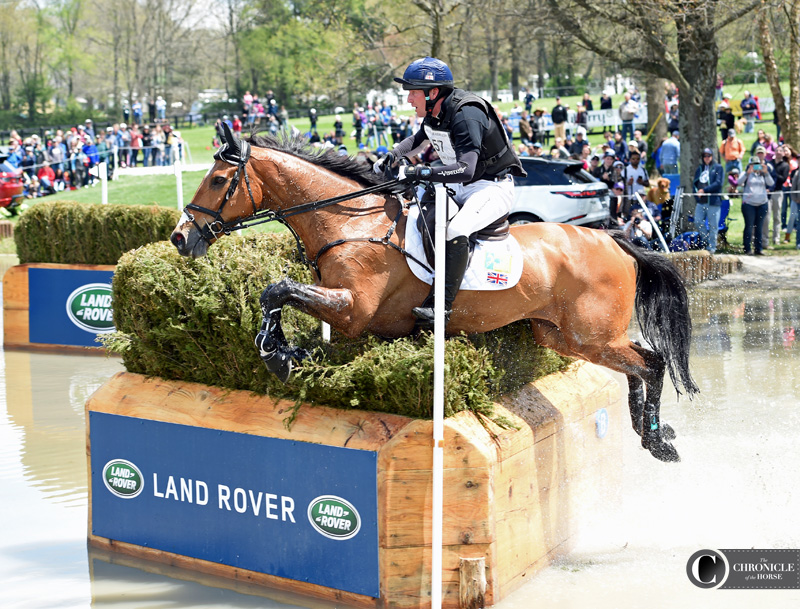 "I have two very different rides with my two horses," said Townend. "King Joules is notoriously strong, which is possibly why I got the ride. There is no question that he has a huge amount of talent and a huge amount of gallop. The ability is definitely no problem but trying to stop him or even slow him down sometimes is quite a problem. I basically got run off with the first 11 minutes with the first one, but he was exceptionally honest and put himself between the flags. Basically I just said, 'Whoa, whoa' and steered him.
"The second ride [Cooley Master Class] was completely different," he continued. "First time at this level, and I couldn't be happier with him. Not quite so confident, not quite so used to the crowds. So basically run away with on the first one and squeezing all the way around on the second one."
Lynn Symansky's off-the-track Thoroughbred Donner is a cross-country machine, and that played in her favor when they headed out on di Grazia's course.
"We used to have to do work together out there, and now I just kind of steer him," said Symansky. "He was awesome. He comes out a little bit crowd struck all the time, so it takes him a minute or two to really get into it. The right-hand corner out of the coffin [at 6ABCD], he was just looking at the crowds, so I had to give him a tap, 'Come on! Wake up buddy!' He was up on his minutes all the way through and just cruising. I really had to take my foot off the gas at the end and take a long route and just canter back home."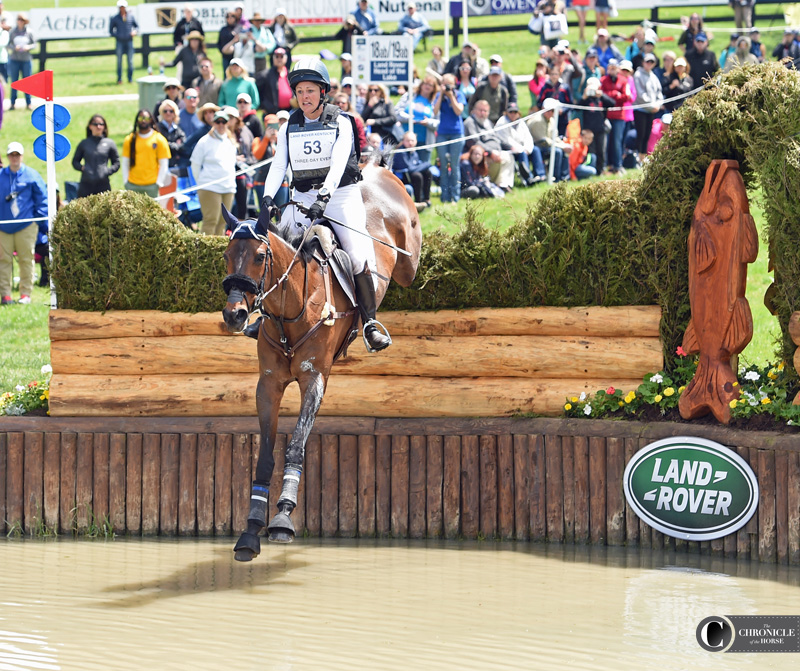 The pair was clear and inside the time, moving them up from equal eighth after dressage to equal fourth with Townend's MHS King Joules, and they are currently the highest-placed American. Symansky brought up Donner from novice, and this is the gelding's ninth four-star.
"It takes a really long time and a long partnership to feel like that around a four-star, so I don't think it's going to happen a lot more times," said Symansky. "It's an awesome feeling to know out there that you know the horse so well and you've done your work and know each other. He gave it his all. I expected him to not quite focus on the corner at the coffin in the beginning. Everything rode totally according to plan. He looks good now. He looks proud of himself like he wants to go around again."
Sunny, cool weather and excellent footing contributed to an extremely safe day of sport. No horses fell, and only three riders fell off—Alexandra Knowles from Sound Prospect at the D element of the Normandy Bank (21D), Ellen Doughty-Hume from Sir Oberon at the skinny brush (19B) in the Land Rover Head of the Lake and Holly Jacks Smither from More Inspiration at the corner (18B) in the Head of the Lake. All the riders walked off the course and appeared uninjured.
Four more (Boyd Martin/Steady Eddie, Elinor MacPhail O'Neal/RF Eloquence, Hawley Bennett-Awad/Jollybo and Joe Meyer/Clip Clop) retired after incurring stops.
Kim Severson, who had been sitting fourth after dressage, had a heartbreaking stop with Cooley Cross Border at 26B, the second angled brush in the Mighty Moguls near the end of the course.
In all, 36 of of 43 starters finished, and 11 finished double clear. For more detailed results on how the day played out, check the Chronicle's "As It Happens" live blog.
The final horse inspection will take place at 8:30 on Sunday, April 28, and show jumping begins at 1 p.m.
The Chronicle is on site at the Land Rover Kentucky CCI****. Keep an eye out at coth.com for all our coverage of the event.
Important Links: Land Rover Kentucky website  ⁄  Ride Times / Results /  Live streaming / All of the Chronicle's coverage
Make sure to follow along on the Chronicle's social media outlets: Facebook, Twitter and Instagram.