Carollo's front feet had barely crossed the back rail of the final oxer in the ATCO Queen Elizabeth II Cup when Andy Kocher threw up his hand in victory. As the gelding landed, with all the rails still in the cups, Kocher's celebrations got a little wilder.
Against forty horse-and-rider combinations, a win in the  $500,000 signature grand prix of the Spruce Meadows North American tournament, it's the biggest win of Kocher's career.
"I don't even know how to describe it," Kocher said. "It's a dream come true, I don't even know how it happened. This is the biggest [victory] I have ever had."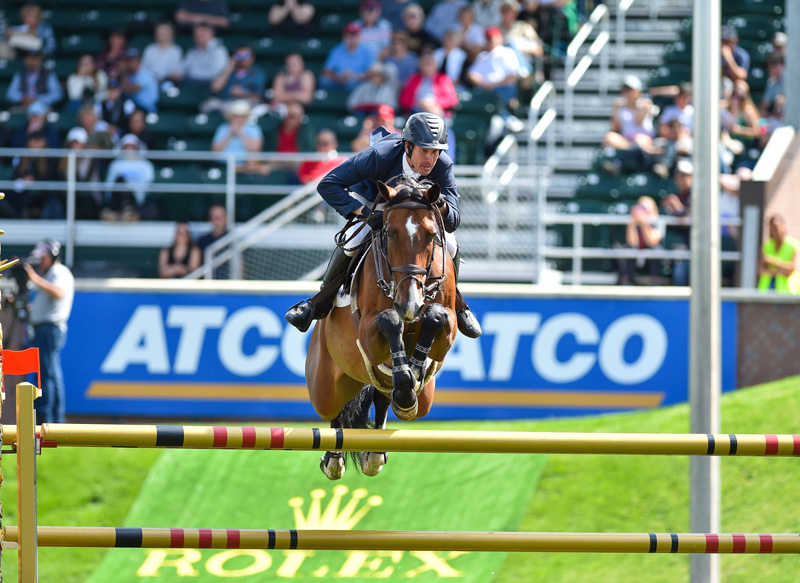 The competition is run over two rounds, the top 12 placed horses after Round 1 advance to Round 2. If there is a tie for faults after the two rounds, there is a jump-off. The tracks for the competition were designed by Santiago Varela, who was looking to test the riders in multiple ways.
Round 1 was a 570-meter track consisting of 13 obstacles (16 efforts) that riders attempted to jump clear under the time allowed of 86 seconds. Only four riders were able to deliver clear rounds and carry no penalties into Round 2.
The Round 2 track tested riders over 490 meters and 11 obstacles (14 efforts) including the challenging double liver pools. Prior to Hardin Towell, the first of the Round 1 clears, John Perez of Columbia sat atop the leader board sitting on a combined two faults. Perez's lead did not last long with Towell finishing on only one time fault picked up in the second round. Kocher quickly followed, also finishing on one time fault sending both riders to a jump-off.
Towell was first in for the jump-off and would finish with four faults and a time of 47.09 seconds. All Kocher had to do was leave all the fences up. Aboard the bay gelding Carollo, Kocher did just that. The pair crossed the finish line with a time of 45.11s seconds winning the 2019 ATCO Queen Elizabeth II Cup.
Watch Kocher's victory celebration: