Betsy Juliano's Handsome was unstoppable in the small tour ring with Jennifer Baumert during Week 10 of the Adequan Global Dressage Festival held March 14-18, in Wellington, Florida. The pair have been on a hot streak this season, with three victories in the Prix. St. Georges (70.44%), Intermediaire I (72.59%) and the Intermediaire I freestyle (75.20%) bringing their total win tally for the season up to 10.
"He's a really special horse," said Baumert. "Today he felt really good. He was soft and relaxed; though there were a few small things in the contact that I'd like to be better, but overall I couldn't be happier."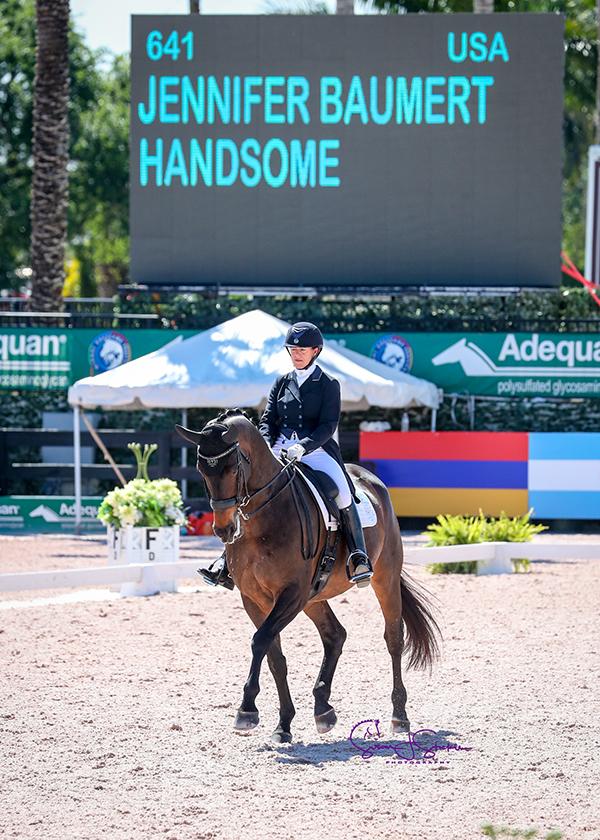 Handsome, a 13-year-old Hanoverian (Hochadel-Wyona K, Weltmeyer), is owned by Elizabeth 'Betsy' Juliano, who bought him four years ago in California from Marie Meyers and used to ride the gelding herself. But she handed the reins over to Baumert almost 18 months ago.
"I've owned Handsome close to four years, but the main reason I stopped riding him is that he's really talented, and I felt he needs a rider who has equally as much talent," said Juliano. "I also became very busy with my work. I own a litigation support and management business that I started 35 years ago, and that has kept me away from riding consistently.
"So I asked Jen to finish him at Grand Prix, which she will do, but right now he's doing so well in this division [small tour], that we'll continue with it for now. I thought it best for Handsome to flourish under Jen's guidance and Debbie McDonald's training."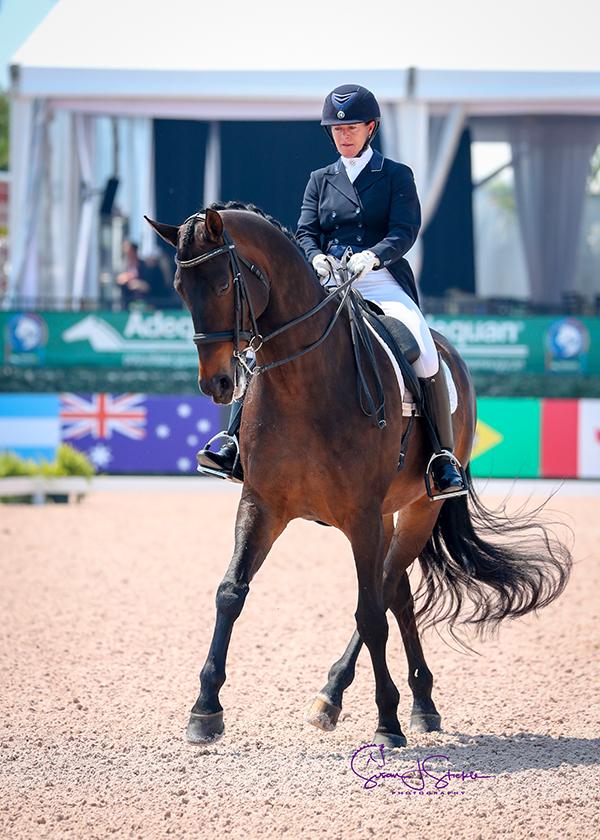 When Baumert first started riding for Juliano, she sat on each of Juliano's horses, but her first ride on Handsome stood out.
"The first time I went, Betsy asked me to sit a little bit on every horse, and I especially remember Handsome because he's an amazing mover," said Baumert. "He's got so much power; it's really something to feel. I remember how, even though I was a new rider for him, he was really tuned in and that was pretty special, because they don't all do that."
"I've also had judges comment that he's handsome, and then they look down at their sheet and say, 'Oh it is Handsome!'," she added.
LaGoy-Weltz Is Upping The Ante
With her eyes on competing at the FEI World Equestrian Games in Tryon, North Carolina, Olivia LaGoy-Weltz has been working to bring Lonoir to the next level. She's well on her way with two more wins at AGDF in the CDI**** Grand Prix (73.78%) and the Grand Prix freestyle (76.60%).
"I was really happy with him, especially as he was epically airborne last time we were in this setting [at night], so I'm thrilled we kept our feet on the ground," said LaGoy-Weltz. "When he's waiting for me and on the same page, it's a pretty cool feeling, and there's a lot available there – even more than we're showing now."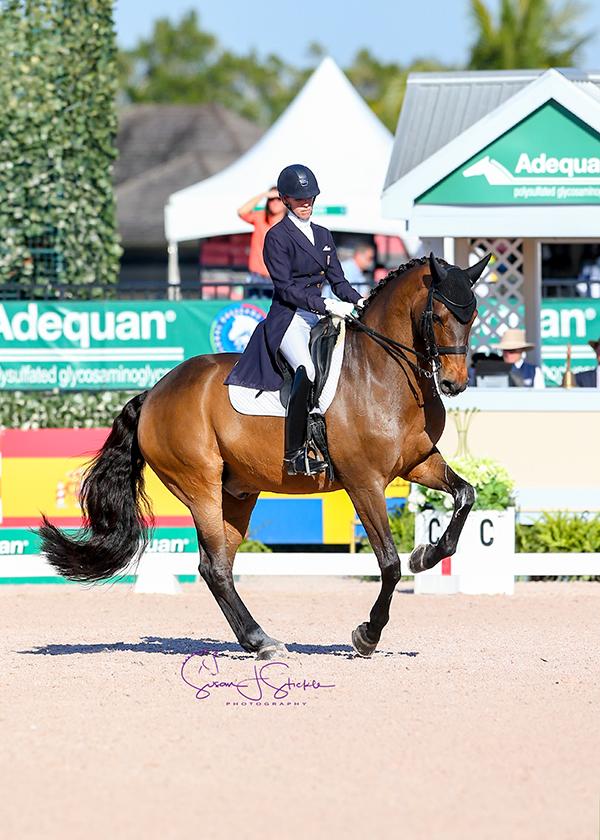 While in Wellington, LaGoy-Weltz is keeping her 14-year-old Danish Warmblood gelding by Le Noir with Oded Shimoni and is taking lessons with Debbie McDonald, and she said she's benefiting immensely from the extra eyes on the ground.
"If I'm riding at Oded's then either he or Robert [Dover] is keeping an eye on me, so the past few weeks I haven't been allowed to get off the straight and narrow.
"There's still a lot to improve, but we're stepping in the right direction and things are becoming a little less exciting than they were in the first two shows," she said. "It's really crucial to try to make sure your curve goes up and up to that spot, and it's quite a few months that we're working over; starting here and wanting to continue to make things better. We're heading in the right direction even though there is a bit more homework to do."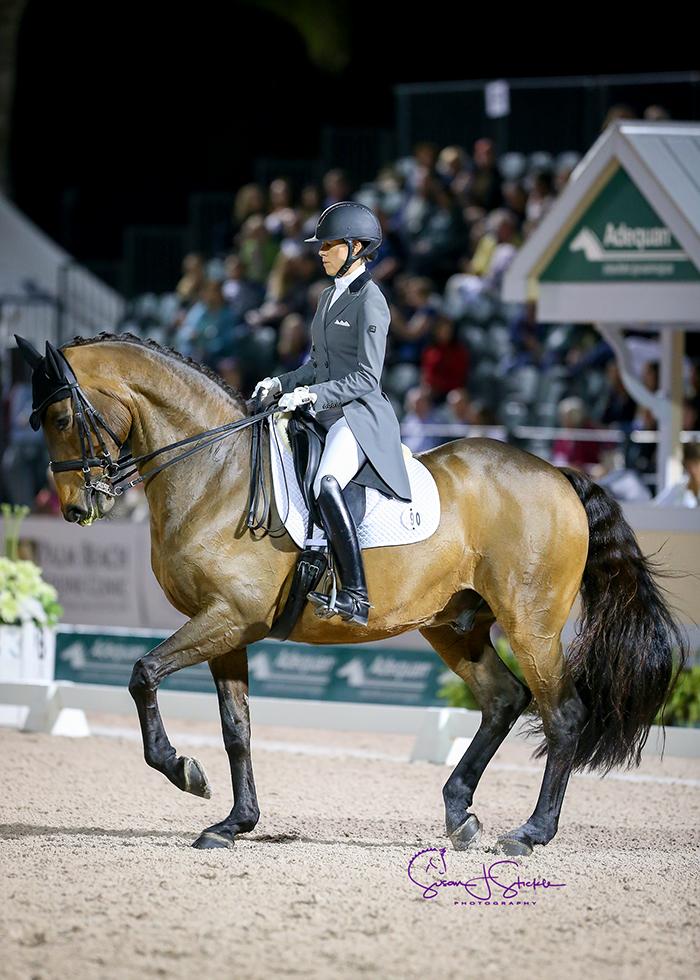 LaGoy-Weltz's freestyle music is an adapted soundtrack from her small tour days, but she's working on a new one to debut in their next performance.
"We hadn't used it a whole lot, so I asked Terri [Gallo] if we could grow it," she said. "I like the music; it's called 'Ain't Misbehaving', which is somewhat fitting. Though we are working on something new as he's a much 'bigger' horse now, it seemed to work for tonight, so we're not in a huge hurry," she added. "This one is not overly complicated as it was designed as a starter one, so we'll have more challenging stuff in the next one. And we'll highlight the flow and power that he's so good at."
Stefano 8 Keeps On Clocking
Beatrice Marienau's Stefano 8 might be the oldest horse competing in the CDI*** at 19, but he's showing no signs of slowing down. He topped the Grand Prix on a 68.17 percent before winning the Grand Prix freestyle with a 72.10 percent.
The German-born 47-year-old American is an unlikely dressage winner, having formerly showjumped, then become a cowgirl on a ranch, before finally turning to dressage despite what she terms "ring-phobia" that requires her to meditate before each test.
Their double win in week 10 was a first for Marienau, who has only two previous wins in the five years they have been competing together at international Grand Prix. Their winning freestyle score is their second highest ever, and their best for two years.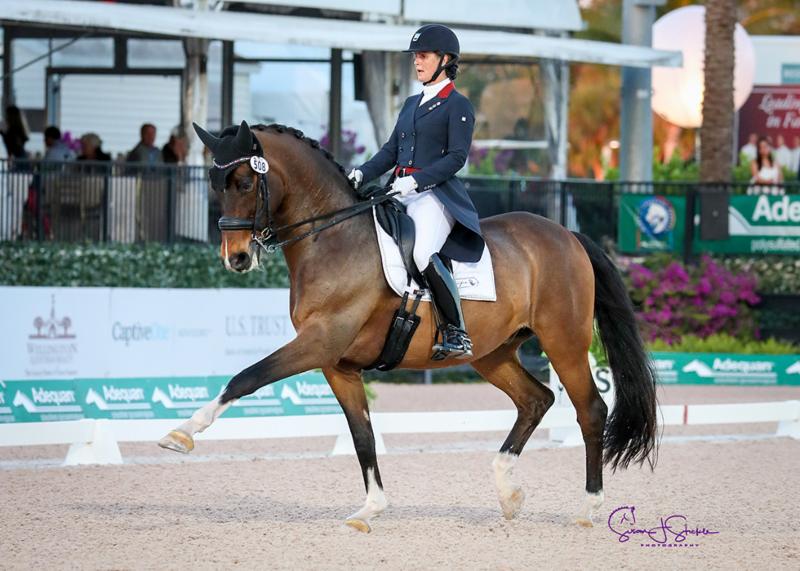 "He's a firecracker, and I appreciate every day I have with him," said Marienau, who bought 'Fino' in 2012. "I feel his age sometimes, so in the training we really work a lot on the suppleness so he can come through with the beautiful exercises that he knows how to do. Tonight I asked him to dance for me, so he did.
"He was already a trained Grand Prix horse, but in the beginning the switch from a man to a woman rider was difficult, so we took our time and have been working with Lilo Fore ever since," she continued. I only rode my first Grand Prix in 2011, so Fino has done so much for me, including going to the Festival of Champions and onto my first Nations Cup team, which was a big dream of mine."
Francis Is On A Roll
Shelly Francis is set to head to the FEI World Cup Final in France in just a few short weeks, so she's focused on ensuring Danillo is feeling ready to shine. And it's working with a 73.97 percent-a personal best-earning them the win in the Grand Prix Special CDI****.
"When you're really riding and pushing a bit and trying to make everything perfect, you kind of feel it's not your best ride because you're sweating more than the horse," said Francis, who is based in Loxahatchee, Florida. "But he did feel good; I just have to relax a little and trust him. We had a little mistake at C when he thought halt and rein-back, like in the Grand Prix, when I was trying to make passage. Other than that, he felt straight up."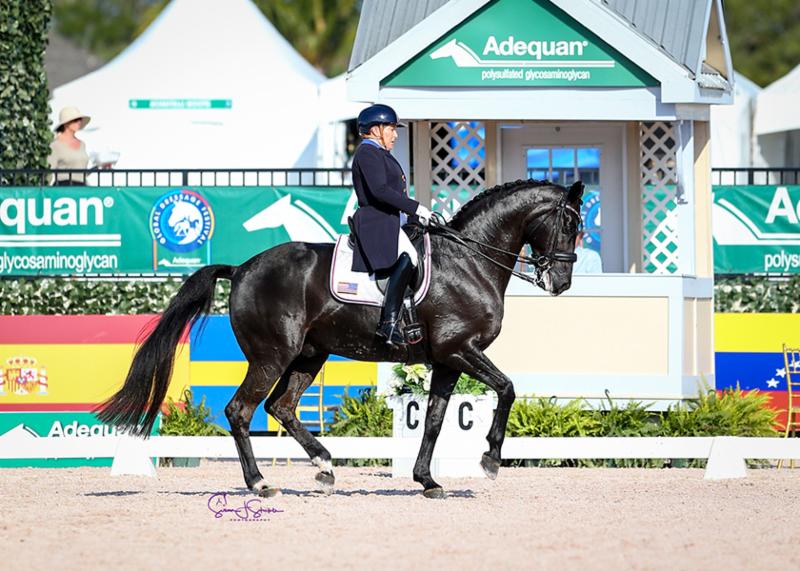 Francis has been riding Patricia Stempel's 14-year-old gelding since he was eight.
"Patricia was riding him and doing a nice job, but then she suggested I show him a bit, which was her mistake, because now he's mine!" laughed Francis. "He kept getting better and better, though I did have to take it a little slow. He has a funny little edge in there that can come alive at the snap of a finger, so I've been trying to figure out how I can use a bit of that edge without getting too much. It's really starting to come together this year. He used to get nervous in the ring about being by himself, but now he's starting to enjoy it and he feels happier."
Francis partially attributes Danilo's improved performances to his well-rounded regime, which includes a broad variety of work, such as hacking and playing games.
"I get them fit enough and then I don't work them all the time, because I feel they get mentally bored," added Francis, who does not have a regular trainer. "I train with myself mostly, which works pretty good so far. Once in a while I have to kick myself around, but I'm a visual learner and I watch all the top riders. I'm a bit of an odd biscuit that way, but I did a lot of training in past years with great people like Johann Hinnemann, and now I have my own methods of training. I'm 59-not 20 any more-so I train my horses from all the things I've learned."
On April 1, Francis will make the journey over to Europe with her two top horses, Danilo and Doktor. She will be based in Warendorf, Germany for the summer.
"I have good friends there," she said. "I love that little town and area, and I get my own nice little apartment, so I can do all my own cooking and not gain weight, like when living in hotels," she added. "This year, Danilo gets to do the World Cup Final in Paris, which I'm really excited about. I've never been to Paris, so I'll get perfume, croissants, brie, pate and some really good wine."