Gloucestershire, England—May 7   
Only 18 months after suffering a life-threatening fall, and 33 years after his first attempt at the title, New Zealander Andrew Nicholson fulfilled a career goal to win the Mitsubishi Motors Badminton Horse Trials.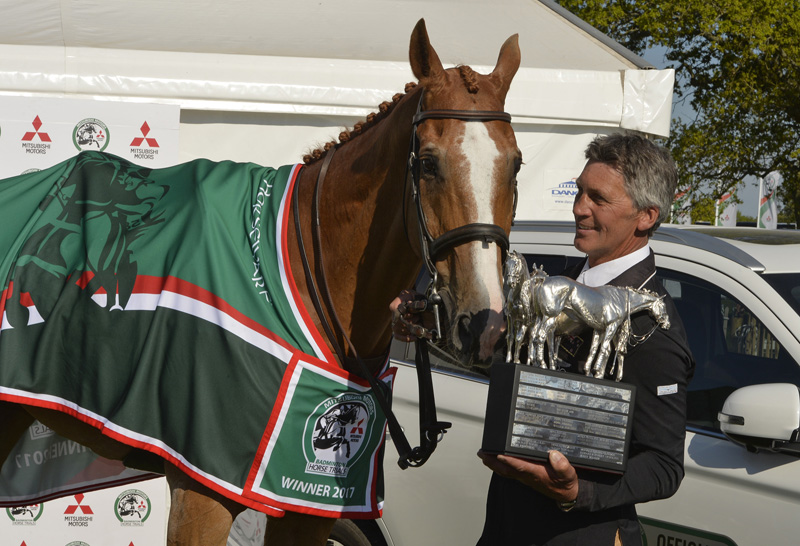 Going into the showjumping in third position, Nicholson kept his cool and pulled off the round of his life riding Deborah Sellar's 17-year-old gelding Nereo. With just 1 time penalty to add, Andrew finished on 41.4. Nicholson has completed Badminton a record 37 times, but this is his first win in the prestigious event.
Nicholson, 55, first rode at Badminton in 1984; he has since completed more times than any other rider, and has finished second, on Lord Killinghurst in 2004, and third, on Libby Sellar's Spanish-bred chestnut gelding Nereo in 2013. He was in the lead on Nereo in 2015, but it all went wrong in the final phase.
His win is even more of a fairytale considering he broke his neck in a fall 18 months ago—the prospect of competing Avebury, his three-time Burghley winner, and Nereo was, he says, a strong motivation during his recovery.
"Nereo is a truly amazing horse. The amount of big events he's done year after year is unbelievable," said Nicholson. "I always thought I would win Badminton, and I've just had to keep on coming here and taking my turn. It's been worth the wait. I've won big events before but this just feels so different."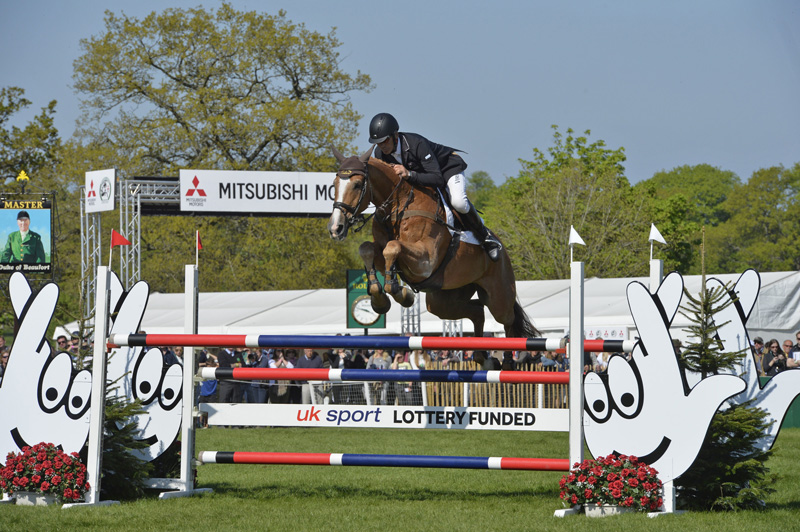 With two very classy German riders left to jump after Andrew—Michael Jung in second position and Ingrid Kilmke in first—the results board looked set to remain, so it was a huge shock when Jung's Olympic and European gold medal-winning La Biosthetique Sam FBW hit a rail to drop a place. Klimke then had a round to forget, with rails down, a refusal and time penalties, plummeting Horseware Hale Bob OLD down to ninth place.
Jung admitted to feeling disappointed but did point out that the error was his, not Sam's. "It's been a great week. Sam feels so strong and happy that even though he is now 17 years old, right now I think he has more competitions in him," he said.
This moved fellow New Zealanders Tim Price into third with Xavier Faer, and Mark Todd and NZB Campino into fourth.
"I was expecting him to jump well if I could just manage him," said Price of Xavier Faer. "It's all about making sure nothing happens that he'll have an adverse reaction to. He's proved a lot to me and a lot to all of us. He's going to be a cool horse and we're looking forward to his future."
Rosalind Canter pulled off a superb double clear to finish fifth and best of the Brits riding Allstar B. "It's the biggest thing I've ever done," said Canter. "The horse is a good jumper which sometimes puts even more pressure on because he deserves to jump a clear round, so it was up to me to put him in the right place, and it's a relief that it came off."
Lauren Kieffer finished as the top U.S. rider of the weekend, placing 17th with Veronica after a show jumping round with one rail and 1 time fault. "She was really good. She whacked the fence she had down pretty hard, but she jumped the rest very well," Kieffer said. "She was quite wound up today, by the atmosphere and also because she is still flying from yesterday. It's hard not to be a little disappointed, but she's taken me all over the world and we'll be back here.
"It's been quite the experience, coming to Badminton—it's been big, bad and hard, as we expected, and I want to come back. I'm now staying in the United Kingdon for the summer and will be based at Mike Winter's yard."
Lynn Symansky, however, will be flying home with Donner. They finished up their Badminton weekend in 22nd place after one rail and 4 time penalties in the show jumping. "He jumped spectacularly, but he lost the same shoe [right front] halfway round the showjumping as he did on the cross-country and I felt like I was on dinner plates, sliding around like yesterday, so we got time faults. That's probably the best he's jumped on the last day of a four-star so it's disappointing," said Symansky.
"I've gained a ton of experience from my first Badminton; you learn something from every four-star. I want to come back and do it better! But I couldn't be happier with the horse. It's nice to get a qualification for [the 2018 FEI World Equestrian Games] out of the way. I think we will probably do CICs this season now; I think it would be a waste of a run to do a CCI***. Burghley [CCI****] is in my mind as a possibility—I'd love to have a crack—but every horse only has so many four-star runs in him, so I'm not sure," Symansky continued.
See full results from the Mitsubishi Motors Badminton CCI****.