The fences are set here for the second day of show jumping at the Pan American Games! Today the team medals will be decided after two rounds of jumping, and we'll also know the 35 individuals who'll return on Saturday to vie for those medals. Fifty pairs are jumping today.
Follow along here starting with the first horse on course at 10 a.m.! Check out the order of go/live results, a recap of Tuesday's action and explanation of this year's format, what you need to know about the show jumping, or all of the Chronicle's Pan Ams Games coverage.
4:19 p.m. Last of the day is Colombia's Roberto Teran Tefur. And they have 5 faults! Canada wins team gold! US is bronze! Argentina silver!
4:15 p.m. Next in is Argentina's Cornet Du Lys. Getting to the end here with just two left to jump! He's clear with just 1 time penalty. Not sure yet what's going to happen to the medals…
4:13 p.m. Brazil's Marlon Modolo Zanotelli and Rock N'Roll Semilly are in now for Brazil. They have a rail at 8, a vertical. They finish on the 4, adding that to Brazil's score.
4:09 p.m. Canada's Ian Millar canters in with Dixson. Canada is very much in the running for gold at this moment, and they could clinch it with a clear round from Ian.
He has a rail down at the maple leaf jump at 3. Regardless of what happens next, Ian is still going to be the drop score for this round since they have two clears and a 1-fault round so far.
He finishes on the 4 faults! That means if Argentina jumps clear next they're going to be in a tie situation for gold, which would require a jump-off. We'll have to wait and see…
4:08 p.m. Samuel Parot de Ugarte heads in now with Couscous van Orti for Chile. This is the fiesty gelding who makes the Rothchild-like faces. He's clear!
4:04 p.m. Alright, the last U.S. rider heads in now, Kent Farrington with Gazelle. No matter what Kent does in this round, the U.S. will be on a score of 0 for this round becuase of the three clears. He's also out for the individual round, because only the top three U.S. people can advance, and he'll be on at least 5 faults while everyone else is on 4.
But he is CLEAR, and that's 4/4 for U.S. riders this round.
4:00 p.m. Next rider for Venezuela is Pablo Barrios on Antares. He has the second-to-last fence down plus that pesky 1 fault, finishing on 5.
3:55 p.m. Now for Mexico, Federico Fernandez and Guru. They earn just 4 jumping faults and 1 time.
3:49 p.m. Alvaro Tejada for Guatemala now, their fourth rider. One time fault for them as Marco Chirico enters. 16 jumping and one time for them.
3:46 p.m. Fernando Cardenas and the little Quincy Car next for Columbia. 8 jumping and one time unfortunately for them. Quincy Car tried so hard out of the 4ab in and out but just had it down.
3:44 p.m. Now for Argentina, Luis Pedro Biraben and Abunola. Argentina has 2 faults right now. Four jumping and one time for them.
3:41 p.m. Now Eduardo Menezes and Quintol for Brazil. And he's clear! Putting the pressure on now.
3:38 p.m. Next in will be Canada's Eric Lamaze on Coco Bongo. And they're clear to the delight of the crowd. Eric seems thrilled!
3:36 p.m. Chile's Jose Manuel Ibanez is going now with ASD Farfala. He has the second-to-last oxer and the last oxer down.
3:33 p.m. Lauren Hough enters with Ohlala for the U.S. team! This little mare is SO FAST. And she's CLEAR! We're 3/3 clears this round!
3:30 p.m. Emanuel Andrade and Hardrock Z, representing Venezuela, are in the ring next. They have the rail at 8 when they get just a hair close. They also add 2 time for a score of 6.
3:26 p.m. Jose Martinez and Nelson 212 are cantering in next for Mexico. They finish on a score of 20 jumping and 1 time.
3:23 p.m. Juan's horse crashes through the second-to-last oxer, and Juan makes a VALIANT attempt to stay on! He's hanging on the side of the neck like a trick rider as the horse canters off, but he finally steps off. He's up and walking away, as is the horse.
3:19 p.m. Next in is Juan Silva Rodriguez on Bugatti. And they have a clear round and 2 time faults. Next is Juan Luzardo and Stan for Uruguay.
3:16 p.m. Rene Lopez enters with Con Dios III. Colombia was first after the first round, and they picked up a score of 4 from their first rider in the second trip.
Rene has a part of the wall down, and he finishes on the 4 plus 1 time.
3:14 p.m. Argentina's Matias Albarracin is next with Cannavaro 9. And they have the front rail of the final fence down! That's 4 jumping and 2 time for them.
3:11 p.m. Felipe Amaral of Brazil trots in with Premiere Carthoes BZ. This is the second rider for Brazil this round, and they bring down just one rail for 4.
3:09 p.m. Tiffany Foster of Canada enters with Tripple X III. She had the unfortunate stop at fence 10 in the first round. They have no problems with it this time! And that' a clear round for Canada!
3:06 p.m. Chile's Carlos Alberto Morstadt starts us off after the break with Talento. They get 8 jumping and 1 time for that round.
2:48 p.m. We're on a short drag break now, and we'll start back in about 15 minutes.
2:47 p.m. Georgina and Lilli are CLEAR!! No jumping or time.
2:45 p.m. Georgina Bloomberg and Lilli canter into the ring next for the USA! Here they are from their first round, where they picked up 4 faults.
2:45 p.m. Andres Rodriguez and Darlon van Groenhove are in now for Venezuela. This country is down to three riders after Luis' horse fall earlier.
This pair has the rail at 8, the a of the triple at 9, and they finish on the 8 jumping plus 1 time.
2:43 p.m. Salvador Onate and Cartier enter for Mexico's team. His horse gets a little nappy before the triple combination at 9, but he rides him through it. They finish on 12 jumping and 2 time.
2:40 p.m. Martin Vanni Rodriguez jumps clear with 2 time aboard Liborius! He's hugging his horse now.
2:35 p.m. Guatemala's Axel Barrios Enriquez comes in with VDL Aberlino. They have the rail at 8 and 2 time and finish on 6.
2:32 p.m. Daniel Bluman is next with Conconcreto Sancha LS for Colombia, currently the leading team. He has just one rail down to add 4 to Colombia's current score.
2:30 p.m. Aaaand Ramimro is clear! That's good news for Argentina this round.
2:25 p.m. Pedro Veniss has the last down for Brazil. Heartbreaker at the last. Next up is Argentina's Ramiro Quintana with Whitney. Argentina currently on a score of 2 from round 1.
2:23 p.m. Yann Candele and Showgirl are clear with one time fault!
2:18 p.m. Chile's Nicolas Imschenetzky with Pegase de Talma enters next. Chile sitting fourth on 11 penalties. But the horse stops at 11, and Nicolas comes off! That'll eliminate him this round.
2:16 p.m. Next: McLain Ward and Rothchild. And he's CLEAR! No jumping, no time.
2:14 p.m. Mexico's Antonio Chedraui enters next with La Bamba. He's another 1 time faulter.
2:09 p.m. Next is our short-tailed friend, Prince Royal Z de la Luz, ridden by Uruguay's Nestor Nielsen van Hoff. They're CLEAR, just a single time fault. This horse is just 8 too!
2:04 p.m. Last of the individuals, Manuel Fernandez picks up 0 penalties for the Dominican Republic with Al Calypso! Now we're into our teams, starting with Juan Pivaral Aycinena of Guatemala with Cento Per Cento CG. They have two rails and a foot in the water for 12 faults.
2:02 p.m. Next is Alonso Valdez with Ferrero van Overis. We're still on the individuals for this round. He has two rails down. And guess what else? A time penalty!
2:00 p.m. One rail at the hockey sticks for Maria, plus 1 time penalty.
1:57 p.m. Hector Florentino enters with Allure G as an individual for the Dominican Republic. He takes down just the last oxer for 4 jumping and 1 time. Now we have Puerto Rico's Maria Victoria Perez with W Zermie 13.
1:54 p.m. Jillian Terceira jumping next with Tamerino, a 15-year-old stallion. He puts a foot in the water. She's otherwise clear, so just the 4 jumping and 2 time! She's happy with that, I think.
1:50 p.m. Patrick Nisbett's horse doesn't want to enter the ring, so he just backs him in! He's riding Quick Z for Bermuda as an individual. He picks up 16 jumping penalties and 1 time.
1:46 p.m. Andres Alvarez gets a rough ride over several fences, with the horse jumping through them, before he finally gets a stop at 8. Cash Z stops again at 9a of the triple, and that'll end his day.
1:43 p.m. Freddie Vazquez and Esprit de Vie start now for Puerto Rico, another individual pair. He picks up a stop at fence 8, a vertical. The horse also slides into the fence and takes that rail, but he jumps it the second time. He finishes on a score of 19 for this round.
1:40 p.m. Emily Kinch for Barbados in next with Teddy di Bosquetau. (This is the same course the second time, in case you were curious.)
1:37 p.m. We're back with the second round! We have a new order of go this time around, so first in is Ecuador's Diego Vivero. He elects to retire after a few fences, as he's riding as an individual. The individuals jump first again.
12:57 p.m. The final rider of the first round, Kent Farrington for the U.S. and Gazelle and 9a down at the triple. So the U.S. has four riders with four faults after this round. Now we're on a break until the next round at 1:35 p.m.
12:55 p.m. Now for Brazil, Marlon Modolo Zanotelli and Rock N'Roll Semilly. They have an early rail down.
12:52 p.m. Roberto Teran Tafur and Woklahoma are next. This is a very lovely mare. They jump clear and have NO time! Our third double clear.
12:46 p.m. Pablo Barrios is in the ring now with Antares for Venezuela. They have two down as Ian Millar comes in the ring to a huge cheer with Dixson. And they deliver a crucial clear with one time fault.
12:42 p.m. We're down to the last 6 here. First of those is Jose Maria Larocca and Cornet Du Lys. This horse has an interesting style and has a real look at the water jump. They jump clear with just one on the clock.
12:40 p.m. For Chile, Samuel Parot De Ugarte and the fiesty gelding Couscous Van Orti. He pins his ears over every fence, Rothchild style! They end with one down and one time fault.
12:36 p.m. Marcelo Chirico Ferreira and Acrobat Van T Laar Z are in the ring now for Uruguay as their fourth rider. This horse is a lovely, light type who steps across the ground easily. They have number 3 down, a brick at 6, number 8, number 10, number 11 and number 12 down. Too bad. 24 jumping, one time fault. They'll be the discard score.
12:32 p.m. For Mexico, it's Federico Fernandez and Guru. They have an early knockdown and the last fence, as well as 2 time faults, so they'll become the discard score for Mexico. Now for Guatemala, Alvaro Tejada Arriola and Votaral Palo Blanco. They have 12 down for Guatemala.
12:29 p.m. Lauren Hough and Ohlala next for the U.S.! They have 9a down in the triple.
12:26 p.m. Now Eduardo Menezes and Quintol for Brazil. They have a one and four fault score so far. And Eduardo picks up one time fault.
12:22 p.m. Fernando Cardenas is next with the U.S.-homebred Quincy Car for Colombia. He's a little guy, but quite fiesty! And they're clear with one time fault.
12:17 p.m. Young rider Emanuel Andrade now for Venezuela on Hardrock Z. One down for them and 2 time. Next for Canada, Eric Lamaze and Coco Bongo. This horse was jumping HUGE over the course on Tuesday. And they have an unfortunate four over the second to last.
12:15 p.m. For Argentina, Luis Pedro Biraben on Abunola. The team is carrying 5 faults right now, which isn't looking too bad considering how this course is riding! And he's clear with no time! Our second double-clear.
12:10 p.m. Third rider for Chile, Jose Manuel Ibanez. He's competed at the Pan Ams in eventing as well. ASD Farfala is his ride. He really had to move on down the line from 3 to 4ab, but his mare gives the water plenty of room! And they're clear!!! But one time fault! He looks thrilled. The mare tried so hard.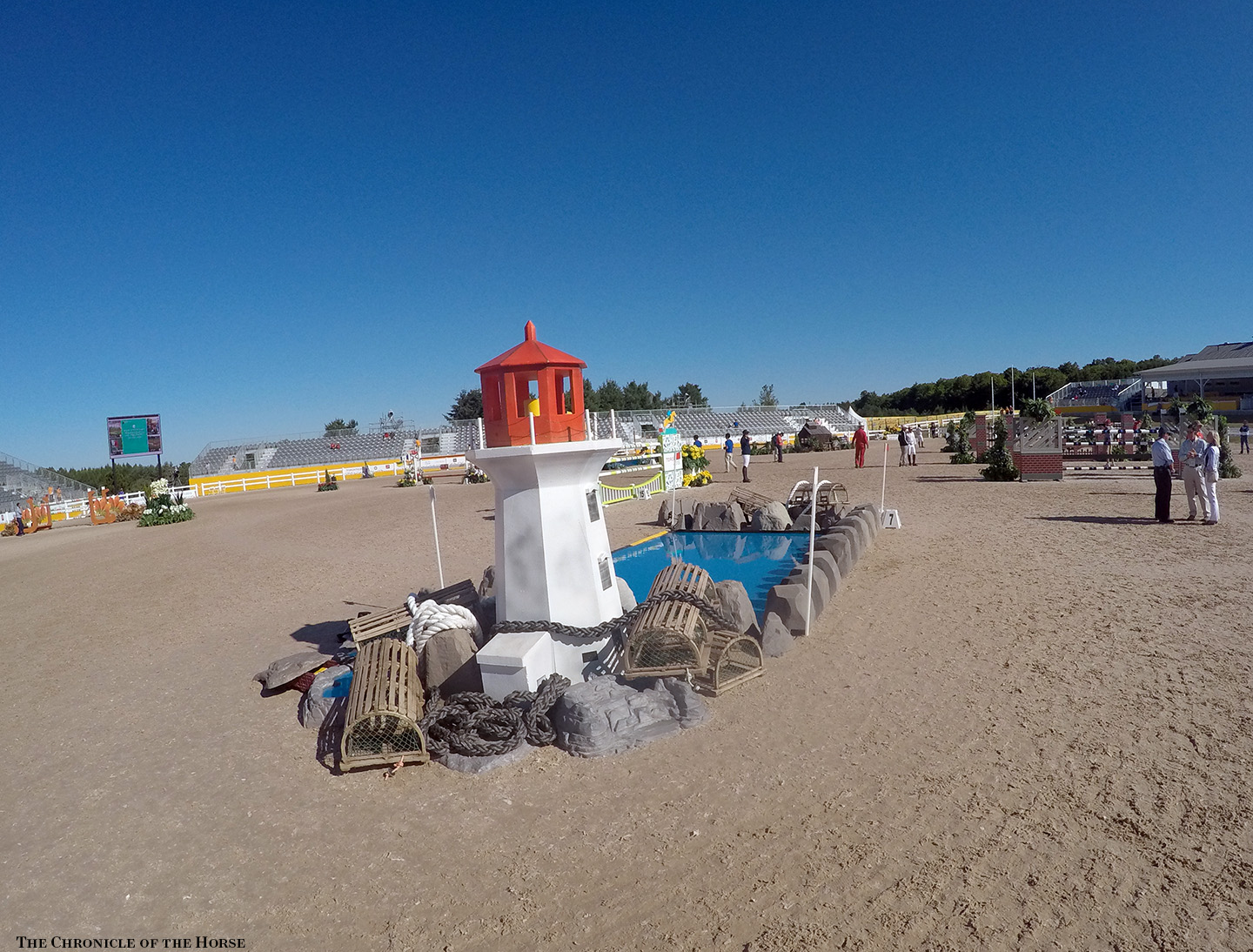 12:06 p.m. Juan Luzardo and Stan are next. They stop out at 4a, but get over it on the second attempt. They have a disagreement before 8 and have that down as well. Three time faults leaves them with 11.
12:04 p.m. We still only have one double clear, Daniel Bluman. Juan Rodriguez Silva on Bugatti is next. He's a two-time Pan Am rider for Guatemala. He has a fault at the water and the vertical after. Two time faults as well.
12:01 p.m. Jose Martinez, 21, and Nelson 212 now for Mexico. They have 4a down and take a flyer to the last, but it stays up. One time fault to add as well.
11:57 a.m. Now for the U.S., Georgina Bloomberg on Lilli. They have a brick on the wall down!
11:55 a.m. Felipe Amaral and Premiere Carthoes BZ up for Brazil. The stallion gives a few bucks in between the jumps and has number 8 down.
11:51 a.m. For Columbia, Rene Lopez and Con Dios III, a beautiful grey. Ah, they had two time faults and a foot in the water! Rene was riding every step there.
11:48 a.m. Big cheers for Canada's Tiffany Foster and Tripple X. They have a misunderstanding and crash into 10. He didn't jump it, so he'll have to rejump. They finish with four for the refusal and one time fault.
11:46 a.m. Now for Venezuela, Andres Rodriguez and Darlon Van Gorenhove. And they had one down at 6.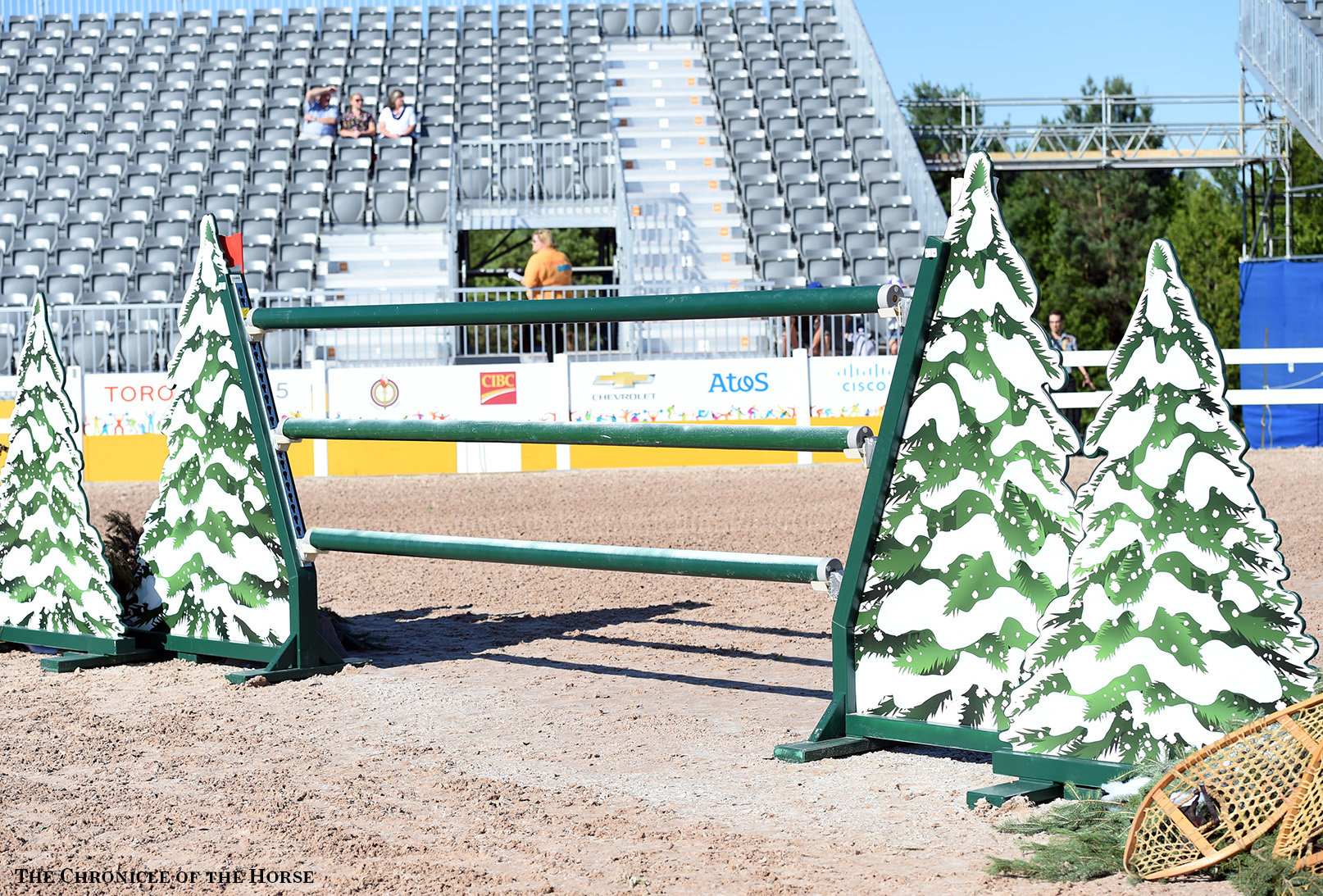 11:27 a.m. Now for Argentina, Matias Albarracin and Cannavaro 9. The gelding gives a little buck halfway through the course. And they jump clear but add one pesky time fault! Now we're one a 15 minute drag break.
11:23 a.m. Carlos Alberto Morstadt and Talento now. Great name! Riding for Chile, this horse has a lot of scope, but unfortunately takes 3 down and adds one second of time.
11:21 a.m. Second rider for Uruguay now, Martin Rodriguez Vanni and Liborius. He's got a bit of an unconventional jumping style. They have number 10 down and the second to last and one time fault.
11:17 a.m. From Guatemala, Axel Barrios Enriquez and VDL Aberlino. They have the first and second part of the triple and fence 10, as well as 2 time faults.
11:14 a.m. Ack, one down for Rothchild! Next up, Salvador Onate and Cartier for Mexico.Two down and one time for them.
11:09 a.m. Pedro Veniss and Quabri de L Lisle jump clear with one time fault for Brazil! next up for the U.S., McLain Ward and Rothchild!
11:08 a.m. Daniel Bluman of Colombia really goes at a good clip, and he's clear and with no time! Next in is Brazil's first rider, Pedro Veniss and Quabri de L Isle.
11:04 a.m. Yann and Showgirl CLEAR with just 1 time fault. The crowd goes wild!
11:00 a.m. Luis now up of his own accord and walking out. Phew! Yann Candele canters in with Showgirl for Canada.
10:58 a.m. Luis and his horse take a nasty fall over the third element of the triple combination. The horse is up right away, but we're waiting on the ambulance to take away Luis. We'll provide updates when we have them!
10:53 a.m. Ramiro Quintana and Whitney add 8 faults to their score of Argentina. Next is Venezuela's Luis Larrazabal and G&C Close Up. This is another 8-year-old horse.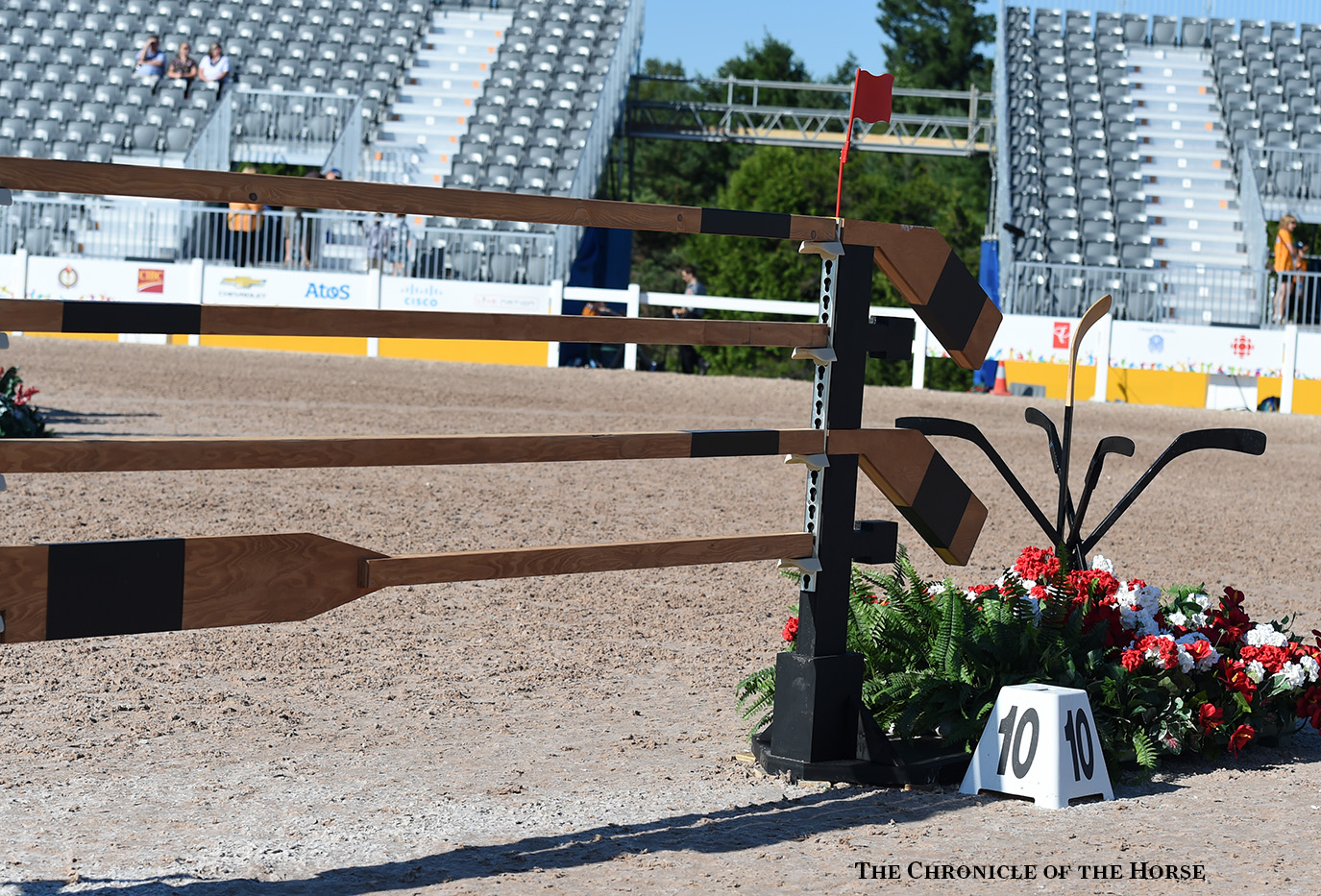 10:46 a.m. Nicolas Imschnenetsky and Pegase de Talma are in next for Chile. He's an amateur rider. They finish with one down and one time.
10:44 a.m. Nestor Nielsen Van Off from Uruguay is next with Prince Royal Z de la Luz, one of the youngest horses at age 9. This horse has no tail!
10:41 a.m. 26 of 50 riders here have appeared in a Pan Am Games. Here's the troublesome fence 10. Now we have Juan Pivaral Aycinena and Cento Per Cento CG, a stallion. They take the last part of the triple and three others, plus a time fault for 17.
10:39 a.m. Next in is Mexico's Antonio Chedraui on La Bamba for Mexico. This is the first of four for this team. They have just one rail down and 1 time for a total of 5 added.
10:34 a.m. Now it's Hector Florentino and Allure G. He finishes with 8 jumping faults and 2 time. The time is proving tough to get today!
10:31 a.m. Next is Alonso Valdez for Peru on Ferrero Van Overis. He rode at WEG last year. He has the brick wall and an early fence at 4a. They also have one time fault.
10:27 a.m. Next is Patrick Nisbett for Bermuda. He used to be an eventer and a big soccer player until he switched to show jumping. Quick Z is his ride. He picks up some speed on the short side before the wall. Time is obviously a factor today. He had a foot at the water, the last rail and one time fault for 17 faults.
10:24 a.m. Maria ends with one rail at 10, the Hockey Sticks, and one time fault. Next up, Jillian Terceira and Tamerino for Bermuda. She's been to two Olympics. She looks a bit slow, but her stallion is jumping well. They have a brick down on the wall and fence 10, as well as the front of the last oxer. They also add two time.
10:18 a.m. Now for 20-year-old Manuel Fernandez on Al Calypso for the Dominican Republic. This horse is quite scopey and has a cool tail flip over every fence. And they're our first clear jump, but one time fault! Ugh! But Manuel looks thrilled. Next up, Maria Victoria Perez for Puerto Rico. She's 23.
10:15 a.m. For Ecuador, we now have Diego Vivero Viteri and Bandurria Hulmen. This is his fourth Pan American Games. They have the first down and take down part of the wall. They also have the B of the triple and the last three jumps. Total of 30 with time faults also.
10:11 a.m. Andres Alvarez and Cash Z are up next for Ecuador. Andres shows his gelding the wall at 6. He must be a bit spooky! They jump it well, but have the first part of the triple down and really sstreeeetttchhh over the final oxer. 13 faults total.
10:08 a.m. Now for Puerto Rico, Freddie Vazquez and Esprit De Vie. The take down the second to last and swim through the final oxer for 8 faults and 2 time faults.
10:05 a.m. We'll be doing individuals first today. First is 22-year-old Emily Kinch and Teddy Du Bosquetiau for Barbados. She just got the ride on this gelding in March. We're jumping 1.60-meter today. She has 20 jumping and 2 time.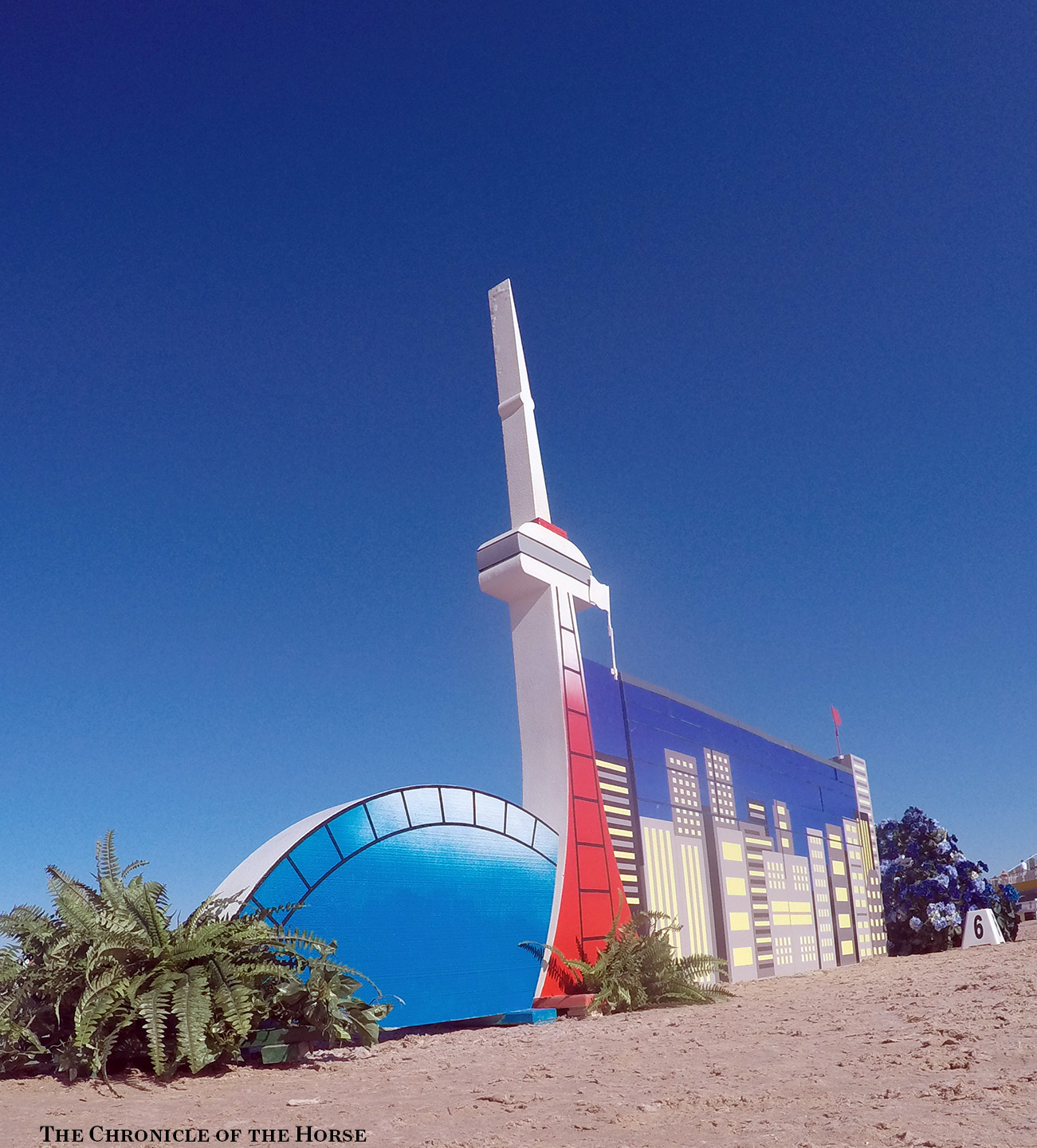 9:49 a.m. We're getting down to the wire now, 11 minutes to go! Here's a look at one of our favorite fences, the wall at 6.