Welcome back to the final day of equestrian sports here at the Pan American Games! Today individual medals will be decided in show jumping. We had 35 riders jump in the first round at 11 a.m. The top 20 will return for the second round at 2:30 p.m., and then they'll jump off if necessary.
All three U.S. riders qualified for the second course, and McLain Ward and Rothchild are currently tied for first.
Check out the order of go/live results, our coverage from the team jumping, a gallery from this morning's jog or all of the Chronicle's Pan Ams coverage.
3:54 p.m. Last to go, McLain Ward and Rothchild. You could cut the tension with a knife here! He sets off at a good pace. And they've done it! Gold for McLain!!!!
3:53 p.m. Now for the gold medal, Andres Rodriguez is in the ring. They take the first of the double down. McLain just needs to be clear to win this thing!
3:50 p.m. Now for Argentina, the last for the bronze medal jump-off, Jose Maria Larocca Jr. and Cornet Du Lys. This is a lovely grey. He looks a little slower than Lauren. The crowd is urging him on. They slice the turn to the second to last and have it down! Lauren will be the bronze medalist!
3:48 p.m. Next in, Lauren Hough and Ohlala for the U.S. This mare is tiny, but she can jump! The second of the double rolls in the cups but stays up. And they're clear!
3:45 p.m. Next for Argentina, Luis Pedro Biraben and Abunola. They have the front rail of the liverpool down and the final rail!
3:43 p.m. Next for bronze is Pedro Veniss and Quabri de L Isle. They have the first part of the double down. Quabri gets a treat from his groom on the way out!
3:42 p.m. Jumping off for bronze now it's Emanuel Andrade and Hardrock Z. They have both rails down in the double, which was thr triple B and C.
3:34 p.m. We're starting the jump-offs, with the one for bronze first, in about 10 minutes. Hold tight!
3:32 p.m. Jose Maria has the second-to-last down, and that means we'll have two jump-offs! One with McLain and Andres Rodriguez for gold and silver, and another with the five 4-fault riders for bronze.
3:29 p.m. McLain also clear! That means at least those two will jumping off for gold. Now we have Argentina's Jose Larocca on Cornet du Lys.
3:26 p.m. Andres is CLEAR. He'll stay on 0. Next in is McLain Ward…
3:24 p.m. Eduardo Menezes has a single rail, which will put on a two-round total of 8. Next: Andres Rodriguez, one of our riders on 0 at the moment.
3:22 p.m. And Lauren is CLEAR. She's another on 4 at this time. They'll be jumping off if necessary for medals later… Next in is Brazil's Eduardo Menezes an Quintol.
3:19 p.m. Georgina has A and C of the triple down, so that's 8 for this round and a two-round total of 12. Next in is U.S. rider Lauren Hough and Ohlala!
3:16 p.m. It's another CLEAR, this time for Luis Pedro of Argentina with Abunola. He finishes on just the 4 from the first round. Next: Georgina Bloomberg on Lilli!
3:07 p.m. For Uruguay, it's Nestor Nielsen Van Hoff and Prince Royal Z de La Luz. This horse was quite the character on the jog strip this morning. They had one rail this morning. They'e crooked to the wall and jump the standard nearly! They have a hail Mary out of the triple and have it down. Just the one rail!
3:05 p.m. Next up is Matis Albarracin and Cannavaro 9 for Argentina. They bring forth 4 faults. They helped their team to silver earlier in the week. They're clear jumping but add one on the clock.
3:03 p.m. Now the youngest rider in the competition, 18-year-old Emanuel Andrade from Venezuela. He's on Hardrock Z and they bring in 4 faults from round one. This stallion also has a pretty cool tail flip! He is trying his heart out over these fences. And that's our first clear!
2:59 p.m. Yann Candele and Showgirl for Canada are in the ring now. The mare takes a potty break and they're underway. They also bring 8 faults from the first round. They take two jumps down in the triple, A and B.
2:57 p.m. Daniel Bluman of Colombia next on Conconcreto Sancha LS. They bring 8 faults from the first round. Daniel is really moving! His mare is clever to get herself out of trouble in the triple, but they have the next oxer down.
2:54 p.m. Ian Millar and Dixson enter the ring. They had an unfortunate 8 faults this morning, but did help their team to gold earlier in the week. They get a bit long to the B of the triple and have it down. One time fault to add as well.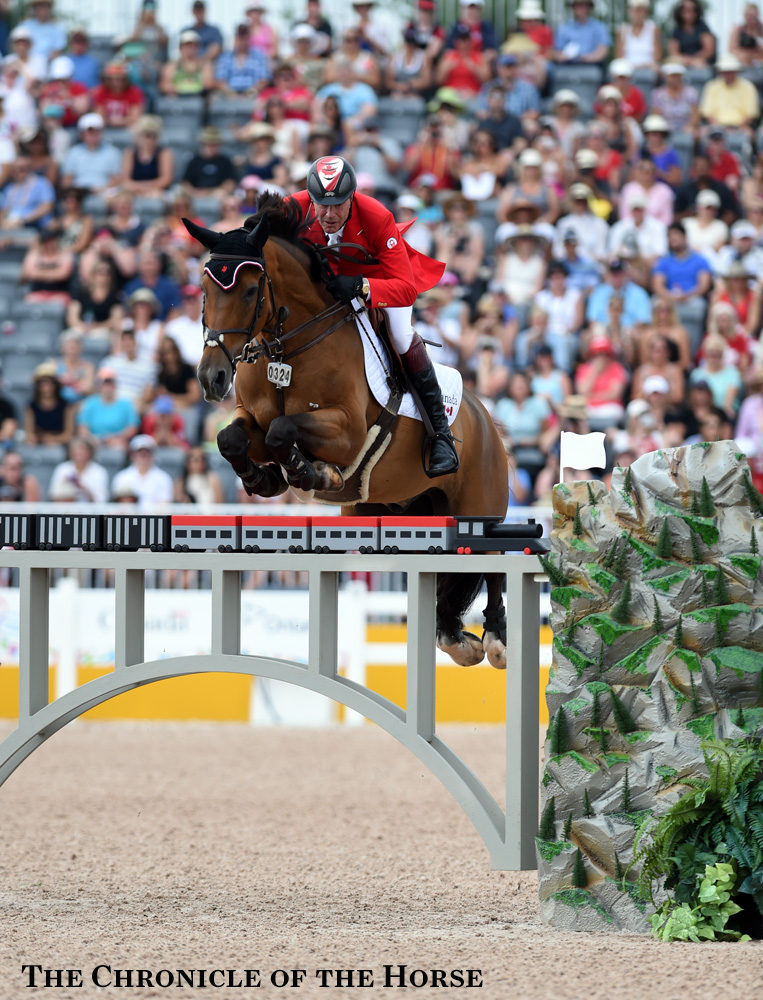 Here's Ian Millar this morning.
2:52 p.m. Felipe Amaral and Premiere Carthoes BZ for Brazil are up next. The stallion gives a few bucks in between fences and had the last rail down. Ah! So close!
2:49 p.m. Fernando Cardenas and Quincy Car are in now for Colombia. This U.S.-bred stallion is diminutive but very spicy! They carry 8 faults coming in. They make it over the wall! Fernando had to push Quincy Car through the triple, but they're clear. They took down 7 unfortunately, but Fernando pumps the air anyways!
2:47 p.m. Hector Florentino and Allure G are next for the Domincan Republic. They carry a score of 8. They take down the wall at 3 and add one time fault.
2:44 p.m. Alonso Valdez is up now with Ferrero Van Overis. This horse has a huge, thick neck! He has quote the tail flip too. They have a falter at the wall and take it down. Alonso looks very happy with just the one down.
2:41 p.m. Patrick Nisbett on Quick Z enters the ring for Bermuda, riding as an individual. Quick Z was a little nappy at the in gate, but Patrick coaxed him forward. Patrick told us the horse is green and that he's been happy with the gelding's effort this weekend, even if they did have a few rails down. They rub 3, but it stays up. They jump through the triple very well but just take the front rail of the liverpool at 8 down. Patrick seems very happy with that effort. A good finish for this young horse! They did add one time fault as well.
2:38 p.m. Next we have Martin Rodriguez Vanni and Liborius for Uruguay. This horse has a shortish tail. He has the wall down at 3 and the B of the triple. He tries super hard over the rest and finishes on 8 jumping and 2 time faults.
2:35 p.m. There are 12 jumping efforts and 12 numbered obstacles. There's a triple combination, a new wall and a few of the same fences as the last round. Some are in different places. No open water and no pesky planks! And we're back! First up is Juan Rodriguez Silva and Bugatti. They had 9 faults in the first round. Bugatti stops and crashes into the wall at 3, knocking it down. He clears it on the second attempt, but knocks down the square pole on front. He also has the next three rails down in a row. He also takes 7, 8 and 9. 32 jumping and 3 time. That's unfortunate.
Here are the top 21 (there was a tie) who will return.
1:04 p.m. Eduardo and Quintol have down the back rail of 6, and that's 4 faults for them.
1:00 p.m. Canada's Yann Candele enters with Showgirl. They pull down 5a, plus b of the triple. They'll add the 8 to their score. Next, and last for this morning, Brazil's Eduardo Menezes enters on Quintol.
12:58 p.m. Argentina's Jose Maria Larocca Junior is next with Cornet du Lys. They are CLEAR! Just the third clear of the day and only two left to jump this round.
12:54 p.m. Canada's Eric Lamaze enters on Coco Bongo to massive cheers. Eric's green horse picks up a stop at 11b, and he ends on 8 jumping and 2 time.
12:48 p.m. Another U.S. rider, Lauren Hough on Ohlala enter now. They have 5a down. They finish on the 4! She'll make it into the top 20 later today.
12:45 p.m. U.S. rider Georgina Bloomberg is next! She's on Lilli. They get a hard rub at 4, but still clear.
She does in the four strides in the line between 8 and 9, a lot are doing five there. Still clear! And they have just the final rail down for 4 faults! That should still get them into the top 20 this afternoon.
12:43 p.m. Colombia's Daniel Bluman is next on Conconcreto Sancha LS. They have the rail at 10, and everyone groans. They also pull down 12, so that's 8 penalties for them.
12:39 p.m. The first U.S. rider in next! McLain Ward on Rothchild! They are CLEAR, for only the second clear of the day so far!
12:36 p.m. Next in is Chile's Samuel Parot de Ugarte on Couscous van Orti. This is the gelding who makes the amazing "game on" faces. He has just one little train off the wall at 3 for 4 faults. Then they also pull down 9 and pick up a stop at 11a.
12:34 p.m. Argentina's Luis Pedro Biraben is next with the Dutch Warmblood mare Abunola. This pair was part of team silver on Thursday.
She just catches 9 with a hind foot, and it falls. Otherwise she's jumping amazingly over this track! They'll finish on the 4! That's only five horses on 4 faults, and the one clear so far.
12:32 p.m. Brazil's Pedro Veniss enters with the beautiful liver chestnut Quabri de L Isle. They have, yep, 5a. They finish on 4!
12:29 p.m. The Dominican Republic's Manuel Fernandez picks up 20 jumping penalties on Al Calypso.
12:26 p.m. Ian Millar is next on Dixson. He gets a hard rub at the triple bar and then takes down 5a and 6. Understatement of the day: This course is not easy. They finish on just those 8 faults.
12:23 p.m. Mexico's Antonio Chedraui enters with La Bamba. They have down 5, like so many have, and a foot in the water. They also pull b of the triple.
Next in will be Captain Canada, Ian Millar on Dixson!
12:21 p.m. Next is Uruguay's Nestor Nielsen van Hoff on Price Royal Z de La Luz. This is the horse with the short tail!
They have the back rail of the oxer at 6. The horse nearly trots in the next line, but he leaves up the rail at the end of it! They finish on just the 4 faults!
12:18 p.m. Ahhh and Matias has just the final fence down! The whole crowd groans.
12:16 p.m. Felipe has 8 faults with Premiere Carthos Z, and next is Argentina's Matias Albarracin on Cannavaro 9.
11:55 a.m. Colombia's Fernando Cardenas is next with Quincy Car. They finish on 8, and Brazil's Felipe Amaral will be next on Premiere Carthos BZ. Then we'll have a 10-minute drag break.
11:52 a.m. Emanuel Andrade, just 18, enters on Hardrock Z. They have fence 2 down. They finish on just the 4!
11:50 a.m. Can Pablo Barrios keep up this clear streak with Antares? No, as Antares takes down 5a of the double and the oxer at 6. They also have down 12.
11:48 a.m. Aaaand we do have our first clear! Andres Rodriguez does it! That should get him a sure spot in the top 20 this afternoon.
11:46 a.m. If you're keeping track, we have 0 clear rounds so far today and not even a 4-faulter. Will Andres Rodriguez with Darlon van Groenhove be the first?
11:44 a.m. Next is Chile's Jose Manuel Ibanez on ASD Farfala. The horse stops at the train wall at 3, sending the little trains flying. He has the rail at 4, and then picks up a stop in 5, ending his day.
11:42 a.m. Maria has down 2 and then the triple bar, and then has to circle before 5. She takes down 5a of that. They also pull the liverpool at 8 and 12. That's 24 jumping and 3 time.
11:40 a.m. Puerto Rico's Maria Victoria Perez is next with W Zermie 13. Here they are from this morning's jog.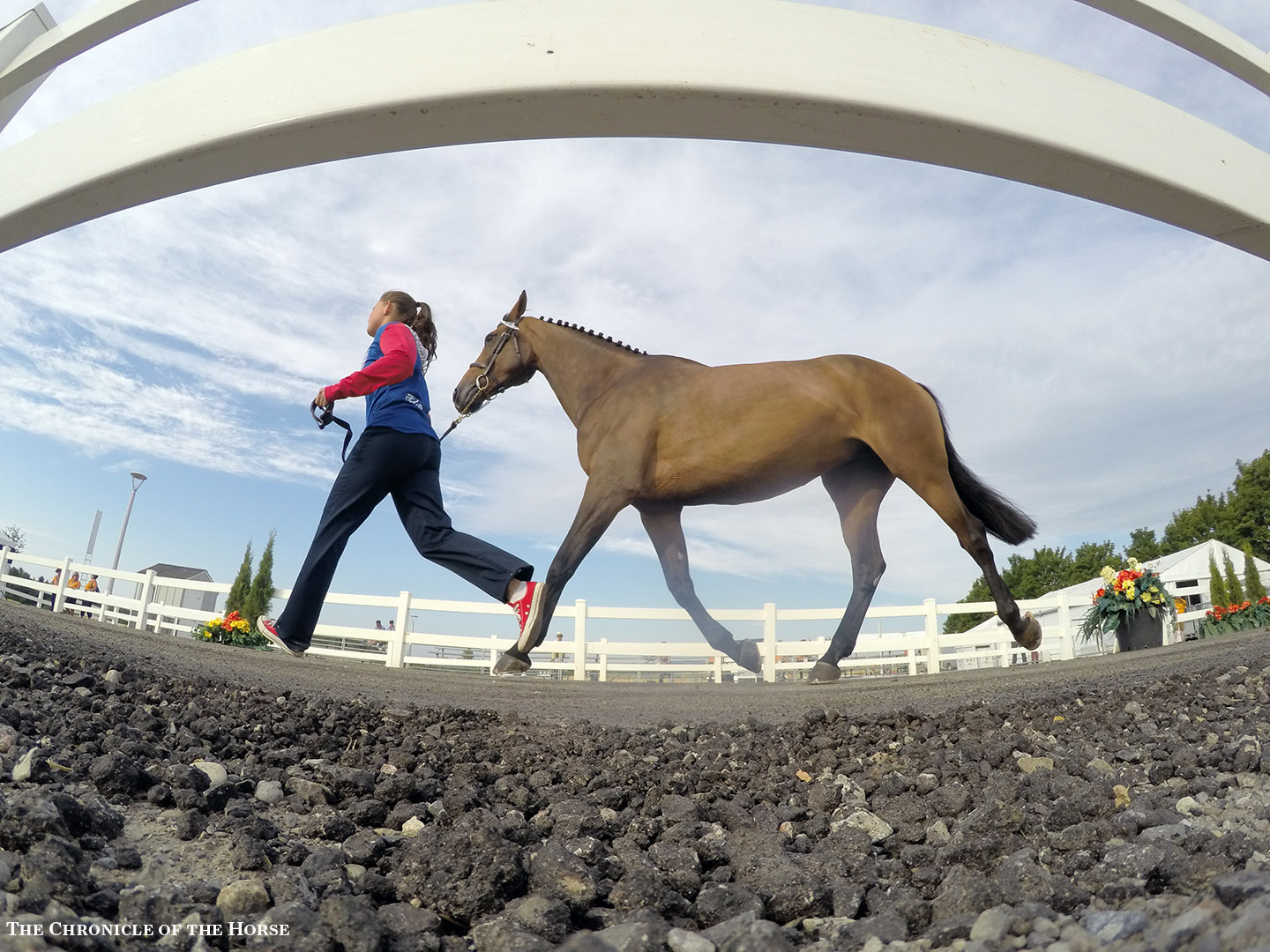 11:36 a.m. Hector Florentino and Allure G are in now for the Dominican Republic. They have rails at 2 and 8 to finish on 8 faults.
11:33 a.m. We now have Puerto Rico's Alonso Valdez with Ferrero van Overis. They take down the liverpool oxer after the water at 8 and c of the triple combination. They finish on 8.
11:30 a.m. Mexico's Federico Fernandez and Guru jump next.
They put a foot in the water and have the rail at the oxer at 8 down after that. They did make it through the pesky 5ab combo though, and the crowd cheered for that!
They have down c of the triple, to finish on 12 faults.
11:27 a.m. Next in is another rider from Guatemala, Alvaro Tejada Arriola on Voltaral Palo Blanco. He has down 5a of the double and 6, the oxer after. He also takes down 10, the Canada geese, 11b of the triple and he'll finish on 16 penalties.
11:25 a.m. Axel Barrios Enriquez heads in next with VDL Aberlino for Guatemala. They have a rail at the triple bar at 4, and then the horse barely takes off for 5a. They circle while the crew resets. They pick up another stop, and their day will end.
11:23 a.m. She has a rail at 2, a rail at 5a and 5b, a foot in the water, another rail at 9. She also takes down 11a of the triple combination. That'll add 20 to their score.
11:20 a.m. Chile's Carlos Alberto Morstadt and Talento pick up a total of 12 faults for their round. Next in is Bermuda's Jillian Terceira and Tamerino. Here they are at the jog this morning.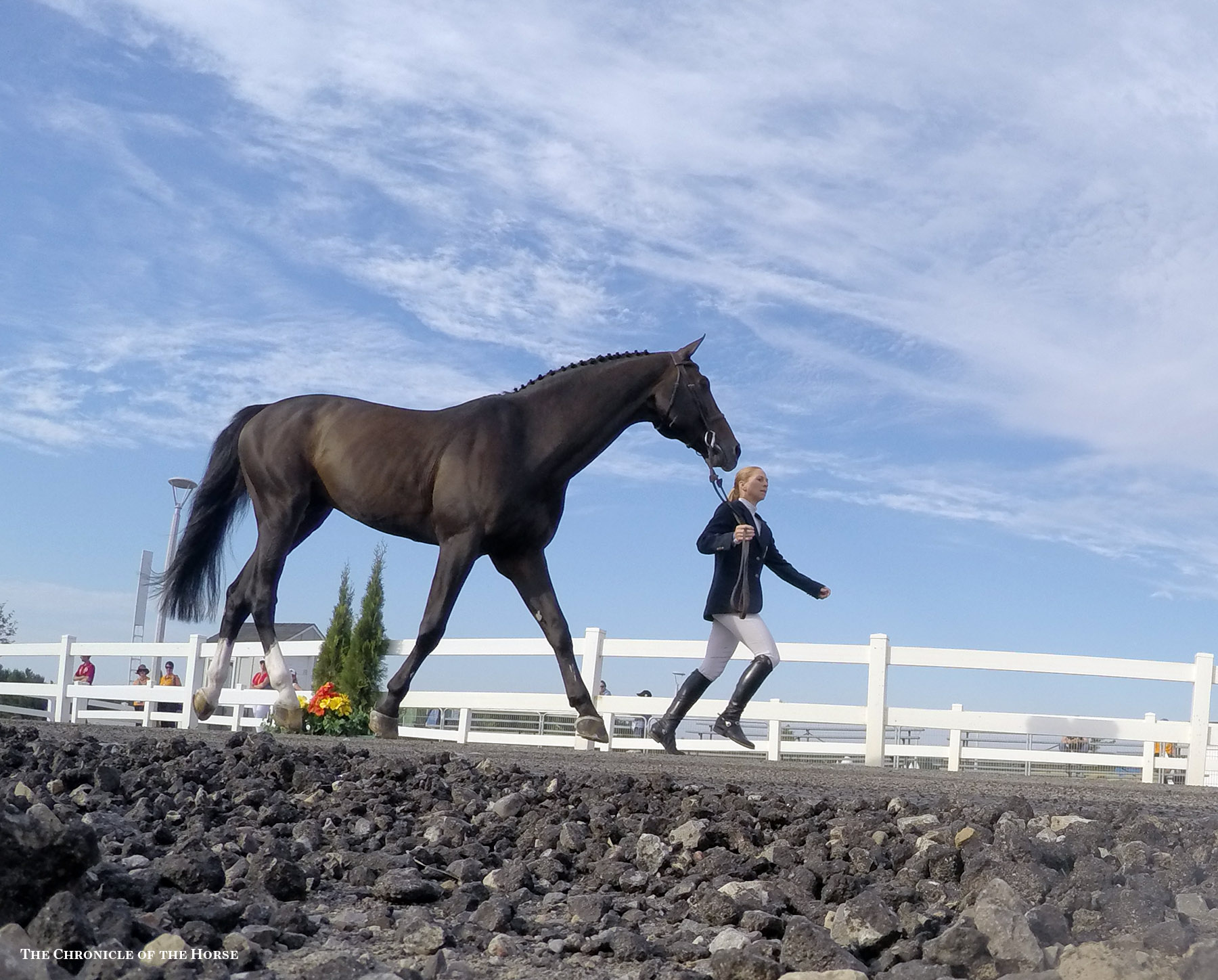 11:17 a.m. Cartier is next to jump with Mexico's Salvador Onate aboard. He has a foot in the water, and the rail at the Canada Geese fence at 10, and the first element of the triple combination at 11 for 12 faults.
11:14 a.m. Guatemala's Juan Rodriguez Silva heads in next with Bugatti. He finishes with one down and a foot in the water. He also adds 1 time.
11:12 a.m. Patrick Nisbett heads in for Bermuda with Quick z. He has two rials down and no time, so he'll add just the 8 to his score.
11:09 a.m. First in the ring today is going to be Freddie Vazquez, riding as an individual for Puerto Rico. He picks up 20 jumping, including a stop at the liverpool at 8, and 3 time.
10:25 a.m. Another nice touch on today's course: Canada geese!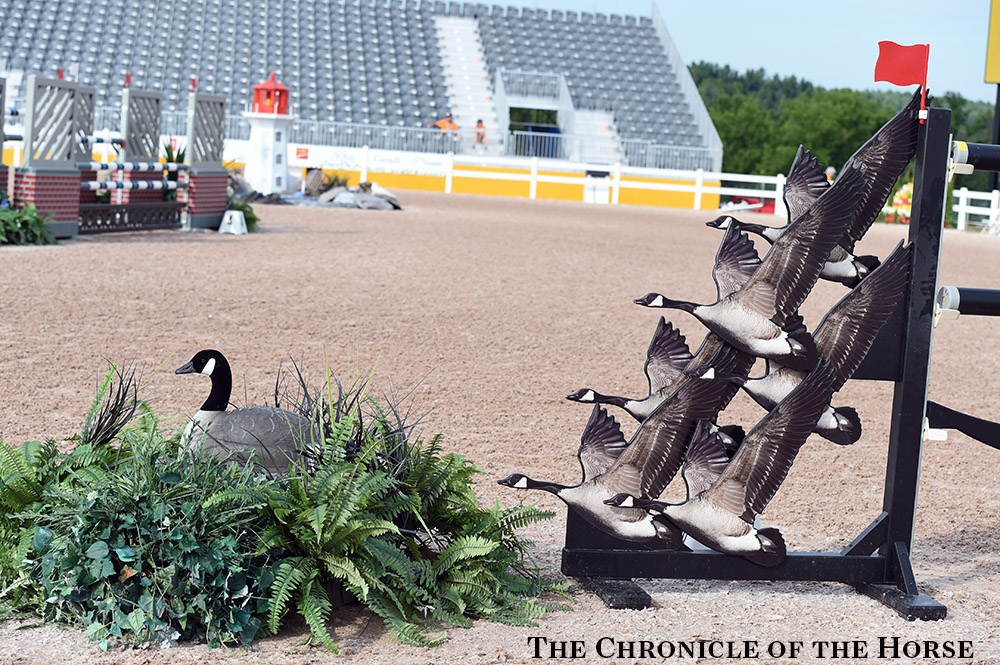 9:45 a.m. We've just walked the course, and there are some pictures here. The jumps are probably 60 percent the same as Thursday (don't hold us to that math…), with a few new ones. These potentially combative but adorable beavers are guarding the open water.