Welcome back! We'll be updating live on all the eventing dressage action today. The action kicks off at 9:00 a.m., but in the meantime check out the ride times/live scores, a gallery from yesterday's jog and all of the Chronicle's Pan Ams coverage so far.
4:00 p.m. And that's a wrap! Stayed tuned to coth.com for a full report on the dressage and quotes and photos from the leaders.
3:56 p.m. Last for the U.S., Boyd Martin and Pancho Villa! "Pancho" has such a lovely trot and really pushes down centerline. He's got great angle in the shoulder-in and very fluid half 10-meter circles. He's showing good relaxation in walk. No mistakes there! Fingers crossed for a good score!
3:49 p.m. The final rider for Argentina is in the ring now. Marcelo Javier Rawson rides Larthago, a very pretty nearly white greay with a pink nose. His trot opens right up as he goes down centerline. He's moving through his trot work very nicely and Larthago has soft, floppy ears. This test is nice and steady and error free!
3:41 p.m. Ecuador's Ronald Zabala is heading around the ring with Master Boy now. Everyone knows Ronald as he's also based in the U.S. This horse previously ridden to the four-star level with Oliver Townend. Their canter work is quote good but Ronald is a bit conservative in his extended canters. Ronald is riding in a double bridle.
3:39 p.m. Mexico's Daniela Moguel is in now, and she's putting in a very steady test with Cecilia. The horse doesn't cover the most ground in extended canter, but she's doing an extremely nice test! This horse was ridden to the advanced level with U.S. rider Leslie Chelstrom.
3:26 p.m. The last rider for Brazil is in the ring now, Marcio Carvhalho Jorge on Lissy Mac Wayer. This pair have experience to the CCI*** level. They come in with quite the prancing trot! This mare looked quite nice in the warmup but I think the atmosphere is getting to her a bit. Marcio is doing a good job holding her together after she took a peek at the crowd during the first halt. She has an amazing extended trot and is actually doing well in the walk work despite that tension shown in the beginning. The canter work is a real highlight here, but the trot is sooo amazing too! What a lovely pair. Brazil is really bringing it this Games.
3:24 p.m. They finish with another dead square halt and one of the biggest cheers we've heard today! Pavarotti walks out on a loose rein. It looks like they'll get a 42.1!
3:18 p.m. Canada's Jessica Phoenix is next with Pavarotti! Pavarotti and Jessie won individual gold at the last Pan Ams in Mexico, 2011. They'll be looking to defend their title! They start with a perfectly square halt and move right in to some very fluid trot work. He really reaches across the ground in the extended trot and then shows a very relaxed walk. This test has a lot of walk in it, including turns on the haunches and canter-walk.
3:15 p.m. Uruguay's Franciso Calvelo is in the ring now with Noir de la Muralla. They're having some tension, but it's quite rainy and windy now.
3:13 p.m. You think Marilyn was happy with her horse?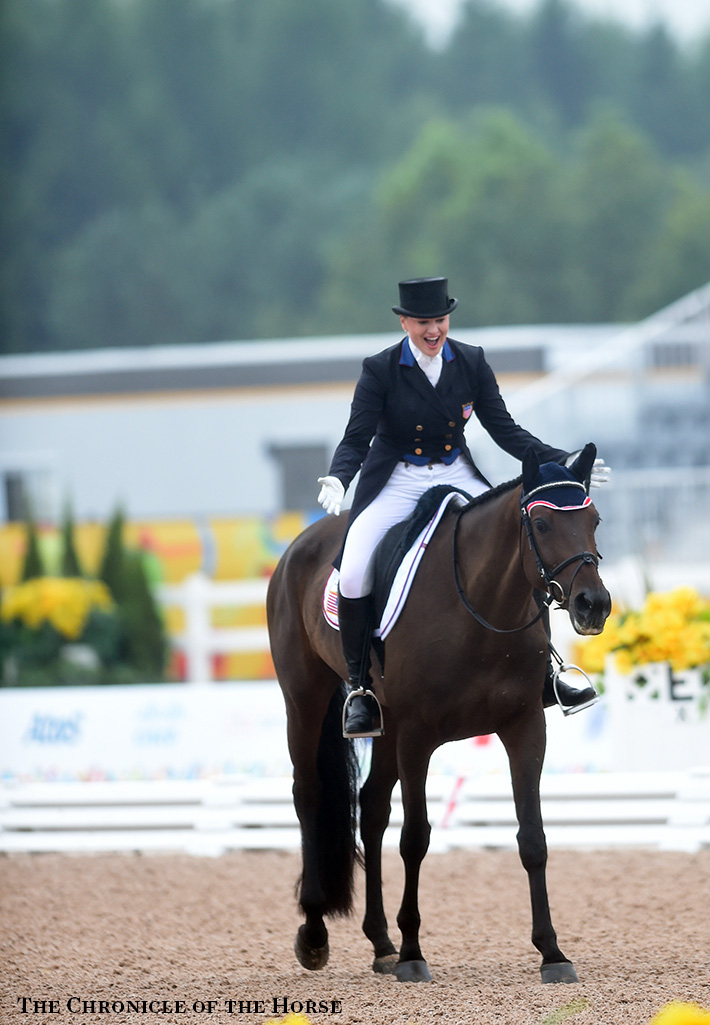 2:55 p.m. Last before a short break, Carlos Lobos on Ranco, a very pretty chesnut with a flaxen tail. Carlos is riding in his grey Chilean military uniform that compliments Ranco. This gelding is very lanky and has a very nice trot and a bald white face. Carlos really sits this horse well. They score a 45.6 for current sixth place. Wow!
2:45 p.m. Aaaand next in is the final rider for Guatemala, Sarka Kolackova. It's been officially raining, not just misting, for this whole set. If only we'd have this cool weather tomorrow! Sarka and Sir Royal are putting in a good test and are nailing the counter canter work. Sarka has a very quiet position in the saddle and Sir Royal is very obedient.
2:40 p.m. Marilyn slots into third on 40.3 penalties. Now in the ring is Jhonatan Rodriguez aboard Nilo.
2:29 p.m. Time for Marilyn Little from the U.S.! She's been nearly unbeatable at the two-star level this year. RF Scandalous has a very beautiful tail. Marilyn is wearing her top hat today. "Kitty" has a very nice trot and flows well into her half passes. She's very steady and through in the bridle. She really goes for it in the extended canter! This might just break into the 30s…
2:25 p.m. Juan Francisco Gallo and Remonata Nunhil are next! They have some acrobatics at C before the extended canter, but settle in. Juan is wearing a white military uniform. It's now raining again and this reporter's fingers are frozen! To think it's supposed to be 87 degrees tomorrow…
2:10 p.m. Now we have Juan Larrazabal Simon and Atlanta. This gelding has some nice trotwork, but is keeping a slightly grouchy face on throughout his canterwork. Juan rides for Venezuela. His brother will be riding on the show jumping team next week.
1:56 p.m. Ruy Fonseca into the lead! With a percentage score of 74.10 percent and 38.9 penalties! Brazil is crushing it here so far!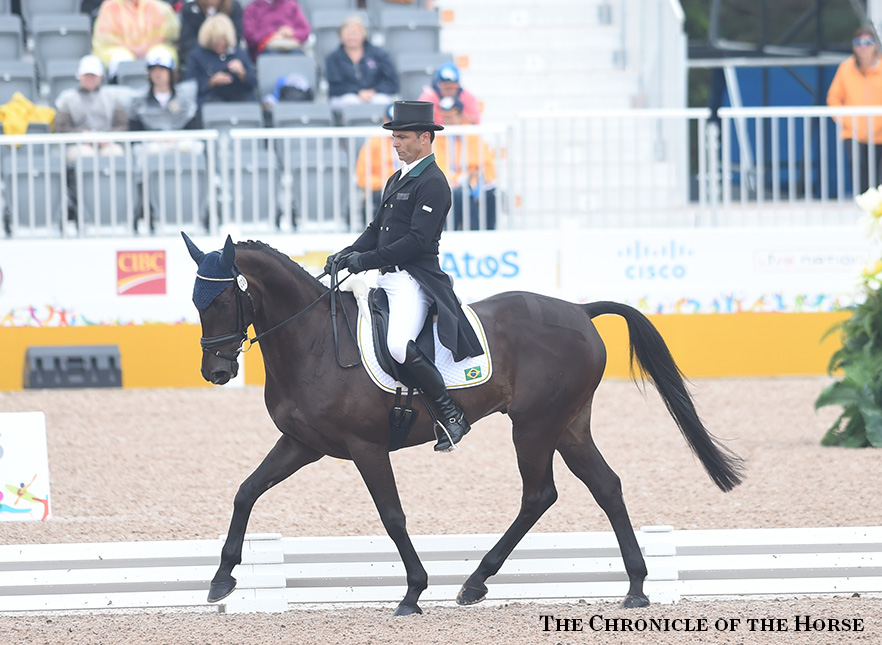 New leaders Ruy Ronseca and Tom Bombadill Too!
1:49 p.m. Well, that's not surprising! 39.8 penalties! Ruy Fonseca from Brazil just finished his ride with Tom Bombadill Too, his four-star partner.
1:33 p.m. We have Kathryn Robinson and Let It Bee in the ring next from Canada. This pair is based in England and have ridden to the four-star level.
1:28 p.m. Next for Uruguay, Rodrigo Abella Lemme and SVR Arbitro. Rodrigo is also wearing his military uniform. He's the second of three riders from Uruguay. They have some nice canter work and finish to a big cheer! This horse has a big, fancy trot. They just float across the diagonal in extended trot.
1:20 p.m. Now it's time for Carlos Villarroel and Paradigma. This chestnut mare is not braided. Carlos rides in a grey Chilean military outfit that matches his mare's ear bonnet. He's another ride to post the extended trot.
1:12 p.m. Next up, Stefanie Brand Leu, only 19 years old, and Claudius. Stefanie, from Guatemala, had a bad fall earlier this season and broke her collarbone at Chattahoochee Hills (Ga.) and her ticket to the Pan Ams was in doubt, but she looks ready to roll now! Claudius is going in a double bridle and has some very solid trot work.
1:02 p.m. The rain has subsided for a bit but it is very chilly! The crowds are a bit sparse today, but tomorrow's cross-country will bring them out in droves. Next up in the ring we have Anne Charlotte Brieke and Picaron from Columbia. This is a very leggy bay with an odd shaped white slash mark on his forehead. He's very relaxed but maybe a touch behind the vertical in the trot. He's got one of the better extended trots we've seen today. This horse has a lot of sit in the canter and looks a bit strong for Anne today!
12:06 p.m. We're on lunch break now! We'll see you back here at 1:05.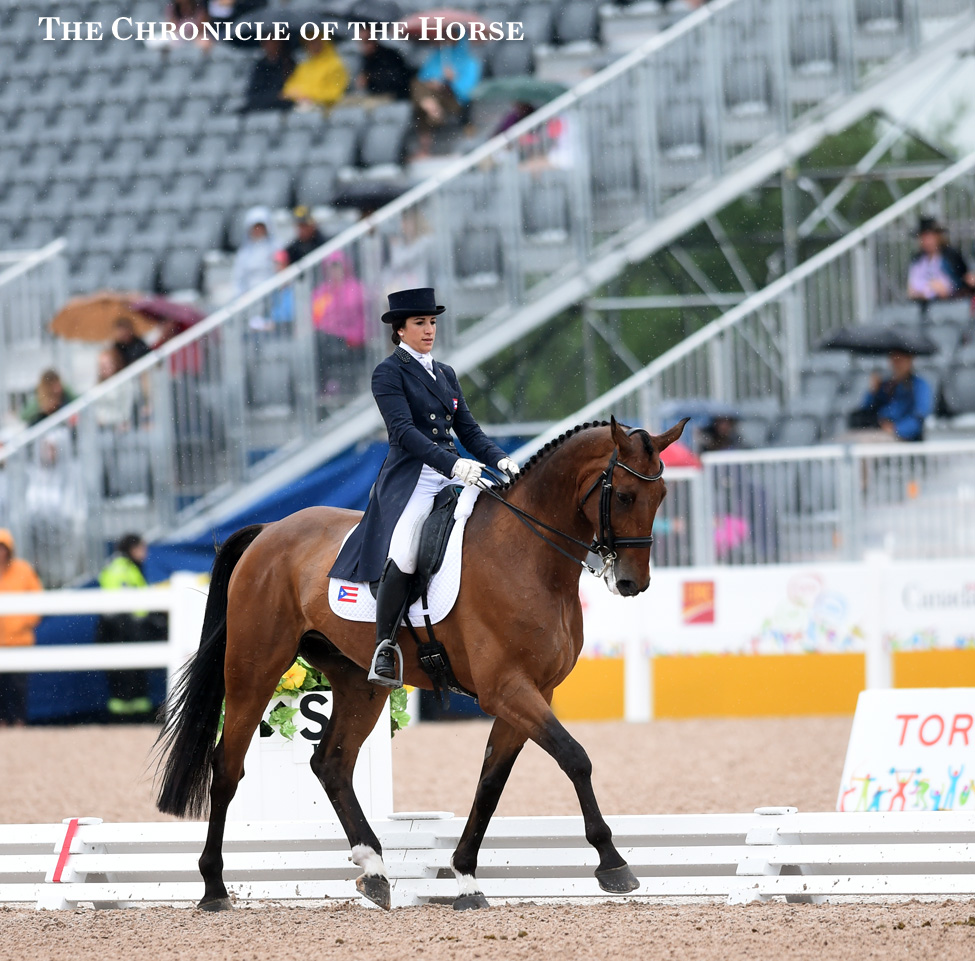 Lauren Billys and Castle Larchfield Purdy.
11:58 a.m. Last before this break is another of the individual riders from El Salvador. It's Jose Romano Hijo and Bucefalo. He's wearing a top hat on this dark bay. The walk work is quite obedient but he's not as round in some of the canter work. Overall the test was very obedient and Bucefalo gets a big pat!
11:55 a.m. Lauren said she was happy about her ride, wasn't sure what the little break in counter-canter was. She said the scores seemed low to her, but, as she noted, everyone is riding for the same judges! She's actually tied with P. Dutton on 67.71, and they're both in second at the moment.
11:50 a.m. Puerto Rico's Lauren Billys going in next. She's in a top hat and double bridle. We're off to talk to Lauren, and we'll update you on what she says!
11:49 a.m. The second extended canter is also nice, also comes back nicely at the end. They're in the homestretch of this test now… Lots of quiet pats at the end. Just the one mistake and otherwise looked almost flawless, so should still be a good score for the USA.
11:47 a.m. Scarlett still looking like a pro under Lauren's pro riding through the walk work. Lauren goes for it in extended canter, mare comes right back at the end. Oh no! They have a break in a counter-canter. But then get right back to it.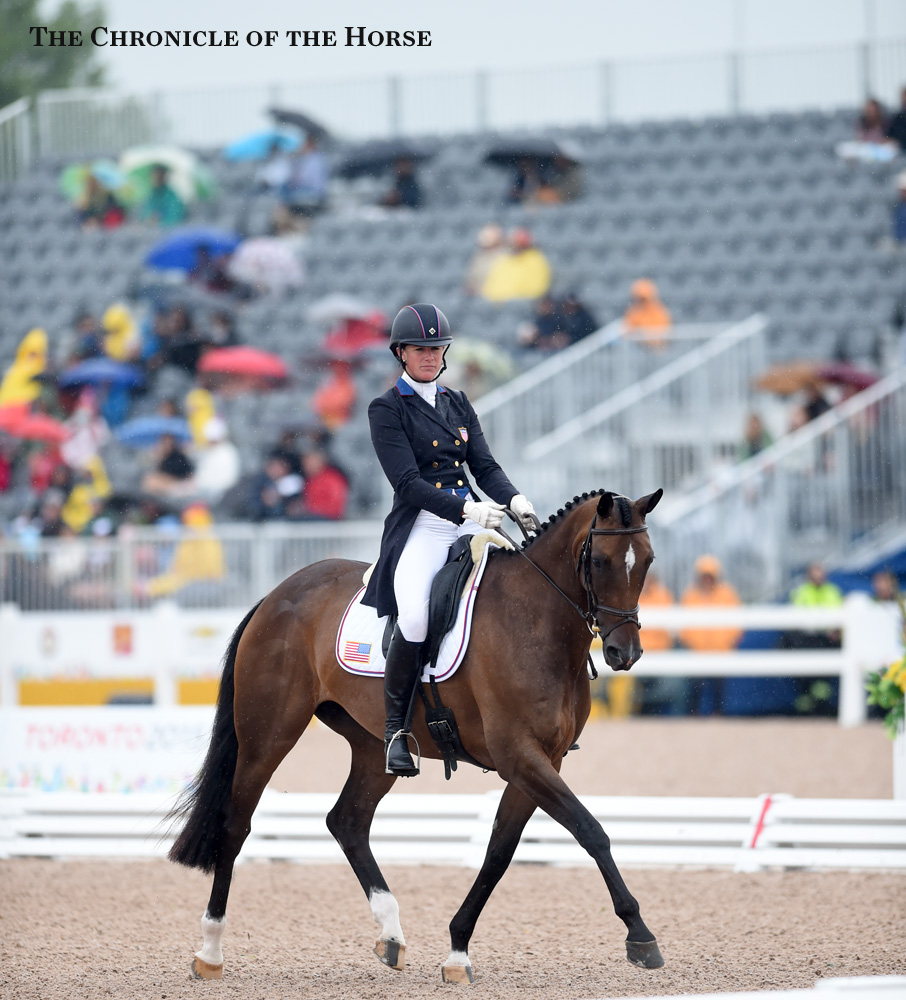 Here's Lauren and "Scarlett"!
11:45 a.m. Meadowbrook's Scarlett looking lovely going around the outside of the ring. He's trot's swinging, she's soft in the contact…it's a nice picture. Good first halt. Amazingly, this mare has never had a cross-country penalty–in her whole career! Nice trot circles, very good bend and still swinging through the back. Nice extended trot too.
11:42 a.m. They have a good final halt, Jose and Jos Cassius. Next in: US pair Lauren Kieffer and Meadowbrook's Scarlett! Right after her will be Lauren Billys, who's based in the U.S. but riding as an invidual for Puerto Rico.
11:38 a.m. It's been smooth sailing through the trot work for Jos Cassius after the spook, but the horse gets above the bit and runs off for a second in extended canter. Jose gets him back to business quickly.
11:35 a.m. Jose Luis Ortelli Junior is going around the outside for Argentina now. This horse, Jos Cassius, is experienced, and he's done several CCI** and a CCI***. He has a big spook his first time at C, by the judges.
11:26 a.m. Ecuador's Nicolas Wettstein and Ozieme Framoni are in next. More stand-up braids! OK, we have scores again! So we can now tell you that the second Brazilian rider to go, Henrique, scored a 63.06 percent to slot into fourth for now. That gives the Brazilian team an early lead, with only one rider from some of the countries having gone, including the U.S.
11:25 a.m. He really goes for it in the extended canter with Urileva. This is a really nice test so far! (Not trying to jinx him, but it is!) Oh good, it finishes really nicely too. As you may have noticed, our live scores have stopped on the Pan Ams website…but we'll get you scores as soon as we can.
11:23 a.m. This mare is a big mover, very elegant, and Rivero is REALLY riding into the corners. Sounds easy…but not easy.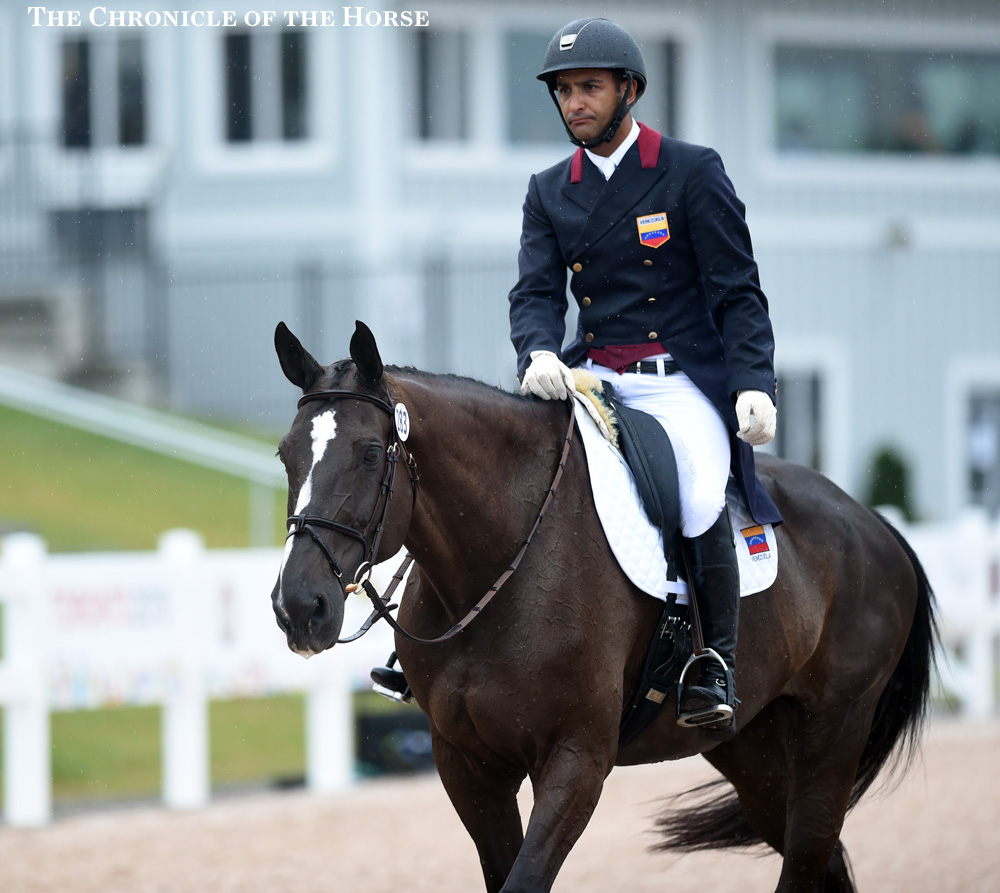 Alvaro Lozado Rivero and Urileva.
11:20 a.m. Venezuala's Alvaro Lozado Rivero is next with Urileva, a Dutch Warmblood mare. This horse was one of my favorite's at the jog yesterday. She has a really adorable crooked stripe on her face. We'll get a picture and show you later!
11:16 a.m. This is a very sweet-looking mare. She's quite dainty. She's putting in a nice test so far, a little hurried in the extended trot but then back to a good rythm for the rest of the trot work. In the extended canter she's like "Really? REALLY? I can go?!" Ears flicking back and forth, it's cute.
11:12 a.m. We're back from the break and starting off with Mexico's Jose Mercado on Romana. Another helmet! Another military uniform.
11:02 a.m. It's a score of 51.9 penalties for Colleen and Canada, that'll be third for now. We're just waiting on the score for Henrique, who had a super steady test with a nice connection, and he's our last before another short break!
10:55 a.m. Nice halt to finish. She's thrilled! The stadium's a little more full now, and they love their hometown (home country?) girl. Next in will be the second rider for Brazil, Henrique Plombon and Land Quenote. Can he keep up Brazil's lead?
10:52 a.m. Biiiiig extended canter, and she gets him right back. He's another in a double bridle today. He has a really pleasant way of going, steady but also fancy. This should be a good score of Canada.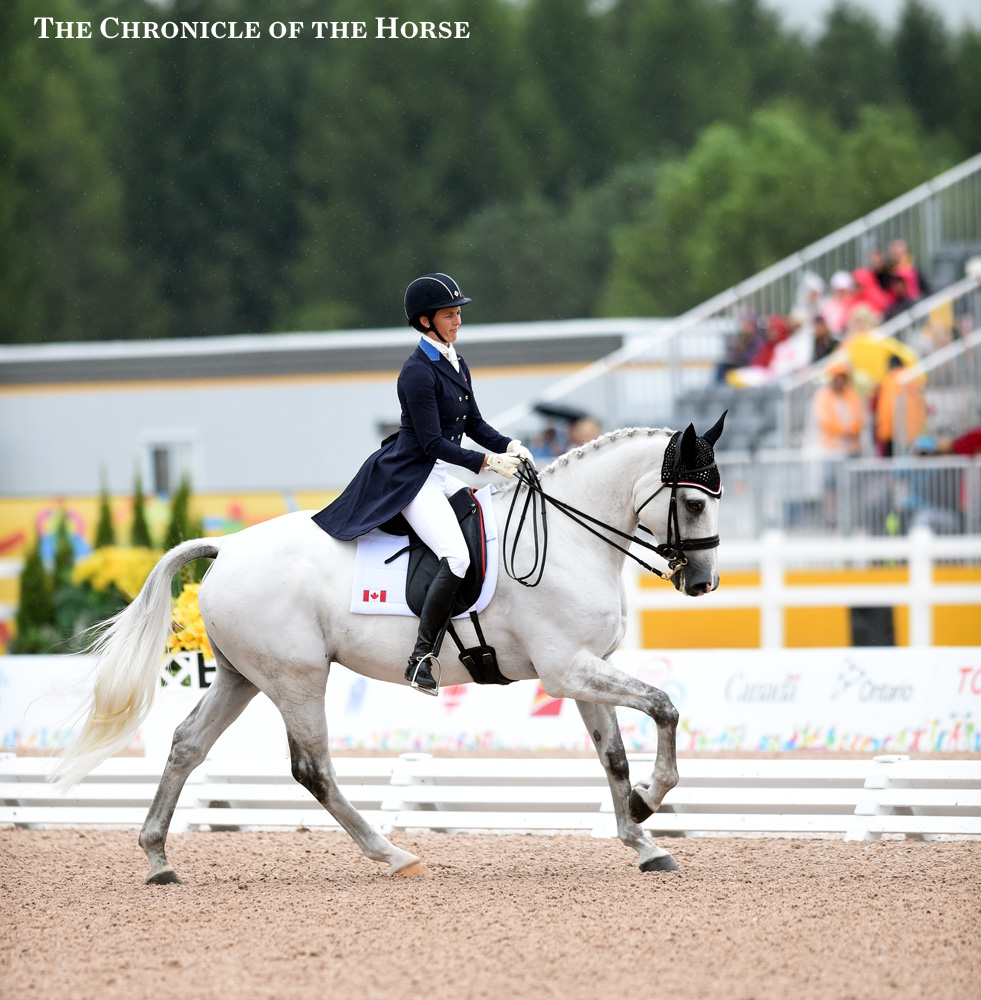 Colleen Loach and Qorry Blue D'Agouges.
10:50 a.m. This grey horse is MASSIVE to stand next to on the ground. He make a very elegant picture in the ring. He takes a moment at the first halt for a bathroom break, then they move off into some nice trot work. Their extended trot is lovely, really covers the ground.
10:48 a.m. Alriiiight, Canada's Colleen Loach going around the outside of the ring now. She had a few iffy moments at the jog yesterday when Qorry Blue d'Argouges was held, but he passed the second time down the jog lane.
10:47 a.m. This is a very steady test for Edison and Capoeira II. It's not super flashy, but the horse is very obedient
10:43 a.m. Uruguay's SVR Capoeira II and Edison Quintana Valerio are going in now. Some of these horses are freshly clipped since they came from countries in winter, and this is one. Edison is another rider in a military uniform. The horse is also in a double bridle, which we haven't seen too much so far today.
10:40 a.m. Aaaand, here's the only U.S. rider to go so far, Phillip Dutton on Fernhill Fugitive.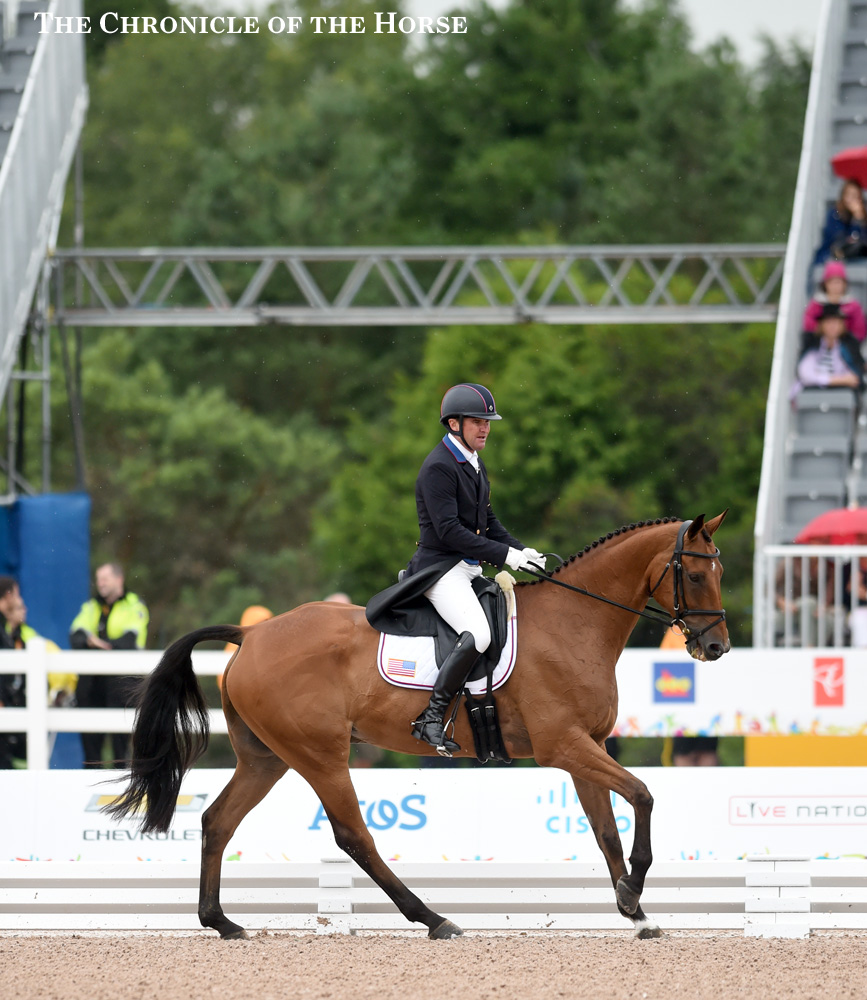 10:35 a.m. Here's a picture of current leader, Brazil's Carlos Parro on Caulcourt Landline.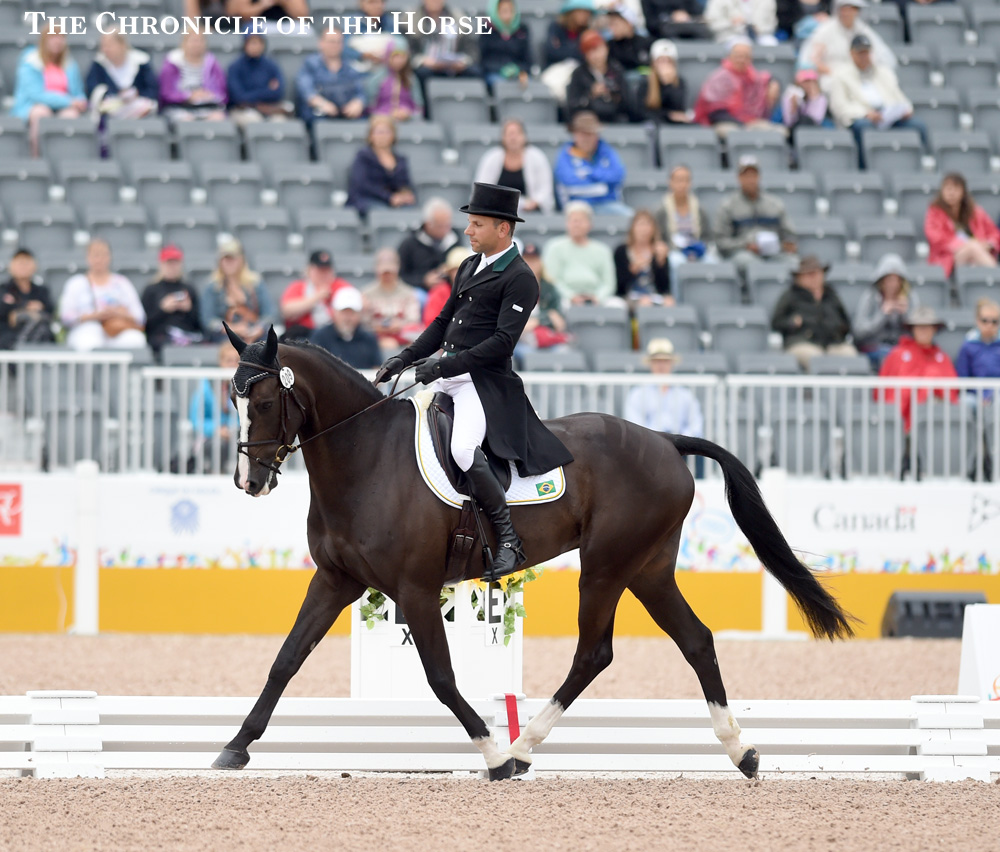 10:32 a.m. The next rider for Chile's team is going around the outside of the ring, it's Sergio Iturriaga with Versalles, a pretty grey mare. Interestingly, she is not braided! Sergio is wearing a grey military outfit that perfectly matches his horse.
SCORE UPDATE! Plus your ground jury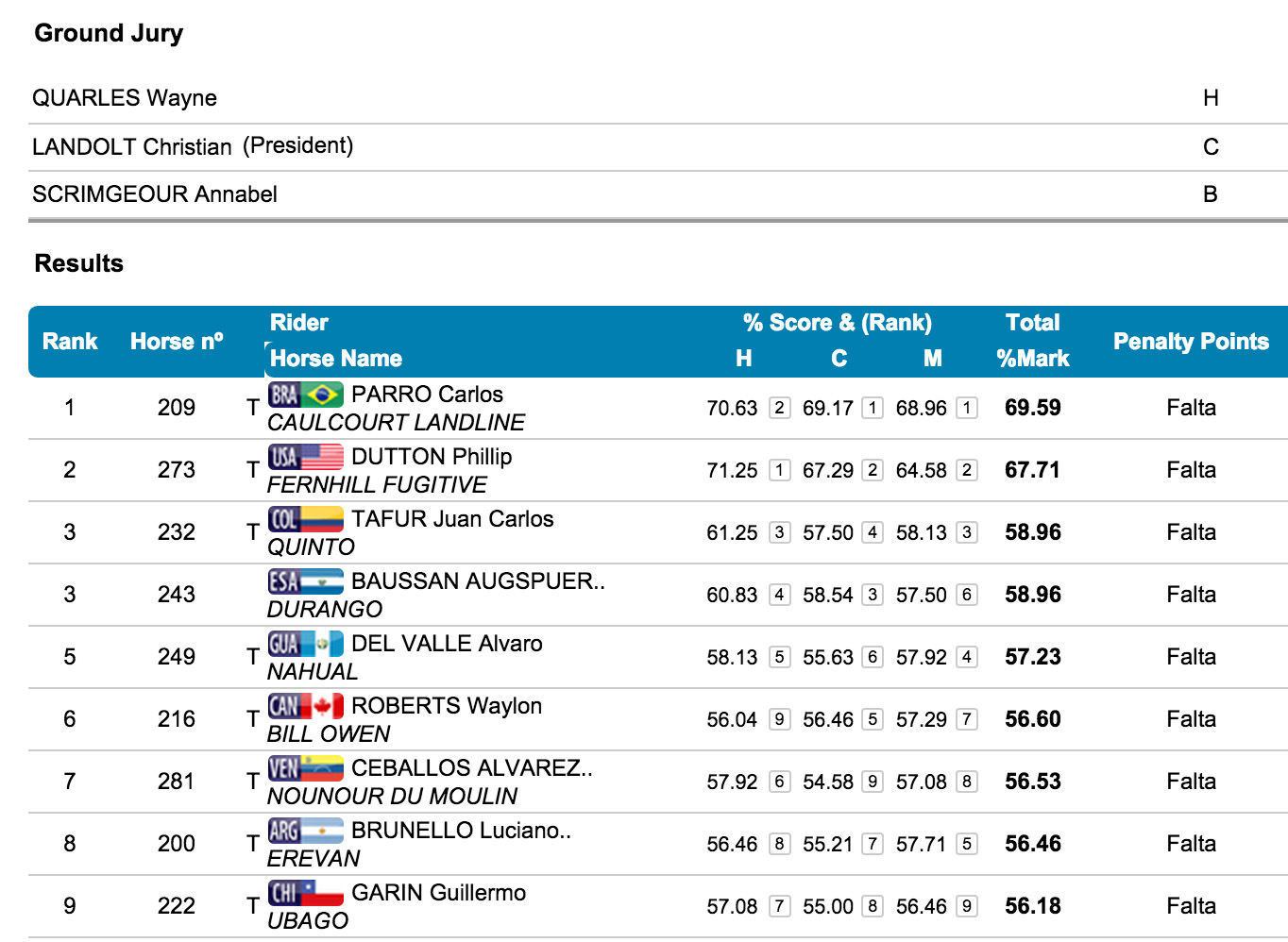 10:24 a.m. Guatamala's Tiziana Billy Prem and Luccio are next in the ring. He's an 11-year-old gelding. He looks ready for tomorrow's action!
10:17 a.m. Phillip Dutton's currently sitting second behind Carlos Parro, and next in we have Colombia's Santiago Medina Negrette and Erevan. He's another riding rocking stand-up braids! And a military uniform with helmet. His test had steady moments.
10:14 a.m. Sofia Baussan Augspuer riding as an individual for El Salvador is just finishing her test in ring now with Durango. Lots of pats for Durango! It's rainy here today, and the stands are maybe 1/4 full at this point?
10:11 a.m. Phillip Dutton was happy with the test, said he thought one judge was a little harsher than the others. (He has scores of 71, 67 and 64 percent.) We've been thinking a lot about how annoying it is for people at home to not have video, but he said it's going to be tough on the riders on cross-country day. They're going to have to communicate with cell phones and listen to announcing to hear how teammates are doing.
9:59 a.m. Aaaand they're done! Not square at the last halt, but Phillip's still looking very happy. We'll go get his thoughts and bring them back to you! In the meantime, we're on a short break until 10:10.
9:57 a.m. This is going very well so far. They're into their canter work, and "Jack" is still doing a very consistent job. He's done a four-star, so this test should be no big deal for him, but he could also be anticipating the flying changes after doing them in a four-star test, and he's not doing that!
9:55 a.m. P Dutty enters with a big, forward trot, nice halt. They move easily through the shoulder-in and trot circles to half-pass. Dutty gets to be the trailblazer for this competition, which means he doesn't the most enviable dressage time, but he'll be out to bring back good information for the rest of his team on cross-country.
9:50 a.m. Phillip Dutton is going to ride Fernhill Fugitive for the U.S. at 9:52. We just saw him warming up, and it looked like it was going well. Fingers crossed! Argentina's Luciano Claudio Brunello is just finishing his test now with Erevan.
9:45 a.m. Brazil's Carlos Parro has taken a strong lead with 69.59 percent (that's not his penalties score)! He said the horse's weakest spot used to be dressage, so he's happy with his test today and looking forward to the rest. Brazil of course being trained by the legend Mark Todd. "You never want to go against his advice!" said Parro.
9:35 a.m. Waylon said Bill Owen's been working fabulously all week, and that he just got a little nervous in the stadium. Thought he was looking up at the stands the whole time.
9:28 a.m. Brazil's Carlos Parro is headed in next.
9:27 a.m. Their extended trot after the walk goes really well, very powerful. He's definitely still looking spicy, but Waylon is managing it. He has to be a little conservative in the extended canter; I'd assume he does want to stay in the ring! But he's getting good focus on the canter circles. Some trouble with the last halt, but hey, they're done with that phase!
9:25 a.m. Bill Owen looking "up" in the ring, and you can tell Waylon was worried about getting that first halt done. But he's settling as he does some shoulder-in and those half circles in this test.
9:24 a.m. Waylon from yesterday's jog.
9:22 a.m. It's our first rider from North American in now! Waylon Roberts on Bill Owen. This Canadian Sport Horse is the fanciest moving trotter we've seen so far. Waylon's gone with a traditional black shadbelly and a helmet.
9:17 a.m. Ubago's a nice light bay, and he's listed as unknown breeding on our information sheet. Another horse with a top-notch canter. Really, I guess that's most event horses! He picked up the wrong lead on a walk-canter depart, but otherwise this is going smoothly.
9:15 a.m. Chile's Guillermo Garin going around the outside with Ubago now. He's not wearing a helmet or top hat; it's a grey military cap.
9:12 a.m. Nauhual has a big, ground-covering extended canter, and you can imagine how she goes on cross-country. She's really settled into this test for the second half.
9:10 a.m. This mare is a little tense in the ring, she spooks once at the judge's stand and gets a little quick in the extended gaits. But otherwise you can tell she's trying very hard to focus and be a good girl. She's looking happier in the canter too.
9:07 a.m. Lovely last halt, very still, very square, for Juan Carlos and Quinto. Next in the ring is going to be Guatemala's Alvaro del Valle on Nahual. Nahual's an 8-year-old mare. Alvaro is wearing a chic grey tailcoat. We're also 2/2 with helmets this morning.
9:04 a.m. The horse isn't quite still in the halt, but he's doing some steady trot work. He has the very popular stick-up braids we've been seeing a lot this competition. Juan Carlos has a very full, grey beard as well.
9:00 a.m. First pair in the ring is Juan Carlos Tafur and Quinto for Colombia. Juan Carlos is posting the trot as he goes around the ring, and it's weird to see someone posting after days of pure dressage!
9:00 a.m. The course is also full of adorable Canadian touches.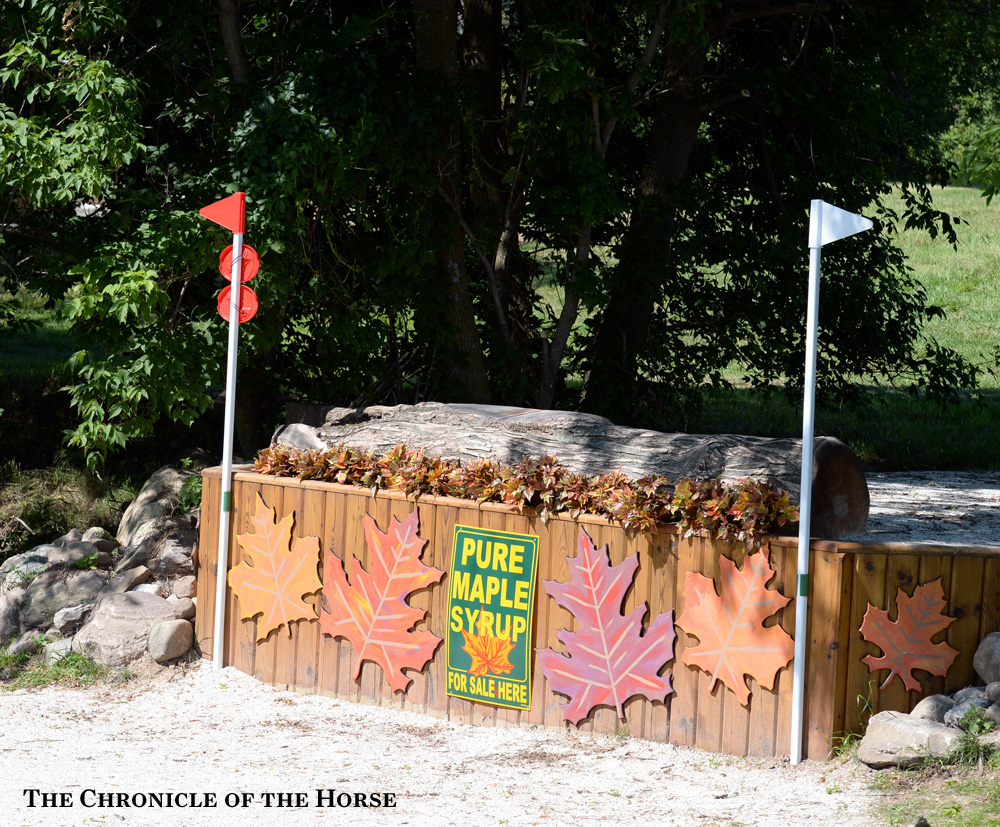 We got our first look at the cross-country yesterday. Check out the full course preview here. I think this fence is interesting. The horses and riders have the option to trot up this ramp instead of jumping up the bank!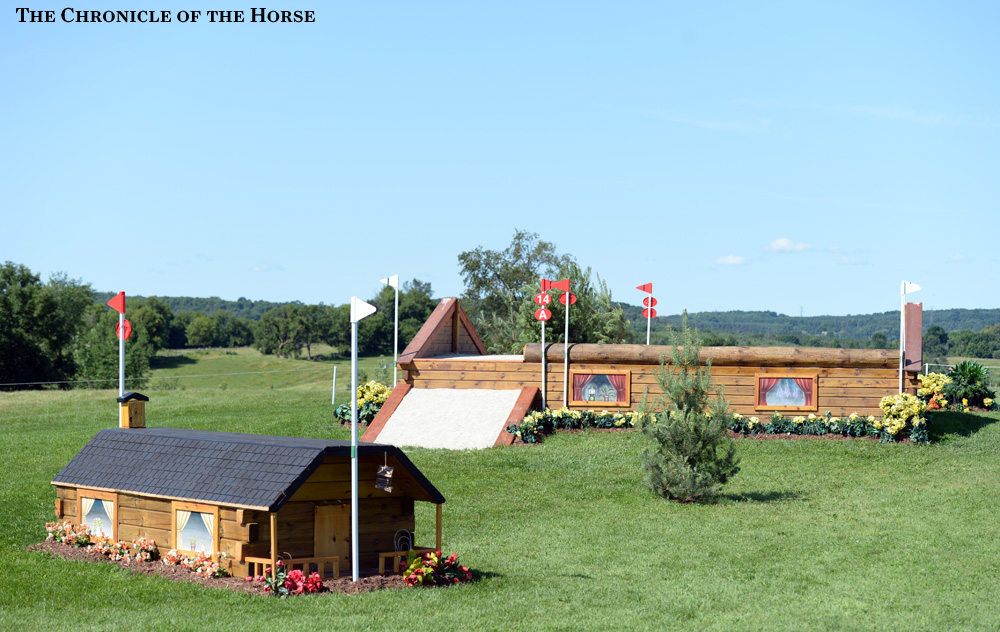 U.S. rider times:
9:52 a.m.: Phillip Dutton and Fernhill Fugitive
11:42 a.m.: Lauren Kieffer and Meadowbrook's Scarlett
2:30 p.m.: Marilyn Little and RF Scandalous
3:55 p.m.: Boyd Martin and Pancho Villa
Canadian rider times:
9:22 a.m.: Waylon Roberts and Bill Owen
10:47 a.m.: Colleen Loach and Qorry Blue d'Argouges
1:35 p.m.: Kathryn Robinson and Let It Bee
3:17 p.m.: Jessica Phoenix and Pavarotti