Welcome to live coverage of the first day of Pan American Games show jumping here in Caledon! We'll kick off at 2 p.m. with today's rounds. There are 50 pairs set to jump, and this is the course they'll tackle.
We've provided an article with everything you need to know about the show jumping, including information about where to stream video. See the order of go/live results here, or check out a gallery of pictures from the horse inspection on Sunday.
4:47 p.m. Last to go, Kent Farrington and Gazelle for the U.S.! Aaand he's clear! That's a wrap on our day here. Check back at the homepage soon for a full report as well as an explanation on what exactly today's results mean.
4:41 p.m. Now we've got Marlon Modolo Zanotelli and Rock N'Roll Semilly for Brazil. A heartbreaker at the last! Next is Freddie Vazquez and Esprit De Vie for Puerto Rico. 12 faults for them, one being at the last.
4:35 p.m. Alvaro Tejada Arriola is in the ring for Guatemala on Votoral Palo Blanco. They had a refusal early at 3 and recieved one time fault. Now we have Samuel Parot De Ugarte and Couscous Van Orti. Love the name! This horse is a regular Rothchild–ears pinned over every fence, but they're clear. Spicy!
4:32 p.m. Next we have Jose Maria Larocca Jr. for Argentina on Cornet Du Lys. A great clear effort but one pesky time fault!
4:27 p.m. The next Uruguayan rider is Diego Vivero Viteri on Bandurria Hulmen. Two down for him as Roberto Teran Tafur enters with Woklahoma for Columbia. The mare puts in some spectacular efforts for a clear.
4:22 p.m. Andres Alvarez enters next with Cash Z for Ecuador. He swims through A of the double of verticals at 6 but then clears B. They also pull 11, another vertical, and finish on 8.
4:19 p.m. Now we have Captain Canada himself, Ian Millar. As you might imagine, he gets many cheers. He's riding Dixson here today.
He's clear! We're seeing some Canadian flags in those stands now. We now have 25 clears out of 40 pairs.
4:15 p.m. Maria Victoria Perez picked up 4 faults on W Zermie 13. Now we have Pablo Barrios on Antares. Pablo is clear! He has a very large cheering section here.
4:10 p.m. Now we have Federico Fernandez and Guru for Mexico. They pick up 4 faults.
4:07 p.m. Alright, now we have the Dominican Republic's Hector Florentino and Allure G. Hard to believe the jumping is winding down for today; we only have about 14 pairs left to jump.
They're clear!
4:03 p.m. Next for the United States, Lauren Hough and her diminutive mare, Ohlala. This mare is fun to watch, she's very spicy. She puts in a clear for the U.S. team.
4:00 p.m. Eduardo Menezes is next on Quintol, a pretty grey, representing Brazil. Huge cheers for a clear round!
3:57 p.m. Jose Manuel Ibanez canters into the ring for Chile. ASD Farfala is his mount. He's also an eventer! They have a heartbreaker at the last.
3:51 p.m. Luis Pedro Biraben from Argentina next on Abunola. What a beautiful round from this mare. Clear! Next up, Juan Rodriguez Silva and Bugatti from Guatemala. They have 5, 9b and the last at 12 down unfortunately. He also added one time penalty.
3:48 p.m. Alonso Valdez next for Peru. Lots of riders showing their horses the liverpool, which is right by the short side of the ring. His stallion is quite strong, but they get it done and are clear.
3:46 p.m. Fernando Cardenes next on this U.S-bred horse for Columbia. He's a real sports car of a horse and a bit speedy. They jump clear! 19 clear so far.
3:45 p.m. Nestor Nielsen van Hoff heads in next with Prince Royal Z de La Luz. He's riding for Uruguay.
3:41 p.m. Now we have Bermuda's Patrick Nisbett riding as an individual for Bermuda. He's on Quick Z, a big and handsome dark bay gelding with a rangy canter step.
They put in another clear!
3:38 p.m. First after the break is going to be Canada's Eric Lamaze with Coco Bongo! Eric is a Canadian (and just general show jumping) celebrity, and he also gets some cheers upon entry.
He clears the triple bar with, oh, maybe 3 feet to spare! They get a bit of a flier to 5, but this stallion jumps it with noo problem. You might see this horse's picture in the dictionary next to "scope." And that's a clear round for Canada!
3:15 p.m. Luis Larrazabal and G&C Close Up in the ring now. He swims through the B element of 10, a big oxer, but only knocks out a middle rail! And then he tries to put his legs down over the next vertical but clears it! They do the same thing at the last, swims through the rails, and they'll finish on 4.
3:11 p.m. Jose Martinez heads in next with Nelson 212 for Mexico. They have the back rail of the oxer at 7 down. They finish on those 4 faults.
3:07 p.m. Georgina Bloomberg is in now with Lilli! She's riding for the USA. They put in an easy clear that was never in doubt. Might as well have been an equitation round! U.S. team is 2/2 clear rounds so far…
2:57 p.m. Axel Barrios Enriquez is next now with VDL Aberlino for Guatemala They're clear, as are Carlos Alberto Morstadt and Talento.
2:54 p.m. Matias Albarracin and Cannavaro 9 now for Argentina. And they put in another stylish clear.
2:50 p.m. Rene Lopez and Con Dios are next. Fault free jumping but 2 time faults for Columbia. He's a lovely grey.
2:47 p.m. Martin Rodriquez Vannu enters the ring now with Liborius for Uruguay. They get super close to 6a and crsh through but the gelding tries hard to get out over the B and keeps it up. Good boy!
2:45 p.m. Now Tiffany Foster and Tripple X III for Canada. And a beautiful clear from this gorgeous black horse.
2:41 p.m. Emanuel Andrade and Hardrock Z next for Venezuela. The horse has such form over the fences and Emanuel gets the loudest cheer so far for a clear.
2:36 p.m. Emily Kinch from Barbados enter the ring next riding as an individual. She's on Teddy Du Bosquetiau. They take down 3, 6b and 8 for 12 faults. Now we've got Salvador Onate from Mexico on Cartier. Ahh..the last one down!
2:33 p.m. Now Mclain Ward and Rothchild! It's another clear for this pair!
2:27 p.m. Now for Chile, Nicholas Imschnetzky and Pegase de Telma. They have a stop at the second in and out and finish wiht 8 jumping and 2 time faults. Now it's Pedro Veniss and Quabride L Isle for Brazil. And they're clear!
2:24 p.m. And they're clear! Next for Guatemala is Juan Pivaral and he's clear!
2:20 p.m. Ramiro Quintana and Whitney had an early knockdown at 3, but finish well for Argentina. Next up, Jillian Pivral Aycinene from Bermuuda.
2:18 p.m. Daniel Bluman puts in an easy clear next on ConconcretoSancha LS for Columbia.
2:15 p.m. Uruguay's Marcelo Chirico Ferreira is in now with Acrobat van T Laar Z. This bay horse looks excited to be here! They get close to the A of fence 4, a double, and have that rail down. They also take down the front railf the last oxer for a total of 8.
2:12 p.m. Yann Candele and Showgirl canter in for Canada. Big cheers! It's worth noting that it's basically a perfect day here today, some clouds but a lot of sun, a little cool, a little breezy. We're happy and hopefully the horses are too! And it's another clear round.
2:08 p.m. Next is Andres Rodriguez for Venezuela on Darlon van Groenhove. Horses are getting a nice big jump over the first fence, the triple bar, so far. There are also three doubles on course today but no triple. It's another clear!
2:05 p.m. Aaaand after a 10-to-1 countdown, here's our first horse of the day, La Bamba! They've been playing this VERY DRAMATIC music in the background for about an hour now, so we're excited to be getting going.
That's a clear round for Mexico!
2:00 p.m. We're now seeing our first pair, Mexico's Antonio Chedraui with La Bamba, in the ring at 2:05.
1:50 p.m. Today's first fence, a triple bar. This class is set at 1.50-meter, and it will be used to determine qualifying for the individual competition and the order of go the teams will use for Thursday's nations cup day.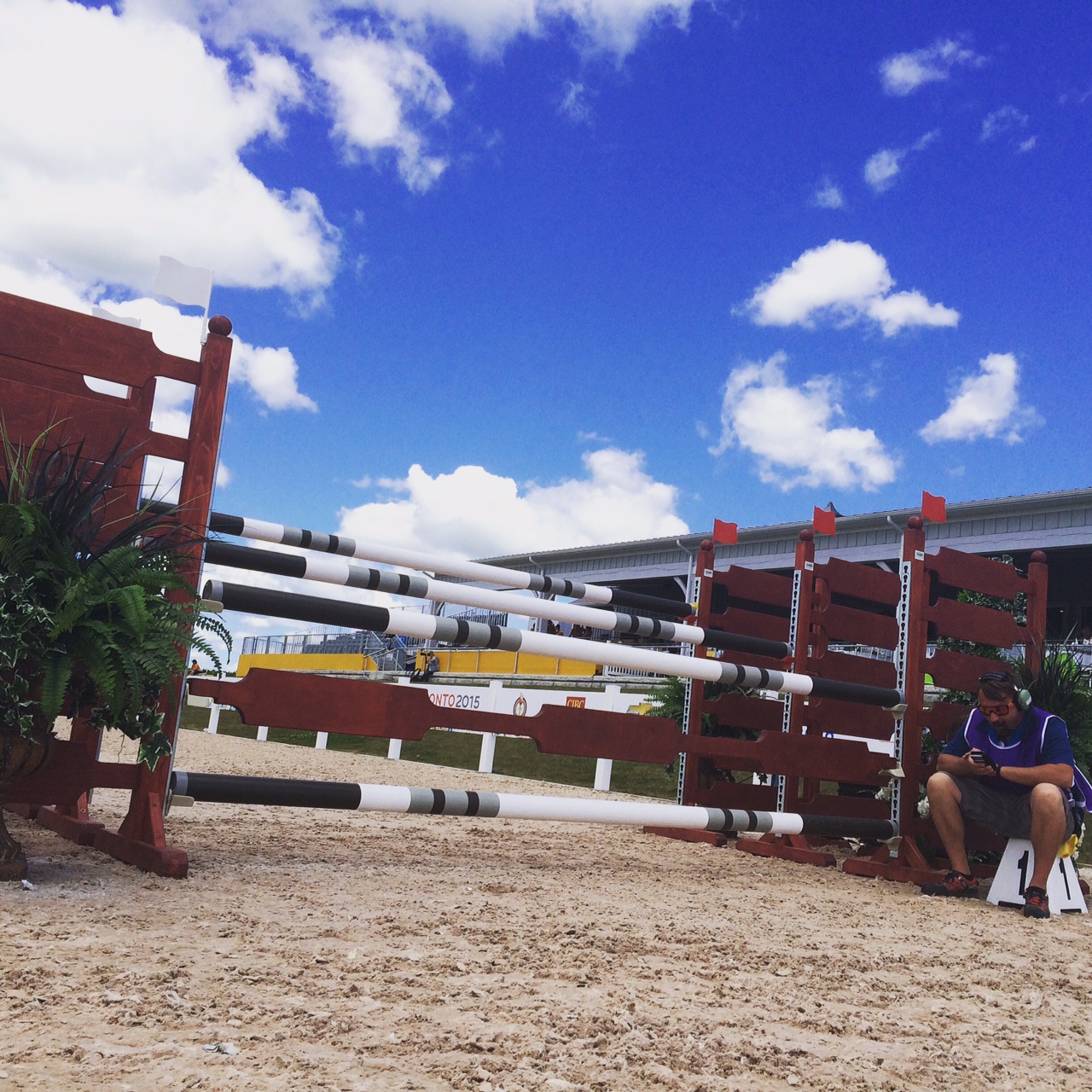 1:30 p.m. While we're all anxiously waiting for the jumping to begin, learn more about what Rothchild and Ohlala are like in their stalls!
How can you not love that donut-loving face?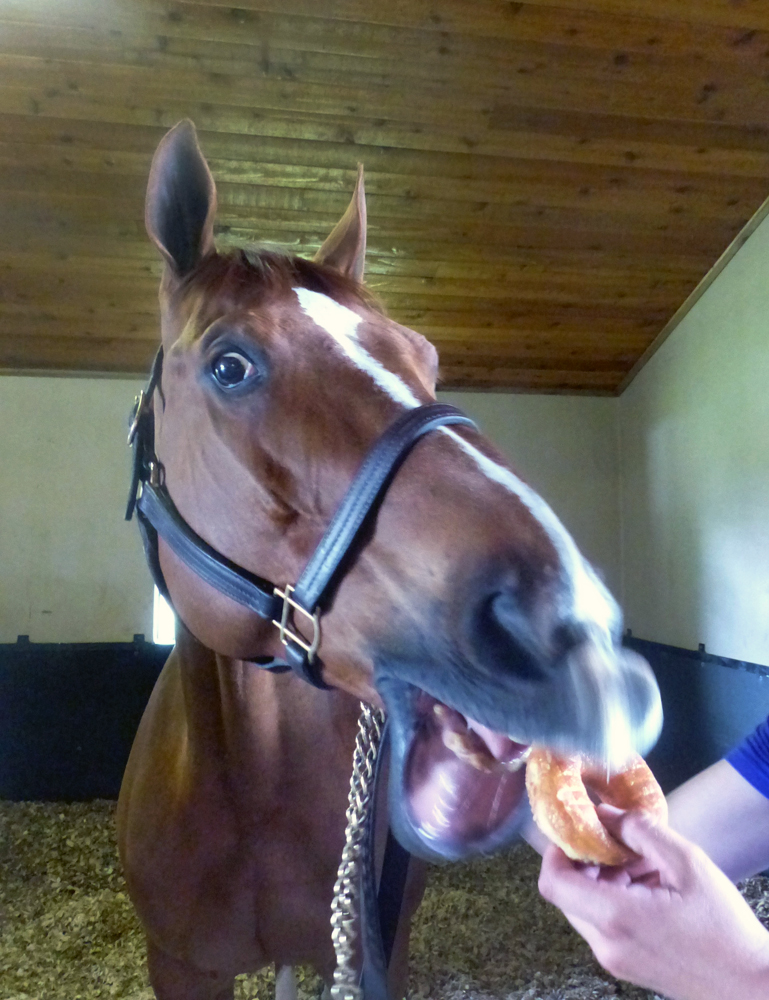 (Photo by Catie Staszak)
12:30 p.m. Riders are just wrapping up their course walks now, and we'll have the first horse to go at 2:00 p.m. The U.S. team has chosen their order, and it's as follows:
McLain Ward/Rothchild
Georgina Bloomberg/Lilli
Lauren Hough/Ohlala
Kent Farrington/Gazelle