Two weeks ago I sat on Cairo for the first time since September. My emotions were so very mixed—it was good to be looking between her little bay ears after months of handwalking. But knowing I was never again going to event with her at the preliminary level made it bittersweet.
Since I haven't blogged in a while, let me reintroduce myself and the Queen of Cairo (aka the Drama Queen of Cairo). I'm a three-day eventer, and Cairo is my small, sassy Irish Sport Horse mare I took from our first beginner novice together to our first prelim together. She's a 15.1-hand pint-sized wonder, a total character and my heart horse.
Last summer started off so well. In May, we had a great novice round at the Equestrians Institute Horse Trials (Washington), and I decided to take Cairo to Rebecca Farm (Montana) to run training level. My goal was to move up to modified at the end of the summer and then build back to prelim this year.
The goal I set back in 2016 of running a CCI* had been interrupted, first by Cairo's right hind suspensory injury and then the pandemic, but we felt right on track to get back to that place.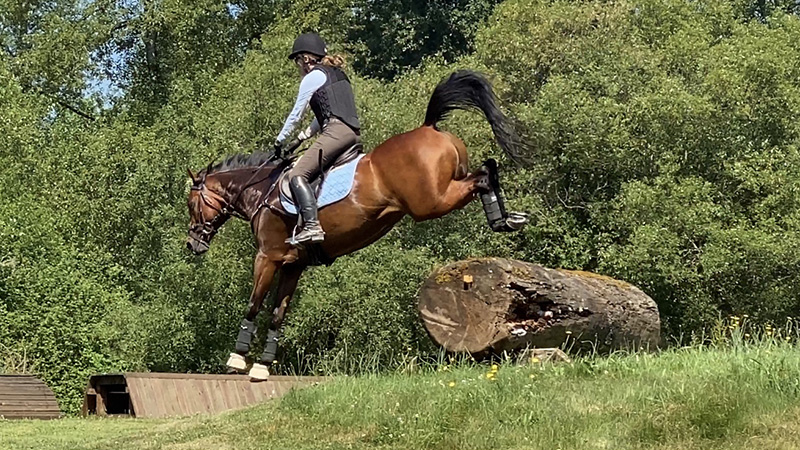 And then we weren't. A couple refusals on cross-country at training level were followed by some more great schooling sessions. I wrote the refusals off as my fault. But when we got to Rebecca, despite a great cross-country warm up, Cairo refused at the water, and then we were eliminated at a boring, basic table.
I'd love to just not mention the dressage. Let's just say that it was a very nice test—for Cairo. Just the one buck. Maybe two.
But I had less of a sense of humor about the elimination. It gave me flashbacks to the time I fell at Rebecca and later realized Cairo was brewing the suspensory injury that led to nine months of rehab. So I called the vet, and we did a workup then and there.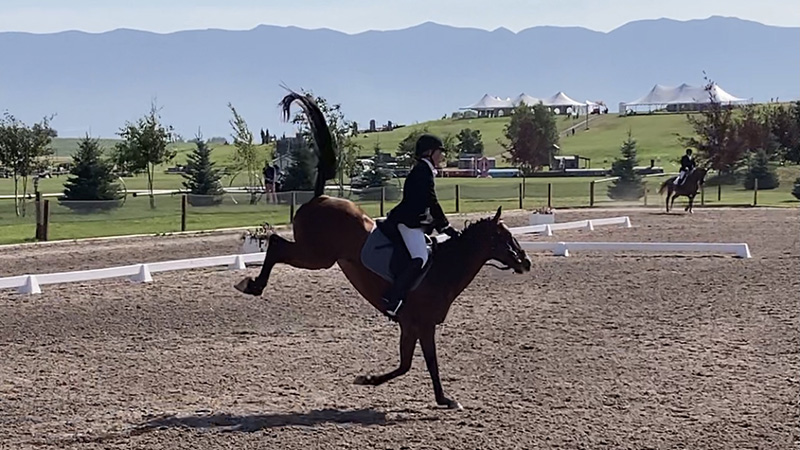 Cairo, true to form, had acted like a maniac in the startbox but was totally OK with the vet flexing her between trucks driving past the stalls. She was sound, and I was cleared to do a stadium round.
Or as I like to think of it, "the courtesy round of shame."
Don't get me wrong—I love the chance to jump the fences despite an elimination, especially after I've driven hundreds of miles from Oregon to Montana. But you're basically the entertainment.
Luckily, Cairo is always willing to entertain, and she flung her tail about with her usual reckless abandon, jumping all the fences at least a foot higher than necessary. The indignity of elimination was soothed by a clear round.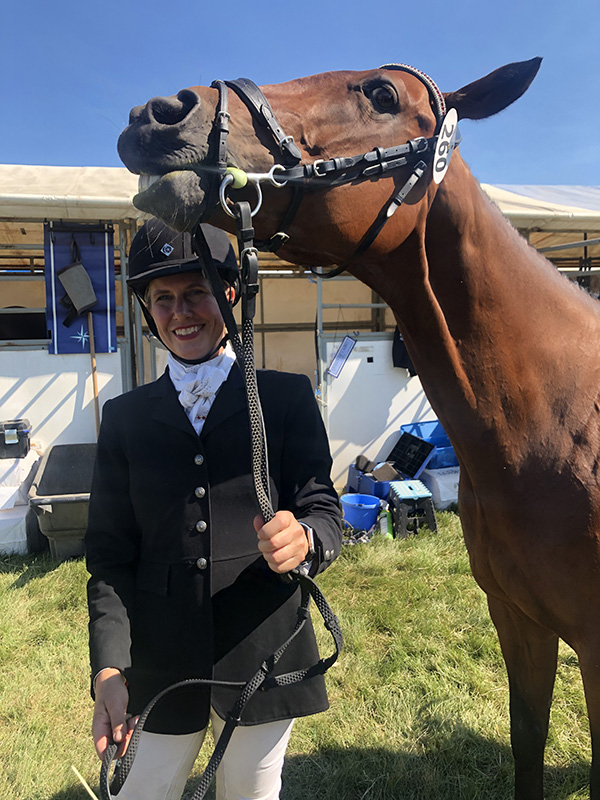 Still, after I made the long drive back to Oregon—made even longer by my 20-year-old truck's transmission leak and the need to be rescued by my fantastic fellow riders—I had a feeling something wasn't right with my little drama queen.
I decided to end the show season and figure out what was up. I rode lightly, and she was her usual self (take that as you will). The day I decided to jump her again, she came up lame before we hopped a single fence.
Joint injections in her front coffin joints made a huge difference. But she still wasn't right. I took her to Dr. Rachel Gottlieb who had ushered us through the first rehab. That's when we discovered she had now injured the left hind high suspensory.
It wasn't as bad as the right had been, but, Rachel explained, there was both chronic and acute damage. Last time we rehabbed Cairo, it was with the goal of returning to our previous level. This time that wasn't an option.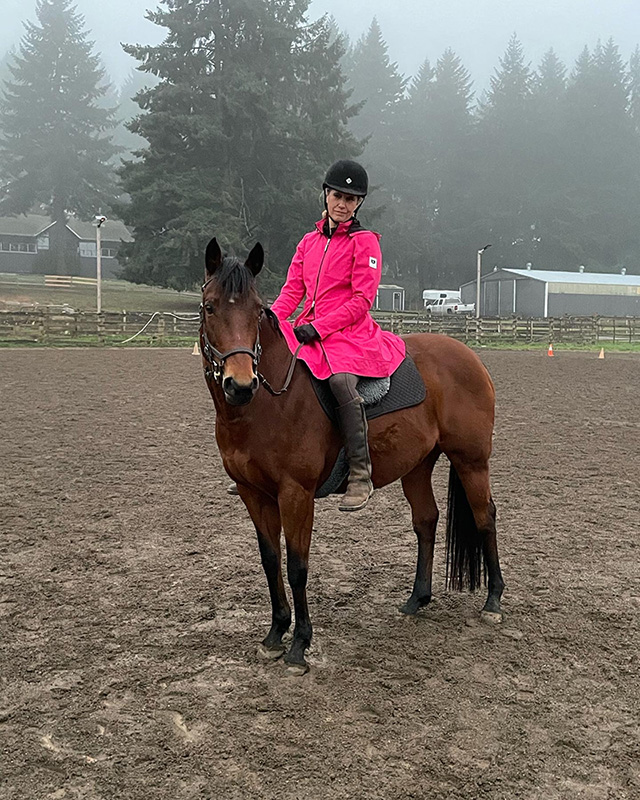 My friends tried to comfort me—maybe there would be a miracle? We could still have fun at lower levels. Maybe now we could focus on dressage! (OK I am pretty sure they were just messing with me on that last one.)
I made the painful decision that, when it comes to eventing, Cairo is done.
She jumps everything huge, no matter how small the actual fence. If I compete her at novice, but she jumps like it is prelim (which is exactly what she does), she will just get injured again, and I can't put either of us through that again. My little wild child deserves to romp in her paddock, not walk 20 minutes a day and hang out in a 20-by-20 pen. Those conditions are necessary for her recovery, but I don't need to put her in a place where I know she will get injured and need to recover a third or even fourth time.
The problem is that I love Cairo, I won't give her up, and I love eventing and jumping. I also don't have money to buy another horse. Thanks to the pandemic, Thoroughbreds right off the track are going for more money than I paid for her.
So cue the freak out in the comments section: I am going to breed her.
They say when you breed, the mare is 60 percent of the equation or more. Well, I love to ride Cairo. For all her teeth-gnashing in dressage, and her tail-flinging and periodic gleeful bucks, she is, to quote my dressage trainer, a real kick in the pants. She's bold, incredibly athletic, and if I bred a horse just like Cairo, I'd be thrilled. She's spicier than the average jalapeño but safe enough that I do our rehab rides in the dark outdoor arena bareback.
Noneless, I am looking for stallions with quiet temperaments. I have promised friends and trainers alike that I will do my best not to create a murder hornet.
She is also not just an Irish Sport Horse, she's a "traditional Irish horse" with only Thoroughbred and one-quarter Irish Draught in her. Her injury is not genetic. I have talked to several vets about it, and they support breeding her.
Finding an Irish draught stallion that doesn't have King Of Diamonds (Cairo's line), has fresh cooled semen and has been inspected (Irish inspections in the U.S. have been on pandemic hiatus) is a bigger challenge than I thought. But, hey, let the games begin.
So every time I get a bit sniffly about the things Cairo and I won't do, I remind myself there are things we will do. I can still ride her, and I still have her, which is the most important thing.
Losing a dream sucks. Rehabbing a horse sucks. All of this happening during a global pandemic sucks. But now as we walk our 40 minutes, I muse over the new dream of Cairo with a foal at her side and of that foal's future. And that's pretty OK.
---
Camilla Mortensen is an amateur eventer from Eugene, Oregon, who started blogging for the Chronicle when she made the trek to compete in the novice three-day at Rebecca Farm in Montana. Camilla works as a newspaper reporter by day and fits training and competing Cairo around her job.