Miami Beach, Fla.—April 10

They uptown funk'd you up.
As the winning duo of Bertram Allen and John Whitaker crossed the timers in the Longines Global Champions League of Miami Beach, the inaugural GCL team competition in the brand new 15-leg series launched by the Longines Global Champions Tour, the sounds of Bruno Mars blasted the speakers. Team theme music was just one element incorporated into this unique event that co-founders Jan Tops and Frank McCourt hope will revolutionize the sport of show jumping.
"To have the first event under our belt is a big moment," McCourt said. "I think we'll look back at this moment as the start of something very, very special."
The Global Champions League was created in an effort to "modernize" the sport to give it a wider appeal to audiences in a similar way to mainstream sports such as football, soccer and basketball. Drawing parallels to those markets, riders in the GCL wore custom jerseys in team colors with their last names embroidered on the back. Their mounts also sported saddle pads and ear bonnets stitched with unique team logos. A total of 12 teams have been formed, each named after one of the 15 destinations on the GCL calendar.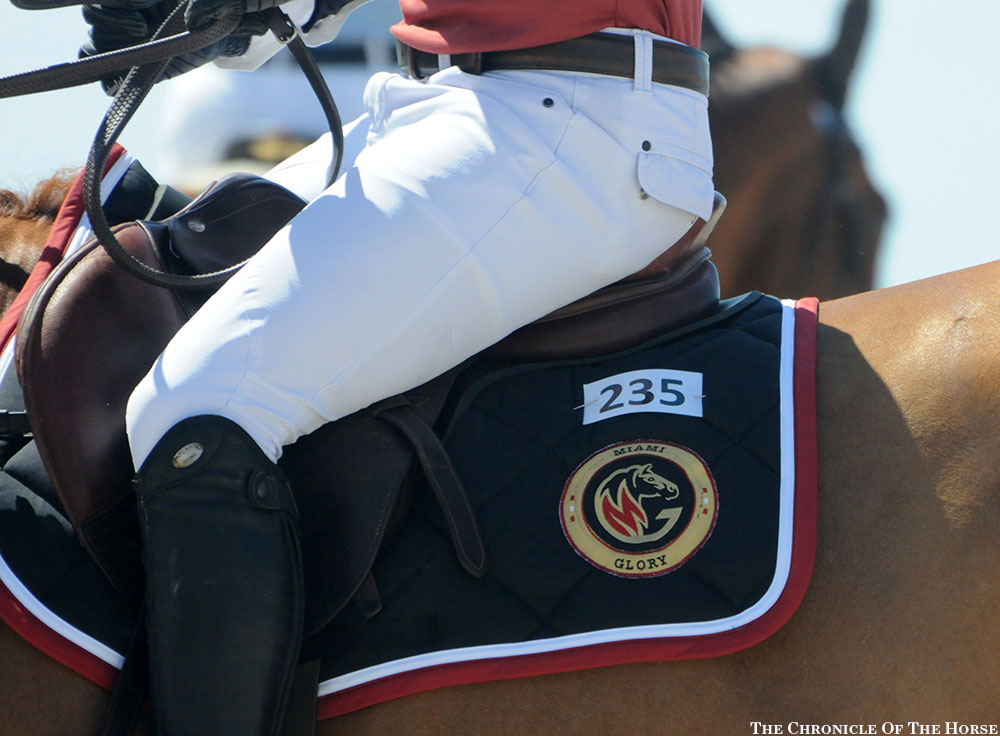 The Miami Glory team logo
Adding to the allure, the teams are not grouped by nationality or even geographic proximity. Riders who traditionally are competitors regardless of circumstance have teamed up; for example, American rider Quentin Judge is on a team with David Will of Germany. Each team consists of four to five riders—no more than two of those may be ranked in the top 30 on the Longines FEI World Rankings, and at least one teammate must be under 25 years old.
"In our inaugural year, [team formation] has been a selection process," McCourt said. "The team owners have been able to pick the different riders, and it's worked out quite nicely. I think in the future, you'll see some changes, as the demand increases and the number of teams perhaps increases. We may have more formality around that then, but it was very organic this year, and I think the form will come at a later date."
Similarly to a Nations Cup, each GCL event consists of two rounds, but unlike a Nations Cup, the riders jump over two different courses. Two riders are selected from each team to compete, with each of those jumping two rounds. The top eight teams return for Round 2; winners are determined based on faults and total combined time, so there is no jump-off. While the format conceptually takes some adjusting for the serious equestrian, once implemented it is easy to follow, especially for the casual or new fan.
"We started the Global Champions Tour 11 years ago, and you've seen it become very successful and change the sport in general," Tops said. "With this new concept, I think we will go to new era. I think it's good for the sport and the fans; it's easy to follow and fun, and it's very exciting. The last rider in the ring was still in contention. I think it was a great first edition."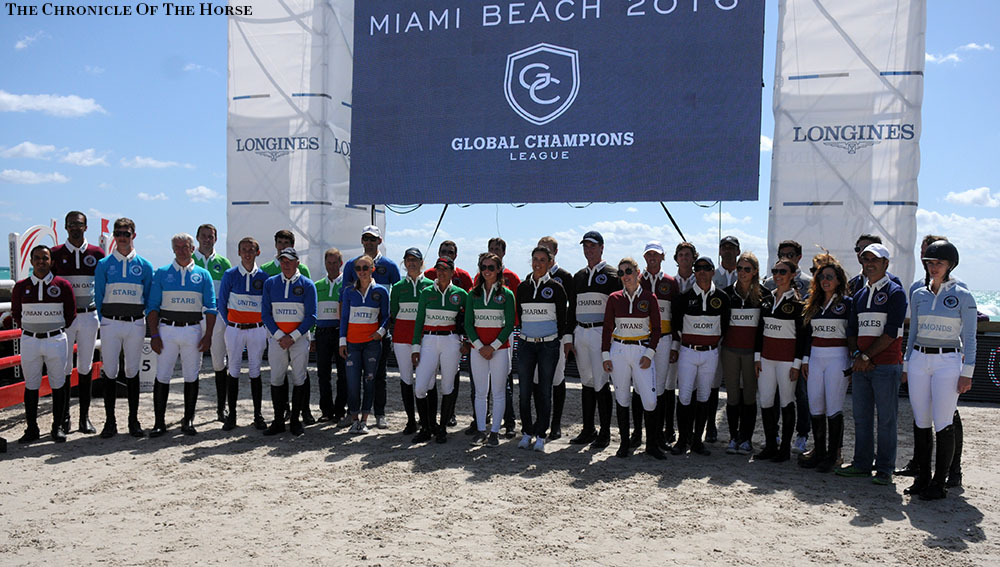 Teams assembled before the class for a group photo.
Global Champions League Teams
Antwerp Diamonds
Harrie Smolders
Audrey Coulter (U25)
Team members not participating in this leg: Katharina Offel, Marc Houtzager, Jos Verlooy (U25)
Cascais Charms
Quentin Judge
David Will
NP: Pilar Cordon Muro, Andreas Kreuzer, Philip Houston (U25)
Monaco Aces
Maikel van der Vleuten
Daniel Bluman
NP: Leopold van Asten, Schuyler Riley, Lisa Nooren (U25)
Shanghai Swans
Ben Maher
Janne Friederike Meyer
NP: Edwina Tops-Alexander, Jessica Springsteen (U25), Alexandra Thornton (U25)

Miami Glory
Kent Farrington
Georgina Bloomberg
NP: Scott Brash, Kimberly Prince, Jessica Mendoza (U25)
Valkenswaard United
Bertram Allen
John Whitaker
NP: Eduardo Menezes, Alberto Zorzi, Emily Moffitt (U25)
Doha Fursan Qatar
Sheikh Ali Bin Khalid Al Thani
Faleh Suwead Al Ajami
NP: Bassem Hassan Mohammed, Ali Al Rumaihi, Hamad Al Attiyah (U25)
Vienna Eagles
Danielle Goldstein
Emanuel Andrade
NP: Lauren Hough, Rodrigo Pessoa, Paris Sellon (U25)
Madrid In Motion
Doda de Miranda
Pedro Veniss
NP: Athina Onassis de Miranda, Marta Ortega Perez, Gonzalo Anon Suarez (U25)
Paris Jets
Gregory Wathelet
Nicola Philippaerts (U25)
NP: Rolf-Goran Bengtsson, Olivier Philippaerts (U25), Titouan Schumacher (U25)
Rome Gladiators
Laura Kraut
Laura Renwick
NP: Marlon Zanotelli, Jack Hardin Towell, Emma Heise (U25)
Cannes Stars
Roger Yves Bost
Kevin Jochems
NP: Marco Kutscher, Kevin Jochems (U25)
Down To The Wire
The inaugural GCL event was no trial run. Riders were all out to win, as 7.5 million euros are up for grabs throughout the series, with the overall winner decided at the league's final stop in Doha (Qatar) in November.
The locally-named Miami Glory, consisting of Kent Farrington and Georgina Bloomberg, and the Valkenswaard United, made up of Whitaker and Allen, were the only two teams to finish the first round on a 0-fault score. After Whitaker returned to again jump clear in Round 2; that put the pressure on the Glory, but Farrington, riding the 9-year-old Creedance, had a rail on his second attempt, which opened the door for the Antwerp Diamonds (U.S. rider Audrey Coulter and Harrie Smolders of the Netherlands, whom Coulter also trains with), who also stood on a four-fault score.
"It was fun," Coulter said. "We had a little bit of an advantage, because we work as a team already. We're always riding together and discussing the course together, so to be able to apply that in this format is really great."
When Allen, of Ireland, entered the ring for a final time with Quiet Easy 4 and had a rail of his own, it all came down to time. His speedy round in 52.72 kept his team in the lead (combined time of 113.15 seconds from the four jumping efforts) with only Bloomberg remaining to jump. She and Caleno 3 tore around the course, leaving out strides in an effort to best Allen, but they would knock an additional rail in the process, leaving the Glory on an eight-fault score. The United won, with the Diamonds second.
"It's great to win," Whitaker said. "It was nail-biting right down to the second-to-last fence. It was high tension, and we really enjoyed it. It's been great to be a part of it."
"It's an honor to be on a team with John," said Allen of his English teammate, who is 40 years his senior.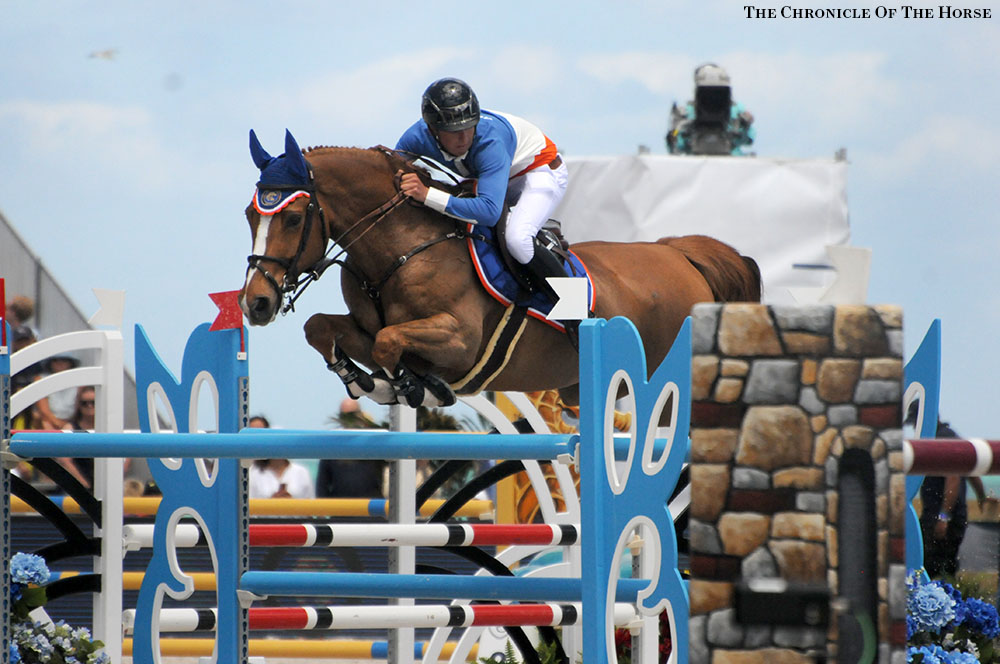 Bertram Allen and Quiet Easy 4
The Glory took a shot in the final round but ultimately settled for third.
"The pressure was definitely on," Bloomberg said. "I wasn't expecting Kent to have a rail down. I was hoping he'd be able to go fast, and I could just go in and jump a nice easy clear, but the plan obviously changed a little bit. I knew I had to go as quickly as possible. My horse isn't as naturally quick as I know Bertram's is, so I had to try to leave out some strides, and I paid for it, but that's part of the game. We knew we were going to be third no matter what, so we were just trying to go fast and go for the win."
"It's a great competition," Farrington added. "It's one thing to conceptualize the idea, but it's another to realize it. It's exciting for the sport and exciting for all of us to be a part of it. I thought it worked well and was easy to follow. Our strategy was to win, and that didn't work today, but hopefully it will down the road."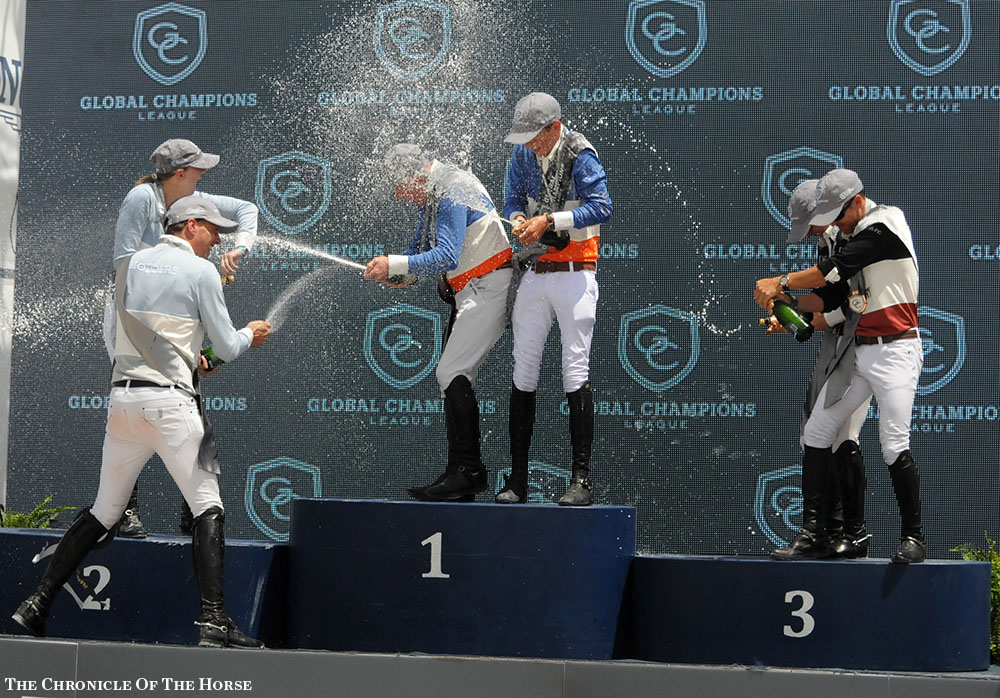 The top three teams celebrated with champagne on the podium.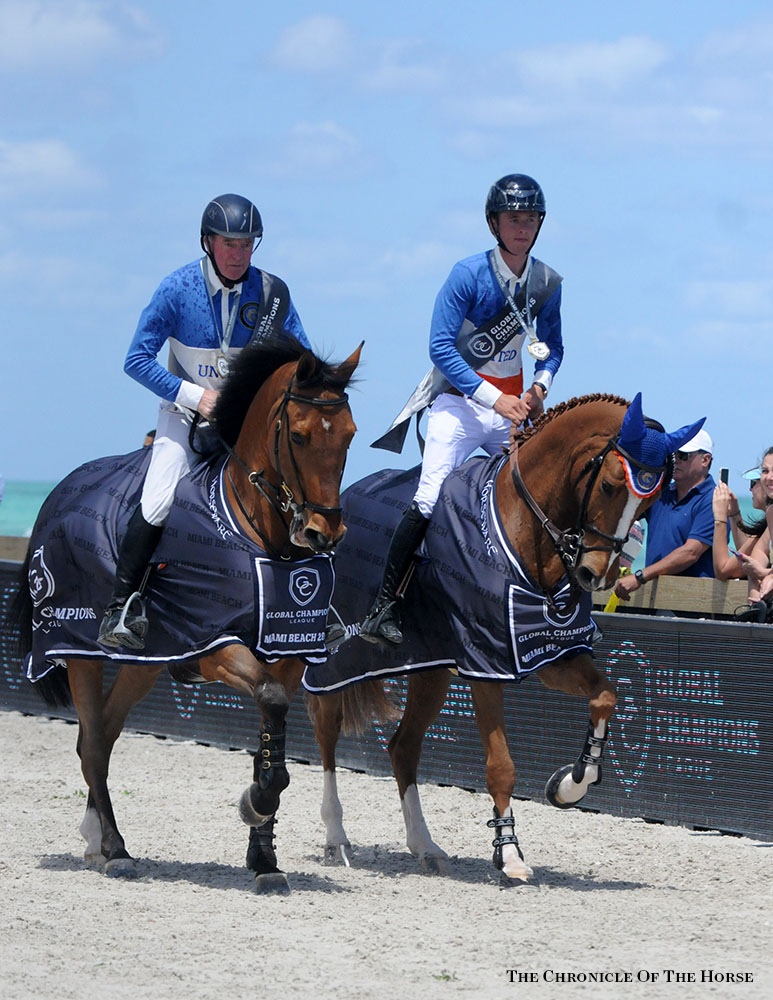 John Whitaker and Bertram Allen take a victory lap.
Check out more photos from the Global Champions League of Miami Beach here.
You can find complete results from the class here.
Wishing you were in Miami? Get a bird's eye view of the show with our video tour.
For more in-depth coverage from GCT Miami, check out the April 25 issue of the Chronicle.