Jumpers dressed up as a rainbow of candy delights helped build a "Path To A Sweeter Future" by raising $1.7 million for local charities in Palm Beach County, Florida—home of Wellington International and the Winter Equestrian Festival—during the 14th annual Great Charity Challenge.
The biggest Saturday Night Lights event of WEF, the Feb. 3 Great Charity Challenge is a team show jumping event that combines equestrian sports and philanthropy, benefitting more than 50 Palm Beach County charities every year. Each team is made up of three riders ranging from youngsters to Olympians. Riders put it all on the line that night, racing to bring funds to their paired Palm Beach County organization.
Held for the past 13 years, the GCC has transformed into an inspiring community movement that has distributed $19.4 million to 300-plus local nonprofits. Each year the excitement grows and empowers more people to join the movement.
This year 34 organizations benefitted from the main event, and an additional 37 grants were distributed to worthy nonprofits outside of the competition. See a full list of benefiting nonprofit organizations and donations made to date at www.GreatCharityChallenge.com.
"This year we embraced the value of the incredible partnerships the GCC has made over the years," said Kelly Arani, event and marketing coordinator. "Our goal was to empower individuals to get involved locally and provide them with the key resources to do so. I really believe this messaging speaks to the true magic of this event.
"This year we also set out to be a resource for those looking for volunteer work in the Palm Beach community," she continued. "The GCC has always been an incredible network of giving individuals and deserving organizations, so we were excited to find a new way to serve these organizations."
To match this year's theme teams dressed up as everything from M&Ms to Skittles, Starburst to Skull Candy. The winning trio—Campbell Brown, 15, Abby Funk, 22, and Emma Hechtman, 17—sponsored by Frog Pond Stables and supporting sponsor Little Creek Equestrian, came in the ring representing "Dylan's Candy Bar" and finished with a time of 91.62 seconds. Their speed and team spirit paid off for Caridad Center, the largest free healthcare clinic in Florida, which offers comprehensive medical, vision and dental care for the uninsured and underserved children and families of Palm Beach County. They earned the top prize of $100,000.
It was the first GCC experience for Brown and Funk, and their team came together fortuitously under Hechtman.
"This is my second year doing GCC, and I'm really grateful for my mare," Hechtman said of Esther II-Des Brumes. "This is all she does for me, and we both had a really fun time tonight.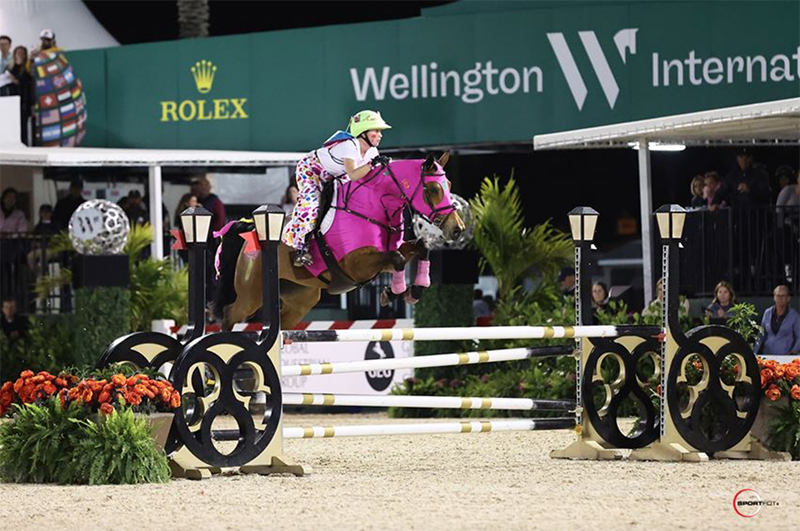 "I'm really happy this year for our team," she added. "Frog Pond Stables is like my second home and sponsored this team, which came together a little last minute after some riders couldn't attend. It worked out as well as we could have expected in the end."
The sliding scale for the balance of the proceeds, down to 34th place winning a minimum of $15,000, ensured that everyone was a winner.
"We are absolutely thrilled to have been a part of tonight's event," Caridad Center spokesperson Lisa Kronhaus said. "The Great Charity Challenge is such a conglomeration of charities in Palm Beach County, and we are so honored to have been selected. This win tonight allows us to expand our social services and programs at the largest free clinic in Florida. We are absolutely thrilled to be able to serve the community. We serve the uninsured and the underserved in this county, and we are thrilled to do this work every day."
Check out the rainbow of costumes sweetening Wellington International on Saturday: