In a world where dating apps are now a normal way to meet a significant other, it's no great surprise that social media has changed the way that we shop for our equine partners. European brokers have found their way onto our news feeds, and our evenings in front of the TV will never be the same.
"LOVELY HUNTER PROSPECT" pops up in your news feed, and the next 10 minutes are lost watching and re-watching a grainy video of a chestnut in Poland to see whether that left to right lead change was just a little bit sticky. That you weren't looking for a hunter, or a chestnut, or a horse in Poland isn't important.
What is it really like to import a horse (OK, three horses) off video and convert them into U.S. show ponies? For me, it's been both everything I wanted and more, and a total and complete nightmare.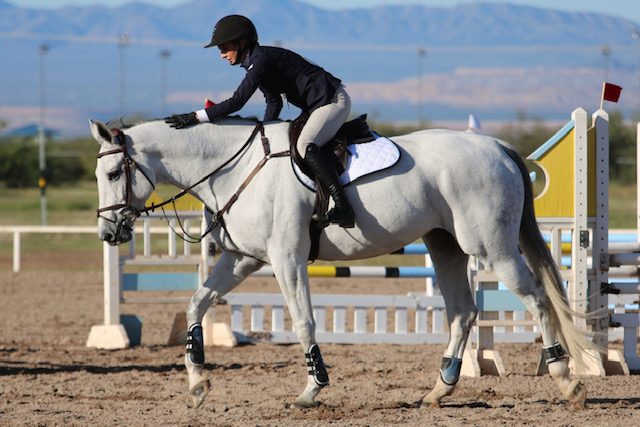 Importing a horse off video is expensive and freakishly stressful, and I found out the hard way that it can end in failure. I have two great successes and one unmitigated disaster. I swore after Import 1 (success) and Import 2 (failure) I'd never do this again; I have many witnesses to "I will NEVER import off video again!" I would swear this after a wine or two or a vet bill from Import 2. But here we are, again. Import 3 arrived recently fresh from the United Kingdom, all dreamy dark bay and chrome and impossibly kind. 
Import 3 is the triumph of optimism over experience. Import 3 is my logic that lightning can't strike the same person twice. Import 3 is the result of hours of counseling with the world's most patient U.K.-based broker as we discussed my wish list, watched my riding videos on Instagram and recounted my horror story, and ultimately my having enough confidence in the whole arrangement. 
Import 3 is Samara (Sammy). She is as advertised, and she is staring at me from behind long eyelashes telling me everything is going to be fine.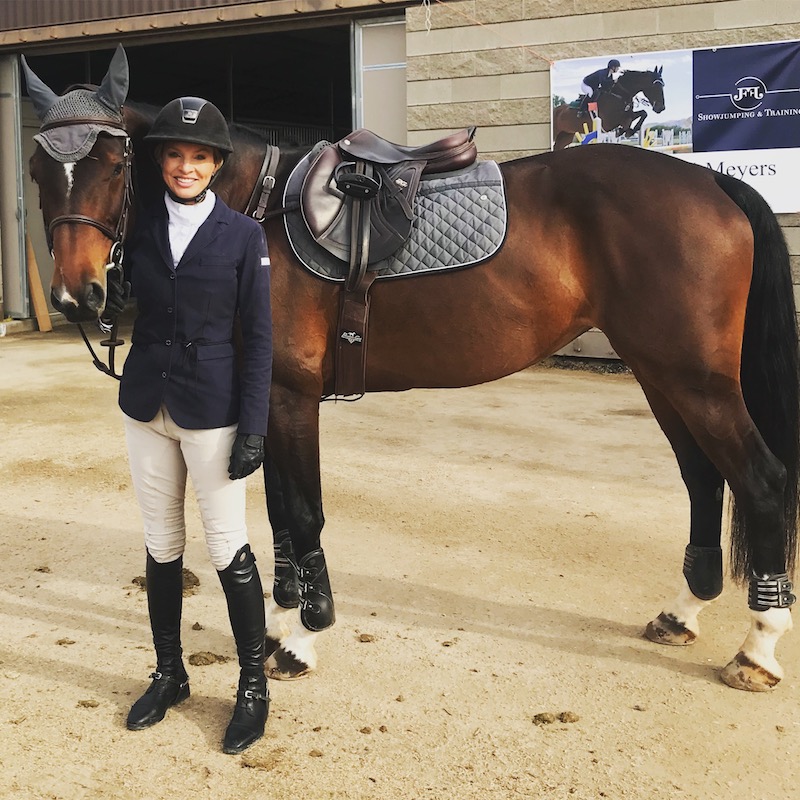 Maybe it would be most helpful if I broke it down into what not to do.
Rule #1: No two-tiering
I would not work with a U.S. broker that represents a European broker ever again. You want to speak to the person who has worked with the horse every day, not one that saw it go once on a trip across the pond a month ago, and it "seemed very uncomplicated." 
Import 1 is named Landis, and she was with her broker in the Czech Republic for a year being developed into a jumper prospect. When she arrived in the United States, the broker told us her exact routine down to her tradition of going on walks through the forest on Sundays. (This presented a challenge in Arizona, but we managed to sub in a trail ride through the parking lot for forest.) 
My British broker watched Samara as a young horse in development for a few years before being acquiring for her resale. The longer the broker has known the horse, the better the chance he or she can be a successful matchmaker. 
Rule #2: References matter
Import 2, Rival, was purchased without reference checks, from a broker neither my trainer or I knew. I KNOW. I got what I deserved. But I got more than I deserved, and so did Rival, for that matter.
Rival does not want to do anything resembling the desired job description (adult amateur hunter/derby prospect). Rival has largely hated every darned day of his existence in the U.S. with the exception of drinking icy cold Miller Lites with my husband, arguing with my Quarter Horse over the fence, or lazily trail riding around the neighborhood with friends. 
I've spent two years and counseled with two very qualified trainers, two vets and a cowboy. I have spent at least his purchase price again in medical bills, trying to troubleshoot what ails him. Clinically, he is the soundest horse I have. I have scanned, X-rayed, scoped, performed blood tests and even had a horse psychic come out. It's an absolute mystery why he hates the job he was advertised to be capable of doing other than the horse psychic suggesting he really wants to be a dog.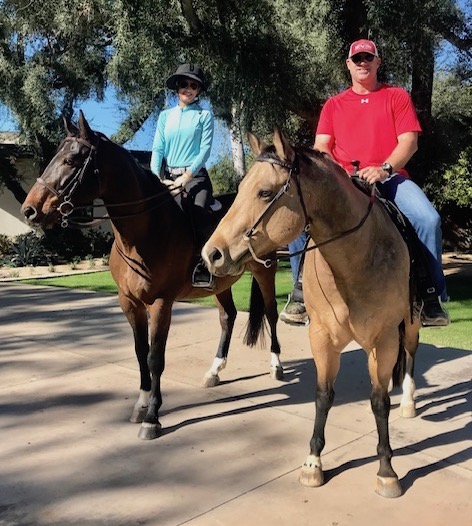 For the third and final time, I have given up on making Rival a show horse. Rival is going to the nicest family in Temecula, California, and starting next month he will spend his days trail riding through the vineyards. 
On my two more successful import ventures, I had references. Landis was from Alice Nemkanska, a broker in the Czech Republic, from whom my trainer has sourced over a dozen horses. As part of the process with Sammy, the broker lined up reference calls for me with people my trainer was already linked to on Facebook who had imported from Equiporium Sport Horses previously. 
Rule #3: Get a horse from England
OK, maybe that's not always possible, but dealing with another English-speaking country made for a more thorough and thoughtful transaction, start to finish. First, I could proceed at my own pace and ask detailed questions not limited by the language barrier. Second, horses from Europe generally come with X-rays provided, and you have your vet review them. 
When buying Sammy, I had my own vet check done. In addition to the peace of mind that comes with independent counsel, the English veterinarians watch the horse under saddle as part of the vet check and give you feedback on not only their soundness but also their attitude under saddle. "Flicked her ears back once when this happened" is the level of detail involved. The British vet arranged a call with my vet to do a detailed debrief on the pre-purchase, and I agreed to move forward based on their joint recommendation. 
Finally, in England the vets pull blood as part of the pre-purchase and store it in the event you have a future issue. The blood could then be reviewed for meds that would have altered soundness. Sure, you can run it as part of the exam, but the fact that it's taken and stored holds sellers to a higher level of accountability. I do have a friend that had to test the blood from her pre-purchase years later and found all sorts of things that allowed her to return her horse to the seller. So, it happens, and it's there if you need it. 
I'd like to pull Rival's blood from before his trip across the pond out of sheer curiosity and not as part of an act of recourse. If he was performing best on something, I would spike his afternoon Miller Lite today with that something, and we could both be relieved the mystery was solved. 
In the end, I am fantastically lucky to ride at all. I am the even luckier owner of the two most gorgeous and amateur-friendly imported warmblood mares on which a girl could hope to miss a distance. They are brave as the day is long. Both have more scope than I'll ever need. The very sight of their faces in my backyard makes me sigh with happiness. I do, however, have one that asked very consistently for a new career. 
For me, the cost of being away from the office for 10 days to travel Europe and sit on sale horses has always been prohibitive. For me, the cost of buying a made horse with a show record on the big circuits has been a non-starter. For you, one or both of those may be more doable and would present less risk by anyone's assessment. At the end of the day, failing miserably with Rival has been worth the pure and perfect joy that Landis and Sammy have provided.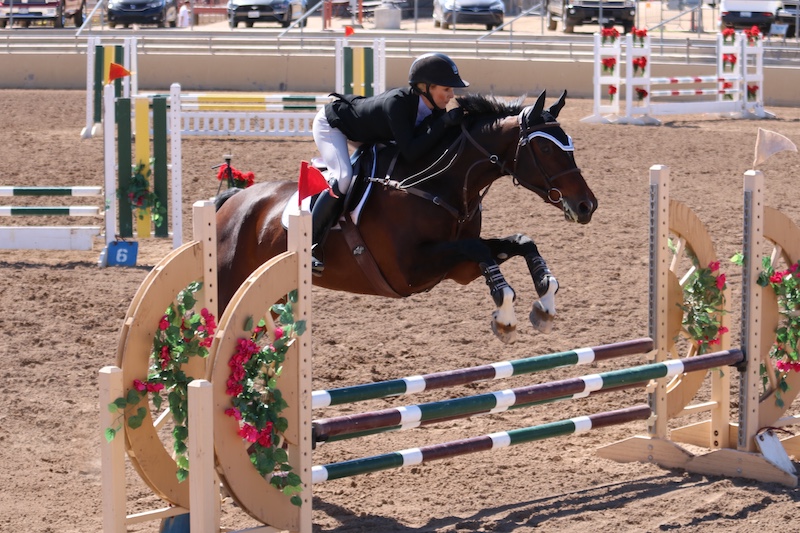 I wish you luck out there with the grainy video of the chestnut HUNTER PROSPECT from Poland that you have fallen for in your Facebook feed. I hope that video starts a long and thorough acquisition process with the ultimate positive result for horse and buyer, a horse that arrives as advertised.
---
Allison Hughes lives in Scottsdale, Arizona, where she describes herself as a "helicopter mom" to five horses and four dogs. She travels each week as a vice president of sales for a software company and generally blogs from 30,000 feet on Southwest Airlines. Allison has been recognized by Halo Horses Equestrian Boutique as a "Featured Amateur" and by the Street To Stable Equestrian Lifestyle blog in their "The Balancing Act" series. Allison began riding at 6 years old in Rancho Palos Verdes, California, and now competes in hunters, jumpers and equitation in Arizona and Southern California. Allison is often joined in the barn or at the shows by her husband, Bobby Hughes, a former professional baseball player turned home builder.