I've been thinking about a conversation my trainer and I had back in the spring. She told me I was fated to be a rider and trainer. I believe her exact words were It's your destiny.
It's a sentiment that has been echoed by a lot of people throughout my life. I have been lucky enough to work with many amazing trainers and every one of them has shared this belief. If anyone has all the ingredients to be a successful rider and trainer, it's me. Let's face it; I've been groomed for this career. I grew up in a family of trainers, riders, and all-around skilled horsemen and women. I began training with world class instructors early.
Beyond riding instruction, I lived on a commercial hunter/jumper facility; I learned the ins-and-outs of managing a barn, clients and horses before I hit high school. I was born and raised into this industry, and nobody has a clearer shot at making it to the top of this sport than me. All I have to do is stay the course and every piece of this fated life will fall into place.
And yet, I cannot.
Somewhere in the course of receiving my bachelor's degree, something in me grew that had not been there before. It was something that I found beautiful, but since I saw no utilitarian use for it, I tucked it quietly away and went home to the barn to begin my career. Everyone has their eccentricities, right? I took a certain pride, in the beginning, in knowing that I would take a deep breath in every morning as I went to work, and I would exhale in the evenings into my useless arts when the work of the day would keep them quiet, manageable. After all, so many people have told me this equine path is right for me. And what does the world need with another pseudo-writer type anyways? Keep it quiet. Stay the course.
Soon into beginning my career I realized why so many horse people don't have other hobbies or interests. They simply don't have time. This sport demands everything all the time.
When I playfully commented to my trainer that I used to have friends, hobbies, and interests before I turned professional, she—completely serious and I suspect missing the joke—pointed out that I had a good dog and really, what else did I need? This shouldn't have come as a surprise. The people that fill the hunter/jumper industry are among the most impassioned and devoted I've ever known. These people live and breathe horses. I've know people who spend six months on the road showing only to take a vacation to Europe to watch more horse shows. I know people who ride and train from dawn to dusk then go home and watch videos all night long about riding and training. This is the obsessiveness that produces champions.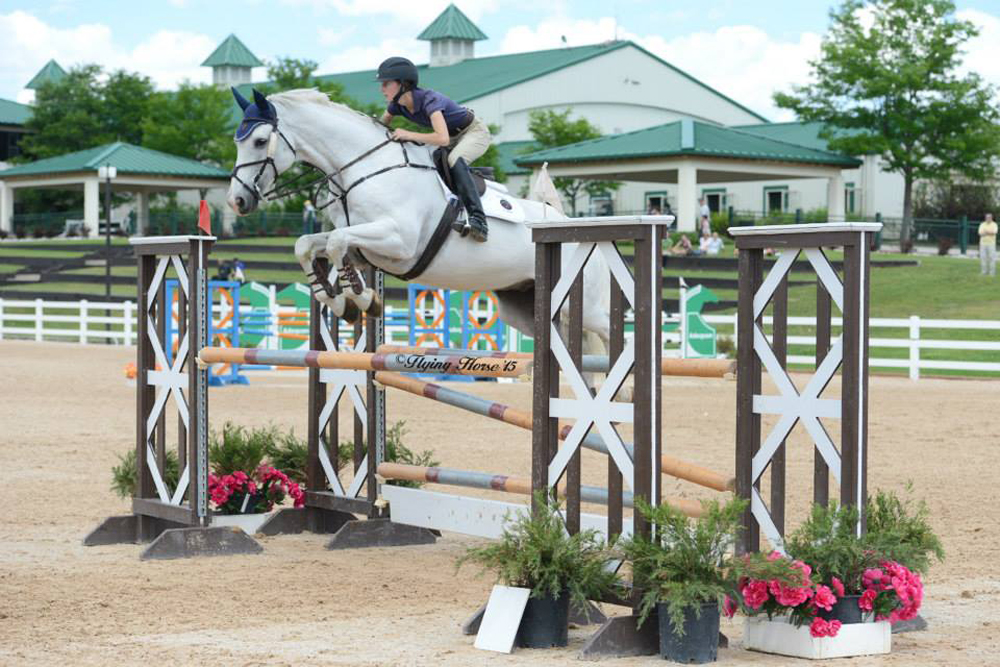 Showing is what I was raised and educated to do, but I'm not sure it's really who I am.
Photo by Flying Horse Photography
But whenever I tried to engage that obsessiveness, there came that beautiful, useless part of me whispering I'm here. At first, I would invite it in; there was room. But soon the harpy voice I'm here became a problem.
I was in the process of shedding from myself all that was not integral to my new career, but this part of me would not go. Soon I'm drowning out this useless part of myself with evening Netflix binges and too many drinks. Soon when I hear the faint echo I just want to scream there's no room for you here! Let me be who I'm freaking supposed to be now! but it doesn't work. This pointless part of me persists.
It does make me angry though. It does make me feel desperate for reasons I can't articulate.
Around the end of June, I found a folded up piece of paper in my childhood room in my parent's house. It was a life's to-do list, written by my 13-year-old self. "Go to the Olympics" was written in the #1 spot.
I remembered the girl who had written this list. She had that obsessiveness that creates champions, and she absolutely would make it to the Olympics. I asked myself that day: If you meet with every success this sport can offer, if you make a good living running your own business, if you go to the Olympics and come home with a gold medal, would you reach the end of your life and be satisfied?
My answer was No. And immediately following this heartbreak came the barely audible voice, I'm here.
What do you do when the career you think you're fated for turns out to be wrong?
I grieved. I love being on horseback, and I always will. I love jumping huge fences and starting babies and everything in between those two extremes. My generous parents have agreed to keep two fillies for me for the time being, a weanling named Oh Be Joyful (Emerald x Mr Blue x Voltaire) and a yearling named Onassis De Reve (Nabab de Reve x Darco x Gotthard) in case I find myself in the position in a couple years to afford horses again.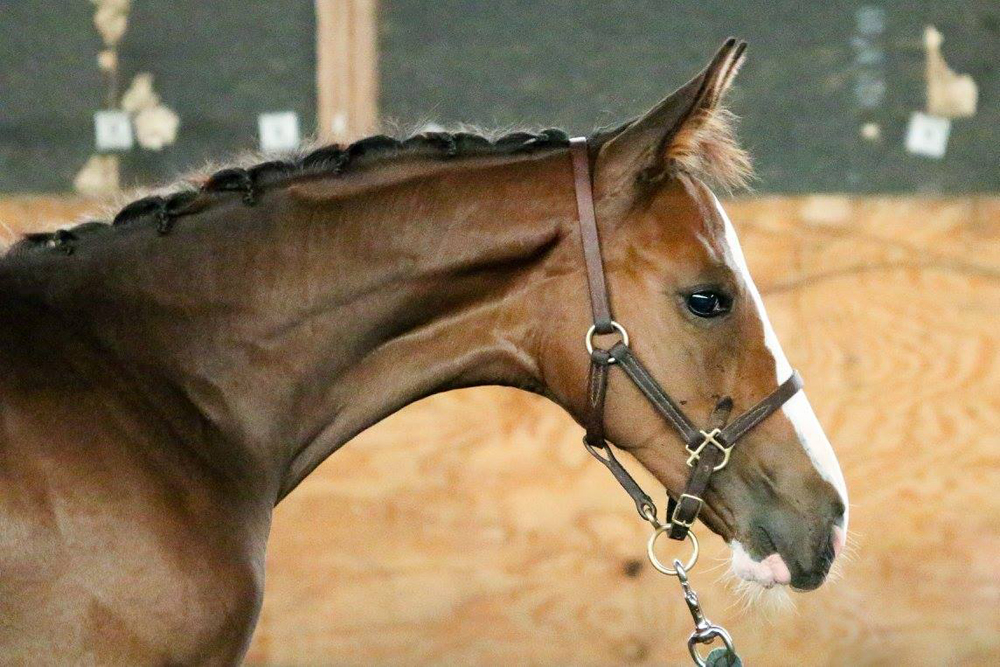 The weanling Oh Be Joyful will be waiting for me if I decide to come back to horses.
Short Horse Studios Photo
Right now, I'm preparing to move to the Colorado Rockies to seek my new start. Being without horses in my life has and will continue to leave a deep empty space within me. But I've started applying to graduate schools. I'm going after a dual MFA in Creative Writing and Playwriting.
What began over a year ago as a disheartened whisper has now become a joyful call, a reminder that the empty space I feel is only making room for all that's to come. I'm here now.
This will be Rebecca Young's final blog entry for the Chronicle as she embarks on new adventures. Until recently Rebecca Young worked for Everbold Farm in Kirkland, Ill. She rode, trained, showed and bred primarily jumpers but does not discriminate against the occasional hunter. When not on horseback, Rebecca takes great joy in hiking, skiing, mountaineering, climbing, paddling, and in general frolicking in the great outdoors. She believes these hobbies will keep her sane and of good humor in an equine industry that has mostly lost its humor. To find out more about her scenic route to becoming a professional trainer, read her introductory blog, Finding My Name. Find all her blogs here.