He may be 19 years old, but according to Jennifer Schrader-Williams, Millione feels like a million bucks heading into this year's Adequan Global Dressage Festival season in Wellington, Florida.
The pair came out strong at the first AGDF CDI of the year, held Jan. 19-23, winning the CDI4* Grand Prix (72.95%) and the CDI4* Grand Prix freestyle (77.17%).
The Danish Warmblood gelding (Milan—Bakkely's Roberta, Rawage Quintus) came to Schrader-Williams as a sales horse in 2015 going fourth level, but she was able to keep him with the help of owners Bob and Tina Desroche of Millione Partners LLC. Schrader-Williams and "Mickey" have been competing at Grand Prix since 2018, and 2021 was a breakout year for the pair.
They were invited to compete at the U.S. Olympic Dressage Team observation event in June, and went on to compete at the prestigious Aachen CDIO5* (Germany) on the Nations Cup team, Schrader-Williams' first time competing in Europe.
We caught up with Schrader-Williams, 41, Roy, Washington, to talk about Mickey's great opening weekend at AGDF, how she keeps him happy and going in his late teens, and what's next for the pair.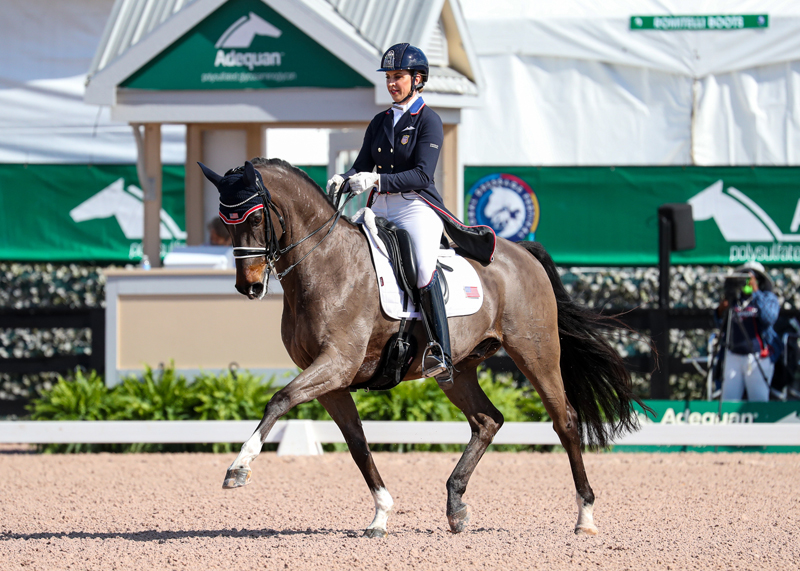 COTH: Congratulations on a winning weekend! Tell me about your rides. What are your goals with him this season?
Jennifer Schrader-Williams: He felt amazing. It was really the first time that I felt that not only did we have a clean test, but it was the most harmonious. He stayed so relaxed, so more of the harmony and expression came through.
In the last year or so he's been very consistent and putting in a lot of quality, mistake-free tests, but I hadn't gotten to the point where I felt like the harmony and enough of the expression was coming through. This was the first show where I really felt that we added to that piece.
He came in to this level later. The first couple of years there was a lot to learn—first the Grand Prix, then getting comfortable in the Grand Prix. It's great that he is as hardy and sound as he is. I do my best to manage him well, and I try not to overwork him and play, and we have fun, but he's just a very hardy horse, and I'm really lucky to have that.
I think we're in a place now where I can relax and just check in, and he knows his job. That relaxation allows him to be more expressive and come more through in the changes and be softer in the connection. It was a bit the missing piece last season.
He's older and 19 now, and I'm looking at this season as just icing on the cake. He's still out there enjoying himself and having a good time, so we're just going to focus on that, and I love every time I'm able to take him in the ring and get to strut our stuff, but I'm not going to put too many hard goals out there. … As long as he's feeling good and wants to do it, we'll keep going this season.
For us to keep building on that harmony, and if we can raise our scores and continue to just show that expression and relaxation in the ring, I think that's good for us. When he feels like it's time, then I'm going to back him off and let him have fun doing something else.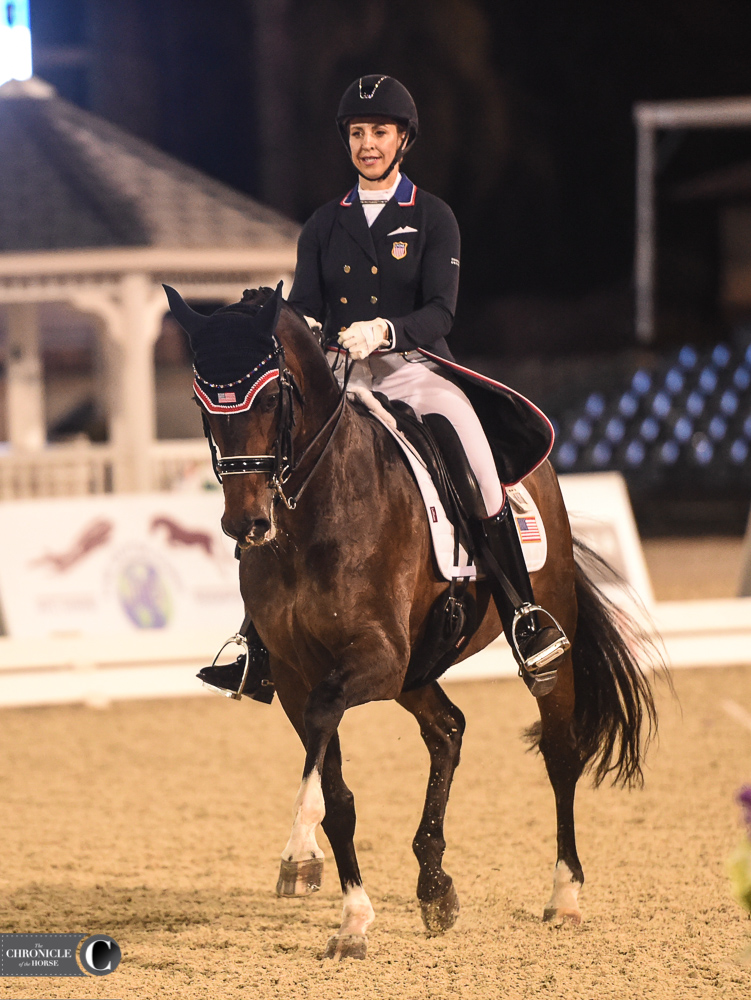 My name is in there [for consideration for the 2022 FEI Dressage World Championships in Denmark], and when the time comes, we'll assess how he's feeling.
He's a really great traveler, and I'm at a place where I feel like I can really keep him fresh and happy and hack and play and then just test the movements. I'm not in a place where I feel like I've got to train hard. I think that that's my goal—to keep him happy and fit and sound and healthy. I'm not ruling it out, but I'm not making a hard push for that. If it were to work out, I'm going to leave it open to seeing how it all pans out.
His owners, Bob and Tina Desroche, have been incredibly supportive coming on four years, and I'm really grateful that they've allowed our partnership to continue to grow and thrive.
What is his management and routine like at home?
I do him four days a week. At home in Washington, he lives out 24 hours a day. He's in a paddock with a shed, and they're cleaned like stalls, and he gets to be out.
I work the horses Monday, Tuesday, Thursday, Friday. They get Wednesday and Sunday completely off, and they get a light longe or hack on Saturday. Even with my young horses, it's the same schedule. I'm just not about drilling them.
If I had to fault myself, sometimes I don't have them fit enough just because I love teaching them good work ethic. If they come out, they get it done right, then I'm done and do something else.
In Florida they go out on the walker in the morning, then I come and ride them from 8-1, and then they get handwalked and grazed in the afternoon. I don't do as much turnout here because I can't control the variables as much, but at home, I love the horses being out as much as possible. I'm just not able to do that as much as I'd like here.
He's a really interesting horse where he's hot, but he loves crowds and music. When we did Aachen, a few people were telling me I shouldn't do the parade of nations at the end, and I'm like, "No, it's going to be great!" We were out there on a long rein, waving our flags and our hanky, and it was awesome. He eats that stuff up. I can hack him anywhere. He's a very brave, confident guy.
As long as he has a friend for travel and shipping, that's the only thing I have to manage. He's not OK being by himself and alone. He really wants his friends.
You went to Aachen for the first time in 2021. Tell me about that experience.
It was my first time competing overseas. I had been there with the Anne L. Barlow Ramsay grant with an American-bred stallion [H.S. Wistar] once before back in 2010. This was the first time going over to be on a team. It was a great experience. Debbie McDonald was our coach and gave me a lot of support both on Millione and my young horse, Joppe K.
My teammates were very supportive, and we were very proud to be there representing the USA. It was an incredible experience, and I think we all came away saying, "Wow, we would love to be back here again some day."
Tell me about your young horse, Joppe K.
He's one we bought as a 4-year-old, coming 5-year-old. He shows a lot of talent and promise for the future. He's now coming 8, and he's doing the small tour. We're having fun developing him and have goals for him to hopefully continue moving up the ranks to the Grand Prix in the next couple of years.
I've been trying to buy babies whenever I can and try to have a few in the pipeline for the years to come. I try to find and develop one or two per age group as we go along.
I have a nice 7-year-old Jazz mare here in Florida that's owned by Gayle Atkins that she bred. I'll be bringing her out and developing her over the next couple of years.